Taxation Rules for Bond Investors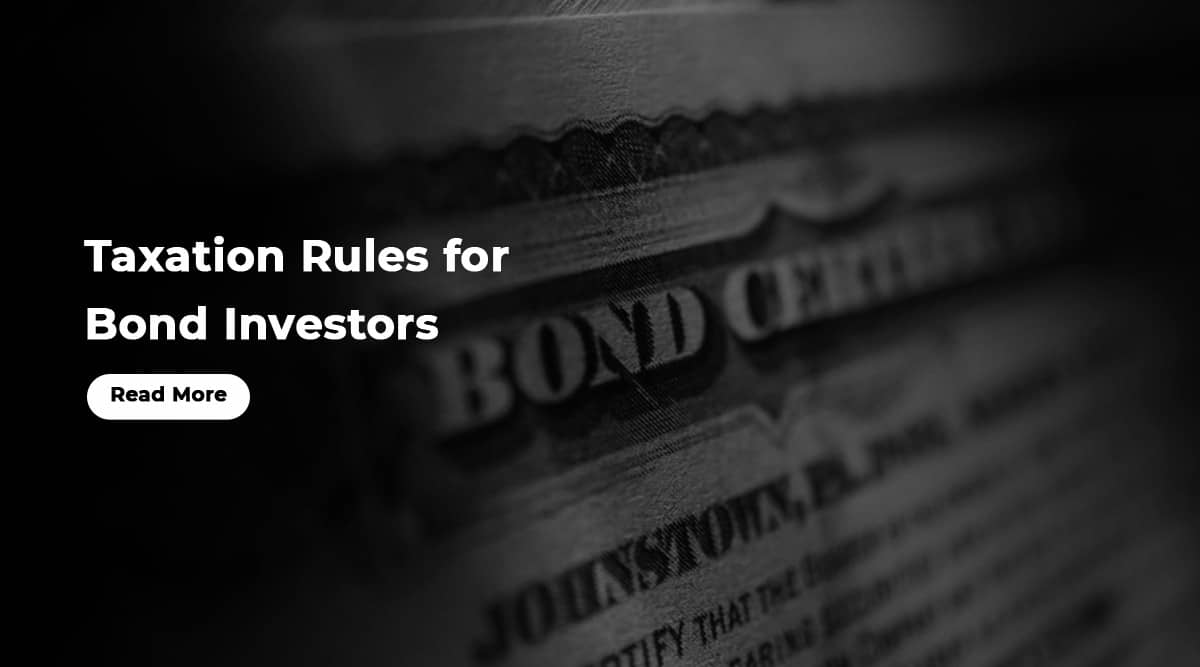 Interest paid on fixed income investments is frequently taxed. Government, corporate, and municipal bonds all have different taxing rules. Read on to know more about it!
What Are Bond Investors' Tax Requirements?
Bondholders must fill out tax returns every year to disclose their annual taxable interest income. While this paper appears to provide simple instructions for declaring tax on income generated by specified rates of interest at first sight, there are many complex aspects fixed income investors must consider. The finer elements of bond tax rules for government, corporate, and municipal bonds are discussed in this article.
Tax Free Bonds
Treasury bills, notes, and bonds pay interest that is taxable at the central level but not at the state or municipal level. Certain securities issued by government agencies are taxable at the federal level but not at the state or municipal level.
Zero-Coupon Bonds and Taxation
Despite the fact that zero-coupon investors have no stated coupon rate, they must report a prorated amount of interest as income each year, even though no interest has been paid out. Governments issue zero-coupon bonds at a discount and they mature at par value, with the spread distributed equally among the number of years until maturity. As a result, they, like any other original issue discount bond, are taxed as interest.
Governments sell savings bonds to the public, which are considered safe investment instruments with numerous advantages. State and municipal taxes are also waived on Series E and EE savings bonds, but interest income can be postponed until maturity. Series H and HH bonds pay semi-annual taxable interest till maturity, while Series I bonds pay taxable interest that can also be delayed. If the proceeds are utilized to pay higher education expenses, the interest from Series E and I bonds may also be deducted from income.
Bonds issued by municipalities
High-income investors who want to decrease their taxable investment income generally prefer municipal bonds. As long as investors live in the same state or municipality as the issuers, the interest on these bonds is tax-free at the federal, state, and local levels. Those who purchase municipal bonds on the secondary market and then sell them may be subject to conventional long- or short-term capital gains taxation on any gains made. As a result of their tax-free status, municipal bonds pay a lower rate than other bonds.
Bonds issued by corporations
Corporate bonds are the simplest sort of bond in terms of taxation, as they are completely taxed at all levels. These bonds pay the highest interest rates of any major bond type since they often have the biggest default risk. As a result, investors who purchase 100 Rs 1,000 par value corporate bonds that pay 7% annual interest can expect to collect Rs 7,000 in taxable interest each year.
Any debt issuance exchanged in the secondary market, regardless of the type of bonds sold, will post a capital gain or loss, based on the price at which the bonds were acquired and sold. This includes federal, state, and local government debt, as well as corporate debt. Bond transaction profits and losses are reported in the same way as other securities, such as equities or mutual funds, for capital gains purposes.
How would you rate this blog?
Translate the power of knowledge into action. Open Free* Demat Account
Latest Blog
Taxation in 2022: Everything You Need to Know

Walk through the Budget 2022 proposals and understand how they impact taxpayers.

Understanding Taxation on Foreign Investments

Foreign equities and mutual funds are becoming more popular these days as a way of diversifying an investor's portfolio while still profiting from ma…

Deadweight Loss Of Taxation

All you need to know about this economic term and why it is relevant to you as a direct or indirect (via mutual funds) stock market investor.

Taxation of Permanent Establishment (PE) in India

Article 5(1) under the Income Tax act of India mentions the Permanent establishment of a firm and the tax levied on its operations. Read this blog to…

What Is Double Taxation?

Corporations follow a separate set of regulations and have different duties than other types of businesses. And whether you run a business or are a s…

Capital Gains Tax

This article helps shed light on all that capital gains tax entails including the factors that impact it.

What are Indirect Taxes?

Understand all that indirect taxes entail including their advantages and disadvantages by reading this article.

How are Dividends on Stocks Taxed?

This write-up seeks to shed light on what dividends are and, how they are taxed and all that they entail.

Tax free Interest Income in India

Investing in the market is no longer exclusive to expert investors but those new to the market can take advantage of a number of investment tools too…

Income Tax in India - Income Tax Guide

Taxes are the core source of revenue for the government. Among these, income tax has its own significance. It is crucial to understand the Income Tax…

Welfare Loss of Taxation

The entire cost imposed on society by levying a new tax is known as the welfare loss of taxation. These costs are incurred as a result of the tax's a…

Earning From Share Trading & Taxation:...

Investment and taxation go hand in hand. Even before you start investing, update yourself on the tax implications that can affect your ultimate retur…

How To Receive Tax Benefits From Equity Investment

When we think about equity investment, the first thing that comes to our mind is growing wealth via investing in company shares.

Taxation on Mutual Funds

Mutual funds are widely regarded as an important investment option since they help you achieve your financial goals. They are tax-efficient investmen…

Tax Free Bonds: Tax Saving Bonds 2022

Understand what tax saving bonds are, the taxes applicable to them and how they differ from tax-free bonds.

What is Capital Gain Tax and How is it Calculated?

This article highlights the significance of capital gains tax and its calculation, along with their tax exemption clauses

How To Claim Tax Exemptions on House Rent...

There is a provision under the Income Tax Act which allows salaried, self-employed, and professionals to get tax exemption for the house rent paid.

Foreign Investment Funds (FIF) Tax Definition

A foreign investment fund (FIF) is a foreign corporation, a foreign unit trust, a foreign superannuation scheme, or an insurer under a foreign life i…

Things to do on the day of the Union Budget

The Union Budget is around the corner, and the entire nation is both anxious and hopeful about the upcoming budget.

What are ELSS Funds?

A form of a mutual fund, an equity-linked saving scheme (or ELSS) allows individuals to invest their money in a tax-saving mutual fund.

Double Taxation Hangs On Big Tech Firms

The Big Tech firms like Google, Facebook, Amazon, Apple, and Twitter are in fear of digital service tax or equalisation levy imposed by countries lik…

Tax Saving Investments: Best ways to...

Whenever the Union Budget is around the corner one thing that keeps people anxious is announcements related to tax reforms.
Subscribe to #SmartSauda Newsletter