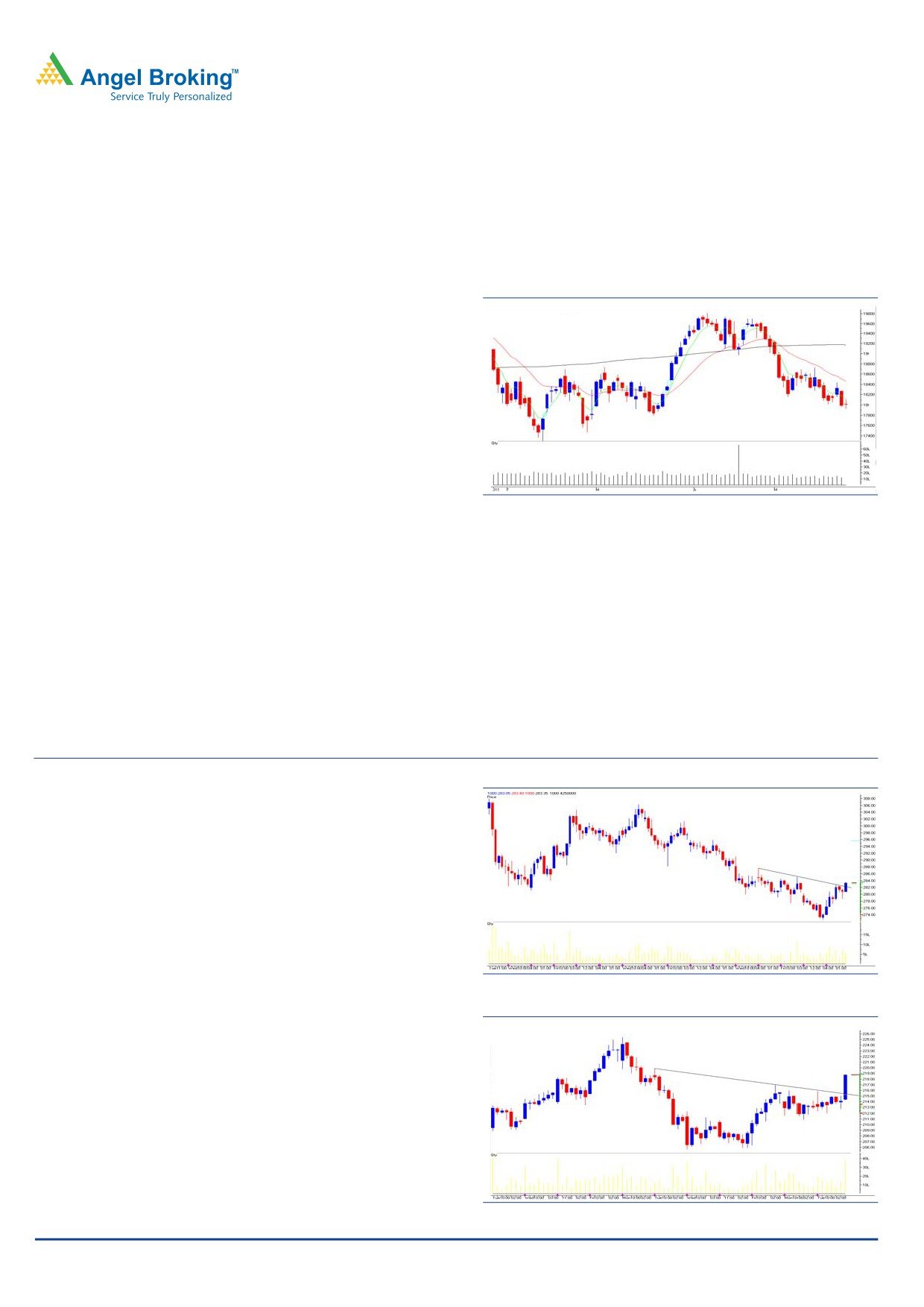 Technical Research |
May 25, 2011
Sensex (18012) / NIFTY (5395)
Markets opened on a subdued note traded in a narrow range
Exhibit 1: Sensex Daily chart
with choppiness to close with marginal gains. On the sectoral
front, Consumer Goods, Consumer Durables, Bankex and Oil
and gas sector witnessed marginal gains. The advance decline
ratio was marginally in favour of declining counters (A=1368
D=1437).
(Source - Iris software)
"
On the Daily chart we are observing a narrow range body
formation which resembles a "Doji". Further there is a positive
divergence in the oscillators viz. RSI and stochastic.
The "Doji" body formation clearly reflects indecisiveness
prevailing at current levels. However the momentum oscillators
viz.RSI and stochastic are giving a positive divergence which
indicates that a pullback in the downtrend may be seen. On
the upside, if indices trade above 18110 / 5423 levels then it
may test 18230 - 19320 / 5450 - 5478 levels. On the downside
17900 / 5350 remains important support if breached then
indices may test sub 17750 / 5300 levels.
Exhibit 2: Yes Bank (May futures) Hourly Chart
Stock - Yes Bank Ltd (May fut.)
Exhibit 3: LIC HSG (May futures) Hourly Chart
Stock - LIC HSG (May fut.)
For Private Circulation Only
|
Angel Broking Ltd: BSE Sebi Regn No : INB 010996539 / CDSL Regn No: IN - DP - CDSL - 234 - 2004 / PMS Regn Code: PM/INP00000154 6 Angel Securities Ltd:BSE: INB010994639/INF010994639 NSE: INB230994635/INF230994635 Membership numbers: BSE 028/NSE:09946 Technical Research |
May 25, 2011
Daily Pivot Levels For Nifty 50 Stocks
For Private Circulation Only
|
Angel Broking Ltd: BSE Sebi Regn No : INB 010996539 / CDSL Regn No: IN - DP - CDSL - 234 - 2004 / PMS Regn Code: PM/INP00000154 6 Angel Securities Ltd:BSE: INB010994639/INF010994639 NSE: INB230994635/INF230994635 Membership numbers: BSE 028/NSE:09946