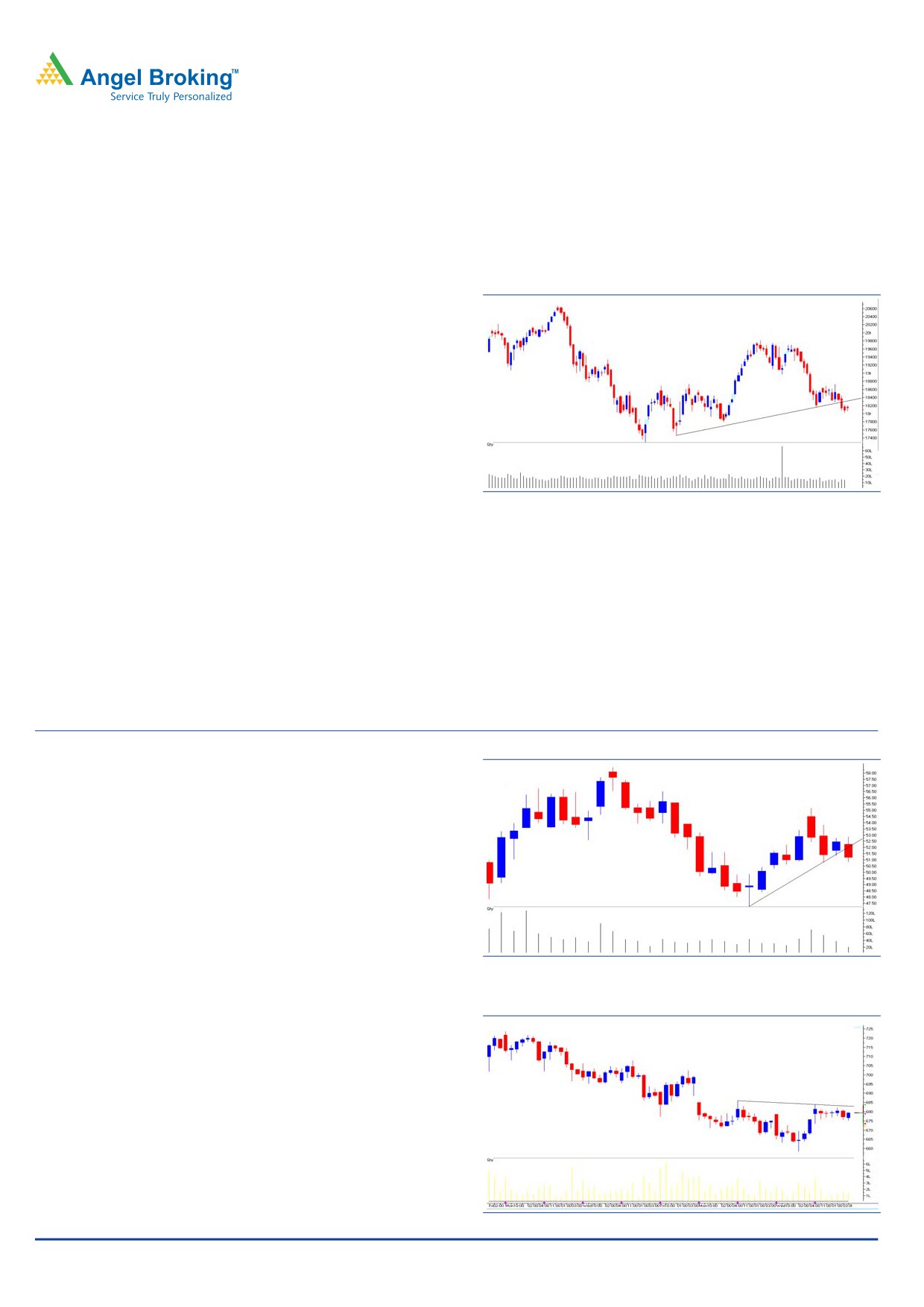 Sensex (18141) / NIFTY (5428)
Markets for second consecutive trading session opened on a
Exhibit 1: Sensex Daily chart
flat note and traded in a narrow range throughout the day to
close marginally in green. On the sectoral front it was Consumer
Goods and Oil &Gas were among the gainers whereas the
realty sector continued to be on the loosing side. L&T was among
the major gainer after declaring it quarterly results.
"
On the daily chart we are observing a two narrow range
body formation which indicates a breather in the downward
move. Thus a minor pullback cannot be ruled out.
In case of the Bank Nifty Futures, we are observing that the
counter has a support at the levels of 10500. The hourly charts
In the coming trading session, we maintain our previous day
are at present in oversold condition and thus a temporary
view that a relief rally or a pullback towards the levels of 18331
bounce up to 10780 or 10865 may be witnessed. We expect
- 18407 / 5480 - 5500 may attract selling pressure. Since the
selling pressure to emerge at these levels as the daily trend
Daily trend remains down, traders are advised to avoid long
continues to be downward. A close below 10500, may lead to
positions. On the downside, 17878 - 17792 / 5376 - 5348
a further fall up to 10263 / 10170 levels.
levels may act as support for the day. (Sensex, Nifty Spot levels
Exhibit 2: Suzlon (May futures)
Stock - Suzlon (May fut.)
Exhibit 3: M&M hourly chart (May futures)
For Private Circulation Only
|
Angel Broking Ltd: BSE Sebi Regn No : INB 010996539 / CDSL Regn No: IN - DP - CDSL - 234 - 2004 / PMS Regn Code: PM/INP00000154 6 Angel Securities Ltd:BSE: INB010994639/INF010994639 NSE: INB230994635/INF230994635 Membership numbers: BSE 028/NSE:09946