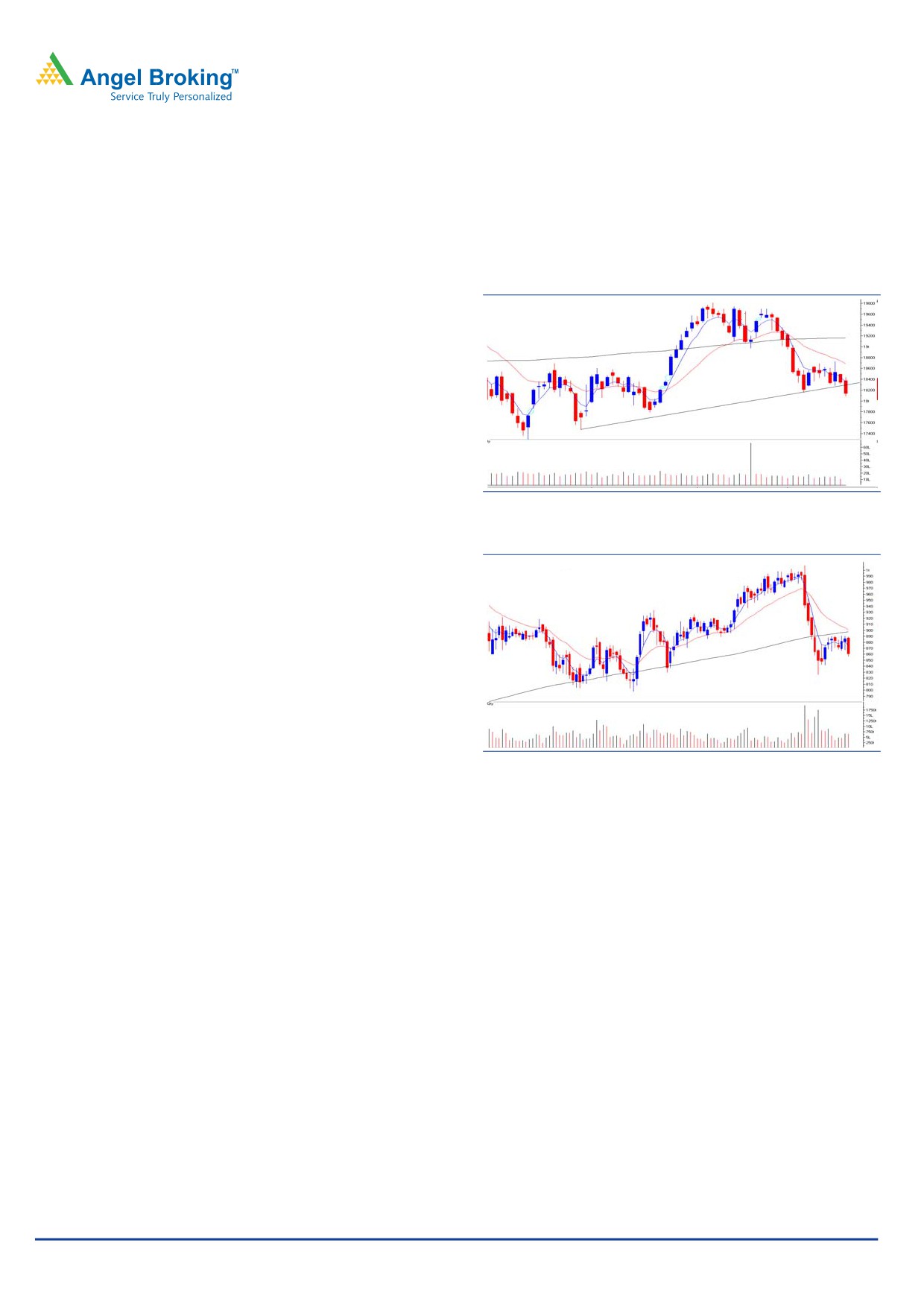 Sensex (18137) / Nifty (5439)
Exhibit 1: Sensex Daily chart
Markets opened on a flat note and traded in a narrow range
during the first half of the session but in the second half,
momentum was witnessed on the downside after
announcement of SBI results. The selling pressure led indices
to close below an important support level of 18160 / 5443. In
case of specific sectors, Oil and Gas, Banking were the weakest.
Stocks such as ONGC, and SBI contributed to the fall where as
FMCG sector traded with positive bias.
Formation - Head and Shoulder (Bearish)
"
As seen on the chart, we are witnessing a Head and
Shoulder pattern breakdown. The Theoretical target of this
Exhibit 2: Bank of Baroda (May futures)
bearish pattern reveals that the indices are headed lower to the
levels of 17000 - 16850 / 5100 - 5050. The implication of this
pattern would be negated if the indices cross 18725 / 5605
level. However, considering other parameters and support trend
line on the Weekly chart, we would expect Indices to take short
term support around 17700 / 5300 level.
The important support level of 18160 / 5443 has been breached
and Indices have closed marginally below this level. In the
coming trading session, if 18084 / 5421 level is broken then
we are likely to test 17878 - 17792 / 5376 - 5348 levels. On
the upside, a relief rally or a pullback towards the levels of
18331 - 18407 / 5480 - 5500 may attract selling pressure.
However, we would still maintain our view that since the Daily
trend remains down, traders are advised to avoid long positions.
Stock - Bank of Baroda (May fut.)
For Private Circulation Only
|
Angel Broking Ltd: BSE Sebi Regn No : INB 010996539 / CDSL Regn No: IN - DP - CDSL - 234 - 2004 / PMS Regn Code: PM/INP00000154 6 Angel Securities Ltd:BSE: INB010994639/INF010994639 NSE: INB230994635/INF230994635 Membership numbers: BSE 028/NSE:09946