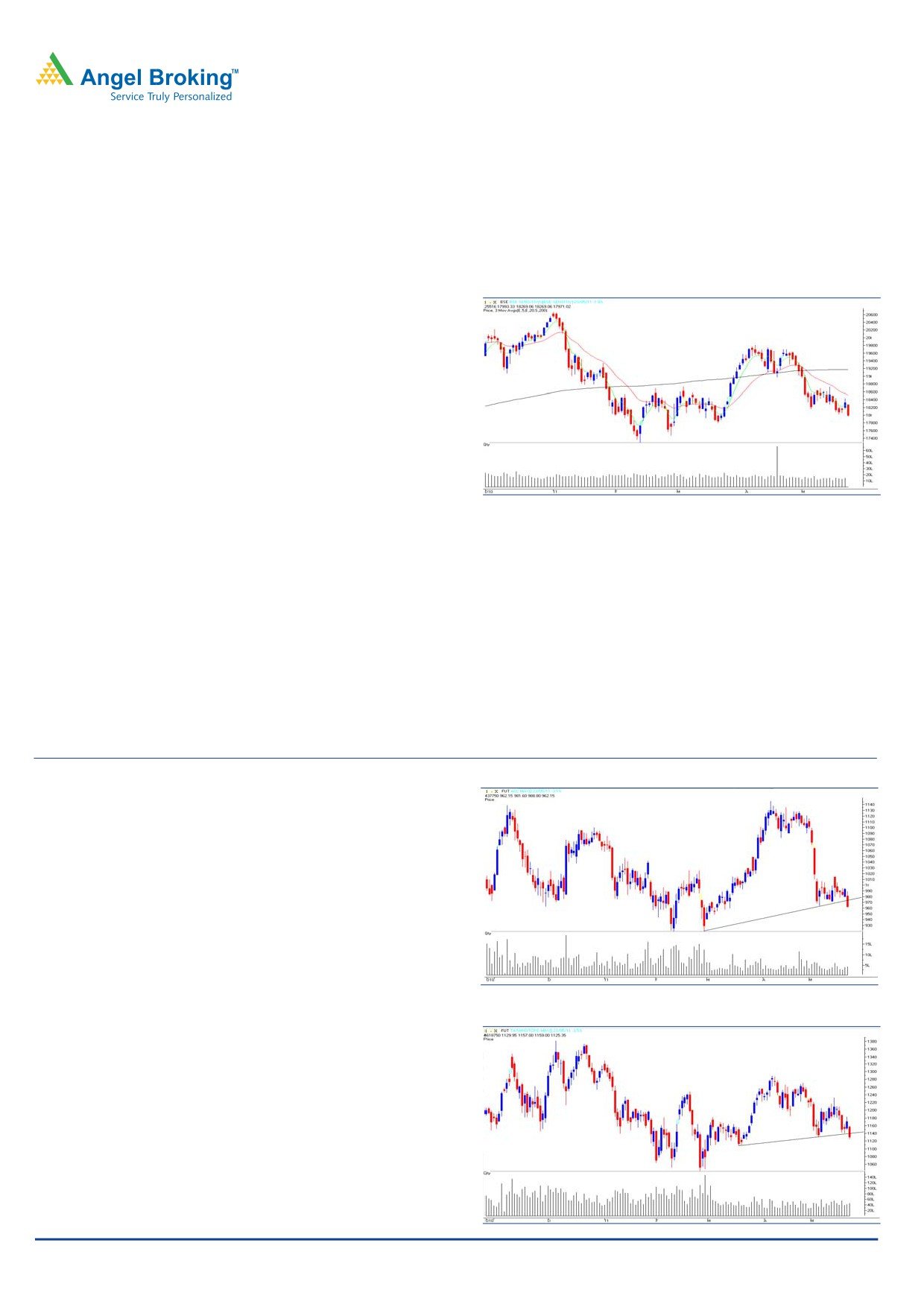 Sensex (17993) / NIFTY (5386)
Markets witnessed a gap down opening in the wake of weak
Exhibit 1: Sensex Daily chart
global cues.The advance decline ratio was in favour of declining
counters (A=821 D=1998) which lead the indices to close near
days low. The selling pressure was again lead by Consumer
Goods, Auto, Realty, Metal and Bankex. FMCG ended with
"
On the Daily chart we are observing that prices have taken
resistance near the falling 20-daySMA and has formed a
negative candle which suggests continuation of down move.
After sharp fall the Indices have breached the low of the Hammer
pattern on the weekly chart and have formed a negative candle
on the daily chart. This suggests continuation of downfall. In
coming trading session if Indices trade convincingly below
17971 / 5370 levels then they may test 17718 / 5308 level.
On the upside, 18144 - 18200 / 5428 - 5450 levels may act
as resistance for the day.
Exhibit 2: ACC (May futures)
Exhibit 3: Tata Motors (May futures)
Stock - Tata Motors (May fut.)
For Private Circulation Only
|
Angel Broking Ltd: BSE Sebi Regn No : INB 010996539 / CDSL Regn No: IN - DP - CDSL - 234 - 2004 / PMS Regn Code: PM/INP00000154 6 Angel Securities Ltd:BSE: INB010994639/INF010994639 NSE: INB230994635/INF230994635 Membership numbers: BSE 028/NSE:09946 Daily Pivot Levels For Nifty 50 Stocks
For Private Circulation Only
|
Angel Broking Ltd: BSE Sebi Regn No : INB 010996539 / CDSL Regn No: IN - DP - CDSL - 234 - 2004 / PMS Regn Code: PM/INP00000154 6 Angel Securities Ltd:BSE: INB010994639/INF010994639 NSE: INB230994635/INF230994635 Membership numbers: BSE 028/NSE:09946