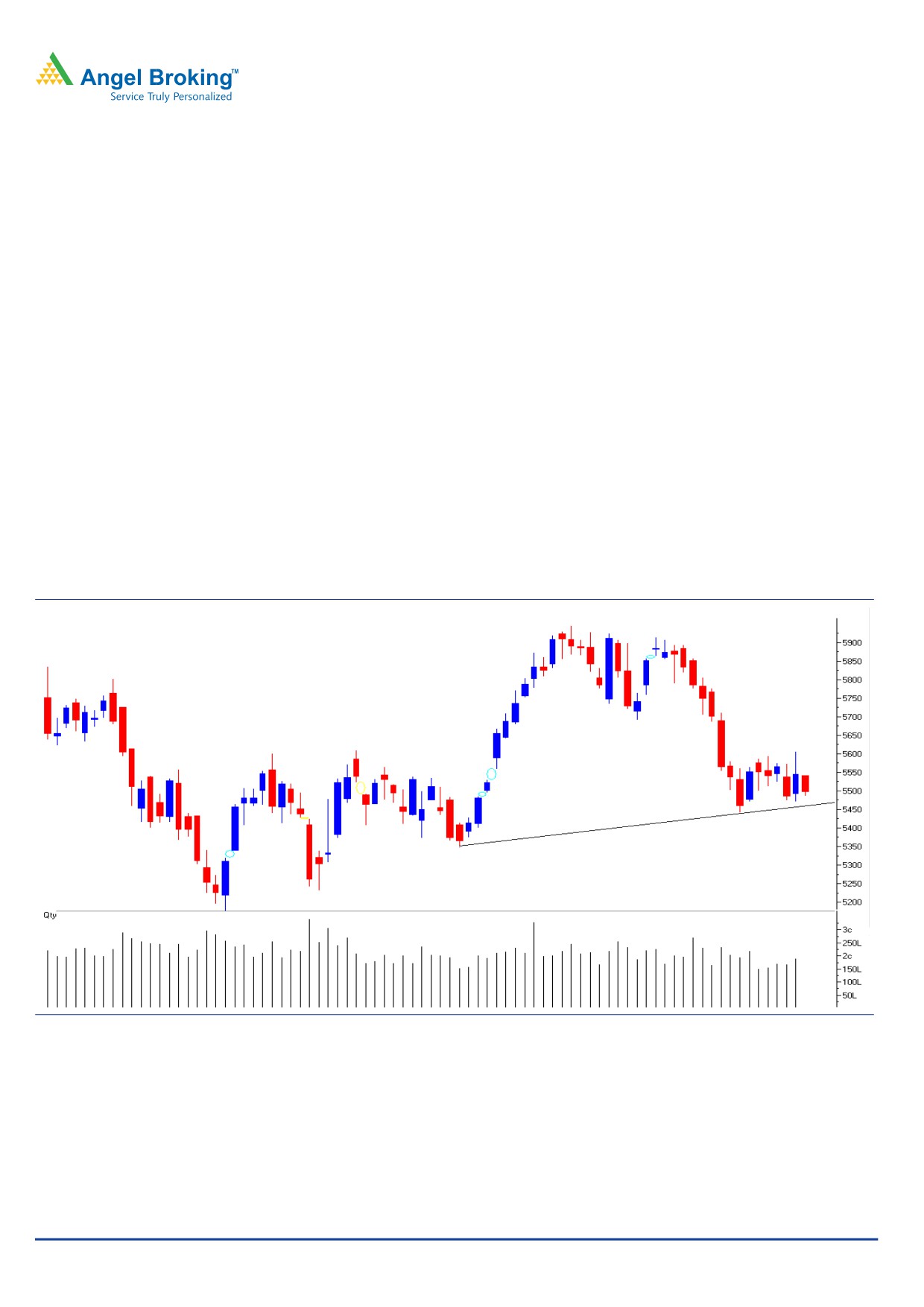 Sensex (18345) / Nifty (5499)
Markets opened lower and traded with negative bias throughout
the day to close in red. In case of specific sectors, Metals, Realty
5443 is an important support level considering the daily charts.
and Construction stocks were the weakest. Stocks such as
In coming trading session if 18280 / 5465 level is breached
JPAssociates, DLF, and Tata Steel contributed to the fall where
then indices may test 18160 - 18040 / 5443 -5400 levels. On
as Ranbaxy Hero Honda and SunPharma traded with positive
the upside 18470 - 18517 / 5532 - 5550 may act resistance
for the day. Since the Daily trend remains down, traders are
advised to stay light on long positions.
Pattern Formation - Inside Day
"
An Inside day is said to have been formed on the charts
when the current day's price action is within the range of the
previous day. This pattern indicates indecisiveness at current
Exhibit 1: Nifty daily chart
For Private Circulation Only
|
Angel Broking Ltd: BSE Sebi Regn No : INB 010996539 / CDSL Regn No: IN - DP - CDSL - 234 - 2004 / PMS Regn Code: PM/INP00000154 6 Angel Securities Ltd:BSE: INB010994639/INF010994639 NSE: INB230994635/INF230994635 Membership numbers: BSE 028/NSE:09946 Daily Pivot Levels For Nifty 50 Stocks
For Private Circulation Only
|
Angel Broking Ltd: BSE Sebi Regn No : INB 010996539 / CDSL Regn No: IN - DP - CDSL - 234 - 2004 / PMS Regn Code: PM/INP00000154 6 Angel Securities Ltd:BSE: INB010994639/INF010994639 NSE: INB230994635/INF230994635 Membership numbers: BSE 028/NSE:09946