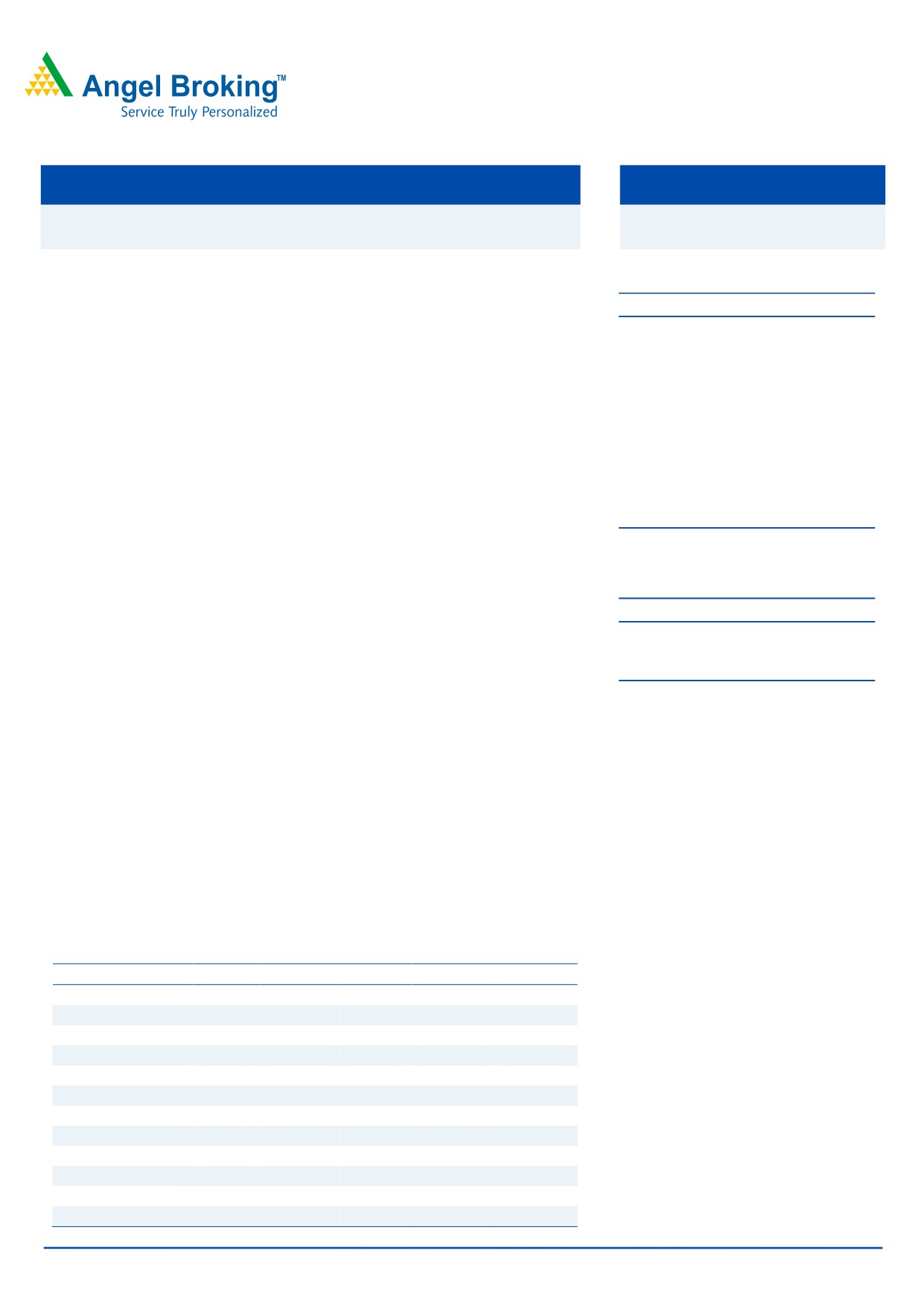 OFS note | Petrochemicals
Issue Close: March 21, 2013
Styrolution ABS (name changed from INEOS ABS India Ltd. effective from
March 1, 2012) is a leading manufacturer of an engineering plastic namely
styrene monomer, polystyrene and ABS. The company is a 50/50 joint venture
Present Equity Paid-up Capital
between BASF and INEOS ABS formed by combining the styrenic business of two
of the largest global chemical companies. In the domestic market, Styrolution is the
Post Equity Paid-up Capital
market leader and holds 60% market share in ABS resins segment and 68% in
Issue Size (no of shares)
The Promoter, Styrolution Jersey, also the parent company proposes to sell
2,167,562 equity shares (12.3% of total paid up equity capital) at `400 per share
Promoters holding Pre-Issue
in order to abide by the June 2010 amendment of 'Securities Contract Act'
Promoters holding Post-Issue
mandates listed companies to have a minimum 25% of public shareholding by
Persisting short supply coupled with capacity expansion to boost growth
Styrolution which has expanded its capacity (ABS from 60,000TPA in 2010 to
Post Issue share-holding Pattern
80,000TPA in 2011) has an opportunity to reap benefits owing to domestic ABS
demand supply gap (met by imports) which has persisted for long and continues to
MF/Banks/Indian Fls/FII/NRIs
exist. Further, CRISIL Research estimates that the domestic supply of ABS would
grow at 17% CAGR in order to meet the demand growth of 10% CAGR during
CY2010-15E, providing revenue visibility for the company. Thus, persisting short
supply and continued demand growth coupled with capacity expansion is to
enhance the top-line growth of the company.
We expect Styrolution's revenue to post a CAGR of 11.2% over CY2012-14E to
`1,223cr in CY2014E on the back of consistent developments by the company.
The EBITDA and net profit are expected to post a CAGR of 11.1% and 11.8%
respectively over CY2012-14E. At OFS floor price, the stock is attractively valued at
5.2x PE for CY2014E earnings and at 23% discount to its last traded price
(20
th
May, 2013). Hence we recommend investors to Subscribe for Styrolution OFS.
Key Financials (Standalone)
Tel: 022- 3935 7800 Ext: 6848
Source: Company, Angel Research
Please refer to important disclosures at the end of this report Styrolution ABS |
OFS note
Styrolution ABS (name changed from INEOS ABS India Ltd. effective from March 1,
2012) is a leading manufacturer of an engineering plastic namely styrene
monomer, polystyrene and ABS. The company is a 50/50 joint venture between
BASF and INEOS ABS formed by combining the styrenic business of two of the
largest global chemical companies. In the domestic market, Styrolution is the
market leader and holds 60% market share in ABS resins segment and 68% in
Styrolution (Promoters held 83.33% stake in Dec'11) made an open offer to the
shareholders with the offer cash price of `606.8 for balance 16.67% stake.
Resultant to open offer 4% of the shares were received and Promoters stake stood
The Promoter, Styrolution Jersey, also the parent company proposes to sell
2,167,562 equity shares of face value `10 each representing 12.3% of the total
paid up equity share capital of the company. The stake sell is offered in order to
abide by the June 2010 amendment of 'Securities Contract Act' which mandates
listed companies to have a minimum 25% of public shareholding by June 2013.
Styrolution has fixed the OFS floor price at `400 per share.
Exhibit 1: Shareholding Pattern
Promoter and promoter group
Source: Company, Angel Research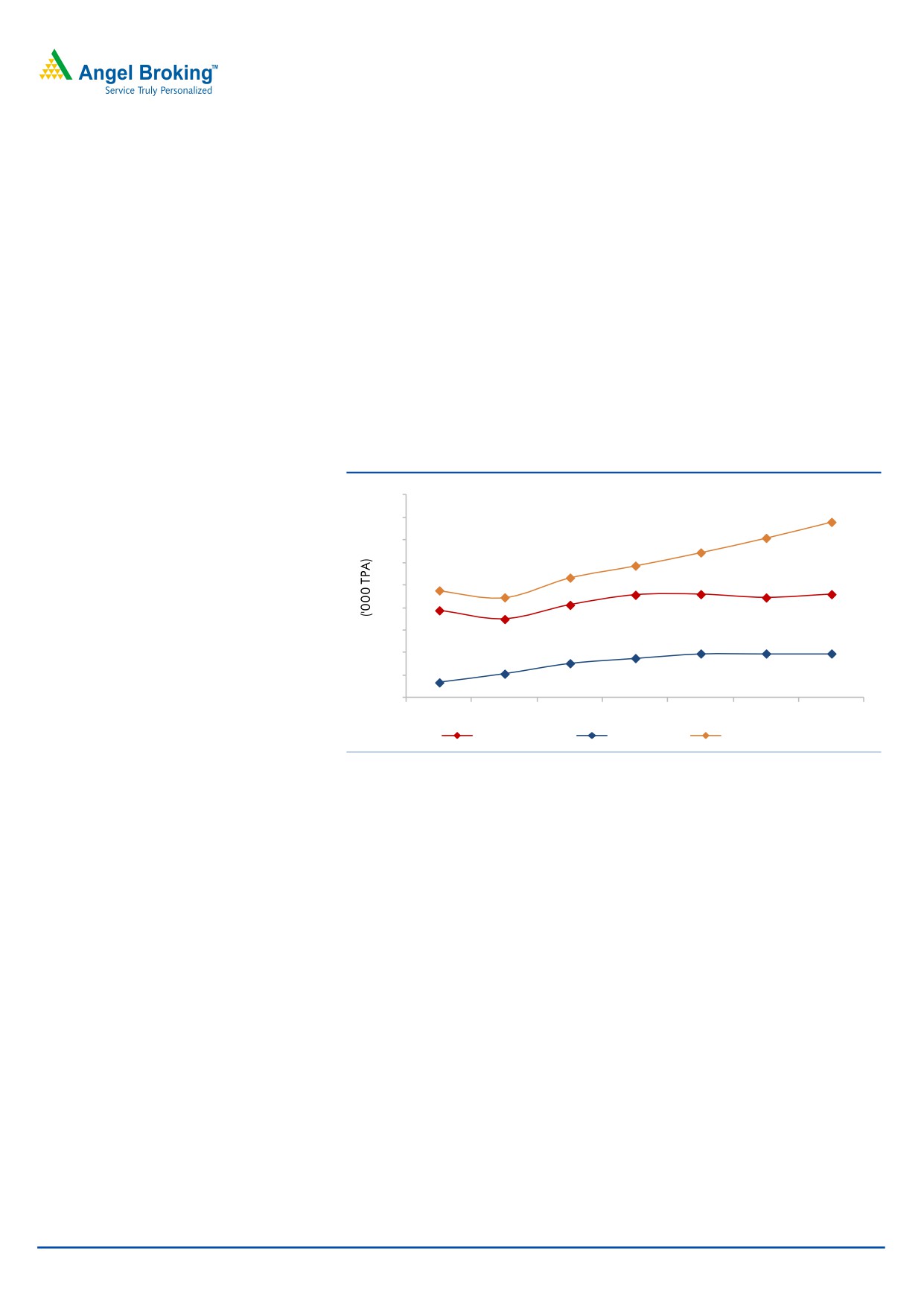 Styrolution ABS |
OFS note
Capacity expansion to compliment unfulfilled ABS demand
The gap between domestic demand for ABS vis-a-vis supply has persisted for long
and the same still continues to exist. The unfulfilled demand is being met by
imports. CRISIL Research estimates that the supply of ABS would grow at 17%
CAGR in order to meet the demand growth of 10% CAGR during CY2010-15E.
Styrolution has expanded its capacity of ABS from
80,000TPA in 2011 and has plans to extend capacity further to 110,000TPA in
CY2013. This extended capacity will enable Styrolution to tap the unfulfilled
demand in the industry. Assuming the market share of Styrolution to remain
constant at 60%, volumes for ABS are likely to grow by ~12% over this period.
Exhibit 2: Unfulfilled domestic demand owing to demand supply gap
Source: Company, Angel Research
Debt free and high return ratios
The company has its Debt to Equity at 0.2 times while Net Debt is at almost
negligible level. Moreover, Styrolution has successfully delivered handsome returns
of more than 15% on equity as well as invested capital over last five years, thereby
Tailor-made products as per market and consumer demand
Considering the rising demand for polymers in varied industries, Styrolution has
been consistently expanding its capacity and simultaneously co-polymerising ABS
ie, changing polymer composition and blending. The company has come up with
many tailor made products taking advantage of ABS' flexibility of composition and
structure, which allows its use in diverse applications.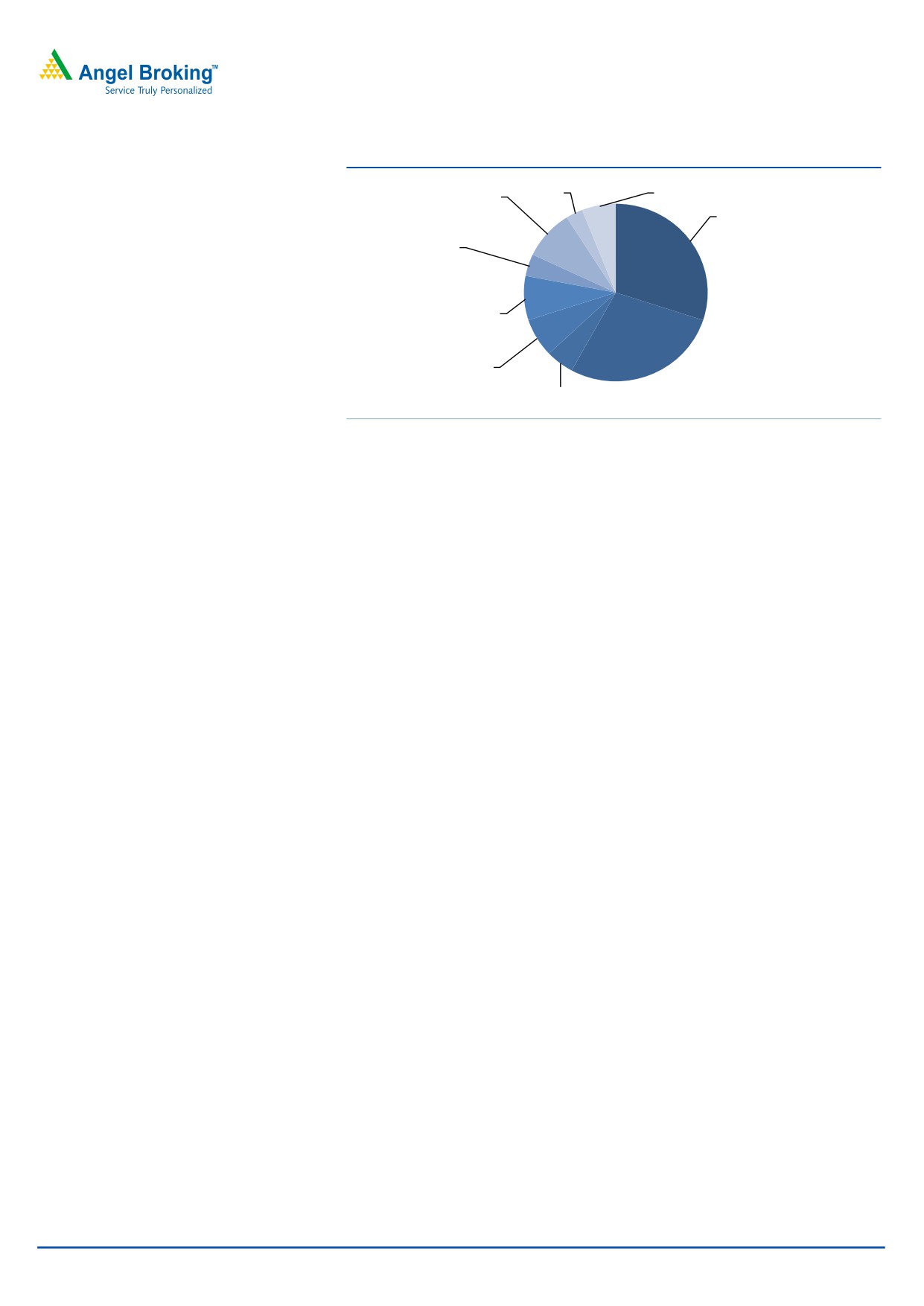 Styrolution ABS |
OFS note
Exhibit 3: Application Industry Composition
We expect Styrolution's revenue to post a CAGR of 11.2% to `1,223cr over
CY2012-14E on the back of consistent expansion plans of the company coupled
with revival in user industry. EBITDA is expected to grow at 11.1% CAGR to `117cr
in CY2014E. The rise in manufacturing cost due to high feedstock prices and
currency depreciation is expected to be passed on to the consumers by price hike,
thereby offsetting any negative impact on EBITDA margin. Hence, EBITDA margin
is expected to remain constant at 9.6% in CY2013E and CY2014E. The net profit is
expected to post a CAGR of 11.8% to `78cr in CY2014E while margins are to
remain stable at 6.3% owing to stable operating performance. At OFS floor price,
the stock is attractively valued at 5.2x PE for CY2014E earnings and at 23%
discount to its last traded price (20
th
May, 2013). Hence, we recommend investors
to Subscribe for Styrolution OFS.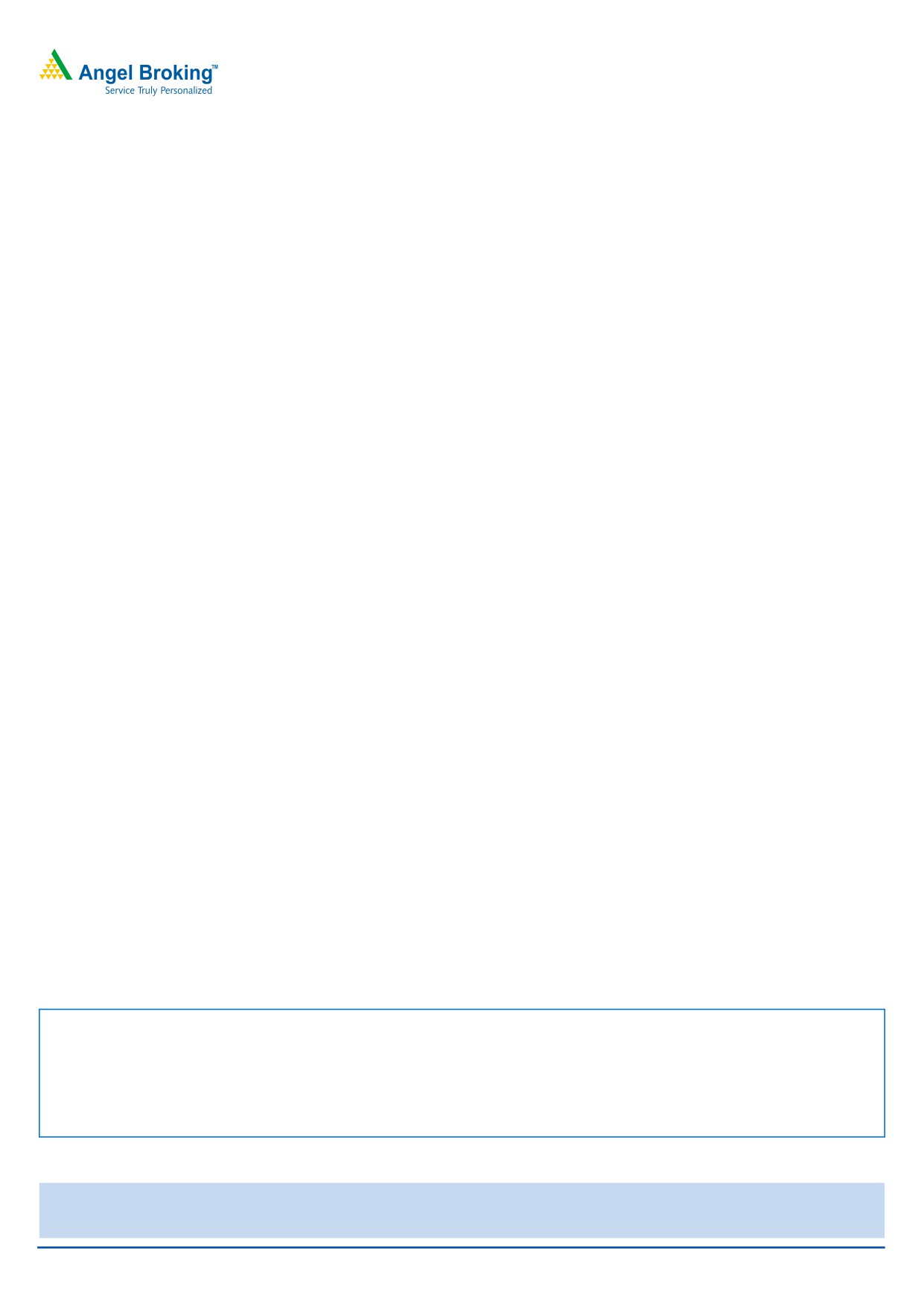 Styrolution ABS |
OFS note
Research Team Tel: 022 - 39357800
This document is solely for the personal information of the recipient, and must not be singularly used as the basis of any investment
decision. Nothing in this document should be construed as investment or financial advice. Each recipient of this document should make
such investigations as they deem necessary to arrive at an independent evaluation of an investment in the securities of the companies
referred to in this document (including the merits and risks involved), and should consult their own advisors to determine the merits and
risks of such an investment.
Angel Broking Limited, its affiliates, directors, its proprietary trading and investment businesses may, from time to time, make
investment decisions that are inconsistent with or contradictory to the recommendations expressed herein. The views contained in this
document are those of the analyst, and the company may or may not subscribe to all the views expressed within.
Reports based on technical and derivative analysis center on studying charts of a stock's price movement, outstanding positions and
trading volume, as opposed to focusing on a company's fundamentals and, as such, may not match with a report on a company's
The information in this document has been printed on the basis of publicly available information, internal data and other reliable
sources believed to be true, but we do not represent that it is accurate or complete and it should not be relied on as such, as this
document is for general guidance only. Angel Broking Limited or any of its affiliates/ group companies shall not be in any way
responsible for any loss or damage that may arise to any person from any inadvertent error in the information contained in this report
.
Angel Broking Limited has not independently verified all the information contained within this document. Accordingly, we cannot testify,
nor make any representation or warranty, express or implied, to the accuracy, contents or data contained within this document. While
Angel Broking Limited endeavours to update on a reasonable basis the information discussed in this material, there may be regulatory,
compliance, or other reasons that prevent us from doing so.
This document is being supplied to you solely for your information, and its contents, information or data may not be reproduced,
redistributed or passed on, directly or indirectly.
Angel Broking Limited and its affiliates may seek to provide or have engaged in providing corporate finance, investment banking or
other advisory services in a merger or specific transaction to the companies referred to in this report, as on the date of this report or in
Neither Angel Broking Limited, nor its directors, employees or affiliates shall be liable for any loss or damage that may arise from or in
connection with the use of this information.
Note: Please refer to the important `Stock Holding Disclosure' report on the Angel website (Research Section). Also, please refer to the
latest update on respective stocks for the disclosure status in respect of those stocks. Angel Broking Limited and its affiliates may have
investment positions in the stocks recommended in this report.
Disclosure of Interest Statement
1. Analyst ownership of the stock
2. Angel and its Group companies ownership of the stock
3. Angel and its Group companies' Directors ownership of the stock
4. Broking relationship with company covered
Note: We have not considered any Exposure below ` 1 lakh for Angel, its Group companies and Directors