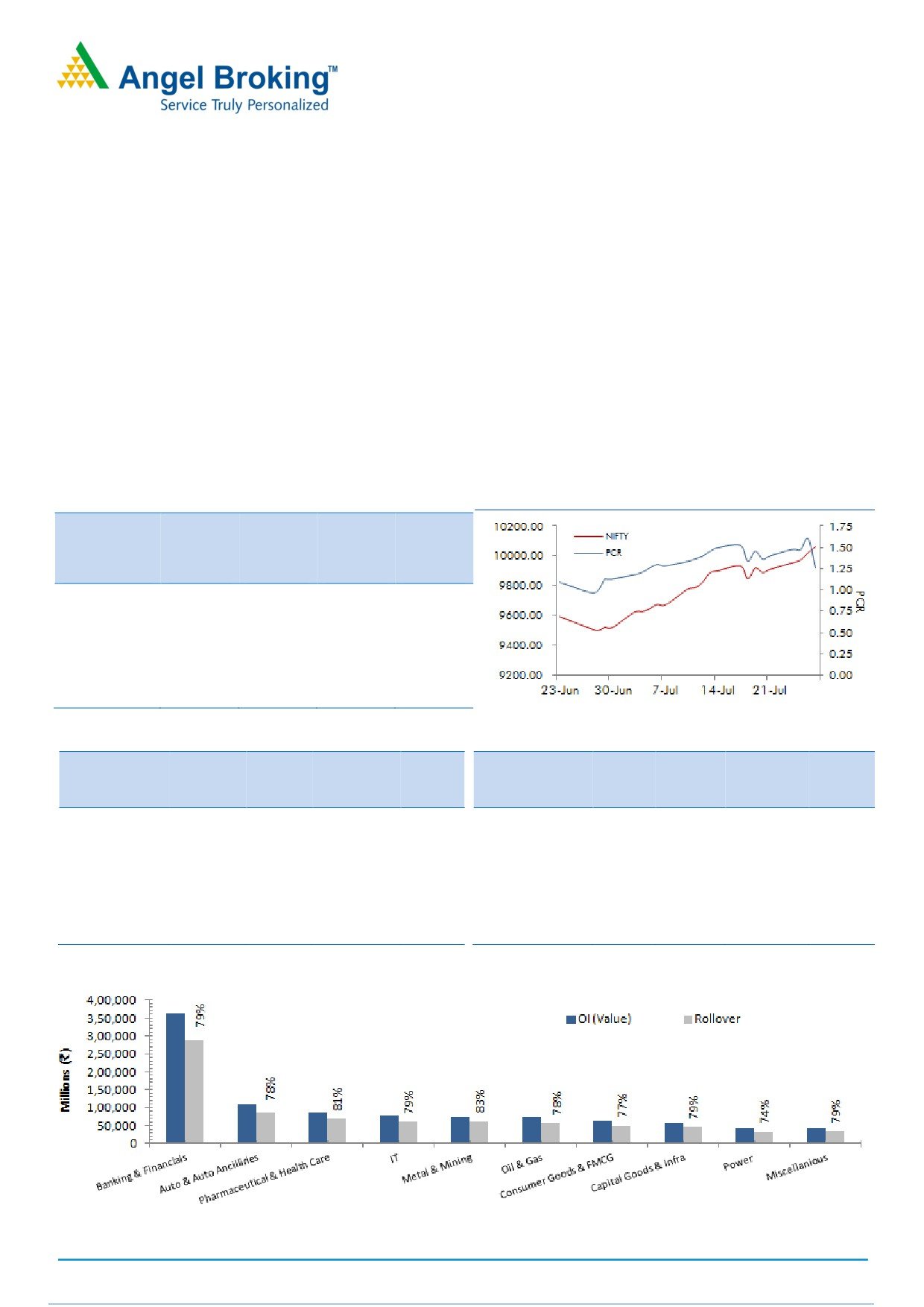 July series has been the historical one for our market as the benchmark index (Nifty) ended the expiry above the
magical five digit figure of 10000. This calendar year has been so remarkable for our markets as we saw six out of
seven series closing on a cheerful note. Rollover in Nifty (68.41%) is lower than its quarterly average of 71.82%; while,
the market wide rollovers are also on the lower side at 77.36%. One of the important observations in Nifty is that the
OI (Open interest) at present is lowest since the start of calendar year 2017; indicating majority of the longs formed in
last seven series have been lightened. Throughout July series, FIIs formed short positions in index futures; out of which
hardly 23% of the positions were rolled to the August series. During the same time, FIIs poured liquidity in equities as
they bought worth Rs. 2885 crores. In options segment, 10000-10200 call and 9700-10000 put options are attracting
trader's attention. Looking at the overall rollover data, we would advice traders to remain light in index until we see
any relevant fresh positions forming in either direction.
BANKNIFTTY (76.12%) rollover in term of percentage as well as open interest is on the higher side. Post consistent
reduction of open interest in preceding two series, we witnessed decent amount of build-up in July series. Looking at
the price action and open interest activity, it seems longs were formed in this rate sensitive index and these positions
got rolled too. As far individual stocks are concerned, YESBANK, L&TFH, INDIANB, ORIENTALBANK, KOTAKBANK
and IDFC rallied due to long formation and rollovers in these counters are also encouraging.
Note:
Stocks which have more than 1000 contract in Futures OI.
Note:
Stocks which have more than 1000 contract in Futures OI.
SEBI Registration No: INB 010996539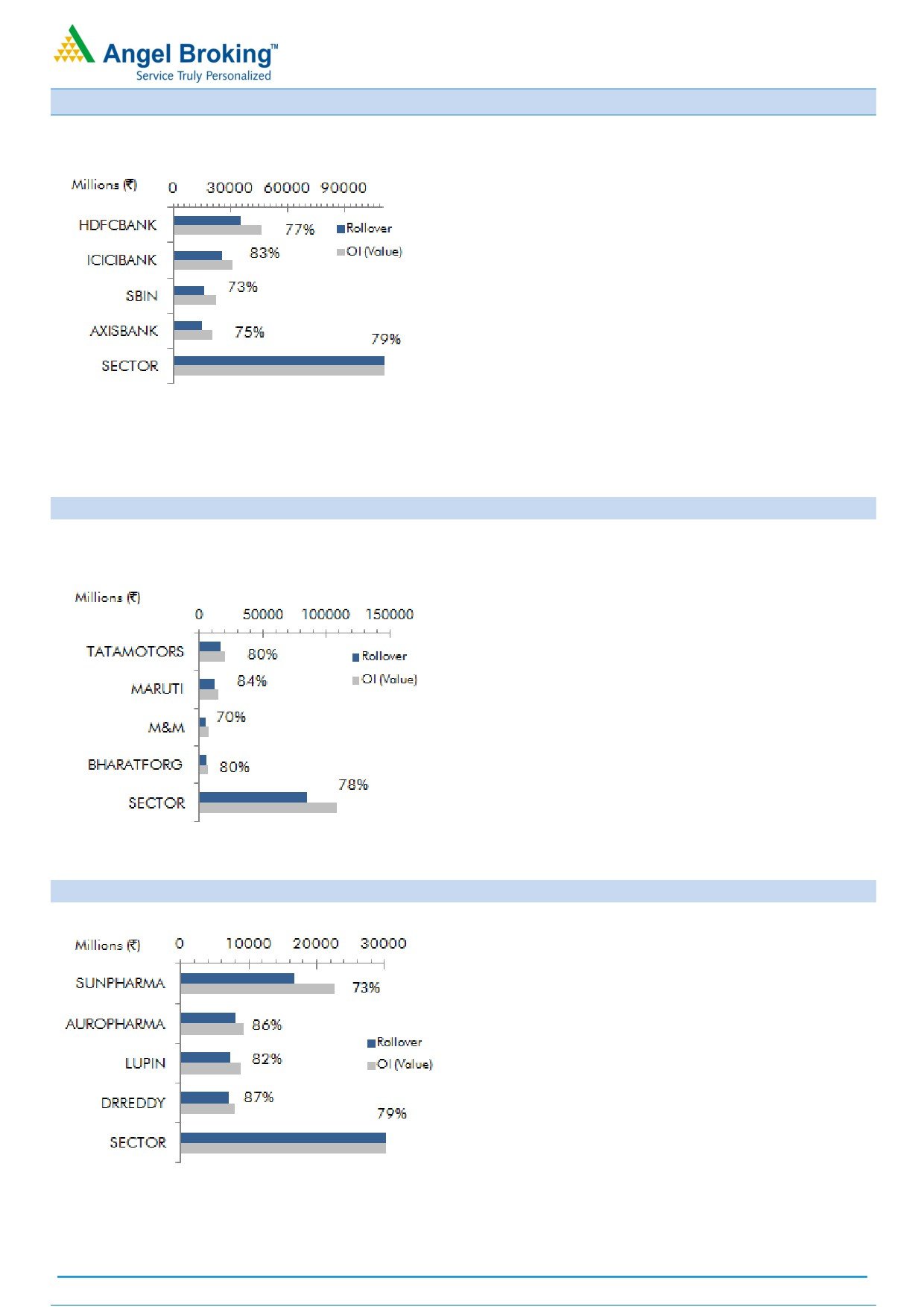 Derivatives Rollover Report
(76.18%) outperformed its peers as it
24% last series with some long
formation. At the average price of Rs. 1640 we
witnessed this counter attracting huge buying. Thus,
data remains positive and we expect further strength
We witnessed decent rally in SBIN (73.35%) from the
support zone of Rs. 268-272 levels; but surprisingly
no longs were formed in this upmove. Now, it has an
immediate resistance near Rs. 300-304 levels. Thus,
traders are advised to exit from their longs.
M&MFIN (82.06%) is up 18.45% series on series; out
12% in the expiry week with
significant open interest addition and huge volume
.
The average price of the move ie- Rs. 380 may
now act as a strong base. Thus, this counter
remains buy on dips for us.
BHARTAFORG (76.69%) added significant positions
last series and we believe these are mixed positions.
At present, OI is at its peak since October 2016. As
this counter is heavy in open interest, we expect this
counter attract volatility in next series. Thus one can
adopt long straddle or long strangle strategy in this
APOLLTYRE (84.79%) rallied nearly 8% but we could
hardly trace any relevant build-up. In fact, in last 2-3
sessions this counter added decent shorts and we
believe these positions are still intact. At current
juncture, this counter is hovering near its resistance of
Rs. 266-268 levels. Thus, one can formed fresh
shorts for the target of Rs. 248-250.
TATAMTRDVR has highest rollover in this space.
However, it remained in a range of Rs. 257-272
throughout the series and added mixed positions.
Thus, unless we don't see it breaching these levels,
During the start of July series DRREDDY
showed strength mainly because of short covering.
However, soon it again attracted huge shorts along
with volumes. This counter has immediate support
2380-2400 levels, but looking at the
quantum of shorts we would advise traders to avoid
AJANTPHARM (73.24%) open interest has got nearly
doubled in the span of just one month. This stock has
been under pressure since quite some time and last
series it added massive shorts. Now this counter is
near support zone of Rs. 1400-1410 levels but we
believe it may continue to remain under pressure.
(84.07%) rallied 21.76% and 13.79% respectively but
it was mainly due short covering bounce. Thus, one
should wait for fresh build-up before initiating fresh
For Private Circulation Only
SEBI Registration No: INB 010996539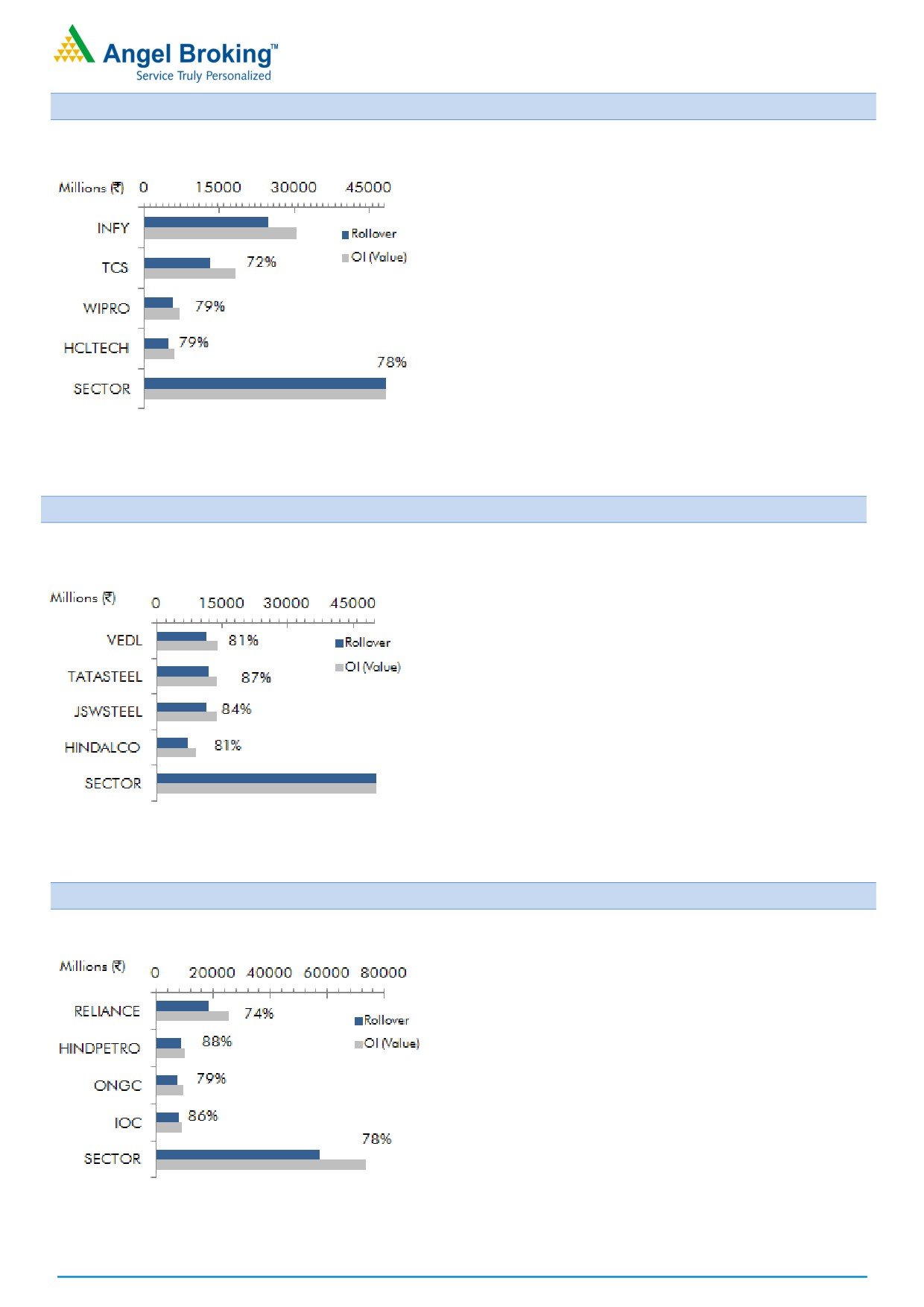 Derivatives Rollover Report
HEXAWARE (79.15%) added more than 50% of open
interest last series along with rise in price. At the
same time, rollovers are above average, suggesting
longs formed have been rolled to August series. This
counter has an immediate resistance around
Rs. 262-267 levels, looking at the volume and open
interest activity, we believe this counter may surpass
its resistance. Thus, traders can buy this counter on
dips for the target of Rs. 273-274.
TCS (71.79%) rallied nearly 7% last series and also
added good amount of long positions. But, these
longs were not rolled to August series. Thus, one
should exit from the longs and wait for further
development before forming any positions.
MINDTREE (83.29%) underperformed its peers. We
witnessed huge short formation and rollovers are also
on the higher side, suggesting short are still intact.
We believe this stock may correct below its support of
Rs. 580-584 levels; avoid buying.
The overall metal pack rallied sharply in the recent
upmove. However, we hardly witnessed any stock
adding fresh open interest series on series.
HINDALCO (80.61%) surpassed the important hurdle
of Rs. 202-204 levels in last series. Surprisingly, we
hardly saw any buying interest in this upmove. At
present, this stock is light in terms of open interest. As
the overall momentum is strong in this counter one
should avoid shorting until we see meaningful fresh
Liquid counters with high rollovers are SAIL (87.09%),
(73.75%) outperformed its peers by
rallying more than 16% in July series. We witnessed
good amount of long formation in this upmove but
rollovers are below average, which is not encoring.
This stock has immediate resistance around
Rs. 1630-1632 levels. Thus, traders are suggested to
book profit near these levels.
As mentioned in the last report, BPCL
rallied due to short covering. However, despite 14%
of upmove we are hardly witnessing any buying
interest; while majority of the shorts are also out of
the system. Thus, unless we don't seen fresh build-up,
one should avoid aggressive positions in this stock.
Some of the liquid counters that have high rollovers
in this space are HINDPETRO
(85.98%), OIL (85.85%) and GAIL (84.30%)
.
For Private Circulation Only
SEBI Registration No: INB 010996539 Derivatives Rollover Report
Research Team Tel: 022 - 39357800
Angel Broking Private Limited (hereinafter referred to as "Angel") is a registered Member of National Stock Exchange of India Limited, Bombay Stock
Exchange Limited and MCX Stock Exchange Limited. It is also registered as a Depository Participant with CDSL and Portfolio Manager with SEBI. It
also has registration with AMFI as a Mutual Fund Distributor. Angel Broking Private Limited is a registered entity with SEBI for Research Analyst in
terms of SEBI (Research Analyst) Regulations, 2014 vide registration number INH000000164. Angel or its associates has not been debarred/
suspended by SEBI or any other regulatory authority for accessing /dealing in securities Market. Angel or its associates including its relatives/analyst
do not hold any financial interest/beneficial ownership of more than 1% in the company covered by Analyst. Angel or its associates/analyst has not
received any compensation / managed or co-managed public offering of securities of the company covered by Analyst during the past twelve
months. Angel/analyst has not served as an officer, director or employee of company covered by Analyst and has not been engaged in market
making activity of the company covered by Analyst.
This document is solely for the personal information of the recipient, and must not be singularly used as the basis of any investment decision.
Nothing in this document should be construed as investment or financial advice. Each recipient of this document should make such investigations as
they deem necessary to arrive at an independent evaluation of an investment in the securities of the companies referred to in this document
(including the merits and risks involved), and should consult their own advisors to determine the merits and risks of such an investment.
Reports based on technical and derivative analysis center on studying charts of a stock's price movement, outstanding positions and trading volume,
as opposed to focusing on a company's fundamentals and, as such, may not match with a report on a company's fundamentals.
The information in this document has been printed on the basis of publicly available information, internal data and other reliable sources believed to
be true, but we do not represent that it is accurate or complete and it should not be relied on as such, as this document is for general guidance only.
Angel Broking Pvt. Limited or any of its affiliates/ group companies shall not be in any way responsible for any loss or damage that may arise to any
person from any inadvertent error in the information contained in this report. Angel Broking Pvt. Limited has not independently verified all the
information contained within this document. Accordingly, we cannot testify, nor make any representation or warranty, express or implied, to the
accuracy, contents or data contained within this document. While Angel Broking Pvt. Limited endeavors to update on a reasonable basis the
information discussed in this material, there may be regulatory, compliance, or other reasons that prevent us from doing so.
This document is being supplied to you solely for your information, and its contents, information or data may not be reproduced, redistributed or
passed on, directly or indirectly.
Neither Angel Broking Pvt. Limited, nor its directors, employees or affiliates shall be liable for any loss or damage that may arise from or in
connection with the use of this information.
Note: Please refer to the important 'Stock Holding Disclosure' report on the Angel website (Research Section). Also, please refer to the latest update
on respective stocks for the disclosure status in respect of those stocks. Angel Broking Pvt. Limited and its affiliates may have investment positions in
the stocks recommended in this report.
For Private Circulation Only
SEBI Registration No: INB 010996539