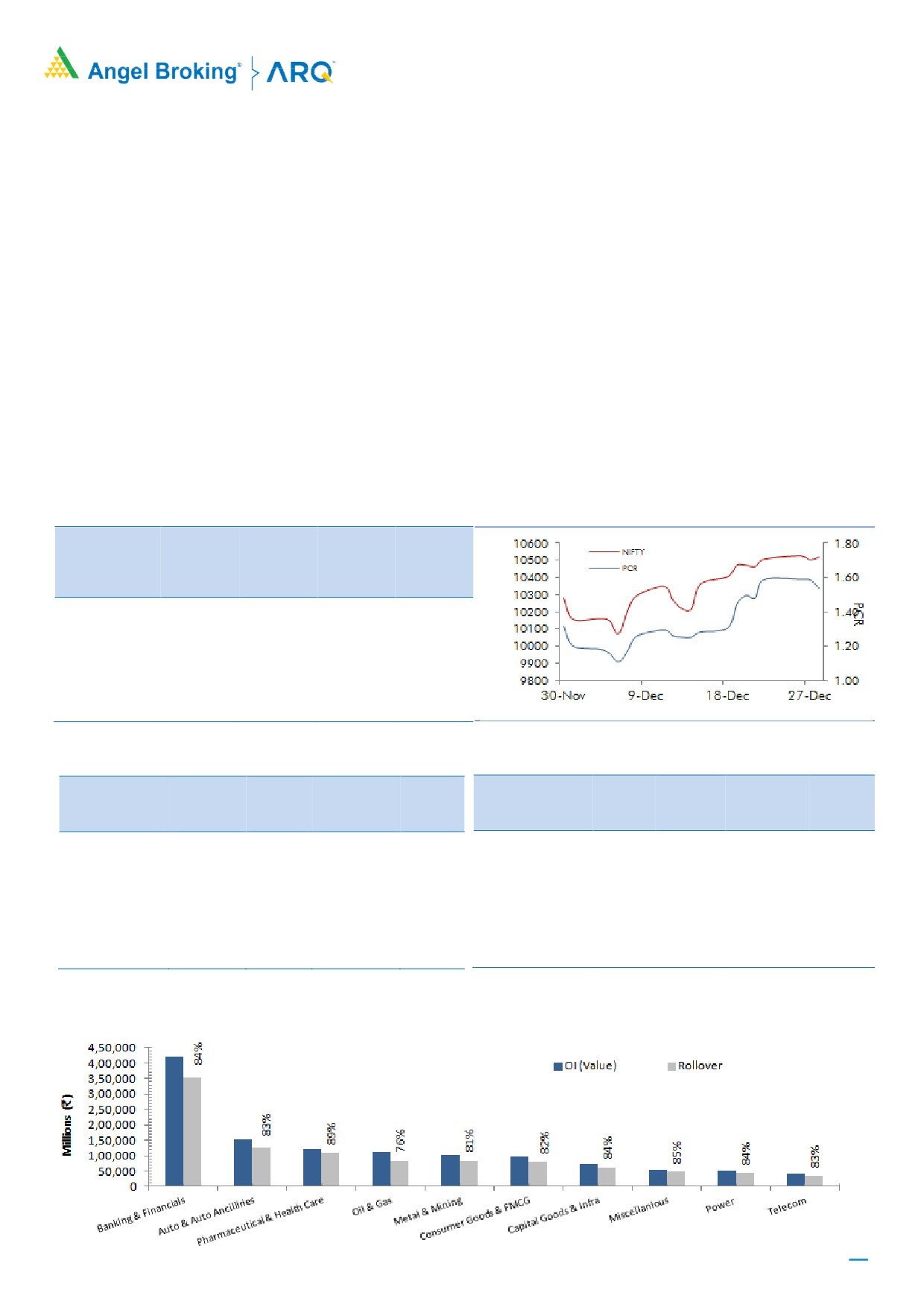 Derivatives Rollover Report
|
December 29, 2017
This calendar year has been the historical one for our market as the benchmark index rallied 28% and surpassed yet
another milestone of 10500 in the concluding series of the year. As far as intra-series activity is concerned, it has
been a roller coaster ride during the first half, mainly due to key events on the domestic as well as global front.
During the early part, the index extended its losses but emergence of smart buying in the vicinity of 10000-10050
pulled index back post the BJP's victory in Gujarat assembly election.
During the series, we witnessed good amount of OI addition in index futures; which was a blend of both long and
short positions. Rollover in Nifty is at 73.19% which is above its three month averages of 69.72%. In terms of open
interest as well, the rollovers are on the higher side. Once again, FIIs exited all of their short positions formed in last
series; as a result the index futures 'Long Short Ratio' has now surged back to 70%. As far as options activity for
January series is concerned, the build-up is quite scattered between 10500-11000 call and 10000-10500 put options,
we believe this is mainly due to upcoming union budget. The volatility index (INDIAVIX) is around 12% and considering
upcoming event, it's expected to scale up going ahead. At this point in time, 10350-10400 seems to be a strong
support and thus, as long as index remains above these levels, traders should avoid forming any bearish bets and
focus on individual stocks to fetch higher returns.
BANKNIFTY (74.40%) rollover percentage is on the higher side, mainly due to the low base. We saw further reduction
of open interest for this rate sensitive index in December series as well; resulting into a lowest open interest in past
three years. During the series, we witnessed sheer underperformance from this space which we believe was mainly due
to decent amount of short additions in PSU banks.
Note:
Stocks which have more than 1000 contract in Futures OI.
Note:
Stocks which have more than 1000 contract in Futures OI.
For Private Circulation Only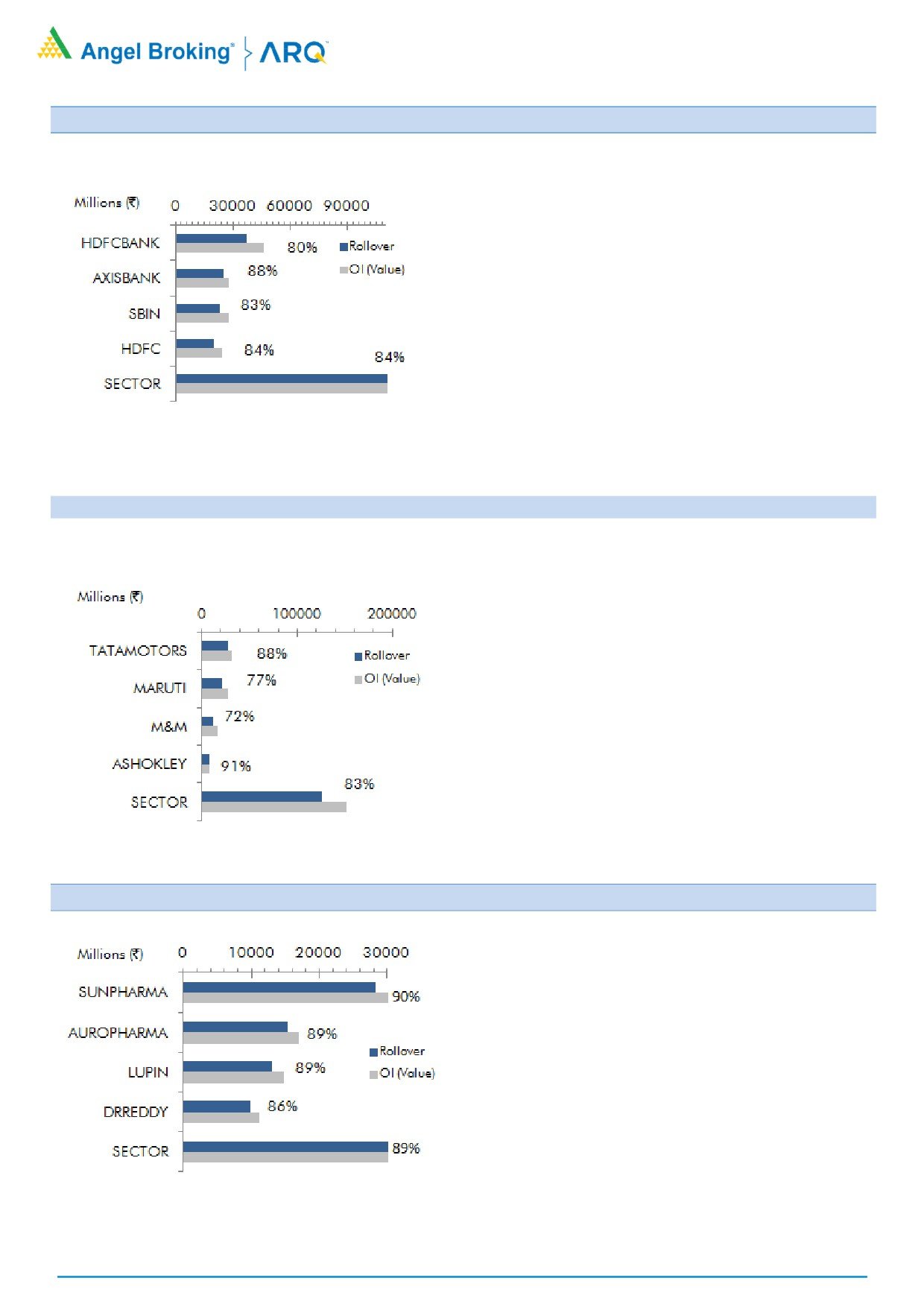 Derivatives Rollover Report
SBIN (82.93%) corrected nearly 3.50% with decent
amount of short formation which has been rolled
over too. This counter has an immediate support
around Rs. 300-305 levels and looking at the data,
we believe one may see short covering bounce from
AXISBANK (88.39%) has been trading in a range of
Rs. 530-565 since quite some time. At the same time,
open interest activity has also been muted. We
believe any move beyond these levels may attract
decent momentum; thus, keep a watch.
In December series, we saw majority of the PSU
banks underperforming the overall market. Stocks
like UNIONBANK (87.41%), SYNDIBANK (86.08%)
and BANKINDIA (84.82%) corrected 10%-15% with
huge short rollovers. Avoid buying until we see any
TATMTRDVR (91.32%) rallied in the midst of last
series mainly due to short covering. We believe
majority of the shorts are now out of the system. Any
up move above Rs. 244 may attract fresh buying.
Thus, traders should look to add fresh longs above
Last series, CEATLTD (86.58%) surpassed the hurdle
of Rs. 1850-1860 with meaningful long formation.
Rollovers are also above averages; suggesting these
positions are still intact. Thus, any dips near
Rs. 1850-1870 zone shall be any opportunity to add
ASHOKLEY (90.55%) closed flat series on series and
OI activity also remained muted. Now, Rs. 113-114
has become a strong base for this counter; whereas,
immediate hurdle for this counter is around
CADILAHC (89.23%) has been consistently adding
huge positions and looking at the price action, it seem
majority of them are on short side. Any move above
the resistance zone of Rs. 435-437 may attract decent
short covering rally; hence, keep it on watch list.
Post massive correction, LUPIN (88.55%) recovered
nearly 8% series on series along with decent long
formation. Rollovers are also above average;
suggesting momentum to continue going ahead. Now,
immediate support for this counter is around
Rs. 860-865 levels; whereas, Rs. 930-940 zone is a
resistance of Rs. 554-557 and also added some long
positions. Looking at OI, we believe these positions
are still in system and further buying may bring this
counter towards Rs. 610-620 levels; buy on dips.
For Private Circulation Only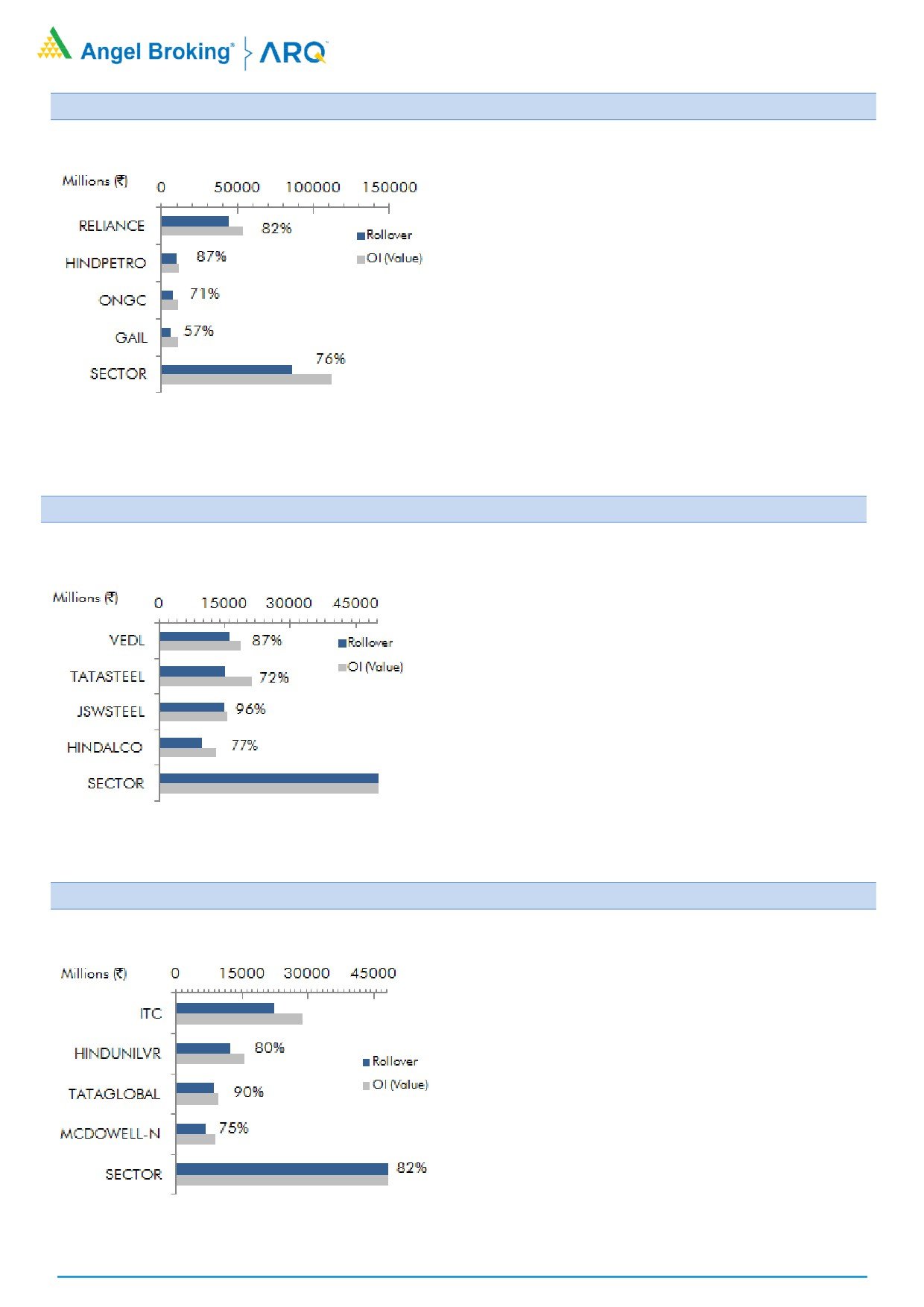 Derivatives Rollover Report
(87.41%) traded in a narrow range
throughout December series and closed on a flat
note. However, daily stats indicate majority of the
positions formed are on short side and are still intact.
Now, Rs. 249-250 is an immediate support for this
counter, while, any move above Rs. 257 may lead to
GAIL (57.32%) is the top price gainer in this space
and also has lowest rollover. The recent rally in this
counter was mainly due to short covering. At present,
Rs. 480-482 is a strong support for index. Any dips
towards these levels shall be an opportunity to re-
Other stocks wherein we saw high rollovers are MRPL
(83.58%) and IGL (82.43%).
HINDALCO (76.87%) rallied nearly 15% last series;
but this move was mainly due to short covering. At
present this counter is light in terms of open interest;
thus, unless we don't see any relevant buying interest;
traders should avoid forming aggressive longs.
JSWSTEEL (94.40%) has highest rollover in this space.
We witnessed decent long formation in the recent up
move from Rs. 244-246 levels and these positions
have been rolled over too. Thus, it is a buy on dip
(71.52%) has lowest rollover in this
segment. We saw some long formation last series;
but, majority of the positions formed have been
lightened up. This counter has lowest OI in last 4
months; hence, traders are advised to wait and watch
before initiating any directional positions.
ASIANPAINT (77.84%) has been under pressure since
quite some time. Last series, this counter closed more
or less on a flat note; meanwhile, also added huge
positions out of which major portion is on short side.
At present, this counter is short heavy and may lead
to decent short covering move.
(89.42%) extended its gains in December
series as well and hits a fresh record high. We
witnessed decent long formations which are still in
system. Thus, avoid shorting this counter
Other stocks wherein we saw high rollovers are
DABUR (94.80%), JUBLFOOD (92.14%), GODREJCP
(91.96%) and TATAGLOBAL (90.30%).
For Private Circulation Only Derivatives Rollover Report
Research Team Tel: 022 - 39357800
Angel Broking Private Limited (hereinafter referred to as "Angel") is a registered Member of National Stock Exchange of India
Limited, Bombay Stock Exchange Limited and Metropolitan Stock Exchange Limited. It is also registered as a Depository Participant
with CDSL and Portfolio Manager and Investment Adviser with SEBI. It also has registration with AMFI as a Mutual Fund Distributor.
Angel Broking Private Limited is a registered entity with SEBI for Research Analyst in terms of SEBI (Research Analyst) Regulations,
2014 vide registration number INH000000164. Angel or its associates has not been debarred/ suspended by SEBI or any other
regulatory authority for accessing /dealing in securities Market. Angel or its associates/analyst has not received any compensation /
managed or co-managed public offering of securities of the company covered by Analyst during the past twelve months.
This document is solely for the personal information of the recipient, and must not be singularly used as the basis of any investment
decision. Nothing in this document should be construed as investment or financial advice. Each recipient of this document should
make such investigations as they deem necessary to arrive at an independent evaluation of an investment in the securities of the
companies referred to in this document (including the merits and risks involved), and should consult their own advisors to determine
the merits and risks of such an investment.
Reports based on technical and derivative analysis center on studying charts of a stock's price movement, outstanding positions and
trading volume, as opposed to focusing on a company's fundamentals and, as such, may not match with a report on a company's
fundamentals. Investors are advised to refer the Fundamental and Technical Research Reports available on our website to evaluate
the contrary view, if any.
The information in this document has been printed on the basis of publicly available information, internal data and other reliable
sources believed to be true, but we do not represent that it is accurate or complete and it should not be relied on as such, as this
document is for general guidance only. Angel Broking Pvt. Limited or any of its affiliates/ group companies shall not be in any way
responsible for any loss or damage that may arise to any person from any inadvertent error in the information contained in this
report. Angel Broking Pvt. Limited has not independently verified all the information contained within this document. Accordingly, we
cannot testify, nor make any representation or warranty, express or implied, to the accuracy, contents or data contained within this
document. While Angel Broking Pvt. Limited endeavors to update on a reasonable basis the information discussed in this material,
there may be regulatory, compliance, or other reasons that prevent us from doing so.
This document is being supplied to you solely for your information, and its contents, information or data may not be reproduced,
redistributed or passed on, directly or indirectly.
Neither Angel Broking Pvt. Limited, nor its directors, employees or affiliates shall be liable for any loss or damage that may arise
from or in connection with the use of this information.
For Private Circulation Only