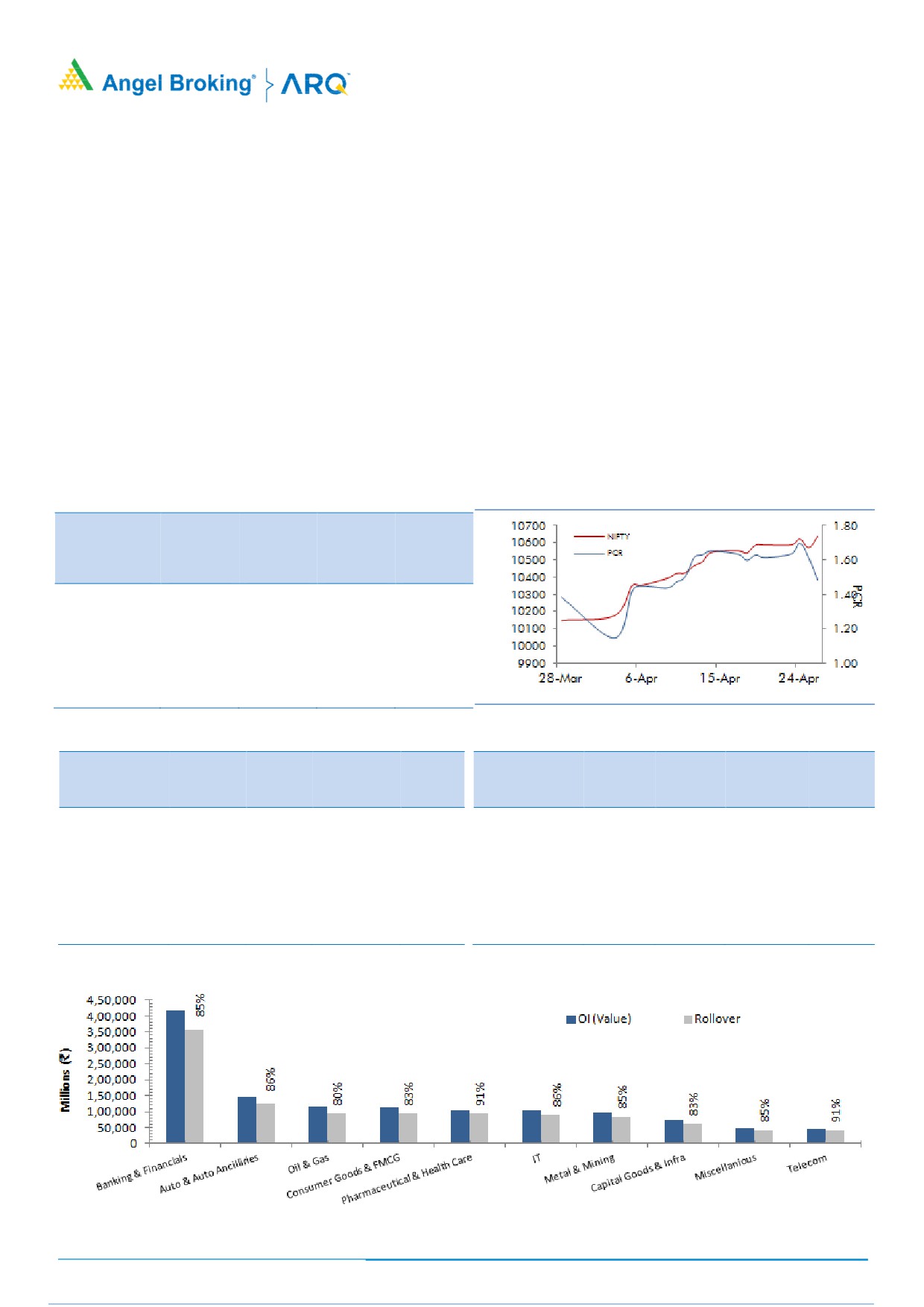 Derivatives Rollover Report
|
April 27, 2018
It was indeed a good start for the financial year 2018-2019, as we saw a smart recovery post last two series correction. The
benchmark Nifty rallied near about 5% with decent long formation in futures segment. Rollovers in Nifty shot up to 72.32%
for April series, which is above the 3-month average of 68%. Similarly, for BankNifty also stood on the higher side at
82.59%. This certainly hints positive sentiments ahead of the Karnataka Legislative Assembly election, to be slated in the mid
In the series gone by, FIIs chose to participate in the recent rally as there added good amount of long positions in index and
as well as in stock futures segment. In fact, their index futures 'Long Short Ratio' climbed higher to reclaim 50% from 18%
seen in the initial days of April series. At the same time, they sold equities to the tune of Rs. 8476 crores last month. Now, the
are heading into the new series with INDIAVIX below 12%, this is again an indication of some strength. Meanwhile, the
options activity too points out the trading range shifting higher as the maximum concentration of OI is now placed at 11000
followed by 10800 call strike and in case of put options, is visible in 10500 followed by 10400 strike. Considering the above
data point, we may see a bit of extension of the ongoing momentum in the near term
.
BankNifty Rollovers in terms of percentage as well as open interest are on the higher side. In fact, we haven't seen such high
rollover figure for last 10 years. During the series, private heavy weights like YESBANK and KOTAKBANK rallied 16%-12%
and supported the index; whereas, public sector bank remained under pressure. Looking at the quantum of short rollovers in
PSU names, it seems we may soon see decent short covering rally in individual counters.
Note:
Stocks which have more than 1000 contract in Futures OI.
Note:
Stocks which have more than 1000 contract in Futures OI.
For Private Circulation Only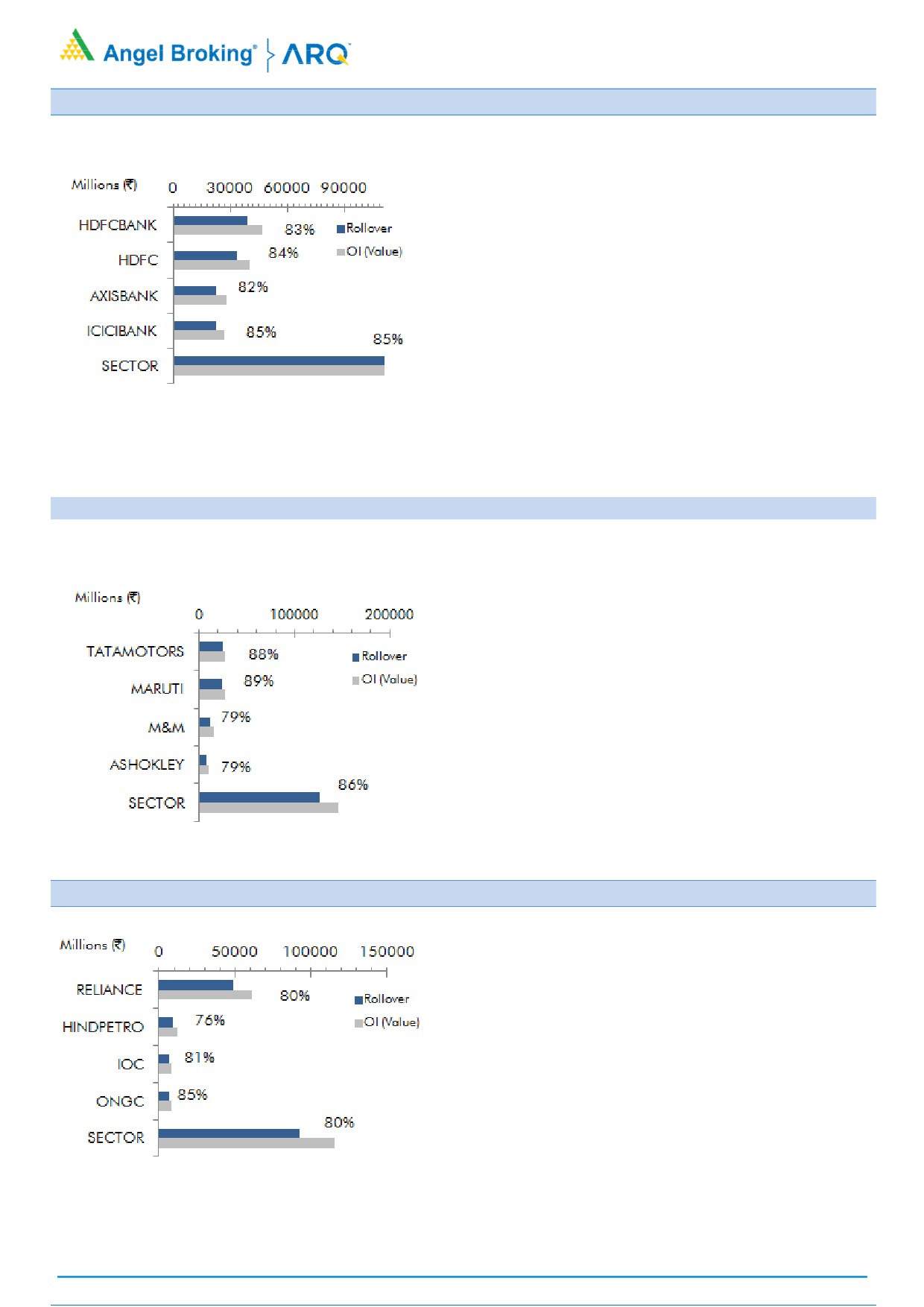 Derivatives Rollover Report
SBIN (82.20%) corrected 6.69% with decent short
formation. Rollover remains slightly low for this
counter but decent amount of shorts are still intact.
This counter has a strong support around
230-232 levels and we expect some short
covering move going ahead.
LICHSGFIN (84.58%) is merely up 2% series on series
and we hardly saw any relevant open interest activity
for the entire April series. This counter is now light in
terms of open interest and has been taking support
near Rs. 536-540 levels. Any fresh buying may lead
to rally towards Rs. 570-572 levels.
As anticipated in the beginning of April series,
M&MFIN (84.44%) tested 500 plus levels along
with decent longs. But, these positions were not
rolled to next series. Thus, traders should lighten
up their positions for time being.
ASHOKLEY (90.42%) extended its upmove in the
latter half of April series and rallied nearly 12% last
series. However, this move was mainly due to short
covering. Unless we don't see any fresh buying
interest one should avoid forming aggressive longs.
TATAMOTORS (88.20%) rallied towards 370 levels
but due to lack of momentum again corrected to
conclude the series with marginal gains. During the
recent fall, we witnessed decent short formation and
we believe these positions are still intact. Now, this
counter is trading near the support zone of
324-327 levels and hence, we expect short
Other stocks wherein we saw long rollovers are
TVSMOTOR (85.70%), BHARATFORG (94.45%) and
We did saw strong buying interest once RELIANCE
(80.27%) surpassed the hurdle of 900-910 levels. This
move was mainly due to short covering and if we see
fresh longs above 1000 mark, once can add-on fresh
HINDPETRO (75.83%) underperformed this space. We
witnessed huge shorts last series but good amount of
shorts were rolled too. This counter has any immediate
support around 285-290 zone; thus, we expect some
fresh buying and short covering which may bring it
towards Rs. 330-335 levels.
(79.60%) corrected nearly
meaningful short formation. These positions have
been rolled too and it also has a strong hurdle around
Rs. 400-405 levels. Unless we don't see strong move
above these levels; one should avoid bottom fishing.
For Private Circulation Only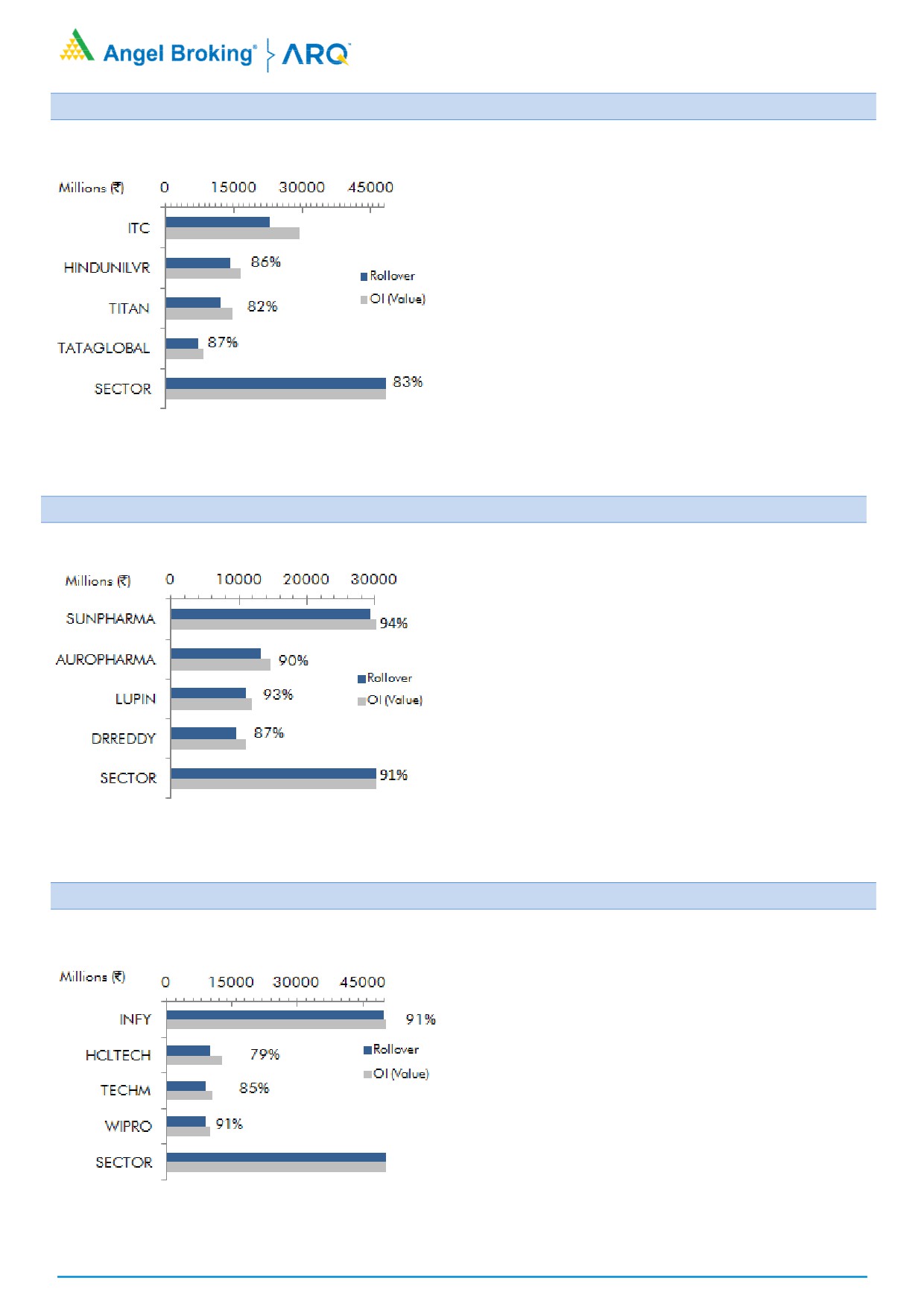 Derivatives Rollover Report
UBL (83.87%) outperformed the FMGS space. As
anticipated we achieved the target of Rs. 1000 due to
massive shorts covering. Now, the rollovers in terms
of percentage as well as open interest are on the
lower side as we hardly saw any relevant longs.
Unless we don't see any fresh buying one should
avoid forming aggressive positions.
HINDUNILVR (85.69%) in last series surpassed the
Meanwhile, we also witnessed decent long formation
but these positions are now out of the system. Thus,
would advise traders to book their profit now.
Other stocks wherein we saw long rollovers are
BERGEPAINT (73.77%), JUBLFOOD (84.82%) and
BIOCON (89.15%) hits a fresh record high and
closed at the highest point ever. We did saw decent
long formations and these positions are still intact.
Those traders who are long shall hold on their
Although SUNPHARMA (94.42%) concluded the April
series on the positive note but we hardly saw any
relevant change in OI series on series. Now, this
counter is light in terms of OI, any move above
immediate hurdle of 522-524 shall lead to fresh
There were few stock that rallied mainly because of
short covering are TORNTPHARM (82.53%), CIPLA
(84.70%) and DIVISLAB (83.14%).
April series this time belonged to the IT pack, as 8 out
11 stocks gave returns between
Courtesy to the appreciating home currency. We
witnessed decent long addition in the entire space.
(62.18%) outperformed this space by
rallying 35% and OI surged 85% series on series.
These hints long are still intact; hence, dips shall be
utilized to add fresh longs.
INFY (90.83%) was up merely 3% but decent amount
of longs were formed last series and these positions
got rolled too. At present, 1200 call options has
highest OI concentration, which means an immediate
hurdle at these levels. Any relevant unwinding in
above call may lead to stock hinting fresh record
For Private Circulation Only Derivatives Rollover Report
Research Team Tel: 022 - 39357800 Extn-6824
Angel Broking Private Limited (hereinafter referred to as "Angel") is a registered Member of National Stock Exchange of India
Limited, Bombay Stock Exchange Limited and Metropolitan Stock Exchange Limited. It is also registered as a Depository Participant
with CDSL and Portfolio Manager and Investment Adviser with SEBI. It also has registration with AMFI as a Mutual Fund Distributor.
Angel Broking Private Limited is a registered entity with SEBI for Research Analyst in terms of SEBI (Research Analyst) Regulations,
2014 vide registration number INH000000164. Angel or its associates has not been debarred/ suspended by SEBI or any other
regulatory authority for accessing /dealing in securities Market. Angel or its associates/analyst has not received any compensation /
managed or co-managed public offering of securities of the company covered by Analyst during the past twelve months.
This document is solely for the personal information of the recipient, and must not be singularly used as the basis of any investment
decision. Nothing in this document should be construed as investment or financial advice. Each recipient of this document should
make such investigations as they deem necessary to arrive at an independent evaluation of an investment in the securities of the
companies referred to in this document (including the merits and risks involved), and should consult their own advisors to determine
the merits and risks of such an investment.
Reports based on technical and derivative analysis center on studying charts of a stock's price movement, outstanding positions and
trading volume, as opposed to focusing on a company's fundamentals and, as such, may not match with a report on a company's
fundamentals. Investors are advised to refer the Fundamental and Technical Research Reports available on our website to evaluate
the contrary view, if any.
The information in this document has been printed on the basis of publicly available information, internal data and other reliable
sources believed to be true, but we do not represent that it is accurate or complete and it should not be relied on as such, as this
document is for general guidance only. Angel Broking Pvt. Limited or any of its affiliates/ group companies shall not be in any way
responsible for any loss or damage that may arise to any person from any inadvertent error in the information contained in this
report. Angel Broking Pvt. Limited has not independently verified all the information contained within this document. Accordingly, we
cannot testify, nor make any representation or warranty, express or implied, to the accuracy, contents or data contained within this
document. While Angel Broking Pvt. Limited endeavors to update on a reasonable basis the information discussed in this material,
there may be regulatory, compliance, or other reasons that prevent us from doing so.
This document is being supplied to you solely for your information, and its contents, information or data may not be reproduced,
redistributed or passed on, directly or indirectly.
Neither Angel Broking Pvt. Limited, nor its directors, employees or affiliates shall be liable for any loss or damage that may arise
from or in connection with the use of this information.
For Private Circulation Only