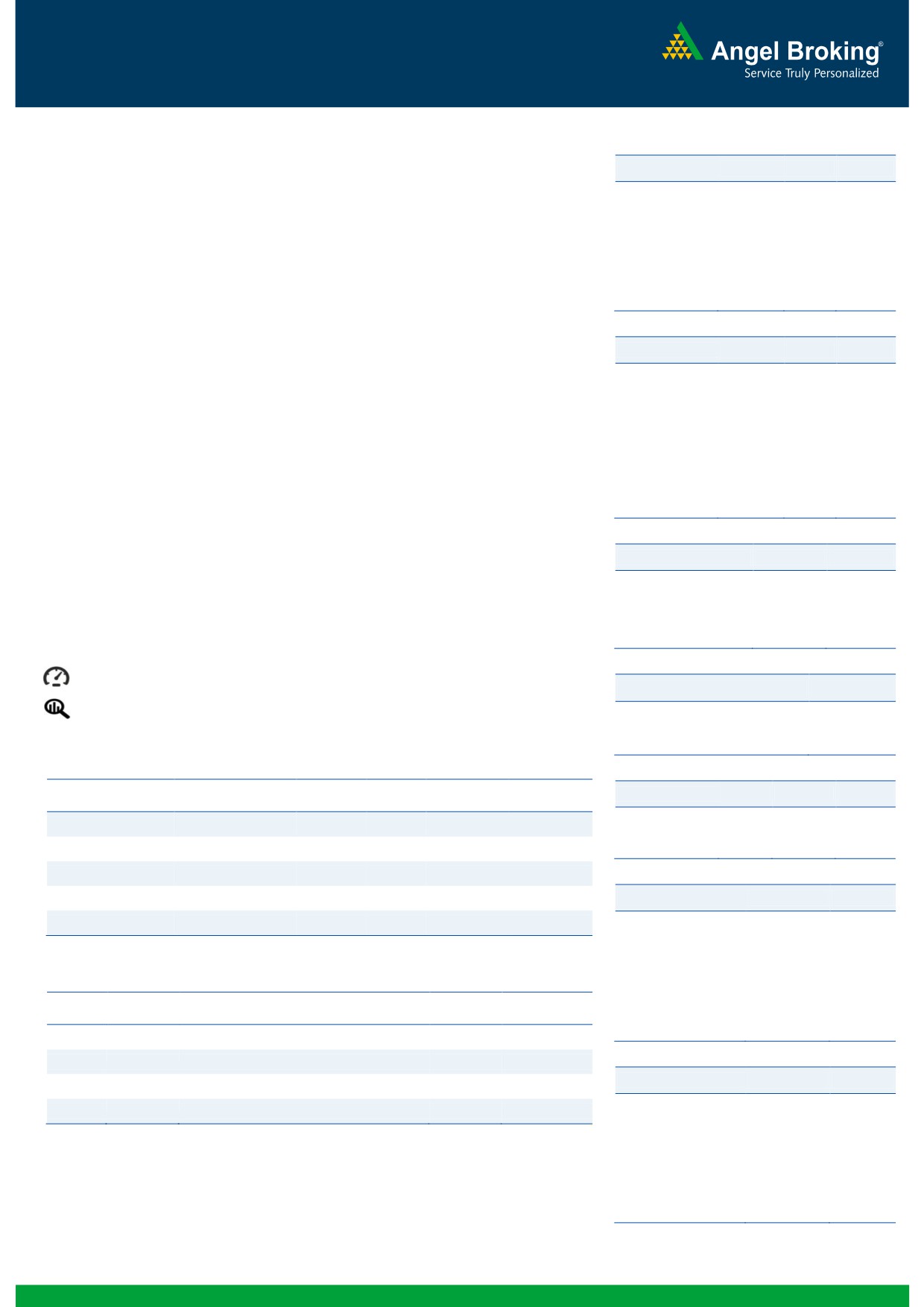 Indian markets are expected to open in the green tracking the SGX Nifty.
Strong bounce back in the oil prices coupled with increased buying interest across
some of the heavyweights ahead of the earnings season led U.S. markets close with
over 1% gains. Better than expected quarterly earnings of 3M (MMM), P&G, Johnson
and Johnson, Sprint also contributed to the rally.
Most of the European indices moved upside. FTSE 100 was up 0.6%, German DAX
and French CAC were up 1% each. Oil players like BP, Royal Dutch, Shell, BG
Group listed in FTSE reported over 1% gains.
Indian stock markets failed to hold the entire gains in last couple of hours of trade
on Monday, tracking volatility in the Europe markets and correction in the oil prices
after Friday's rally. Sensex surged over 200 points intraday, but trimmed its gains in
the afternoon trade, especially after the European markets fell. HDFC Bank gained
nearly a % after its in-line third quarter earnings.

IOC,BPCL to invest
`
1.5lakh cr to set up biggest refinery

Result Review: HDFC Bank, Nilkamal
Investor's Ready Reckoner
Key Domestic & Global Indicators
Stock Watch: Latest investment recommendations on 150+ stocks
Amara Raja Batteries Auto & Auto Ancillary
LIC Housing Finance Financials
Navkar Corporation Others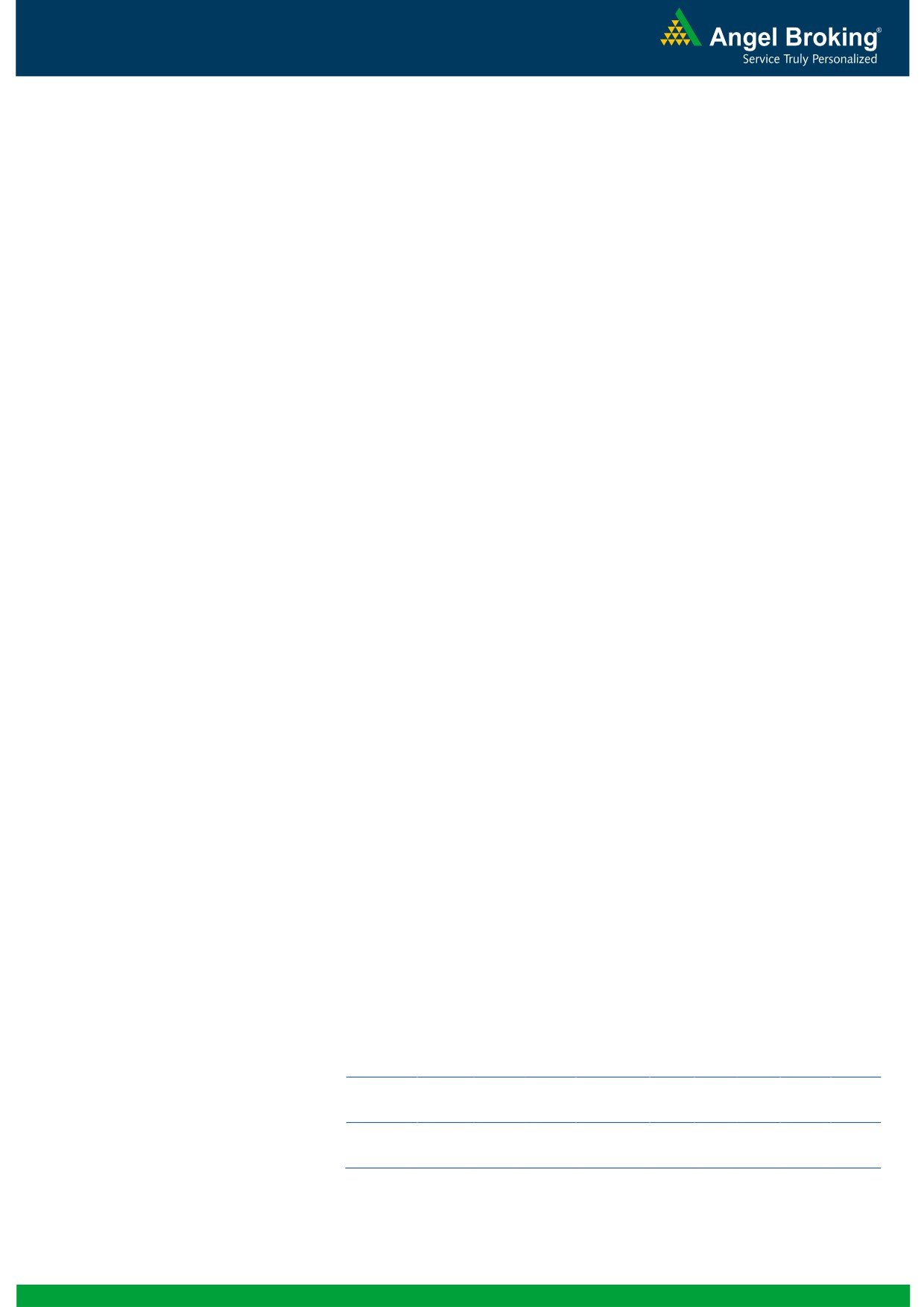 IOC, BPCL to invest
`
1.5lakh cr to set up biggest refinery
PSU oil firms IOCL, BPCL, HPCL and Engineers India will invest
`
1.5lakh cr to set-
up 60mn tn oil refinery unit in Maharashtra, which will also be India's biggest
refinery on the west coast. This refinery is expected to be built in 2 phases, where
the first phase would have 40mn tn of capacity and does envisage over
`
1.0lakh
cr of investment. This refinery will also be accompanied by a petrochemical
IOCL is exploring this alternative as it finds catering to customers in Western and
Southern India difficult, given that most of its refineries are based in North India.
Further, HPCL and BPCL face constraints from their Mumbai units.
This refinery is expected to produce petrol, diesel, LPG, ATF and feedstock for
petrochemical plant in plastic, chemical and textile industries in Maharashtra.
We are of view that setting-up a refinery in the west coast would act as natural
advantage, given that we source majority of crude from Middle East. Also,
movement of products to consumption heartland will get easier once the refinery
commences operations. Given that we are at very early stages, where the project
location is yet to be identified, land has to be allocated, we sense it would take at
least not less than 5 years for this new refinery to come-up.
If we look historical capex execution trends of the PSU Hydro-Carbon players, EIL
has been the preferred choice for design and engineering works of large ticket
complex Hydro-Carbon projects. On the same lines, for this new upcoming
refinery, we expect EIL to emerge as a beneficiary.
This is a positive development for IOCL and it would contribute to their financials
in the long-run. We continue to maintain our Neutral on the stock.
HDFC Bank (CMP:
`
1,040/ TP:
`
1,262/Upside:21.4%)
HDFC bank continued its trend of delivering consistent earnings performance
quarter after quarter and registered a net interest income growth of 24.0% YoY for
3QFY2016 which was slightly above our expectations. The bank's loan book grew
by 25.7% YoY which was aided by NII growth of 24.0% YoY. Non-interest income
for the bank grew at a pace of 13.3% YoY. While operating expenses grew by
21.7% YoY, pre-provision profits were up by 20.0% YoY. On the asset quality
front, the bank continued its steady performance inspite of the challenging macro
environment with the Gross and net NPA levels inching marginally for the bank to
0.97% and 0.29% from 0.91% and 0.25% QoQ respectively. Overall, the bank
reported earnings growth of 20.1% YoY. In light of current macro environment, the
current earnings trajectory of 20%+ YoY is strong which in our view, justifies a
premium valuation multiple.
Hence, we maintain our BUY rating on the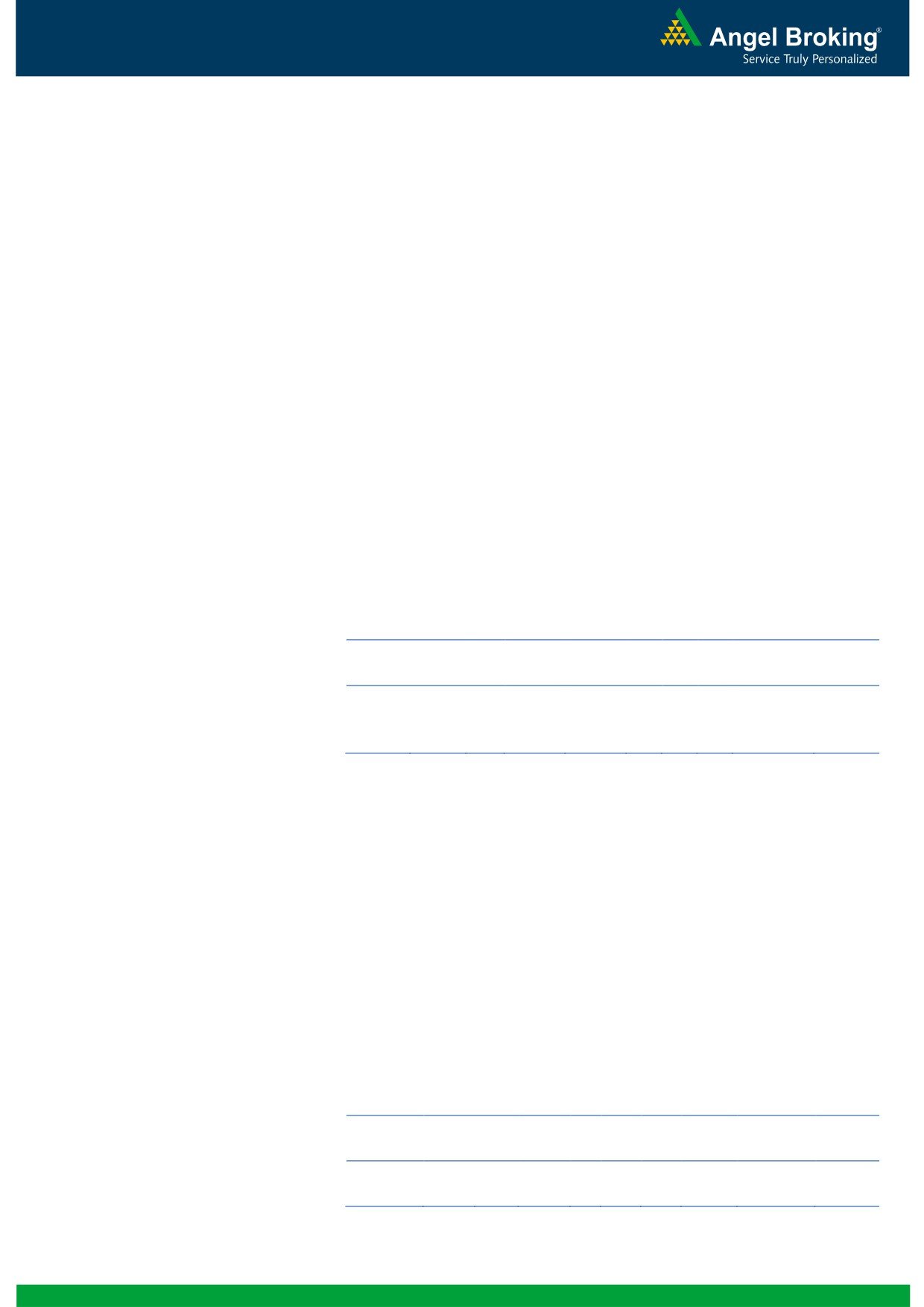 Nilkamal - 3QFY2016 (CMP:
`
1,338/ TP:
-
/ Upside: -)
For 3QFY2016, Nilkamal reported numbers that were mostly in-line with our
estimate. The top-line grew by 1.8% yoy to
`
428cr, which is below our estimate of
`
456cr. Aided by sharp decline in raw material prices, EBITDA grew by an
impressive 49.2% yoy to
`
46cr which is in-line with our estimate of
`
46cr. As per
our reckoning, the average polyethylene prices declined by 15.7% on yoy basis
(7.8% decline on qoq basis) during the quarter resulting in raw material cost
declining by 738bp yoy to 54.8% of sales. However, the employee cost and other
expenses increased by 176bp yoy and 217bp yoy to 8.6% and 25.8% of sales,
respectively. As a result, the EBITDA margin expanded by 345bp yoy to 10.8%
which is mostly in-line with our estimate of 10.1%. The finance cost declined by
53.2% yoy to
`
4cr and consequently, the net profit grew by 138.6% yoy to
`
20cr
which is also in-line with our estimate of
`
21cr.
As far as segmental performance is concerned, the plastics division witnessed 0.3%
yoy growth to
`
365cr and the margins for the segment improved by 641bp yoy to
12.3%. The lifestyle segments' revenues grew by 13.4% yoy to
`
60cr while the
segment reported loss of
`
2 cr. Others, which is includes the mattress business,
saw revenue growth of 9.4% on yoy basis to
`
9cr while the segment reported loss
At current market price, the stock is trading at 18.8x and 16.6x its FY2017E and
FY2018E earnings, respectively. We have a Neutral rating on the stock
EPS ROE P/E P/BV EV/EBITDA EV/Sales
Bharat Electronics Ltd. (CMP:
`
1,208 / TP:
`
1,414/ Upside: 17%)
We expect Bharat Electronics Ltd. (BEL) to report strong set of 3QFY2016 numbers.
On the top-line front, we expect BEL to report 8.3% yoy growth to
`
1,713cr (on
higher 3QFY2015 base). Despite quarterly volatility in the revenues of the
company, we expect 3QFY2016 to benefit from bulk clearances across some of
the projects. During the quarter, BEL reported a ~
`
8,000cr IACCS (Integrated Air
Command Control Systems) order. Considering the shift in revenue mix, we expect
BEL to report `
`
90cr of EBITDA (reflecting yoy decline in EBITDA margins to
16.3%). In-line with EBITDA movement, we expect BEL to report 5.9% yoy increase
in its PAT to
`
288cr (reflecting yoy decline in PAT margins to 16.2%). Key things to
watch out would be margin profile as well as outlook on the order inflows. Post the
recent correction in stock price, we upgrade to Buy on the stock with target of
Quarterly Bloomberg Brokers Consensus Estimate
Bharti InfraTel (Consol.) - January 27, 2016
Colgate-Palmolive Ltd - January 27, 2016
Godrej Consumer (Consol.) - January 27, 2016
Economic and Political News

French firm EDF signs deal to build 6 nuclear plants in India

Government mulls coastal economic zones to boost manufacturing

Germany to invest 130 bn euro on Defence

French to upgrade Delhi-Chandigarh rail route to 200 kmph

World steel output falls 2.8% in 2015; first decline since 2009

Apollo to divest 23.3% stake in Apollo Munich to JV partner

Reliance Power seeks to exit Krishnapatnam UMPP; writes to Andhra govt

Neyveli Lignite Corporation to add 19,000MW by 2025

Madhya Pradesh govt. agrees on tax deferment to BPCL's Bina refinery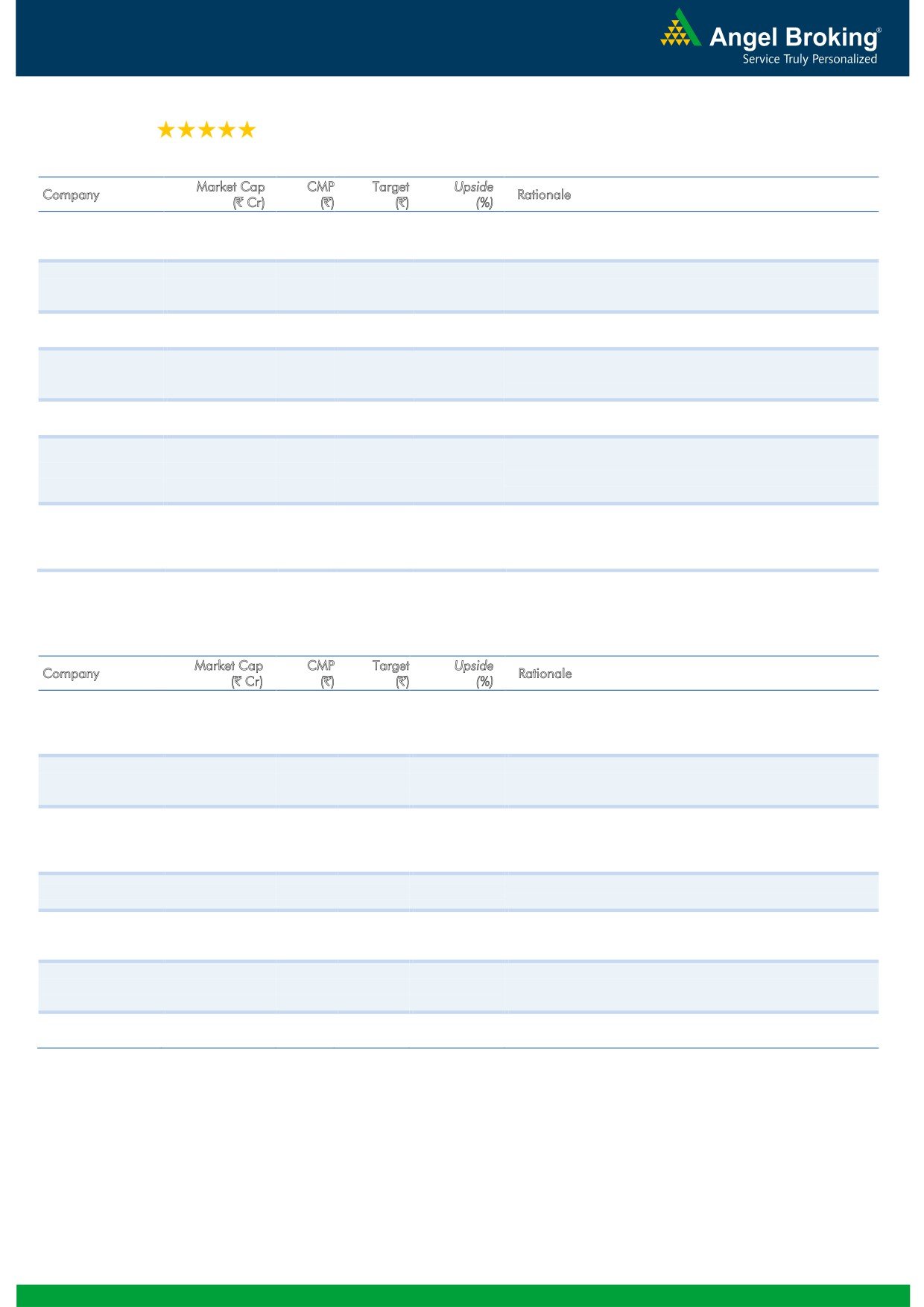 To outpace battery industry growth due to better technological
products leading to market share gains in both the automotive
OEM and replacement segments.
Earnings to grow strongly given the MHCV cyclical upturn.
Focus on exports and LCV's provides additional growth
The stock is trading at attractive valuations and is factoring all
Strong visibility for a robust 20% earnings trajectory, coupled
with high quality of earnings on account of high quality retail
business and strategic focus on highly rated corporates.
Back on the growth trend, expect a long term growth of 14%
to be a US$20bn in FY2020.
Well positioned to benefit from such expected gradual
recovery in the overall domestic capex cycle, given its presence
across various infrastructure segments, its execution
capabilities, and its strong balance sheet.
LICHF continues to grow its retail loan book at a healthy pace
with improvement in asset quality. We expect the company to
post a healthy loan book which is likely to reflect in a strong
Source: Company, Angel Research
Favourable outlook for the AC industry to augur well for
Cooling products business which is out pacing the market
growth. EMPPAC division's profitability to improve once
operating environment turns around.
Change in business focus towards high-margin chronic &
lifestyle segments and increasing penetration in Europe and
Economic recovery to have favourable impact on advertising &
circulation revenue growth. Further, the acquisition of a radio
business (Radio City) would also boost the company's revenue
Massive capacity expansion along with rail advantage at ICD
as well CFS augurs well for the company
Earnings boost on back of stable material prices and
favourable pricing environment. Valuation discount to peers
provides additional comfort
Strong brands and distribution network would boost growth
going ahead. Stock currently trades at an inexpensive
Structural shift in the Lighting industry towards LED lighting will
Source: Company, Angel Research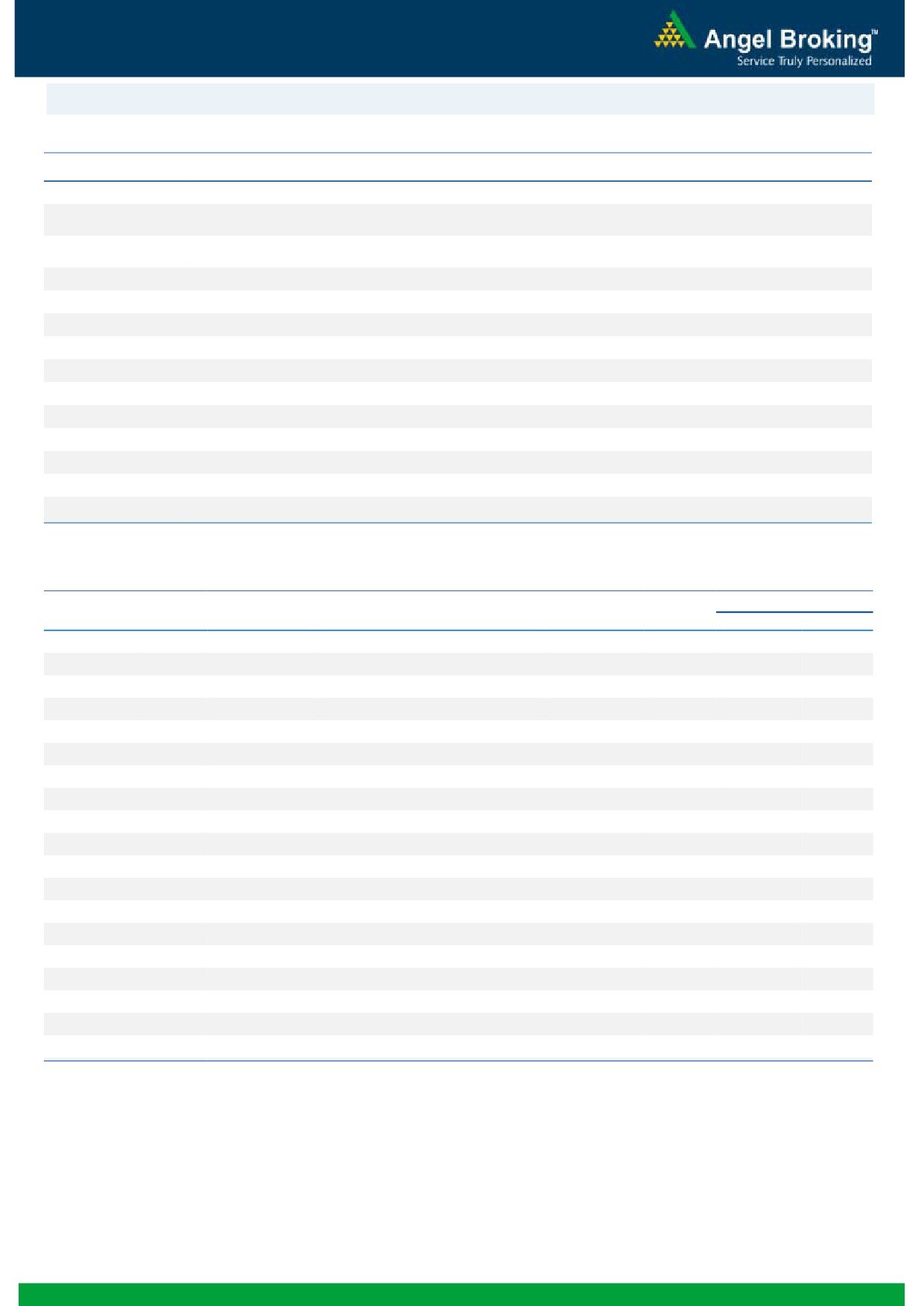 Colgate, Godrej Consumer, HT Media, Kirloskar Engines India Ltd, L G Balakrishnan & Bros, Power Grid Corpn
Maruti, ICICI Bank, Syndicate Bank, Dabur India, Sesa Goa, Jyothy Laboratories, Tide Water Oil India, Glenmark
United Phosphorus, TVS Motor, Siemens, Suzlon Energy, Thermax, Blue Star, Yes Bank, Jagran Prakashan, PVR, JSW
Steel , Banco, Elecon Engineering, Indoco Remedies, NTPC
IDFC, Shriram Trans., Marico, Electrosteel Castings, Relaxo
Tech Mahindra, Transport Corporation of India
Amara Raja Batteries, Cummins India, Crompton Greaves
Mangalam Cement, Hexaware, IOC
Bajaj Auto, ABB, J K Lakshmi Cements, Mphasis, Tata Steel, Styrolution, Visaka Industries, Aventis
Bosch India, Lupin, Cadila Healthcare, Tata Power Co., PTC India
GlaxoSmith Con, Sterling Tools
Motherson Sumi, Apollo Tyres, Ramco Cements, Britannia, Dr Reddy's, CESC
Ambuja Cements, ACC, India Cements, Rural Elec.Corp., GSK Pharma, NHPC
M&M, FAG Bearings, Nestle
Source: Bloomberg, Angel Research
Global economic events release calendar
Unemployment change (000's)
Change in Nonfarm payrolls
Industrial Production (YoY)
Feb 12, 2016 7:30AM India
Industrial Production YoY
Source: Bloomberg, Angel Research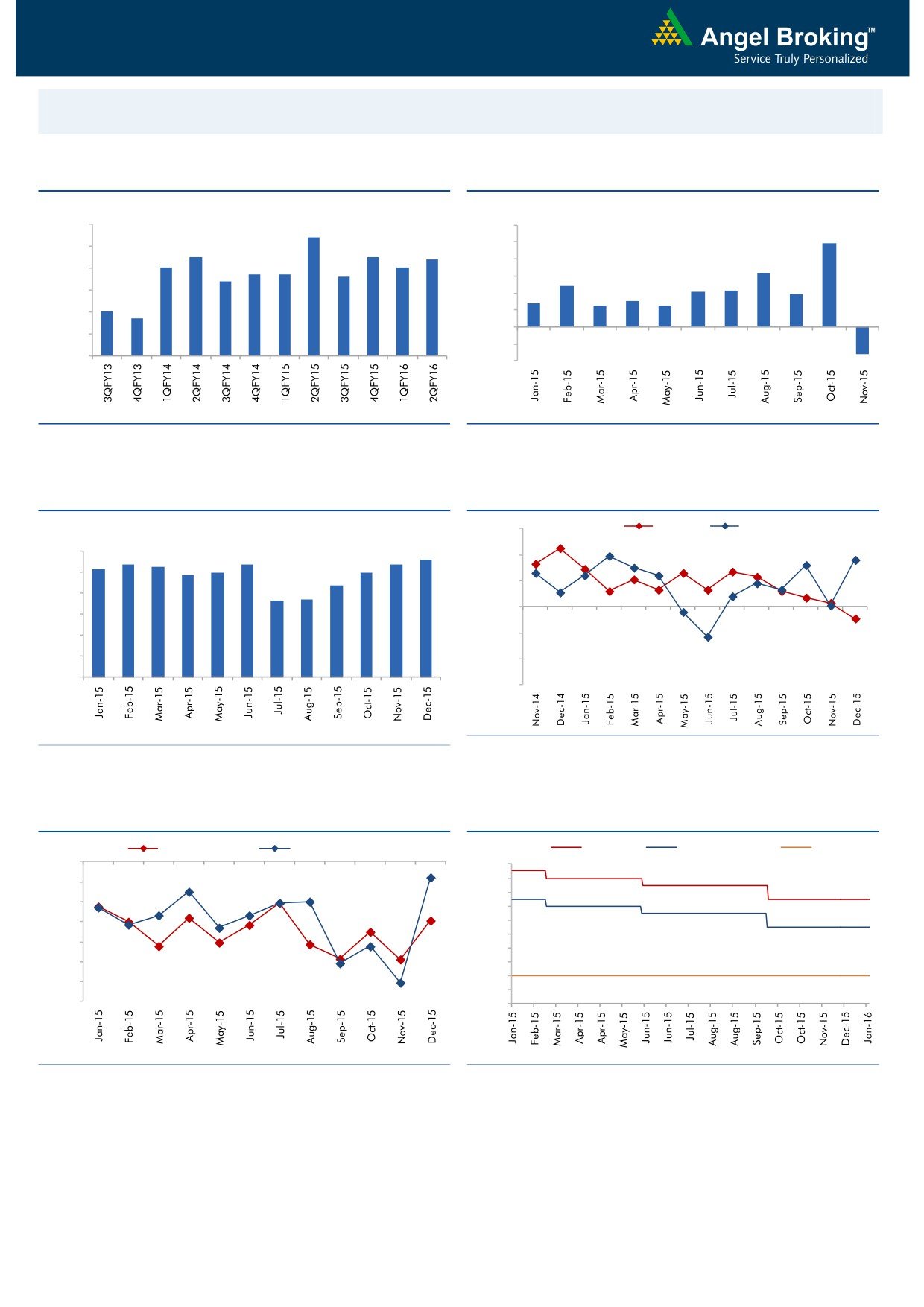 Exhibit 1: Quarterly GDP trends
Source: CSO, Angel Research
Source: MOSPI, Angel Research
Exhibit 3: Monthly CPI inflation trends
Exhibit 4: Manufacturing and services PMI
Source: Market, Angel Research; Note: Level above 50 indicates expansion
Source: MOSPI, Angel Research
Exhibit 5: Exports and imports growth trends
Exhibit 6: Key policy rates
Source: Bloomberg, Angel Research
Source: RBI, Angel Research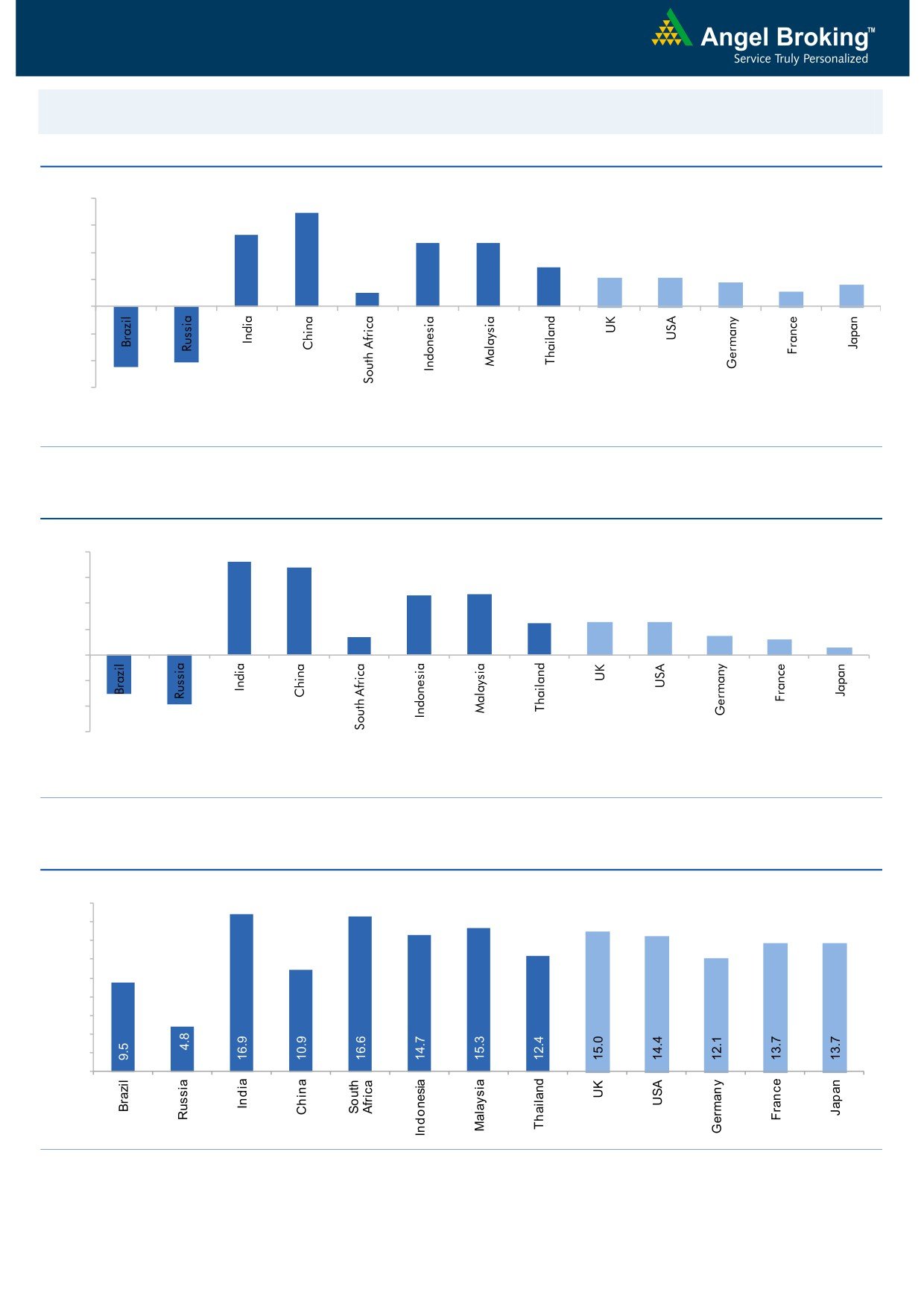 Exhibit 1: Latest quarterly GDP Growth (%, yoy) across select developing and developed countries
Source: Bloomberg, Angel Research
Exhibit 2: 2015 GDP Growth projection by IMF (%, yoy) across select developing and developed countries
Source: IMF, Angel Research
Exhibit 3: One year forward P-E ratio across select developing and developed countries
Source: IMF, Angel Research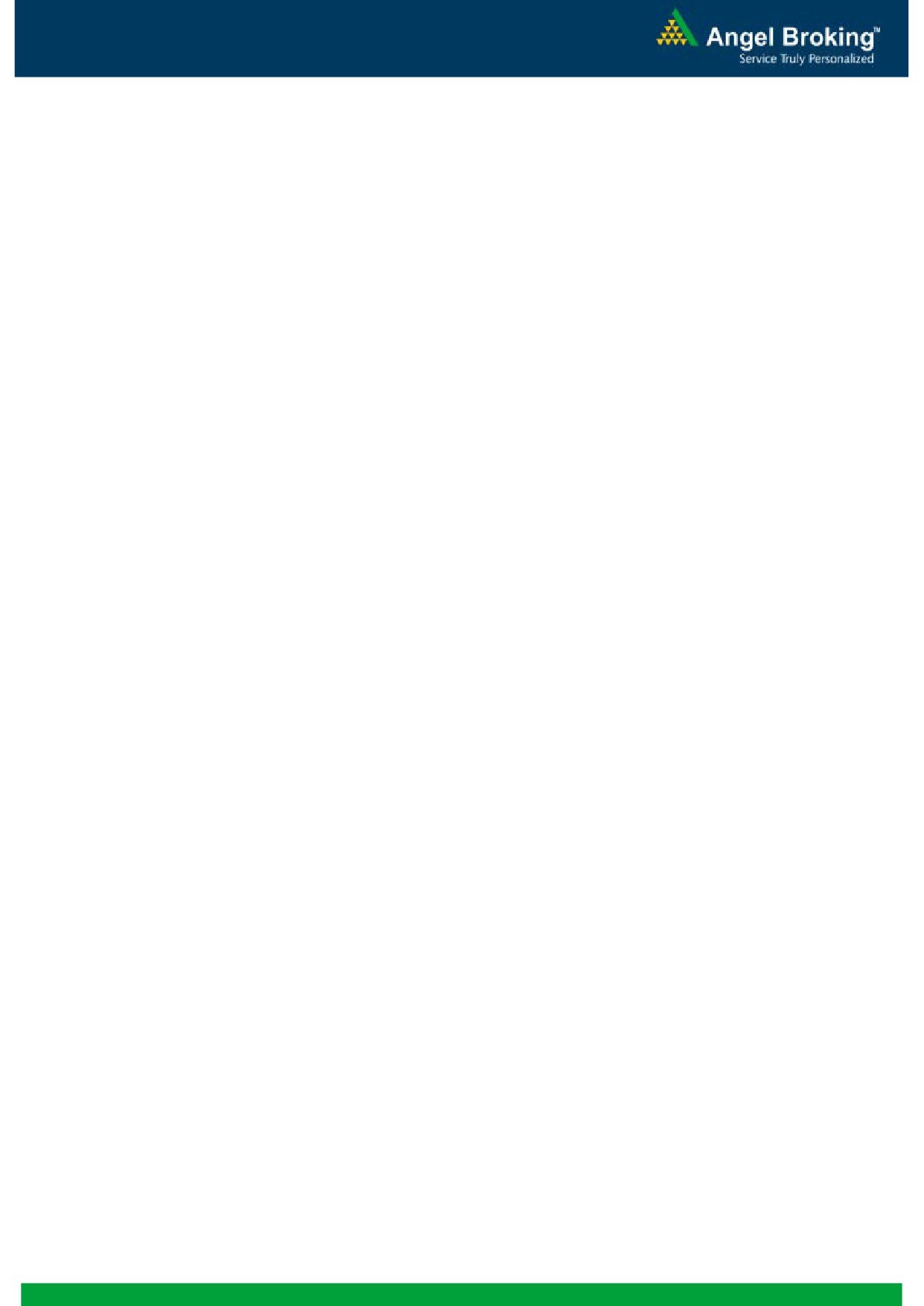 Research Team Tel: 022 - 39357800
Angel Broking Private Limited (hereinafter referred to as "Angel") is a registered Member of National Stock Exchange of India Limited,
Bombay Stock Exchange Limited and Metropolitian Stock Exchange of India Limited. It is also registered as a Depository Participant with
CDSL and Portfolio Manager with SEBI. It also has registration with AMFI as a Mutual Fund Distributor. Angel Broking Private Limited is a
registered entity with SEBI for Research Analyst in terms of SEBI (Research Analyst) Regulations, 2014 vide registration number
INH000000164. Angel or its associates has not been debarred/ suspended by SEBI or any other regulatory authority for accessing
/dealing in securities Market. Angel or its associates including its relatives/analyst do not hold any financial interest/beneficial ownership
of more than 1% in the company covered by Analyst. Angel or its associates/analyst has not received any compensation / managed or co
-managed public offering of securities of the company covered by Analyst during the past twelve months. Angel/analyst has not served as
an officer, director or employee of company covered by Analyst and has not been engaged in market making activity of the company
This document is solely for the personal information of the recipient, and must not be singularly used as the basis of any investment
decision. Nothing in this document should be construed as investment or financial advice. Each recipient of this document should make
such investigations as they deem necessary to arrive at an independent evaluation of an investment in the securities of the companies
referred to in this document (including the merits and risks involved), and should consult their own advisors to determine the merits and
risks of such an investment.
Reports based on technical and derivative analysis center on studying charts of a stock's price movement, outstanding positions and
trading volume, as opposed to focusing on a company's fundamentals and, as such, may not match with a report on a company's
The information in this document has been printed on the basis of publicly available information, internal data and other reliable sources
believed to be true, but we do not represent that it is accurate or complete and it should not be relied on as such, as this document is for
general guidance only. Angel Broking Pvt. Limited or any of its affiliates/ group companies shall not be in any way responsible for any
loss or damage that may arise to any person from any inadvertent error in the information contained in this report. Angel Broking Pvt.
Limited has not independently verified all the information contained within this document. Accordingly, we cannot testify, nor make any
representation or warranty, express or implied, to the accuracy, contents or data contained within this document. While Angel Broking
Pvt. Limited endeavors to update on a reasonable basis the information discussed in this material, there may be regulatory, compliance,
or other reasons that prevent us from doing so.
This document is being supplied to you solely for your information, and its contents, information or data may not be reproduced,
redistributed or passed on, directly or indirectly.
Neither Angel Broking Pvt. Limited, nor its directors, employees or affiliates shall be liable for any loss or damage that may arise from or
in connection with the use of this information.
Note: Please refer to the important 'Stock Holding Disclosure' report on the Angel website (Research Section). Also, please refer to the
latest update on respective stocks for the disclosure status in respect of those stocks. Angel Broking Pvt. Limited and its affiliates may have
investment positions in the stocks recommended in this report.