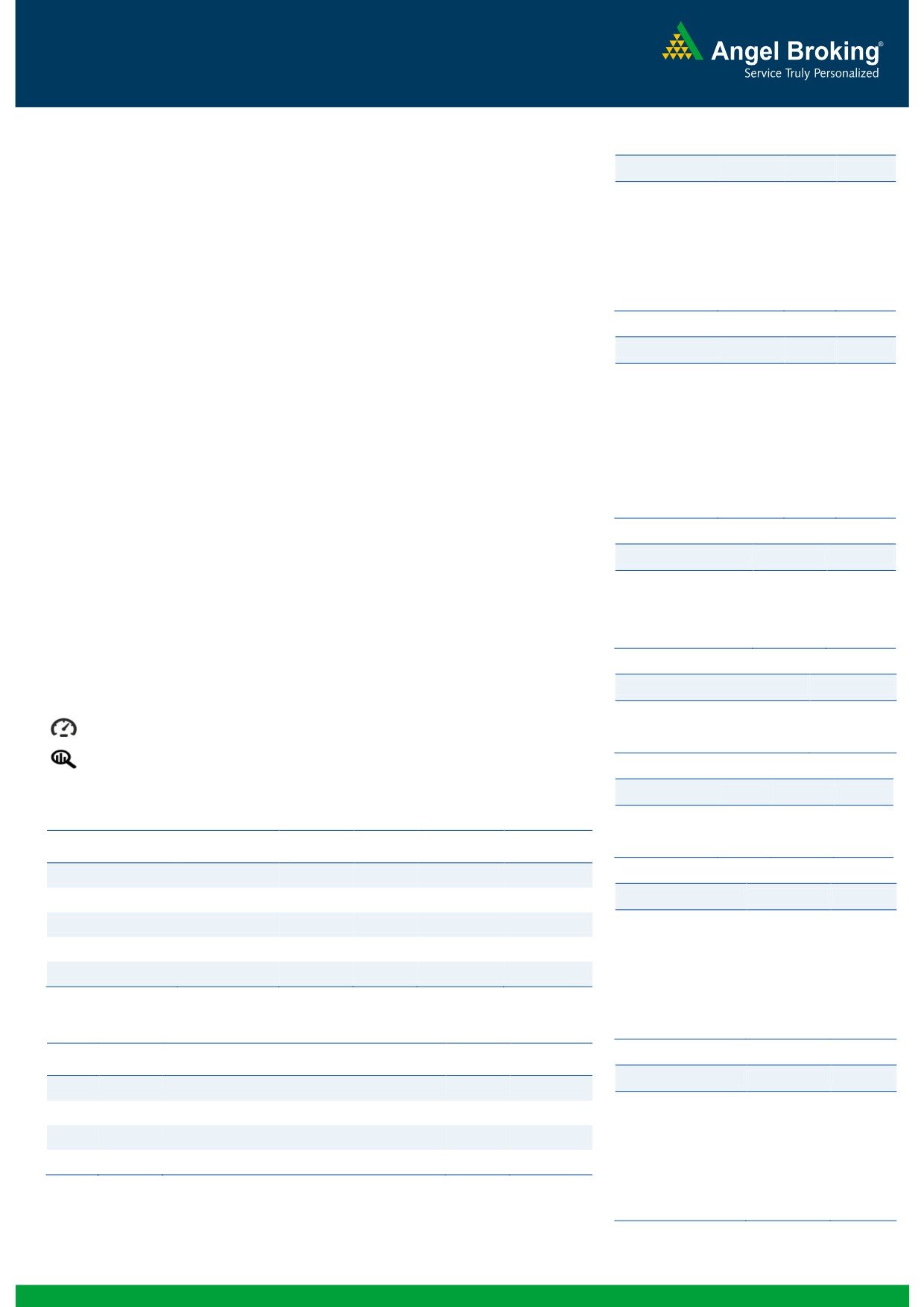 Indian markets are expected to open positive tracking the SGX Nifty and Asian
US indices ended the day in positive territory with energy stocks leading the way
higher. The strength on Wall Street was partly due to a substantial increase by the
price of crude oil, which climbed further off its recent lows. Crude for February
delivery jumped $1.36 to $37.50 a barrel amid the release of a report unexpectedly
showing a sharp drop in crude oil inventories.
The European markets ended Wednesday's session with strong gains. A bullish oil
price forecast from OPEC provided a boost to energy stocks. OPEC said it expects
the price of its crude oil to rise back toward $70 a barrel by 2020.
Indian markets ended positively led by global cues coupled with a firmer rupee,
encouraging current account data and optimism about the progressive nature of the
new bankruptcy code lifted Indian shares to nearly three-week highs on Wednesday.
The Insolvency and Bankruptcy Code has been referred to a Joint Committee of
Parliament having representation from both the houses of Parliament for further
scrutiny, effectively pushing its enactment at least to the Budget session beginning in

Sun Pharma needs to fix leaking roof, contamination risks at Halol: FDA letter

Key takeaways from RBI's Financial Stability report (FSR)
Investor's Ready Reckoner
Key Domestic & Global Indicators
Stock Watch: Latest investment recommendations on 150+ stocks
Initial Jobless claims - Dec19 (in thousands)
Imports YoY% - Dec (% change)
Exports YoY% - Dec (% change)
Change in Nonfarm payrolls -Dec (in thousands)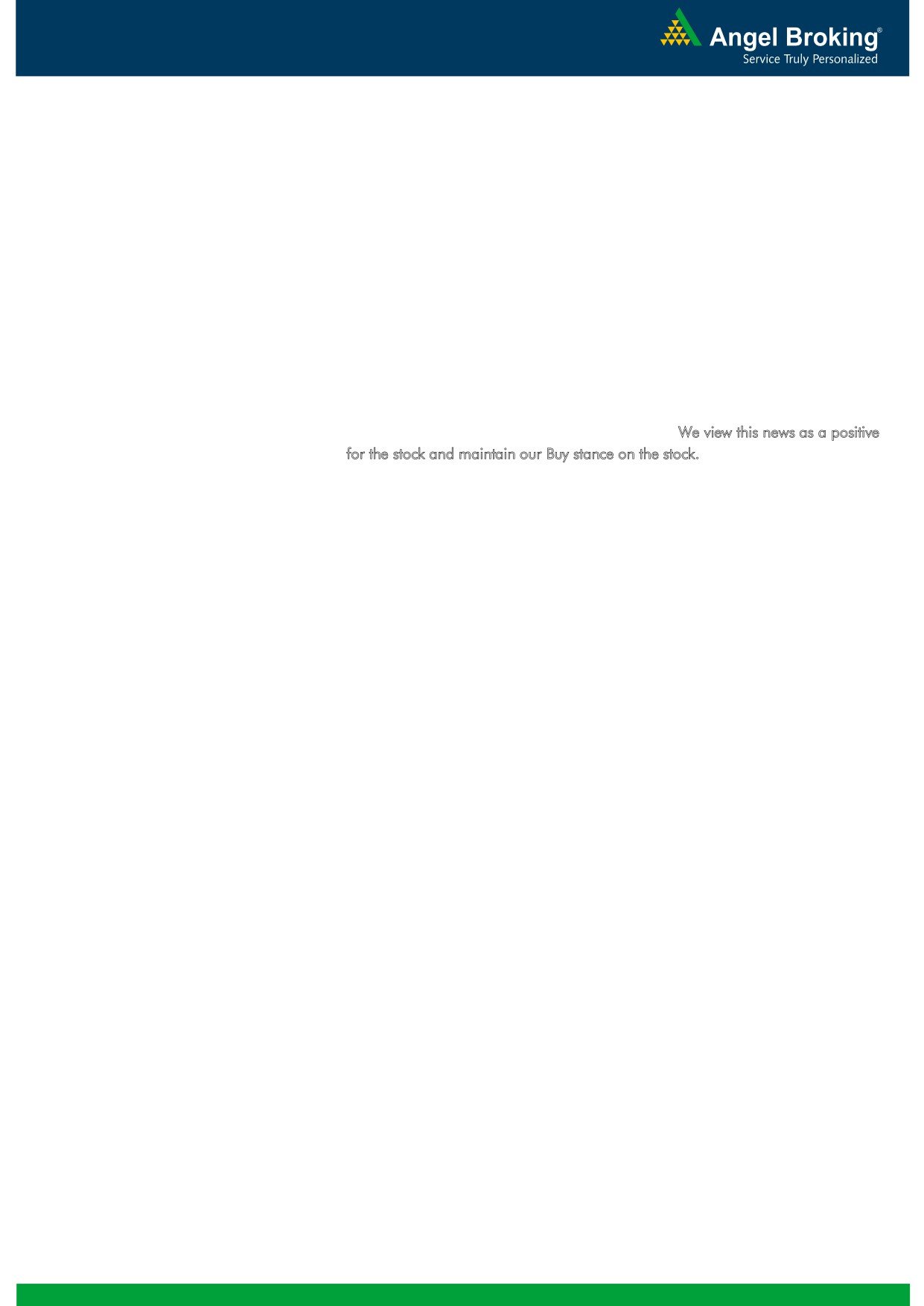 Sun Pharma needs to fix leaking roof, contamination risks at
The FDA has directed Sun Pharma to systematically improve the oversight of
manufacturing quality to ensure sustainable quality assurance. A leaking roof,
walls that weren't smooth enough to be cleaned easily, the possibility of microbial
contamination, inadequacies in airflow systems and the absence of a
comprehensive assessment of informal investigations. That's why the US Food and
Drug Administration issued a warning to Sun Pharmaceutical Industries 15 months
after inspectors visited the Halol plant, one of the company's largest manufacturing
The warning letter cites deterioration in the physical infrastructure. Impurity levels
exceeded limits in exhibit batches, which were later found to be within limits. The
company stated that no data integrity issues were raised or no reference to the
quality of products was made in the warning letter. We view this news as a positive
maintain our Buy stance on the stock.
Key takeaways from RBI's Financial Stability report (FSR)

India's financial system remains stable and the relatively stronger
macroeconomic fundamentals lend resilience to face the still prevailing
uncertainty and emerging risks in the global economy and financial markets.
However, the policy makers and stakeholders will need to remain watchful
about the potential adverse impact of developments in the global scenario
particularly increased volatility in financial markets and further slowdown in

On the domestic front, risks arising from erratic climatic conditions, limited
policy space, corporate performance, asset quality of financial institutions and
low investment growth, among other factors, could pose challenges.

In the corporate sector, declining profitability, high leverage and low-debt
servicing capacity continue to cause concern with their attendant adverse
impact on the financial sector, notwithstanding a marginal improvement
observed during the first half of current financial year.

While steps taken for developing corporate debt markets in India are showing
some results, the dependence on bank finance continues even as the banks,
especially the PSBs face challenges on asset quality, profitability and capital.

The deterioration in the asset quality of banks in general, and PSBs in
particular, continued during the year.
Economic and Political News

Govt says difficult to predict timeline for passage of GST bill

Oil up after US crude stocks drop, still close to 11-year lows

Bankruptcy Code referred to joint committee of Parliament

Lupin gets USFDA nod to market Potassium Chloride capsules

Mahindra to launch premium pick-up range

ICICI Bank to sell rail tickets on website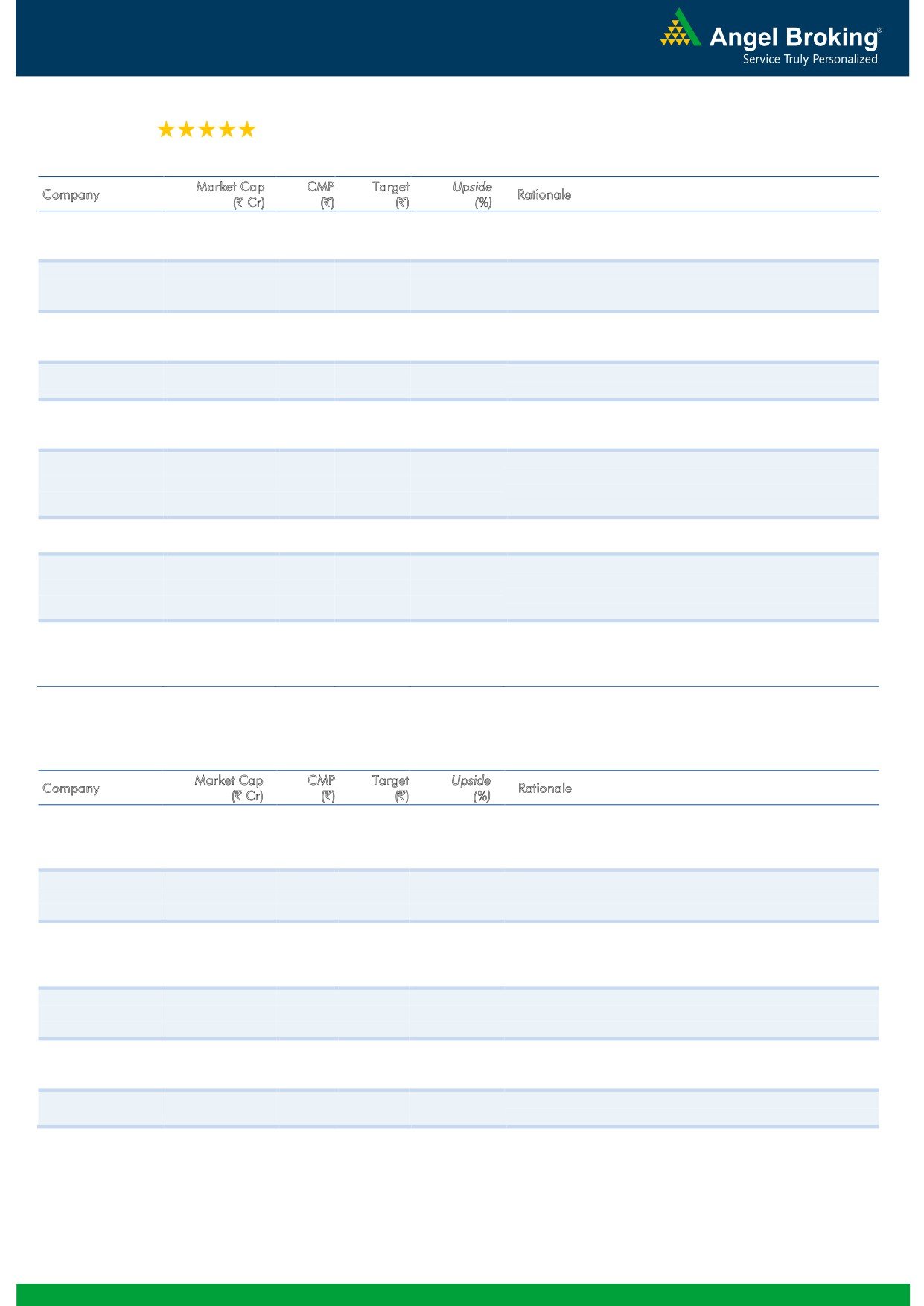 To outpace battery industry growth due to better technological
products leading to market share gains in both the automotive
OEM and replacement segments.
Earnings to grow strongly given the MHCV cyclical upturn.
Focus on exports and LCV's provides additional growth
Healthy pace of branch expansion, backed by distribution
network, will be the driving force for the bank's retail business
The stock is trading at attractive valuations and is factoring all
Strong visibility for a robust 20% earnings trajectory, coupled
with high quality of earnings on account of high quality retail
business and strategic focus on highly rated corporates.
Due to its robust franchise and capital adequacy position, the
bank is well positioned to grow by at least a few percentage
points higher than the average industry growth rate from a
structural point of view.
Back on the growth trend, expect a long term growth of 14%
to be a US$20bn in FY2020.
Well positioned to benefit from such expected gradual
recovery in the overall domestic capex cycle, given its presence
across various infrastructure segments, its execution
capabilities, and its strong balance sheet.
LICHF continues to grow its retail loan book at a healthy pace
with improvement in asset quality. We expect the company to
post a healthy loan book which is likely to reflect in a strong
Source: Company, Angel Research
Favourable outlook for the AC industry to augur well for
Cooling products business which is out pacing the market
growth. EMPPAC division's profitability to improve once
operating environment turns around.
Change in business focus towards high-margin chronic &
lifestyle segments and increasing penetration in Europe and
Economic recovery to have favourable impact on advertising &
circulation revenue growth. Further, the acquisition of a radio
business (Radio City) would also boost the company's revenue
Earnings boost on back of stable material prices and
favourable pricing environment. Valuation discount to peers
provides additional comfort
Strong brands and distribution network would boost growth
going ahead. Stock currently trades at an inexpensive
Structural shift in the Lighting industry towards LED lighting will
Source: Company, Angel Research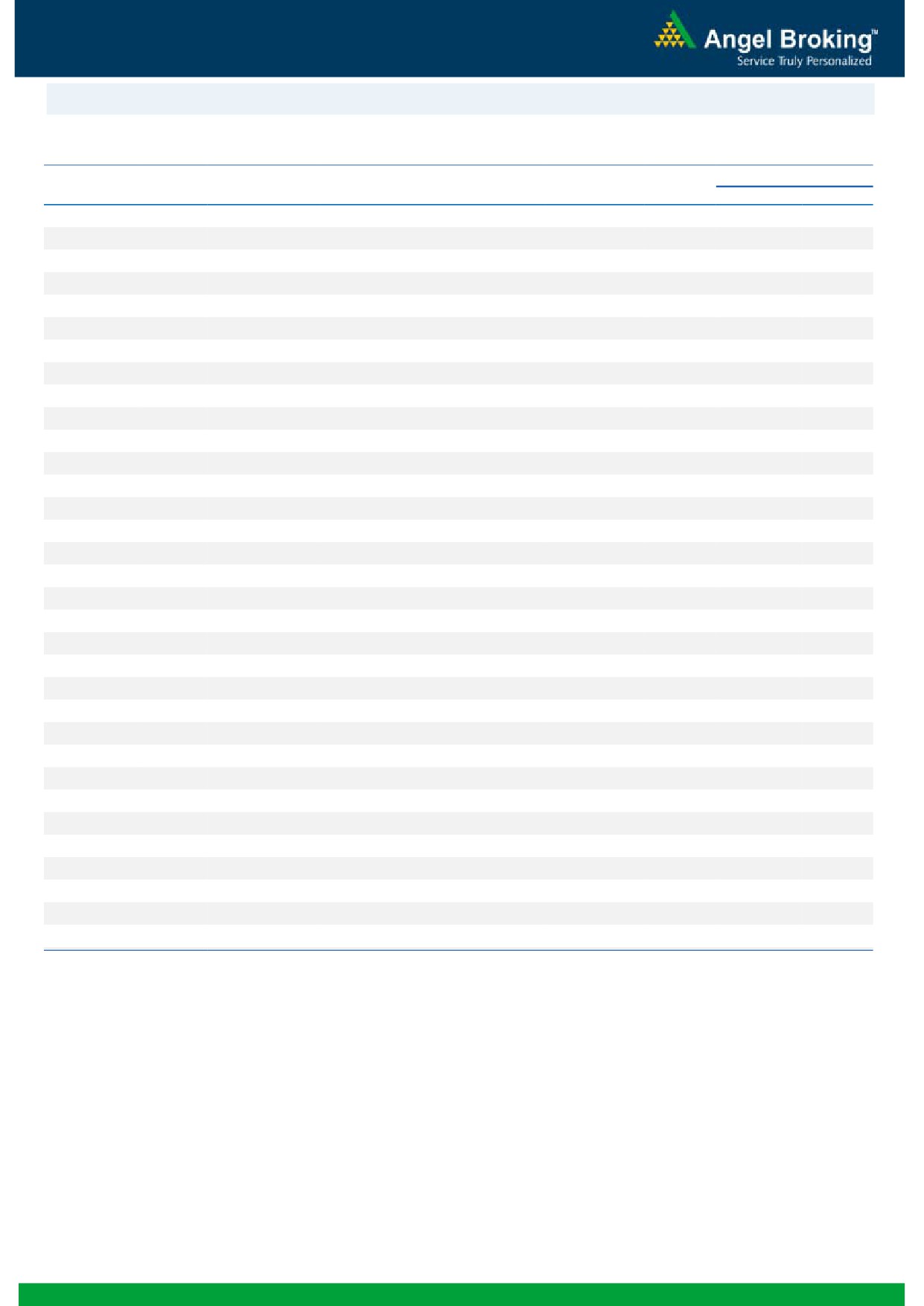 Global economic events release calendar
Unemployment change (000's)
Euro-Zone Consumer Confidence
Change in Nonfarm payrolls
Industrial Production YoY
Industrial Production (YoY)
Monthly Wholesale Prices YoY%
Producer Price Index (mom)
Consumer price index (mom)
ECB announces interest rates
Source: Bloomberg, Angel Research
Exhibit 1: Quarterly GDP trends
Source: CSO, Angel Research
Source: MOSPI, Angel Research
Exhibit 3: Monthly CPI inflation trends
Exhibit 4: Manufacturing and services PMI
Source: MOSPI, Angel Research
Source: Market, Angel Research; Note: Level above 50 indicates expansion
Exhibit 5: Exports and imports growth trends
Exhibit 6: Key policy rates
Source: Bloomberg, Angel Research
Source: RBI, Angel Research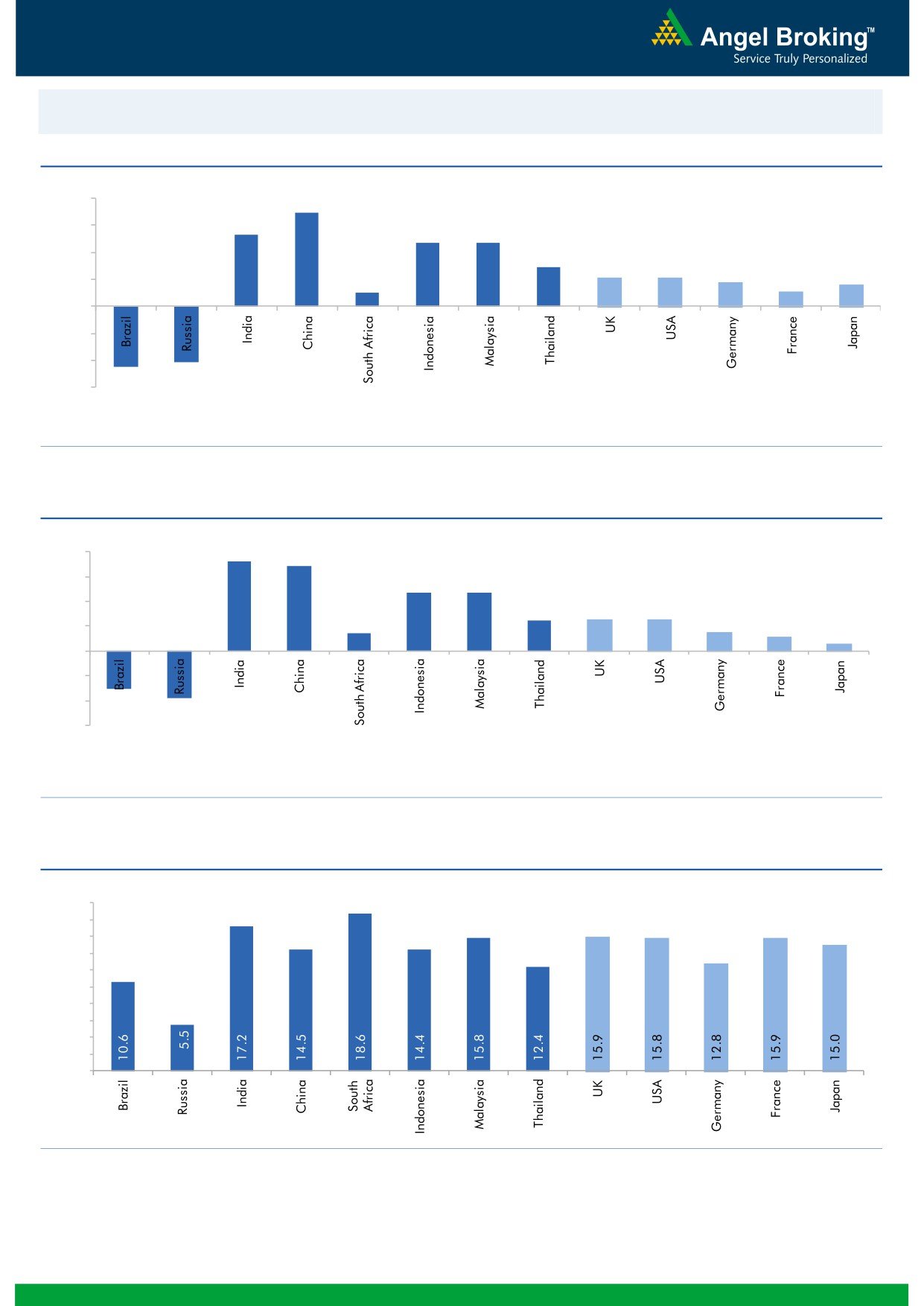 Exhibit 1: Latest quarterly GDP Growth (%, yoy) across select developing and developed countries
Source: Bloomberg, Angel Research
Exhibit 2: 2015 GDP Growth projection by IMF (%, yoy) across select developing and developed countries
Source: IMF, Angel Research
Exhibit 3: One year forward P-E ratio across select developing and developed countries
Source: IMF, Angel Research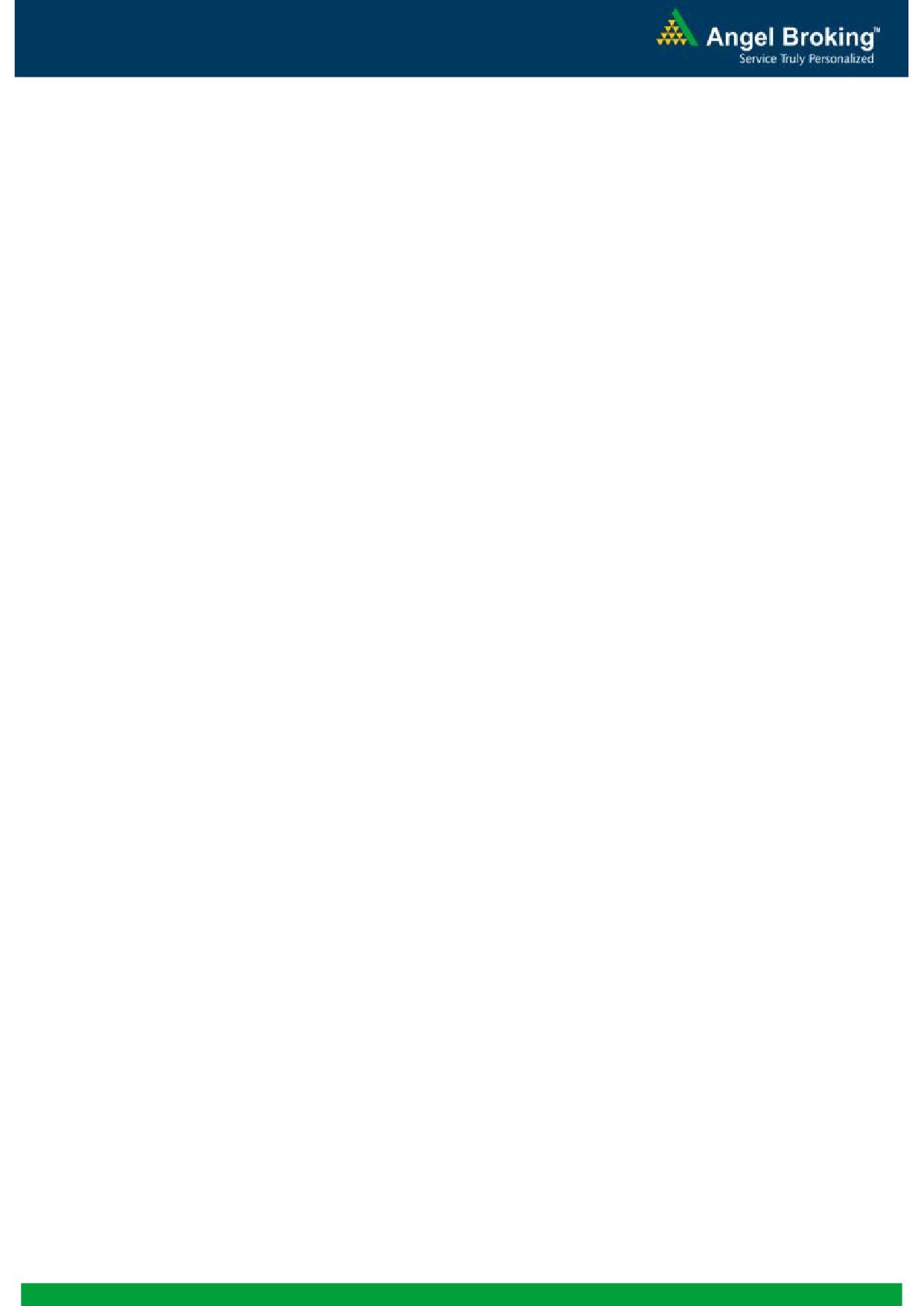 Research Team Tel: 022 - 39357800
Angel Broking Private Limited (hereinafter referred to as "Angel") is a registered Member of National Stock Exchange of India Limited,
Bombay Stock Exchange Limited and Metropolitian Stock Exchange of India Limited. It is also registered as a Depository Participant with
CDSL and Portfolio Manager with SEBI. It also has registration with AMFI as a Mutual Fund Distributor. Angel Broking Private Limited is a
registered entity with SEBI for Research Analyst in terms of SEBI (Research Analyst) Regulations, 2014 vide registration number
INH000000164. Angel or its associates has not been debarred/ suspended by SEBI or any other regulatory authority for accessing
/dealing in securities Market. Angel or its associates including its relatives/analyst do not hold any financial interest/beneficial ownership
of more than 1% in the company covered by Analyst. Angel or its associates/analyst has not received any compensation / managed or co
-managed public offering of securities of the company covered by Analyst during the past twelve months. Angel/analyst has not served as
an officer, director or employee of company covered by Analyst and has not been engaged in market making activity of the company
This document is solely for the personal information of the recipient, and must not be singularly used as the basis of any investment
decision. Nothing in this document should be construed as investment or financial advice. Each recipient of this document should make
such investigations as they deem necessary to arrive at an independent evaluation of an investment in the securities of the companies
referred to in this document (including the merits and risks involved), and should consult their own advisors to determine the merits and
risks of such an investment.
Reports based on technical and derivative analysis center on studying charts of a stock's price movement, outstanding positions and
trading volume, as opposed to focusing on a company's fundamentals and, as such, may not match with a report on a company's
The information in this document has been printed on the basis of publicly available information, internal data and other reliable sources
believed to be true, but we do not represent that it is accurate or complete and it should not be relied on as such, as this document is for
general guidance only. Angel Broking Pvt. Limited or any of its affiliates/ group companies shall not be in any way responsible for any
loss or damage that may arise to any person from any inadvertent error in the information contained in this report. Angel Broking Pvt.
Limited has not independently verified all the information contained within this document. Accordingly, we cannot testify, nor make any
representation or warranty, express or implied, to the accuracy, contents or data contained within this document. While Angel Broking
Pvt. Limited endeavors to update on a reasonable basis the information discussed in this material, there may be regulatory, compliance,
or other reasons that prevent us from doing so.
This document is being supplied to you solely for your information, and its contents, information or data may not be reproduced,
redistributed or passed on, directly or indirectly.
Neither Angel Broking Pvt. Limited, nor its directors, employees or affiliates shall be liable for any loss or damage that may arise from or
in connection with the use of this information.
Note: Please refer to the important 'Stock Holding Disclosure' report on the Angel website (Research Section). Also, please refer to the
latest update on respective stocks for the disclosure status in respect of those stocks. Angel Broking Pvt. Limited and its affiliates may have
investment positions in the stocks recommended in this report.