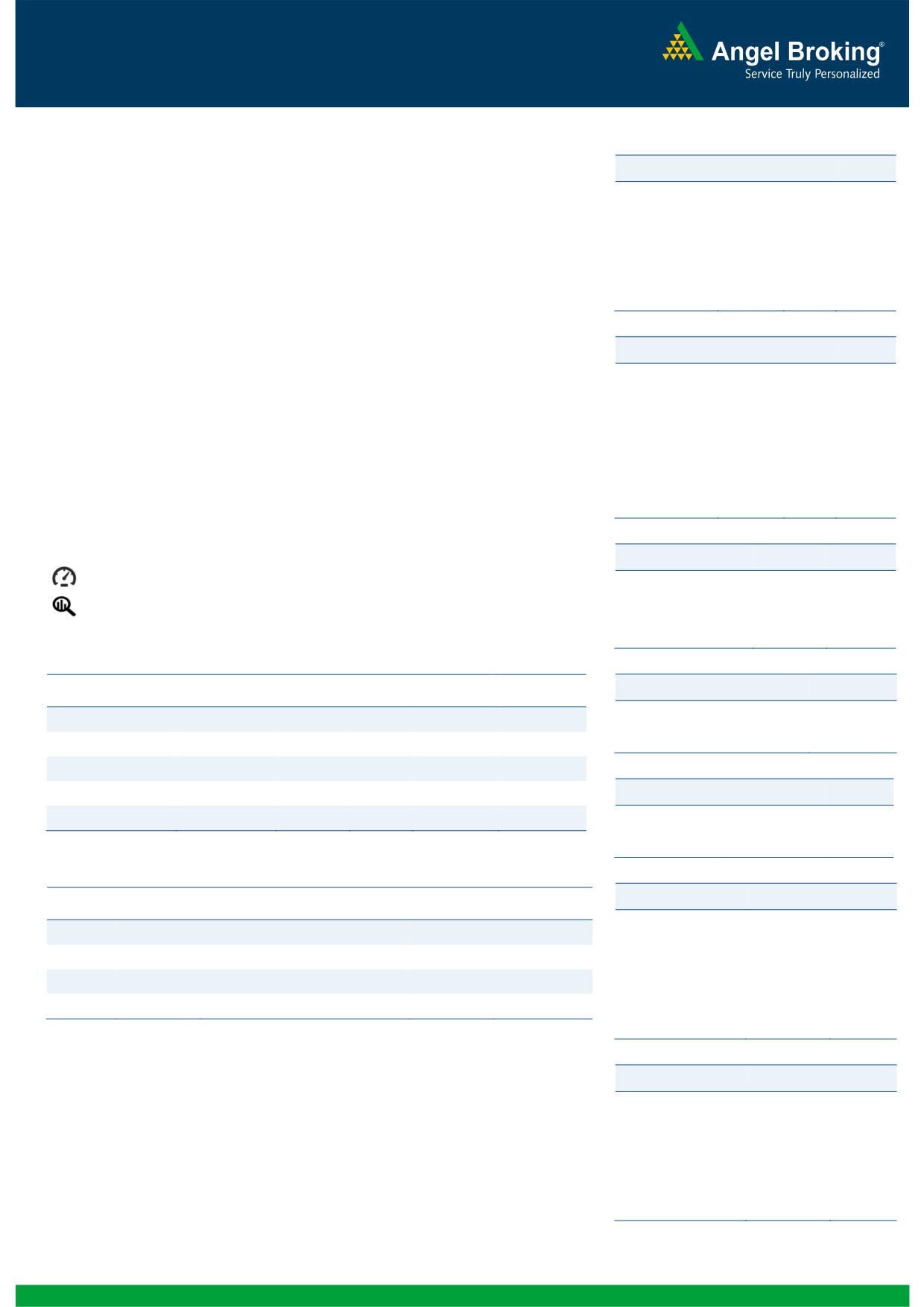 Indian markets are expected to open on positive note tracking the SGX Nifty and
US Markets moved sharply higher over the course of the trading day on Thursday,
after the ECB news and earnings reports that included better-than-expected results
The European markets ended Thursday's session with substantial gains. The markets
began to rally after comments made by European Central Bank President Mario
Draghi, which suggested that further stimulus measures could be coming in the near
The Indian markets reversed early gains to end modestly lower on Wednesday as a
sudden selloff in Chinese markets spurred a bout of risk aversion.

Result Review: Wipro, Bajaj Auto, HDFC bank, JSW
Investor's Ready Reckoner
Key Domestic & Global Indicators
Stock Watch: Latest investment recommendations on 150+ stocks
Unemployment change (000's)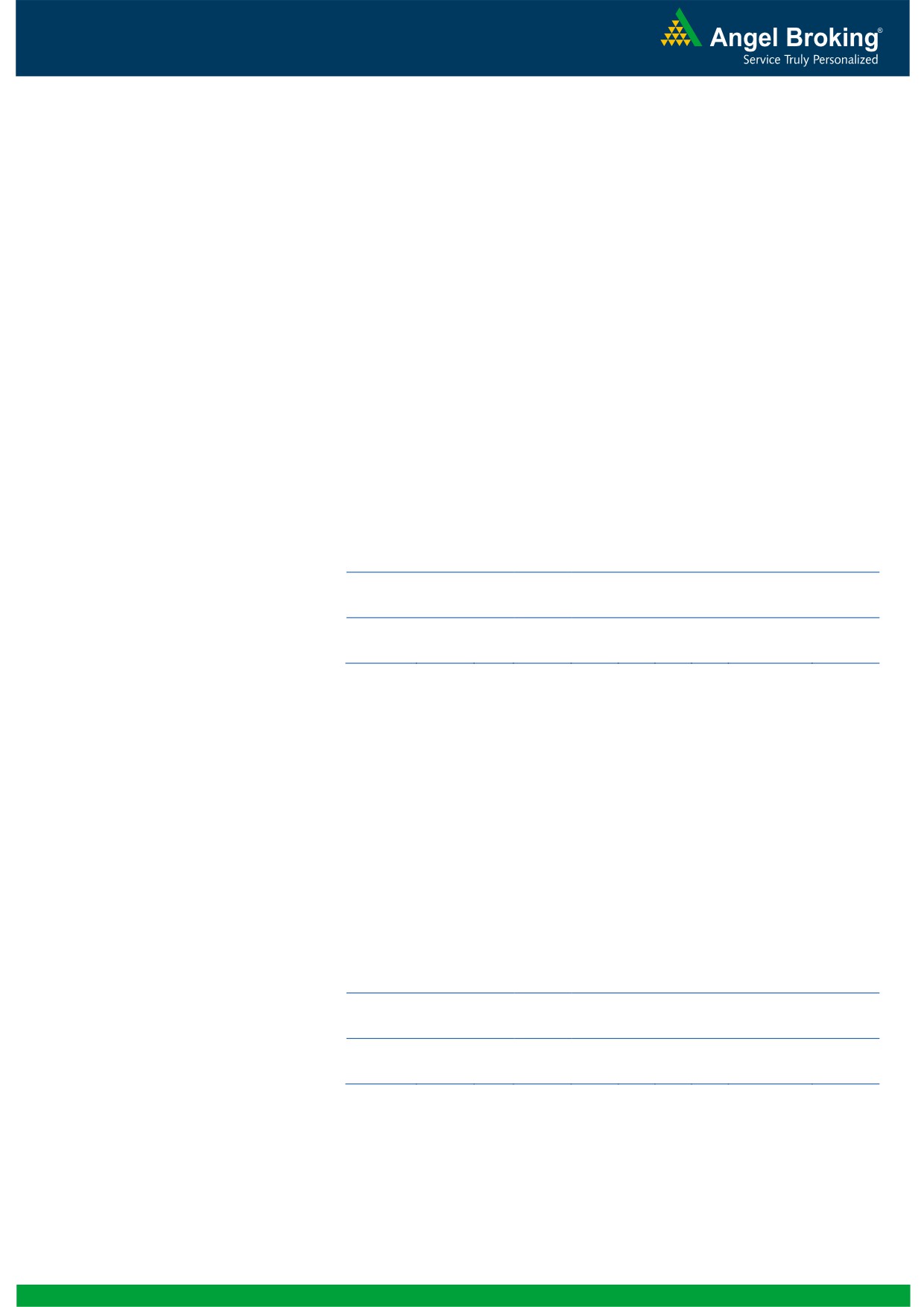 Wipro (CMP:
`
578 / TP:
`
719 /Upside: 24.4%)
2.1% qoq growth to end the period at US$1832mn V/s
US$1826mn expected. In Constant Currency terms (CC), the company posted a
3.0% qoq growth. In rupee terms, the company posted a 2.3% qoq growth of
`
12,514cr V/s
`
12,703cr expected. On the EBIDTA front, the margins came in at
21.7% V/s 21.3% expected. On EBIT front, the company posted an EBIT margins
of 19.0% V/s 18.7% expected, a qoq expansion of 44bps. The IT services segment
has EBIT margins of 20.7% V/s 21.0% in 1QFY2016. Thus, the Net Profit came in
at
`
2,241cr V/s
`
2,223cr expected a growth of 2.4% qoq.
On operating matrix, the company had net utilization levels of company came in
at 77.2% V/s 79.4% in 1QFY2016 and the attrition rate was 16.8% V/s 16.4% in
1QFY2016.In client additions, the company has added one client in the
US$50mn+ and three in US$10mn+.
On guidance front, the company has guided towards a sales of US$ 1,841-
1,878mn, a qoq growth of 0.5-2.5%. According to the company the guidance is in
line with fewer working days in 3QFY2016 and slow ramp-up of the clients. We
currently have buy rating on the stock.
EPS ROE P/E P/BV EV/EBITDA EV/Sales
Bajaj Auto (CMP:
`
2,518 / TP: /Upside: )
Bajaj Auto 2QFY2016 results came in marginally ahead of estimates. Bajaj
managed to improve the margins despite the volume pressures (volumes were flat
yoy) and high competition in the industry. Revenues grew marginally 2% yoy to Rs
6,098 cr coming marginally ahead of our estimates of Rs 5,960 cr. Operating
margins at 21.6% improved steeply 270 bp yoy coming 50 bp ahead of our
assumptions. Soft commodity prices coupled with much higher dollar realization
on exports (Bajaj realized INR
65.2/Dollar in the quarter as against INR
61.5/Dollar realized in 2QFY2015) boosted the margins. Alongwith the robust
operating metrics, higher other income (other income grew 34% yoy) further
boosted profitability. Net Profit at Rs 933 cr beat our estimates of Rs 919 cr. We
currently have Neutral rating on the stock but would review our estimates post
interaction with the management.
EPS ROE P/E P/BV EV/EBITDA EV/Sales
HDFC Bank (CMP:
`
1,095/ TP:
`
1,265/Upside:15.5%)
HDFC bank continued its trend of delivering consistent earnings performance
quarter after quarter and registered a net interest income growth of 21.2% yoy for
2QFY2016 which was in line with the expectations. The bank's loan book grew by
27.9% yoy which was aided by NII growth of 21.2% yoy. Non-interest income for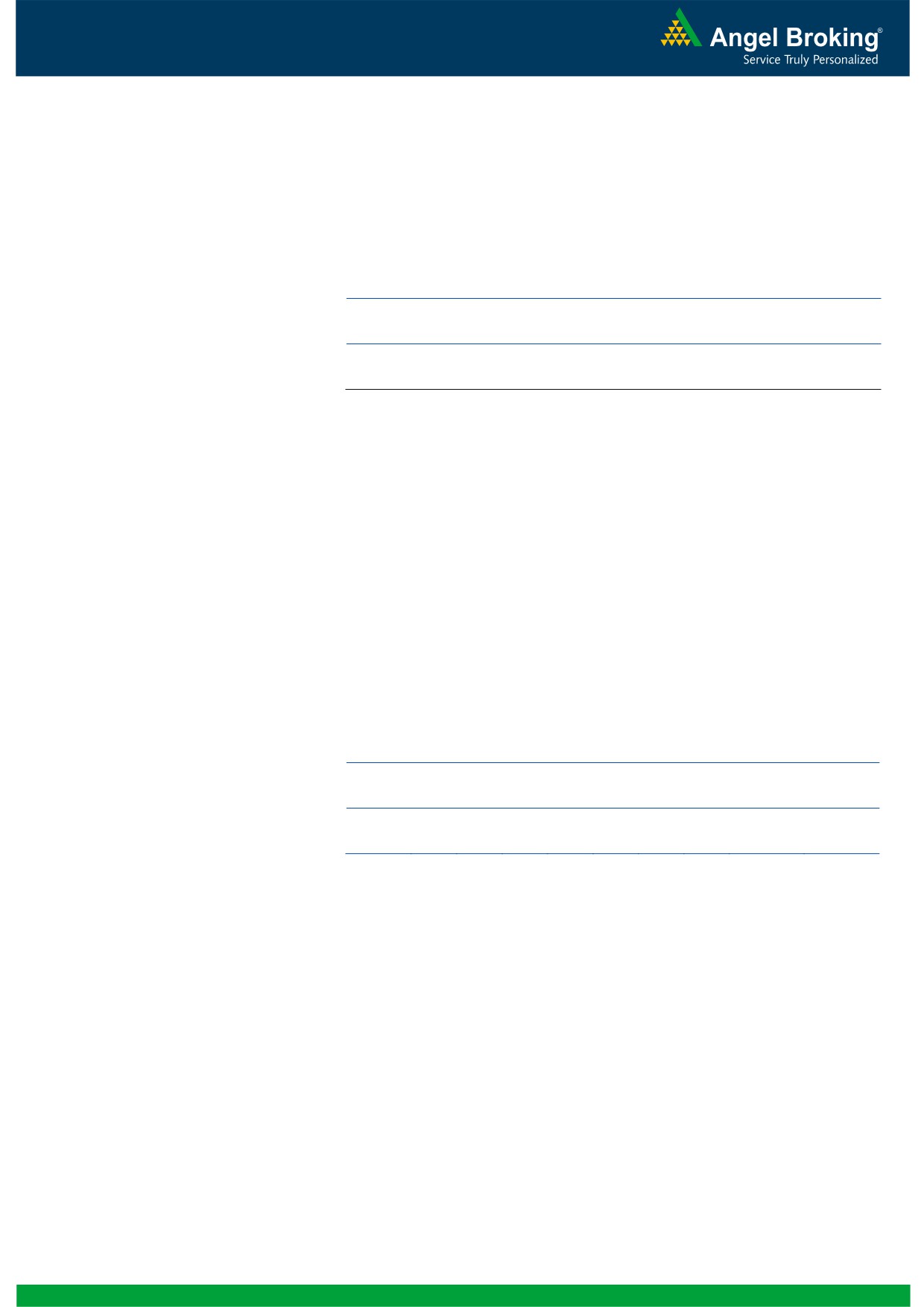 the bank surprisingly grew at a pace of 24.7% yoy. While operating expenses grew
by 19.8% yoy, pre provision profits were up by 24.2% yoy. On the asset quality
front, the bank continued its steady performance inspite of the challenging macro
environment with the Gross and net NPA levels for the bank declining to 0.91%
and 0.25% from 0.95% and 0.27% qoq respectively. Overall, the bank reported
earnings growth of 20.5% yoy. In light of current macro environment, the current
earnings trajectory of 20%+ yoy is strong which in our view, justifies a premium
valuation multiple. Hence, we recommend Buy rating on the stock.
JSW Steel (CMP:
`
905 / Rating: Neutral)
JSW reported sales volume of 3.19MT slightly below our expectations of 3.24MT.
Steel realisation per tonne was however ahead of our expectations at ~$525 per
tonne vs. our expectation of ~$497 per tonne. Standalone revenues were ahead
of our estimate at
`
9,653cr as against our expectation of
`
9,345cr. Led by the
higher than expected revenue, EBITDA was ahead of our estimate at
`
1,566cr as
against our expectations of
`
1,339cr. Coated division produced and sold 0.36MT
in line with expectations. Operating EBITDA for the coated segment however, was
ahead of expectations at
`
102cr vs. our expectations of
`
94cr. Plate and pipe mill
reported utilisation levels in line with our estimates at 25% & 12% respectively.
Plate sales volumes however disappointed at 42,000 net tonnes as against our
expectations of 49,000 net tonnes. EBITDA loss at the US mill was lower than
expected at $3.1 million for the quarter vs. our estimate of a net loss of $5.6
million. We expect steel prices to continue to remain under pressure and retain our
neutral view on the stock.
Economic and Political News

Road construction picks up 36% this year

Coffee exports drop marginally to 3,00,522 tn in 2014-15

RBI chief went with majority view for rate cut

DLF appoints bankers for selling promoters stake in rental arm

Bajaj gears up to roll out 4 new bikes, eyes bigger market share

Fitch assigns 'BBB-' rating to PGCIL for debt issuance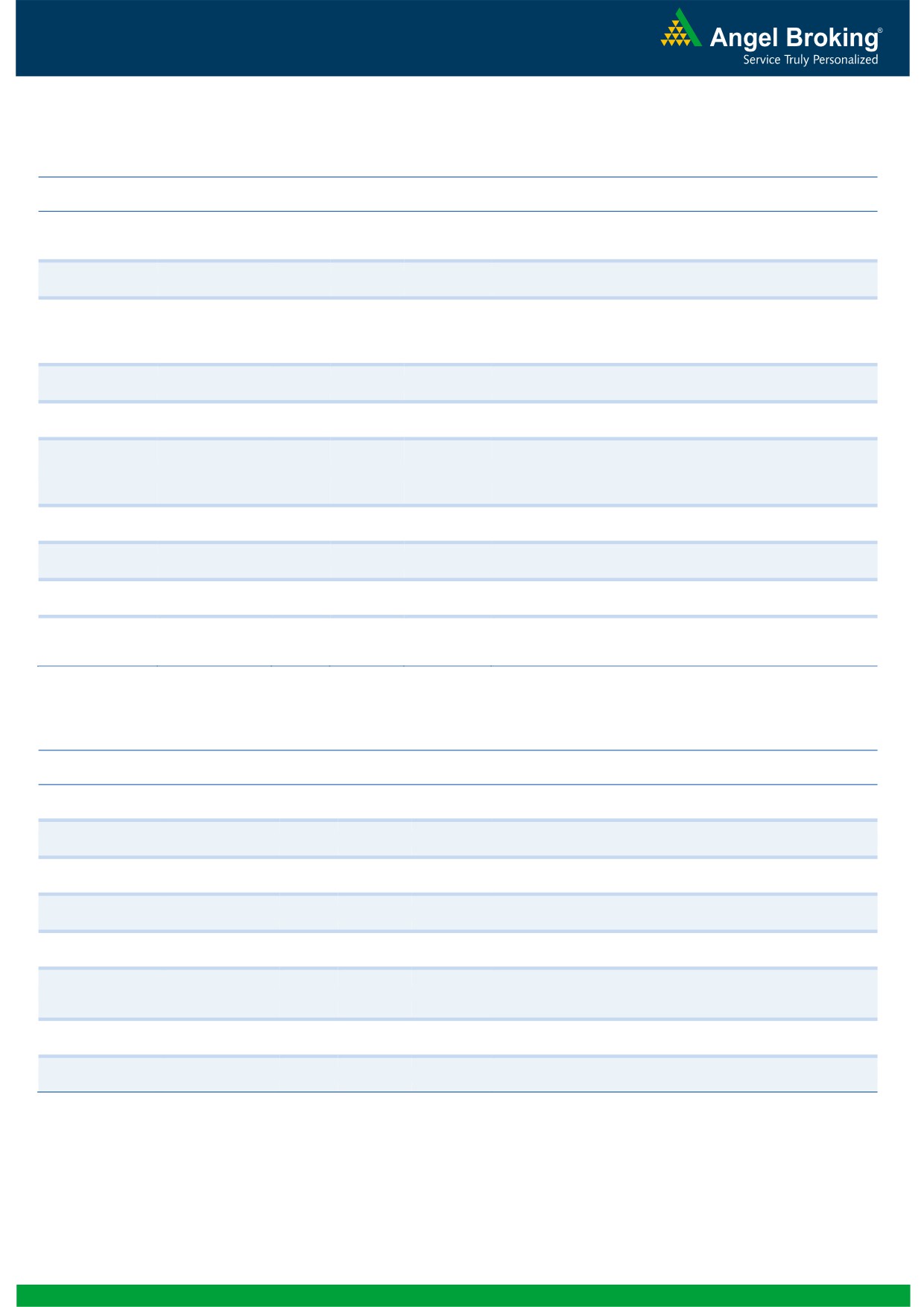 Healthy pace of branch expansion, backed by distribution
network, will be the driving force for the bank's retail business
The stock is trading at attractive valuations and is factoring all
Due to its robust franchise and capital adequacy position, the
bank is well positioned to grow by at least a few percentage
points higher than the average industry growth rate from a
structural point of view.
Back on the growth trend , expect a long term growth of 14% to
Government thrust on Renewable sector and strong order book
would drive future growth.
LICHF continues to grow its retail loan book at a healthy pace
with improvement in asset quality. We expect the company to
post a healthy loan book which is likely to reflect in a strong
Direct beneficiary of the huge investments lined up in the power
Growth to pick up from 2HFY2017, attractive given the risk-
Acquisitions, to drive growth, normalised valuations attractive.
An improving liability franchise, capital adequacy well above
Basel III requirements and lowest NPA ratio in the industry, will
help Yes Bank to deliver a stronger growth.
Source: Company, Angel Research
Visible turnaround in E&P business to drive the earnings
Higher exports & easing material prices to drive profitability
Comfortable balance sheet to support strong growth; this
coupled with attractive valuation to lead to rerating.
New product introductions and increased sourcing by clients to
enable outpace industry growth
Strong brand & quality teaching with innovative technologies &
higher government educational spending to boost growth
Earnings boost on back of stable material prices and favourable
pricing environment. Valuation discount to peers provides
Structural shift in the Lighting industry towards LED lighting will
Robust expansion plan for pre-schools to drive growth
Source: Company, Angel Research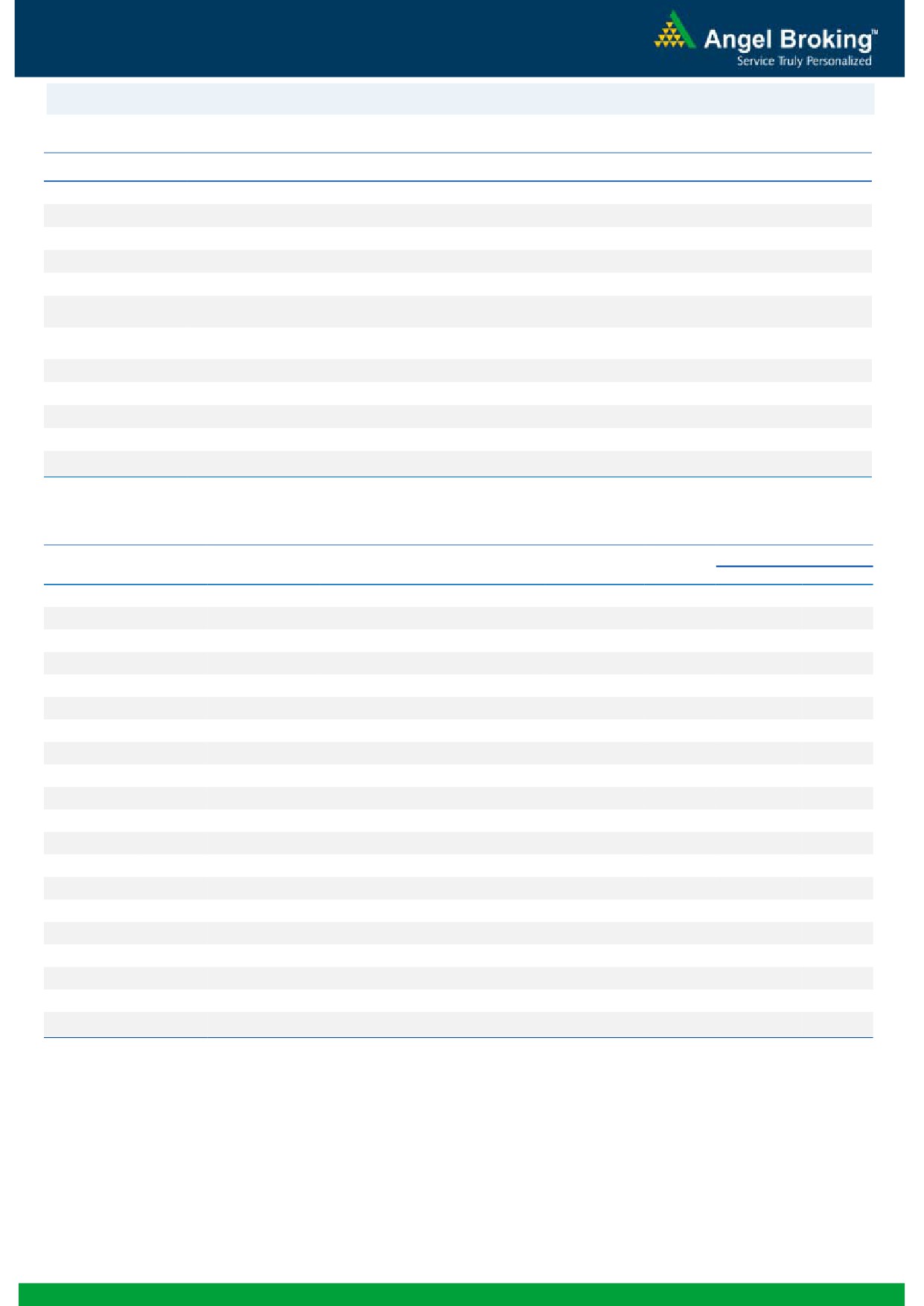 Godrej Consumer, Persistent
United Phosphorus, Blue Star, HDFC, Hindustan Media Ventures, Hitachi
Maruti, TVS Motor, CEAT, Thermax, Axis Bank, Sesa Goa, Lupin, Alembic Pharma
Exide Industries, Amara Raja Batteries, JK Tyre, Ambuja Cements, Syndicate Bank, Dabur India, Sun TV Network, HT
Media, Kirloskar Engines India Ltd, Elecon Engineering, Transport Corporation of India
Bharat Forge, Crompton Greaves, Areva, Shriram Trans., Nestle, Colgate, MRF, L G Balakrishnan & Bros, Dr Reddy's,
Glenmark Pharma., Dishman Pharma, NTPC
Apollo Tyres, Subros, ICICI Bank, Kotak Mah. Bank, Ipca labs, Indoco Remedies
Apollo Tyres, Subros, ICICI Bank, Kotak Mah. Bank, Indoco Remedies
LMW, India Cements, Indian Bank, Electrosteel Castings, GIPCL
ABB, Power Fin.Corpn., Tech Mahindra, Hexaware, PVR, Finolex Cables, PTC India
Source: Bloomberg, Angel Research
Global economic events release calendar
Oct 23, 2015 1:00PM Germany
Oct 29, 2015 2:25PM Germany
Unemployment change (000's)
Industrial Production (YoY)
Change in Nonfarm payrolls
Consumer Price Index (YoY)
Nov 11, 2015 11:00AM China
Industrial Production (YoY)
Source: Bloomberg, Angel Research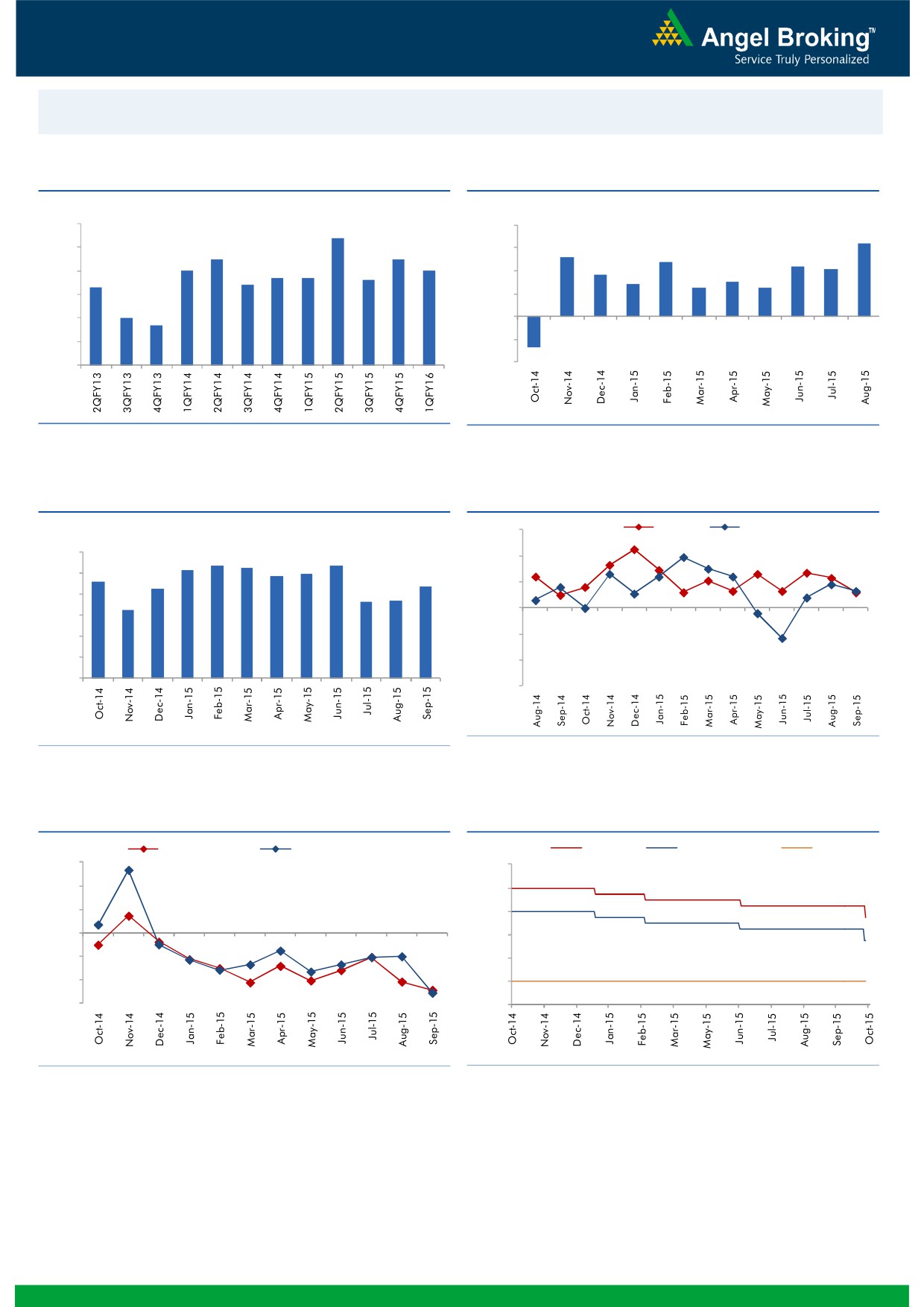 Exhibit 1: Quarterly GDP trends
Source: CSO, Angel Research
Source: MOSPI, Angel Research
Exhibit 3: Monthly CPI inflation trends
Exhibit 4: Manufacturing and services PMI
Source: Market, Angel Research; Note: Level above 50 indicates expansion
Source: MOSPI, Angel Research
Exhibit 5: Exports and imports growth trends
Exhibit 6: Key policy rates
Source: Bloomberg, Angel Research
Source: RBI, Angel Research
Exhibit 1: Latest quarterly GDP Growth (%, yoy) across select developing and developed countries
Source: Bloomberg, Angel Research
Exhibit 2: 2015 GDP Growth projection by IMF (%, yoy) across select developing and developed countries
Source: IMF, Angel Research
Exhibit 3: One year forward P-E ratio across select developing and developed countries
Source: IMF, Angel Research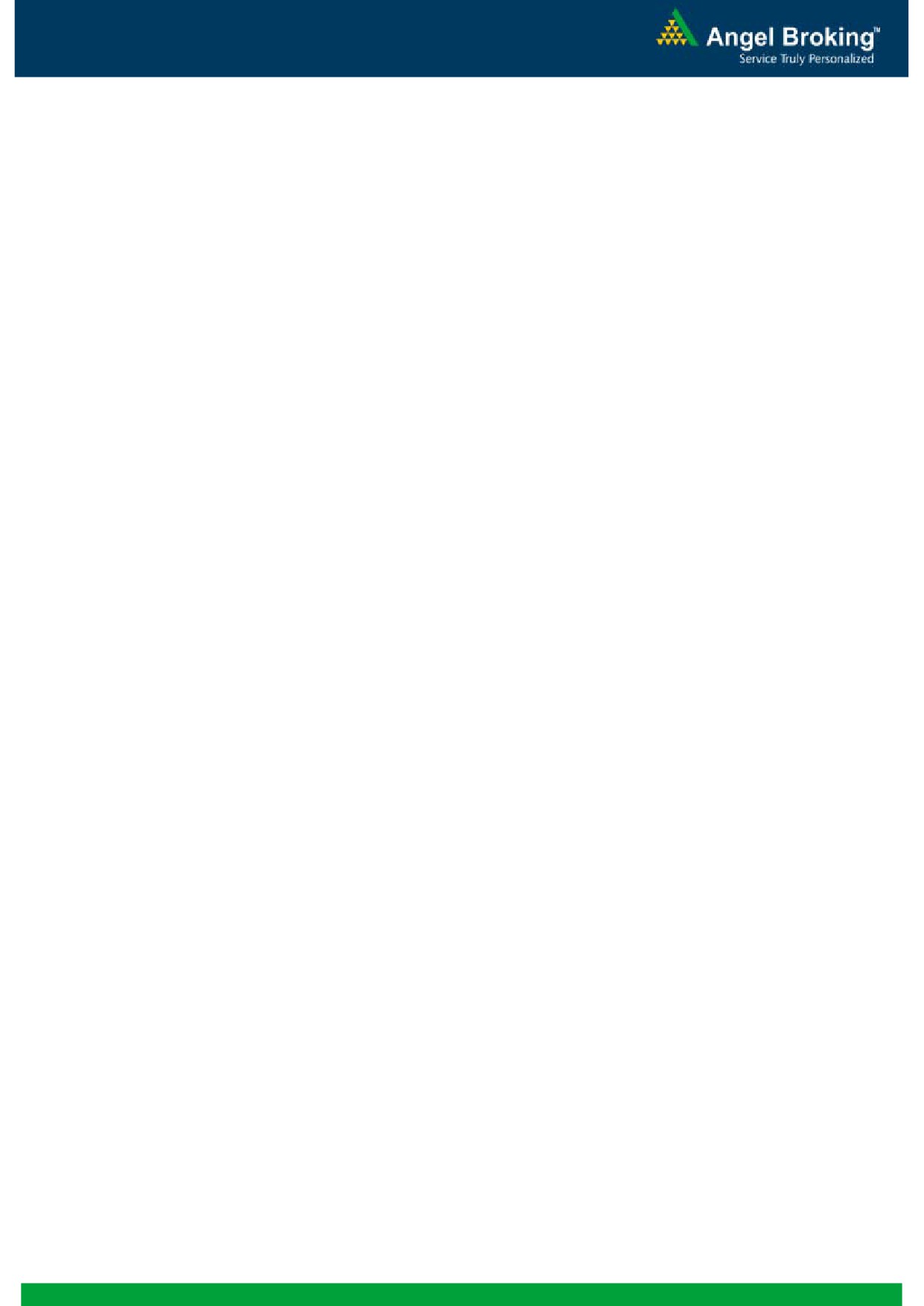 Research Team Tel: 022 - 39357800
Angel Broking Private Limited (hereinafter referred to as "Angel") is a registered Member of National Stock Exchange of India Limited,
Bombay Stock Exchange Limited and Metropolitian Stock Exchange of India Limited. It is also registered as a Depository Participant with
CDSL and Portfolio Manager with SEBI. It also has registration with AMFI as a Mutual Fund Distributor. Angel Broking Private Limited is a
registered entity with SEBI for Research Analyst in terms of SEBI (Research Analyst) Regulations, 2014 vide registration number
INH000000164. Angel or its associates has not been debarred/ suspended by SEBI or any other regulatory authority for accessing
/dealing in securities Market. Angel or its associates including its relatives/analyst do not hold any financial interest/beneficial ownership
of more than 1% in the company covered by Analyst. Angel or its associates/analyst has not received any compensation / managed or co
-managed public offering of securities of the company covered by Analyst during the past twelve months. Angel/analyst has not served as
an officer, director or employee of company covered by Analyst and has not been engaged in market making activity of the company
This document is solely for the personal information of the recipient, and must not be singularly used as the basis of any investment
decision. Nothing in this document should be construed as investment or financial advice. Each recipient of this document should make
such investigations as they deem necessary to arrive at an independent evaluation of an investment in the securities of the companies
referred to in this document (including the merits and risks involved), and should consult their own advisors to determine the merits and
risks of such an investment.
Reports based on technical and derivative analysis center on studying charts of a stock's price movement, outstanding positions and
trading volume, as opposed to focusing on a company's fundamentals and, as such, may not match with a report on a company's
The information in this document has been printed on the basis of publicly available information, internal data and other reliable sources
believed to be true, but we do not represent that it is accurate or complete and it should not be relied on as such, as this document is for
general guidance only. Angel Broking Pvt. Limited or any of its affiliates/ group companies shall not be in any way responsible for any
loss or damage that may arise to any person from any inadvertent error in the information contained in this report. Angel Broking Pvt.
Limited has not independently verified all the information contained within this document. Accordingly, we cannot testify, nor make any
representation or warranty, express or implied, to the accuracy, contents or data contained within this document. While Angel Broking
Pvt. Limited endeavors to update on a reasonable basis the information discussed in this material, there may be regulatory, compliance,
or other reasons that prevent us from doing so.
This document is being supplied to you solely for your information, and its contents, information or data may not be reproduced,
redistributed or passed on, directly or indirectly.
Neither Angel Broking Pvt. Limited, nor its directors, employees or affiliates shall be liable for any loss or damage that may arise from or
in connection with the use of this information.
Note: Please refer to the important 'Stock Holding Disclosure' report on the Angel website (Research Section). Also, please refer to the
latest update on respective stocks for the disclosure status in respect of those stocks. Angel Broking Pvt. Limited and its affiliates may have
investment positions in the stocks recommended in this report.