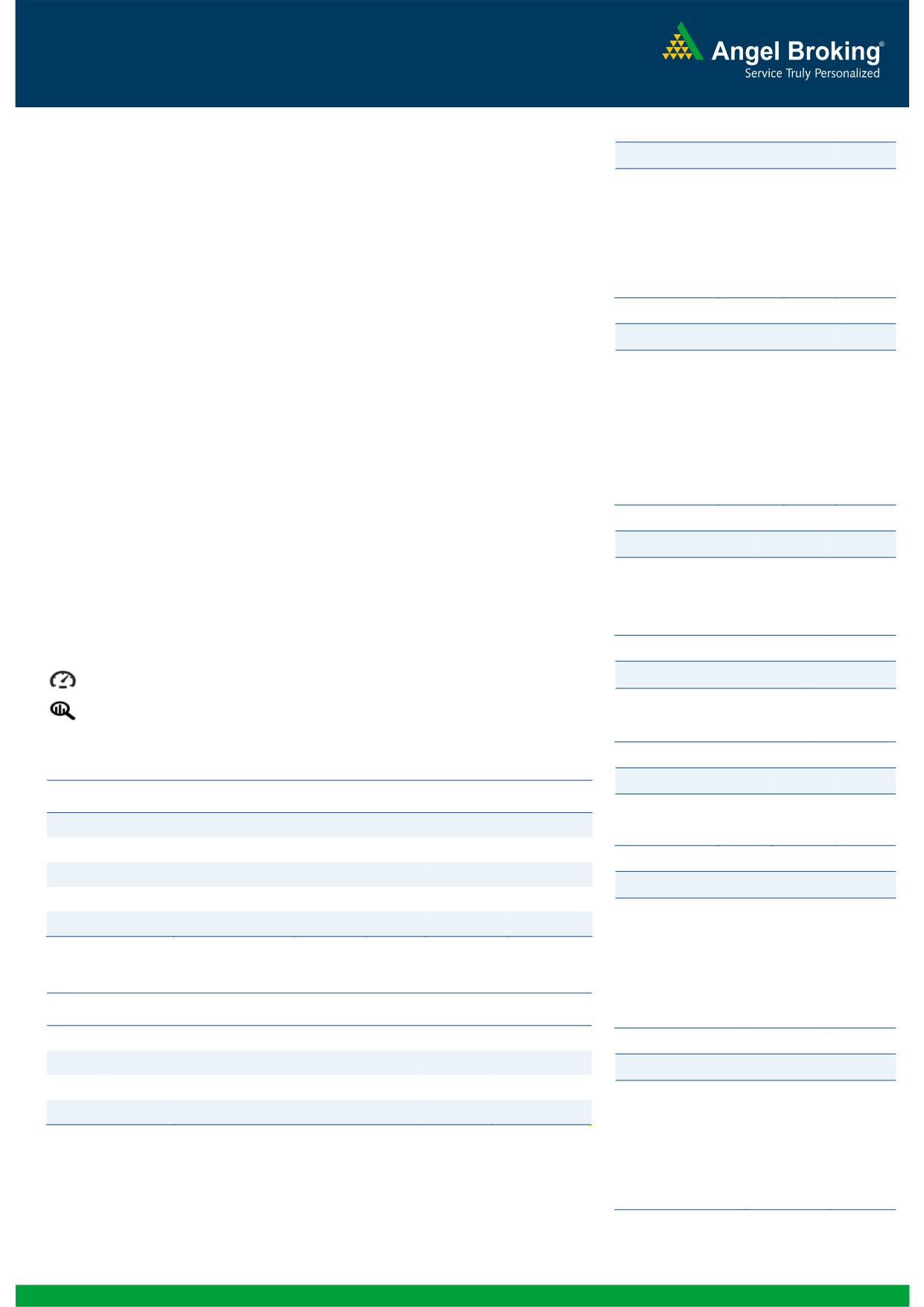 Indian Markets are expected to open flat tracking SGX Nifty.
After showing a substantial move to the downside in morning trading on Thursday,
U.S markets regained some ground as the day progressed but still closed in the red.
The sell-off seen early in the session reflected renewed concerns about the outlook
for interest rates following yesterday's release of the minutes of the Federal Reserve's
latest monetary policy meeting.
The European markets ended Thursday's session solidly in negative territory. Investor
concerns over the possibility of a June interest rate hike by the Federal Reserve.
Indian markets fell for the second consecutive day on Thursday as market
participants turned cautious over the possibility of an interest rate hike by the US
The SEBI has tightened the rules for P Notes holders. As per the new norm P -Notes
holders will have to adhere to Indian Know your customer (KYC). In the near term
market could react negatively to this and foreign inflows could see some slow down.

SEBI tightens norms for P Notes issuance
Investor's Ready Reckoner
Key Domestic & Global Indicators
Stock Watch: Latest investment recommendations on 150+ stocks
Auto & Auto Ancillary Accumulate
Navkar Corporation Others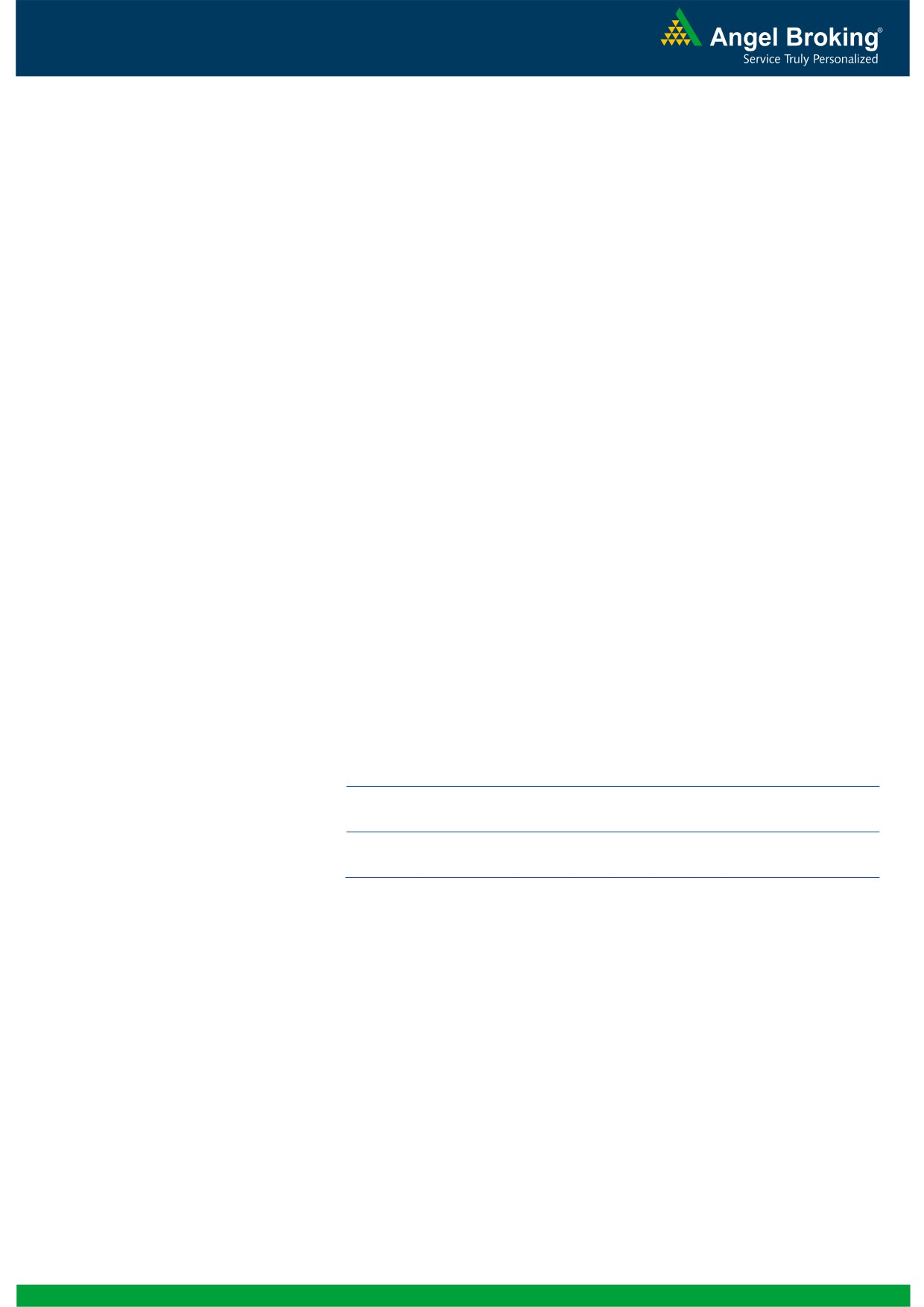 SEBI tightens norms for P Notes issuance
The SEBI has tightened the rules for P Notes holders. As per the new norm P -
Notes holders will have to adhere to Indian Know your customer (KYC) or anti
money laundering (AML) norms. Further SEBI also has put curbs on the transfer-
ability of P -notes between two foreign investors. Further to tighten it has also
increased the frequency of reporting by P-notes issuers. The new set of rules is
likely to tighten the round tripping of money by Indian investors. This might see
some slow down in the incremental funds flow in to Indian markets. However,
foreign investors with a long term horizon in India should have no issues adhering
Lupin Ltd (CMP:
`
1656 / TP: / Upside :)
Lupin Ltd posted results above expectations. The sales came in at
`
4091cr V/s
`
3665cr expected a yoy growth of 34.0%. The sales growth was driven by
Formulations (
`
3807.5cr), posting a yoy growth of 38.6%, while API (
`
283.8cr) a
dip of 7.7%. Formulation sales were driven by USA (
`
2187.1cr), a 58.7% yoy
growth. Europe (
`
125.4cr) posted a yoy growth of 40.7%. India (
`
761.5cr) posted
a 14.7% yoy growth, while Japan (
`
344.2cr) posted a 17.0% yoy growth. ROW
(
`
275.8cr), posted a 38.3% yoy growth. On operating front, the EBDITA came in
at 31.2% V/s 25.1% in 4QFY2015 and V/s 29.5% expected. The expansion in the
OPM was on back of the GPM expansion which came in at 73.8% V/s 68.7% in
4QFY2015, V/s 72.7% expected. This along with high other income (
`
115.2cr V/s
`
41.3cr in 4QFY2015), lead the net profit to come in at
`
806.9cr V/s
`
547.2cr in
4QFY2015, V/s
`
828.7cr expected. We maintain our neutral stance on the stock.
PAT EPS ROE P/E P/BV EV/EBITDA EV/Sales
Economic and Political News

New BJP govt will help Assam grow industrially, say chambers of commerce

Moody's sees India growing at 7.5% in 2016, 2017

Mines Ministry, States reach consensus on early approvals for mining from

Sobha Q4 profits drop 41.3% to
`
36.1 crore

Tata Communications sells 74% in data centre to ST Telemedia

SpiceJet's Q4 net profit surges to
`
73 crore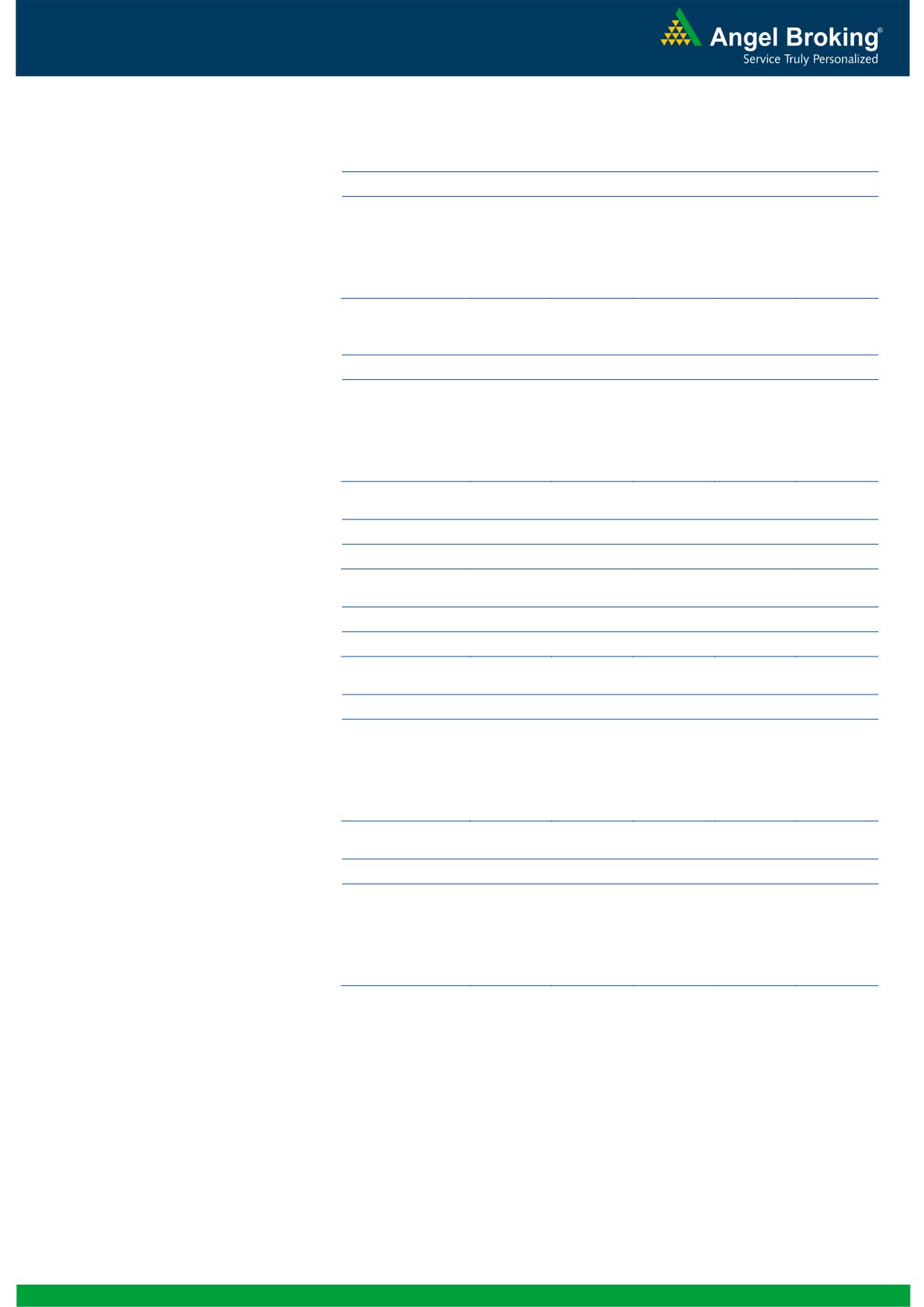 Quarterly Bloomberg Brokers Consensus Estimate
Britannia Industries Ltd. Consol - May 20, 2016
IDBI Bank Ltd. - May 20, 2016
Bank of India Ltd. - May 20, 2016
Tata Power Co. Ltd. Consol- May 23, 2016
Bharat Petroleum Corp. Ltd. - May 23, 2016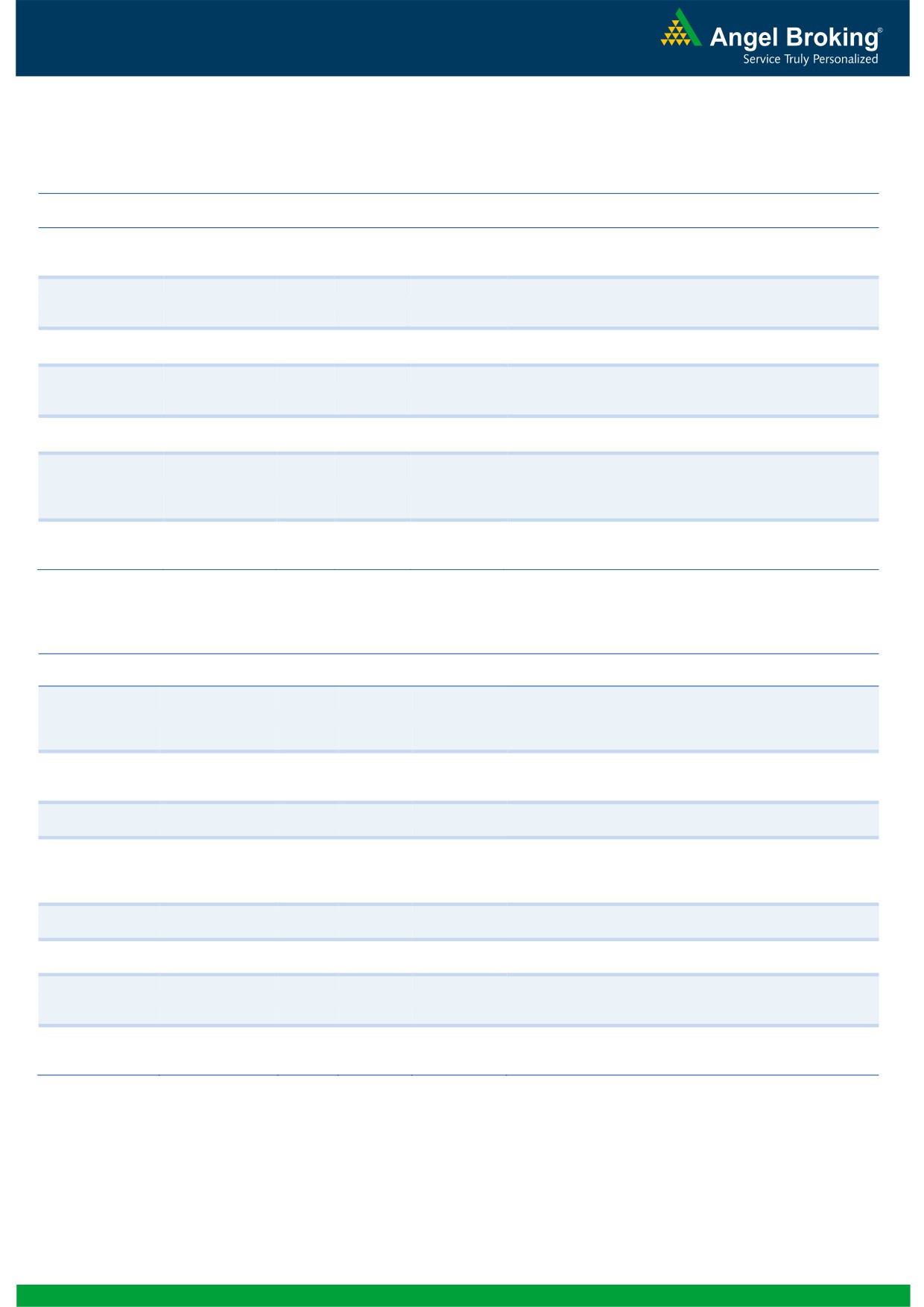 To outpace battery industry growth due to better technological
products leading to market share gains in both the automotive
OEM and replacement segments.
Uptick in defense capex by government when coupled with
BELs strong market positioning, indicate that good times are
The stock is trading at attractive valuations and is factoring all
Strong visibility for a robust 20% earnings trajectory, coupled
with high quality of earnings on account of high quality retail
business and strategic focus on highly rated corporates.
Back on the growth trend, expect a long term growth of 14%
to be a US$20bn in FY2020.
LICHF continues to grow its retail loan book at a healthy pace
with improvement in asset quality. We expect the company to
post a healthy loan book which is likely to reflect in a strong
Huge bid pipeline of re-development works at Delhi and other
State Governments and opportunity from Smart City, positions
NBCC to report strong growth, going forward.
Source: Company, Angel Research
Favorable outlook for the AC industry to augur well for
Cooling products business which is out pacing the market
growth. EMPPAC division's profitability to improve once
operating environment turns around.
With a focus on the low and medium income (LMI) consumer
segment, the company has increased its presence in tier-II &
III cities where the growth opportunity is immense.
Commencement of new projects, downtrend in the interest
rate cycle, to lead to stock re-rating
Economic recovery to have favourable impact on advertising
& circulation revenue growth. Further, the acquisition of a
radio business (Radio City) would also boost the company's
Speedier execution and speedier sales, strong revenue visibilty
in short-to-long run, attractive valuations
Massive capacity expansion along with rail advantage at ICD
as well CFS augurs well for the company
Earnings boost on back of stable material prices and
favourable pricing environment. Valuation discount to peers
provides additional comfort
Strong brands and distribution network would boost growth
going ahead. Stock currently trades at an inexpensive
Source: Company, Angel Research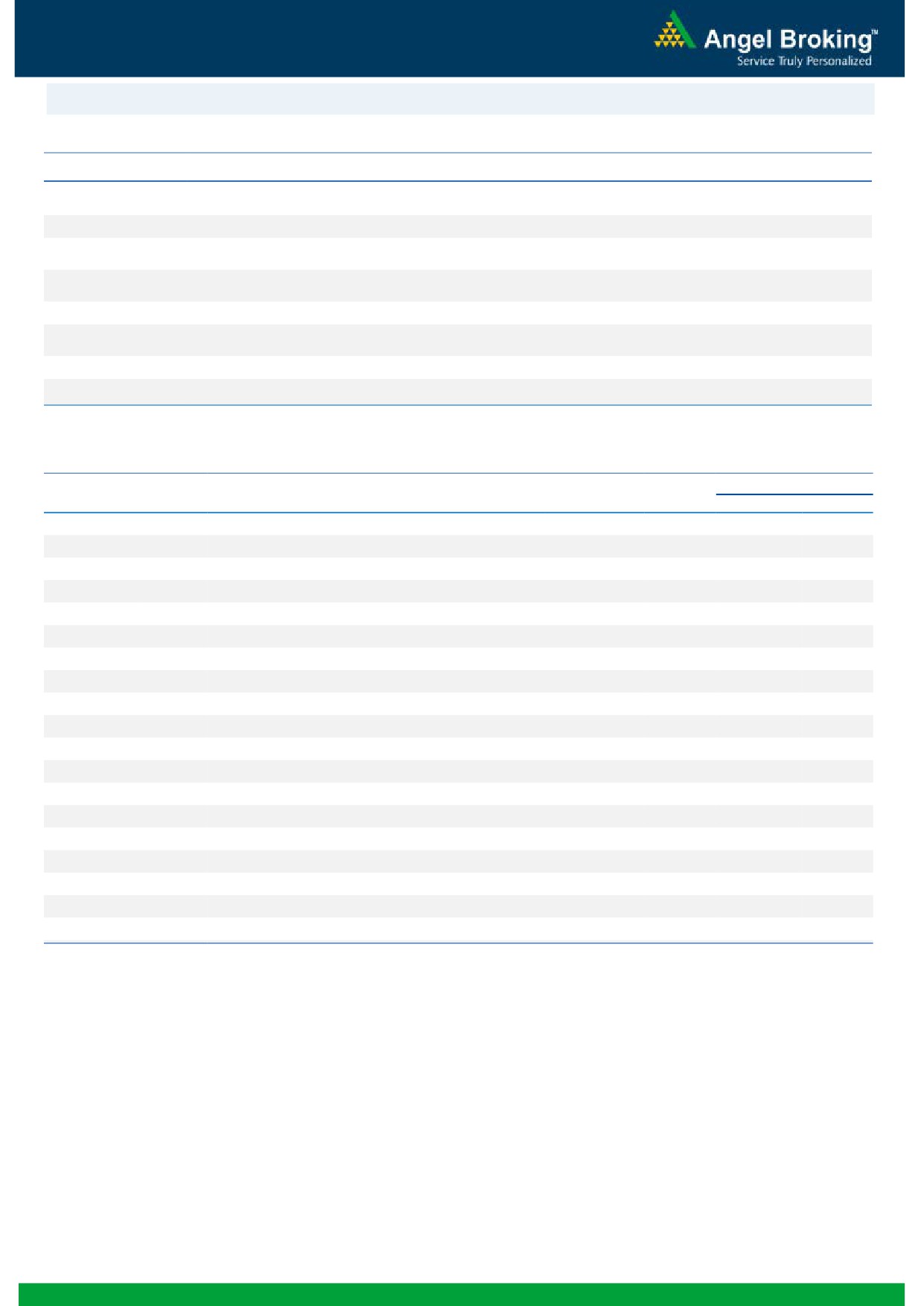 Ramco Cements, Bank of India, IDBI Bank, ITC, Britannia, D B Corp, Siyaram Silk Mills, Sterling Tools, The Byke
Hospitality, Coffee Day Enterprises Ltd
BPCL, Jyothy Laboratories, HSIL, Heritage Foods, Tata Power Co., VRL Logistics, Team Lease Serv.
Tata Global, Amara Raja Batteries, J & K Bank, Power Fin.Corpn., Colgate, Tech Mahindra, MOIL, Prakash Industries,
Bajaj Auto, Bosch India, Ashok Leyland, Cummins India, Thermax, LMW, Hindustan Media Ventures, Tata Steel, GAIL,
Tata Chemicals, India Cements, Mphasis, HT Media, Finolex Cables, Banco, GIPCL
BHEL, Crompton Greaves, St Bk of India, Canara Bank, Rural Elec.Corp., ONGC, IOC, HPCL, Cravatex, Indoco
Remedies, S H Kelkar & Co.
Coal India, Hindalco, NHPC
Tata Motors, M&M, Blue Star, SAIL, Bajaj Electrical, Hitachi, Sun Pharma, NTPC, Transport Corporation of India
Source: Bloomberg, Angel Research
Global economic events release calendar
May 23, 2016 1:00PM Germany
Euro-Zone Consumer Confidence
May 31, 2016 1:25PM Germany
Unemployment change (000's)
ECB announces interest rates
Change in Nonfarm payrolls
Source: Bloomberg, Angel Research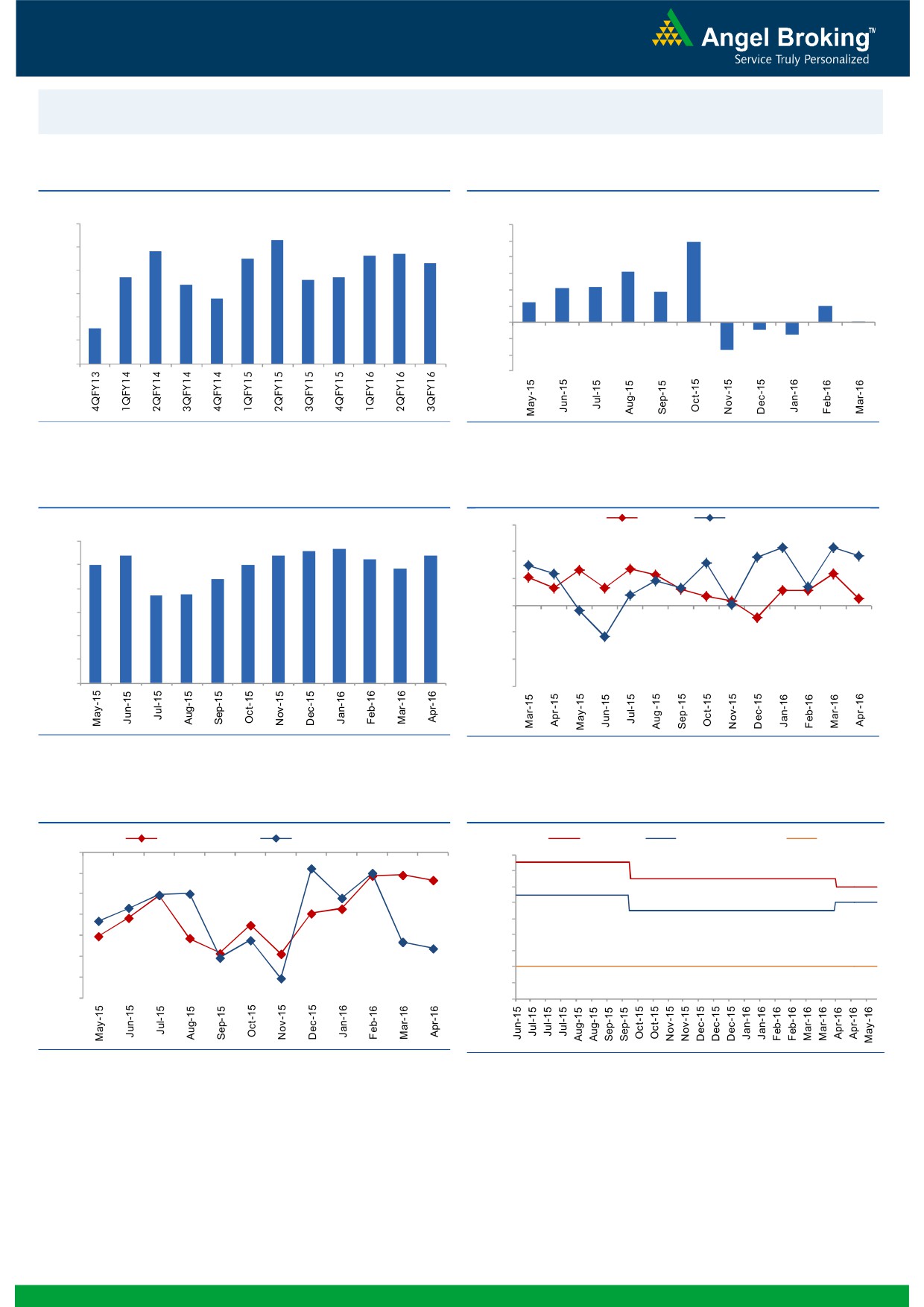 Exhibit 1: Quarterly GDP trends
Source: CSO, Angel Research
Source: MOSPI, Angel Research
Exhibit 3: Monthly CPI inflation trends
Exhibit 4: Manufacturing and services PMI
Source: MOSPI, Angel Research
Source: Market, Angel Research; Note: Level above 50 indicates expansion
Exhibit 5: Exports and imports growth trends
Exhibit 6: Key policy rates
Source: Bloomberg, Angel Research
Source: RBI, Angel Research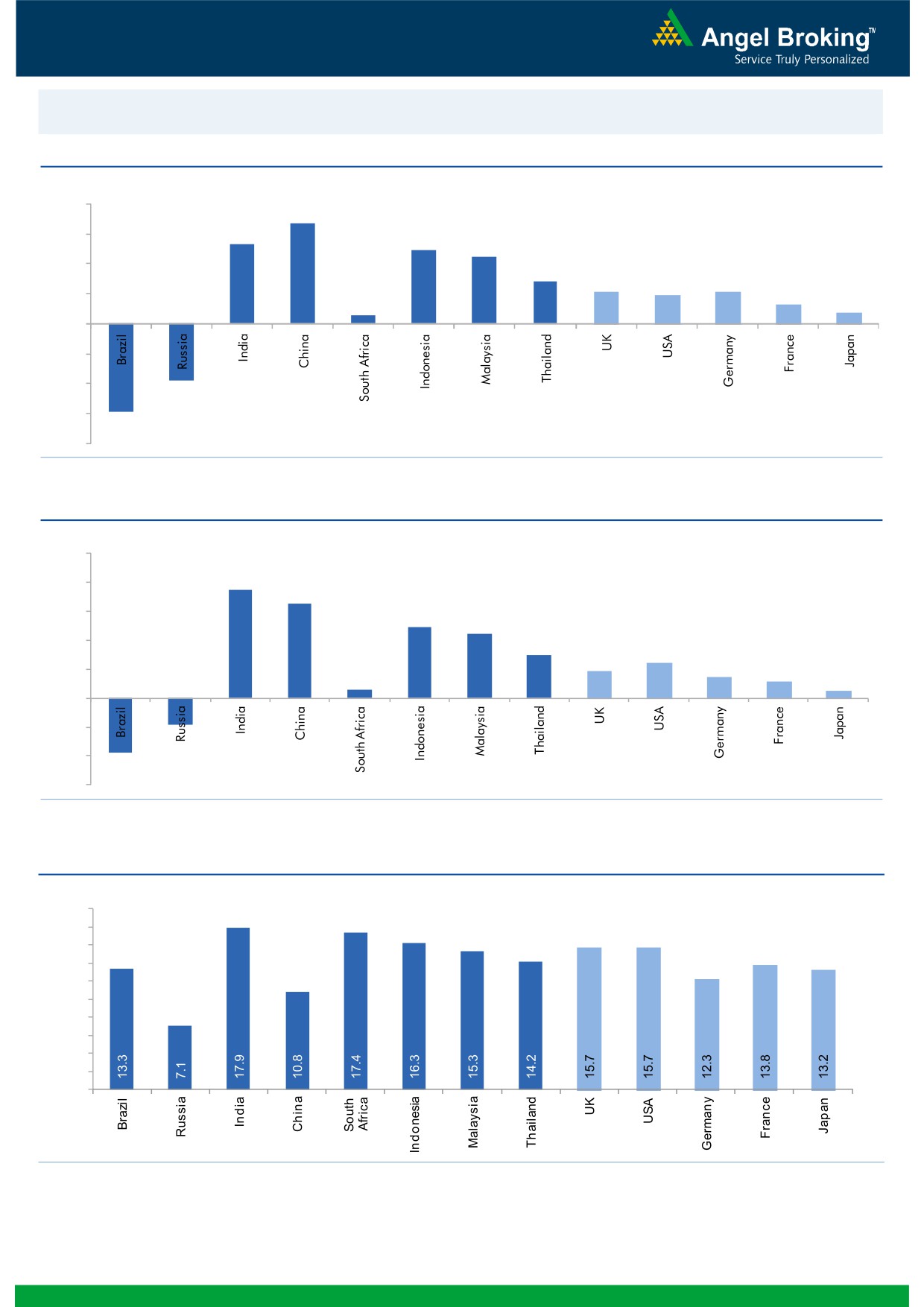 Exhibit 1: Latest quarterly GDP Growth (%, yoy) across select developing and developed countries
Source: Bloomberg, Angel Research
Exhibit 2: 2016 GDP Growth projection by IMF (%, yoy) across select developing and developed countries
Source: IMF, Angel Research
Exhibit 3: One year forward P-E ratio across select developing and developed countries
Source: IMF, Angel Research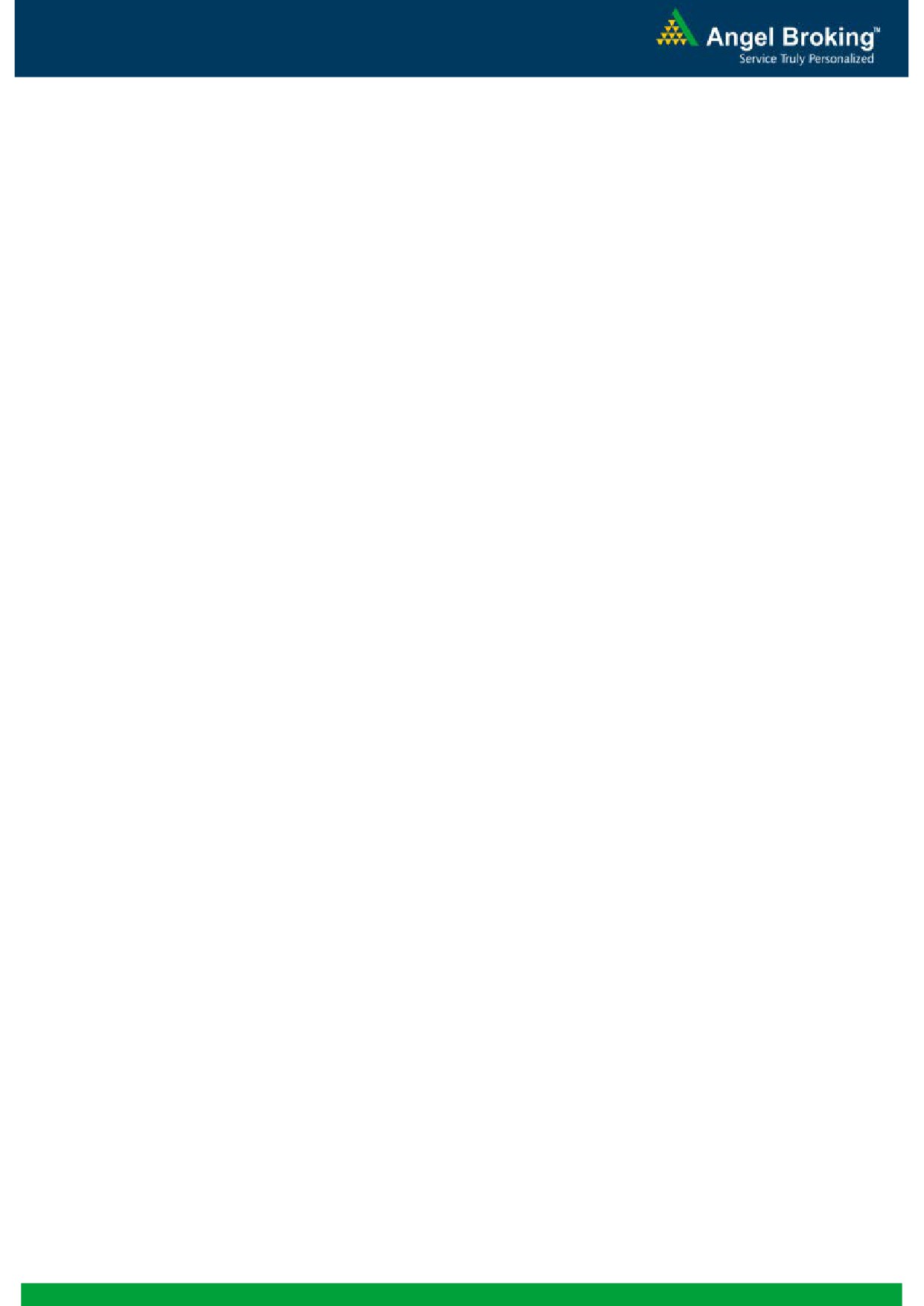 Research Team Tel: 022 - 39357800
Angel Broking Private Limited (hereinafter referred to as "Angel") is a registered Member of National Stock Exchange of India Limited,
Bombay Stock Exchange Limited and Metropolitian Stock Exchange of India Limited. It is also registered as a Depository Participant with
CDSL and Portfolio Manager with SEBI. It also has registration with AMFI as a Mutual Fund Distributor. Angel Broking Private Limited is a
registered entity with SEBI for Research Analyst in terms of SEBI (Research Analyst) Regulations, 2014 vide registration number
INH000000164. Angel or its associates has not been debarred/ suspended by SEBI or any other regulatory authority for accessing
/dealing in securities Market. Angel or its associates including its relatives/analyst do not hold any financial interest/beneficial ownership
of more than 1% in the company covered by Analyst. Angel or its associates/analyst has not received any compensation / managed or co
-managed public offering of securities of the company covered by Analyst during the past twelve months. Angel/analyst has not served as
an officer, director or employee of company covered by Analyst and has not been engaged in market making activity of the company
This document is solely for the personal information of the recipient, and must not be singularly used as the basis of any investment
decision. Nothing in this document should be construed as investment or financial advice. Each recipient of this document should make
such investigations as they deem necessary to arrive at an independent evaluation of an investment in the securities of the companies
referred to in this document (including the merits and risks involved), and should consult their own advisors to determine the merits and
risks of such an investment.
Reports based on technical and derivative analysis center on studying charts of a stock's price movement, outstanding positions and
trading volume, as opposed to focusing on a company's fundamentals and, as such, may not match with a report on a company's
The information in this document has been printed on the basis of publicly available information, internal data and other reliable sources
believed to be true, but we do not represent that it is accurate or complete and it should not be relied on as such, as this document is for
general guidance only. Angel Broking Pvt. Limited or any of its affiliates/ group companies shall not be in any way responsible for any
loss or damage that may arise to any person from any inadvertent error in the information contained in this report. Angel Broking Pvt.
Limited has not independently verified all the information contained within this document. Accordingly, we cannot testify, nor make any
representation or warranty, express or implied, to the accuracy, contents or data contained within this document. While Angel Broking
Pvt. Limited endeavors to update on a reasonable basis the information discussed in this material, there may be regulatory, compliance,
or other reasons that prevent us from doing so.
This document is being supplied to you solely for your information, and its contents, information or data may not be reproduced,
redistributed or passed on, directly or indirectly.
Neither Angel Broking Pvt. Limited, nor its directors, employees or affiliates shall be liable for any loss or damage that may arise from or
in connection with the use of this information.
Note: Please refer to the important 'Stock Holding Disclosure' report on the Angel website (Research Section). Also, please refer to the
latest update on respective stocks for the disclosure status in respect of those stocks. Angel Broking Pvt. Limited and its affiliates may have
investment positions in the stocks recommended in this report.