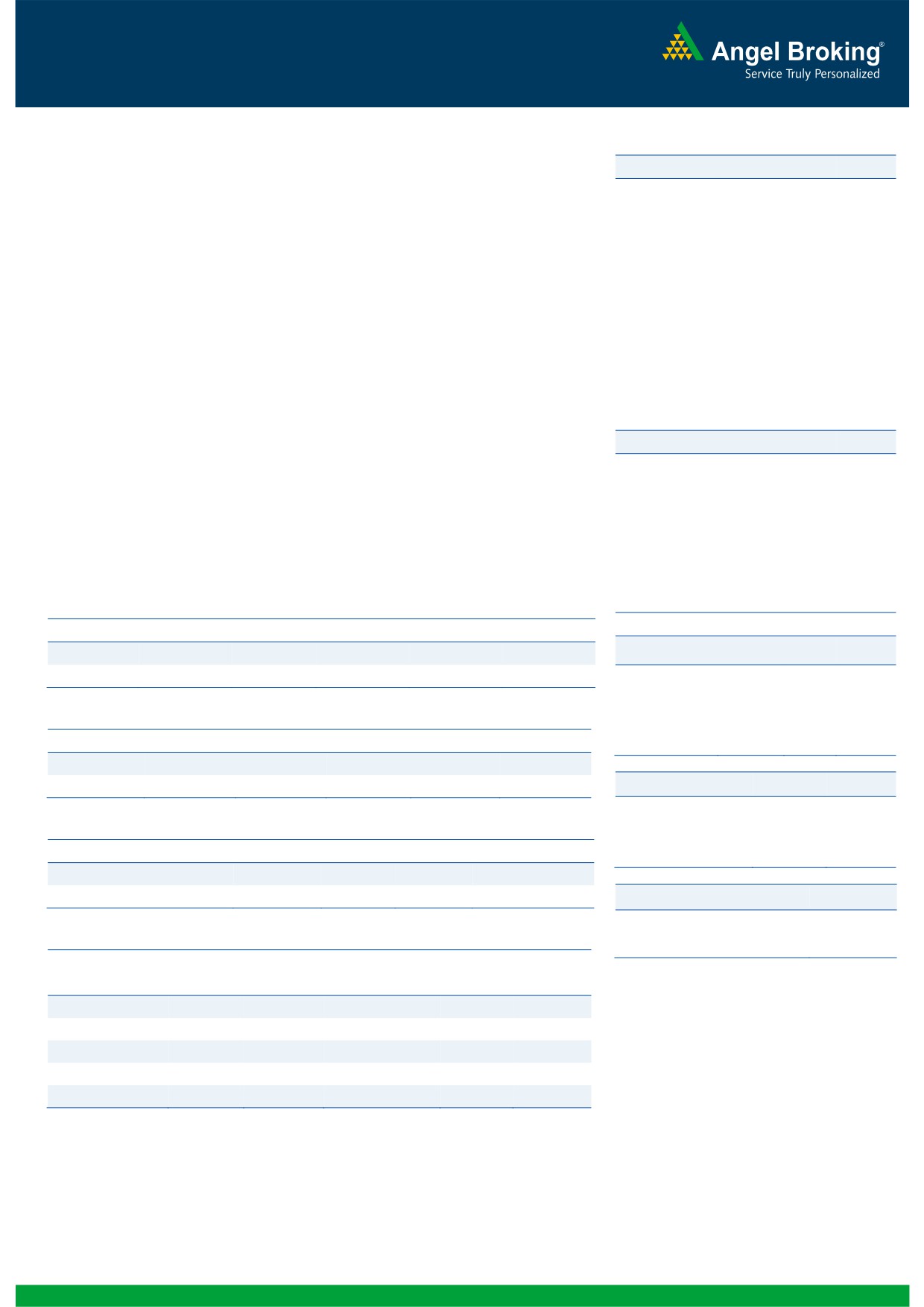 Indian markets are expected to open on a flat note tracking the SGX Nifty.
US markets closed marginally higher led by Morgan Stanley who is currently
undertaking buy back of its shares.
European stocks ended in the red in the wake of currency devaluation done by the
Indian markets rallied posting gain of about 2%, after the wholesale price index
(WPI) slipped further into the negative zone thereby raising expectations that the
Reserve Bank of India would announce a rate cut.

Result Review: Cipla, Elecon Engineering, Indag Rubber
Refer detailed news & result analysis on the following page
The trend deciding level for the day is 27,937 / 8,477 levels. If NIFTY trades above
this level during the first half-an-hour of trade then we may witness a further rally up
to 28,231 - 28,394 / 8,572 - 8,626 levels. However, if NIFTY trades below
27,937 / 8,477 levels for the first half-an-hour of trade then it may correct towards
27,773 - 27,480 / 8,423 - 8,328 levels.
Net Inflows (August 12, 2015)
FII Derivatives (August 14, 2015)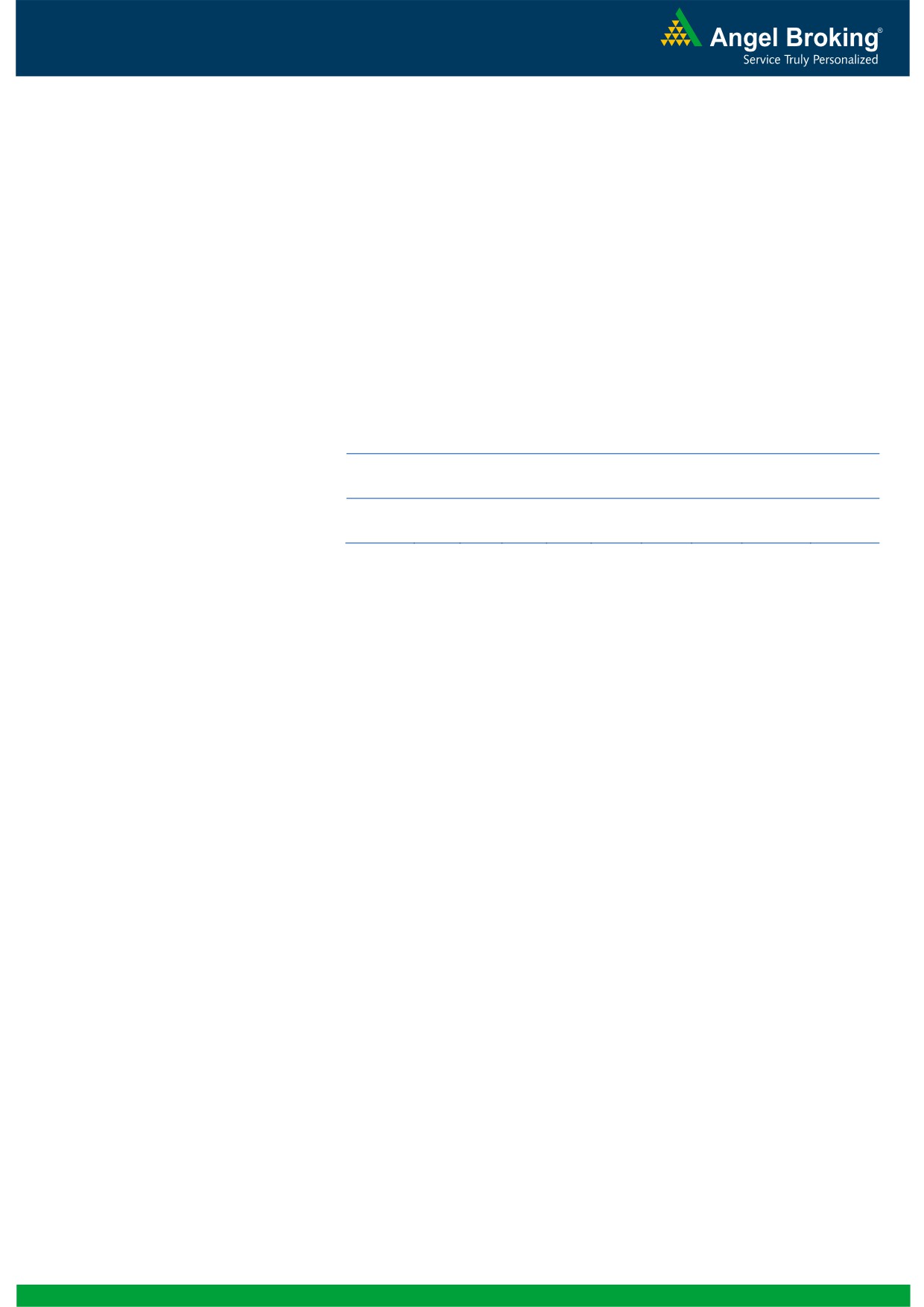 Cipla (CMP:
`
741/ TP: / Upside :)
For 1QFY2016 Cipla posted robust results. On sales front, the company posted
`
3,390cr expected V/s
`
2,647cr in 1QFY2015, a yoy
growth of 42.7%. The sales growth came in mainly on back of the export
formulations, which grew by
78.5% yoy. Overall the domestic formulation
(
`
1,397cr) posted a yoy growth of 8.4% yoy, while exports (
`
2,380cr) posted a yoy
growth of 75.3% yoy. The results include one-off revenue from the US market in
the export formulations. On the operating front, the gross margins came in at
66.9% V/s 63.4% expected V/s 61.3% in 1QFY2015, mainly on back of improved
sales mix. OPM consequently, came in at 25.5% V/s 19.5% expected and V/s
17.7% in 1QFY2015. Thus, the net profit front came in at
`
651cr V/s
`
420cr
expected
`
295cr in 1QFY2015, a yoy growth of 120.7%. For FY2016, the
company expects a 20% yoy growth. We remain neutral on the stock.
Elecon Engineering (CMP:
`
81/ TP:
`
87/ Upside: 8.3%)
For 1QFY2016, Elecon Engineering reported a mixed set of numbers. The
standalone top-line grew marginally by 1.8% yoy to
`
98cr. We had revenue
estimate of
`
109cr for the quarter. The EBITDA grew by 30.3% yoy to
`
23cr and
the EBITDA margin expanded by 515bp yoy to 23.5% mainly due to lower raw
material cost which declined by 618bp yoy to 48% of sales. We had estimated
EBITDA to be at
`
24cr and EBITDA margin to be at 21.9%. Depreciation expense
declined by 17.1% yoy to
`
12cr and other income declined by 60.0% yoy to
`
2cr.
As a result, the net profit came in at
`
4cr against our estimate of
`
5cr.
On Consolidated basis, top-line witnessed a marginal decline of 4.0% yoy to
`
257cr. EBITDA and EBITDA margin grew by 18.1% yoy and 224bp yoy to
`
31cr
and 12.0%, respectively. 31bp yoy decline in raw material cost, 96bp yoy decline
in employee cost and 97bp yoy decline in other expense (all as a percentage of
sales) resulted in EBITDA margin expansion. Interest and depreciation expense
declined by 20.2% yoy and 16.1% yoy to
`
14cr and
`
16cr, respectively and other
`
3cr. Consequently, Elecon reported
consolidated net profit of
`
0.7cr against net loss of
`
7cr in the same quarter of the
As for segmental performance, Material Handling segment reported 14.2% yoy
decline in revenue to
`
89cr while the segment reported loss of
`
2cr. Transmission
Equipment segment revenue remained unchanged at
`
179cr while the profit
increased by 295.1% yoy to
`
19cr.
At current market price, the stock is trading at 12.9x its FY2017E earnings. We
have an Accumulate rating on the stock with the target price of
`
87 based on
target PE of 14.0x for FY2017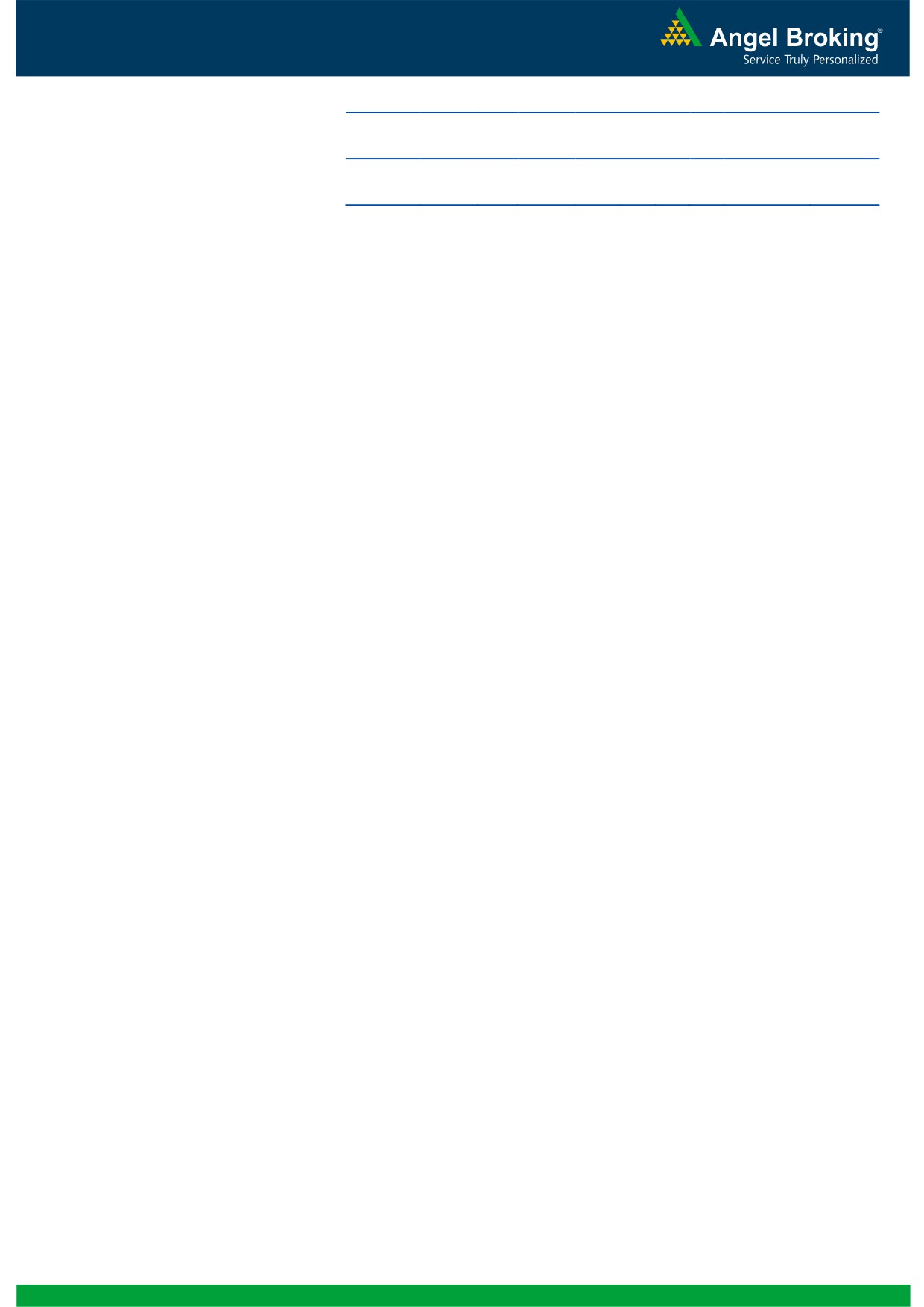 EPS ROE P/E P/BV
EV/EBITDA EV/Sales
Indag Rubber (CMP:
`
200
/ TP: -/ Upside: -)
For 1QFY2016, Indag Rubber (IRL)'s reported a top-line growth of 10.1% yoy to
~
`
64cr (slightly below our expectation of ~
`
68cr). However, we are seeing
volume improvement since the last three quarters on the back of improvement in
industrial activity in the country. Higher utilization in the transportation segment led
to higher sales growth in retreading products. On the operating front, the
company reported margin improvement (OPM up by 170bp yoy to 18.0%); the
operating profit was up ~22% yoy, primarily on account of lower raw material
costs (prices of natural rubber and crude based raw materials were soft during the
quarter). This led to a decent net profit growth of ~16% yoy to ~
`
8cr (our estimate
Going ahead, we expect IRL to report a healthy top-line growth owing to recovery
in commercial vehicle (CV) volumes in the domestic market. However, on the
bottom-line front, we are not expecting strong growth as the excise duty benefits
would subside post FY2016, thus impacting the earnings. Hence we are Neutral
Economic and Political News

WPI at record low: RBI reducing rates will change nothing

Devaluation of Chinese currency a serious issue: Nirmala Sitharaman

RBI to transfer
`
66,000 cr surplus to government

SBI to tap e-commerce, digital space

Jet Airways swings to profit in June quarter on lower fuel costs

Maggi row: Jaipur's 'safe' lab might redo study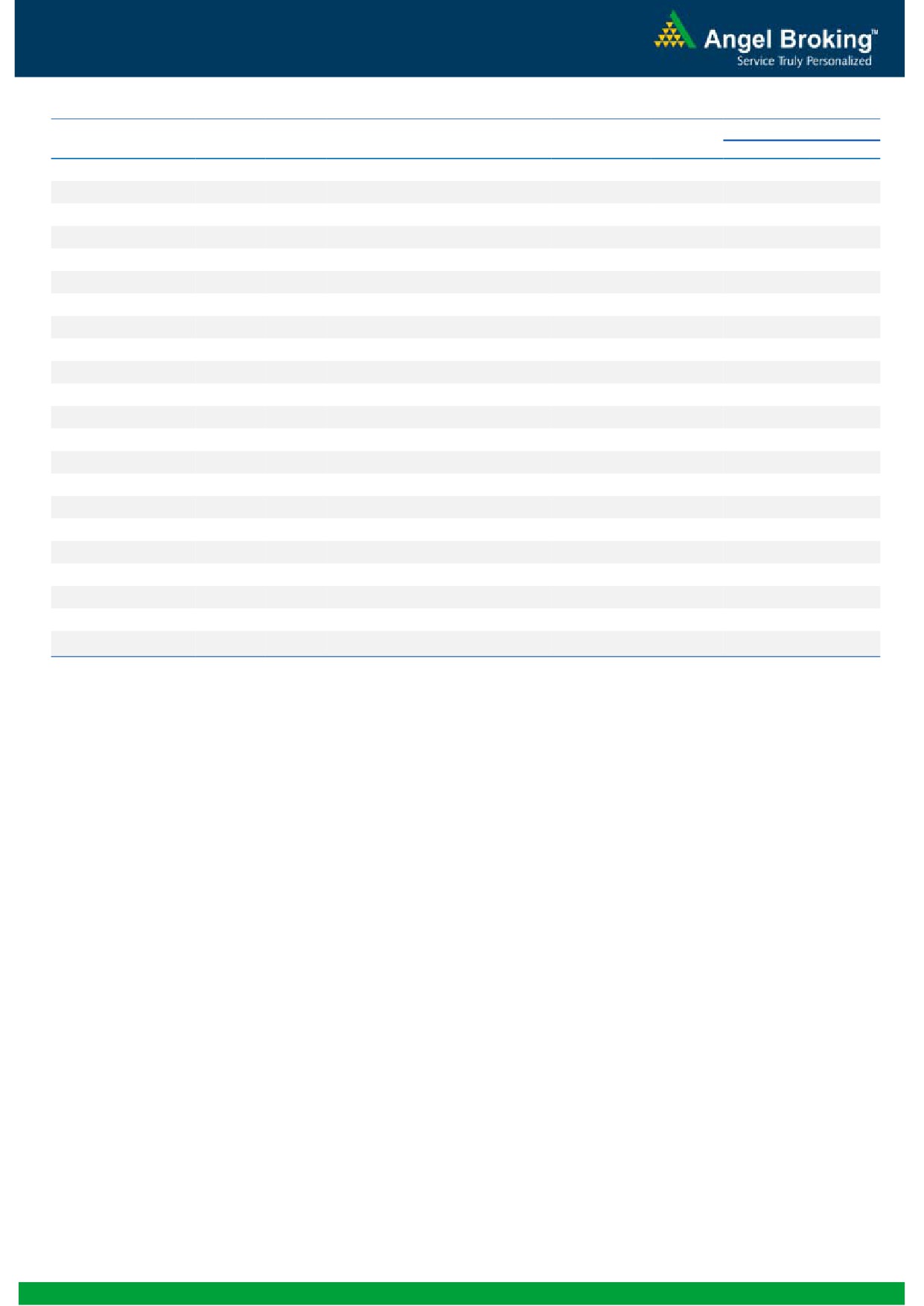 Global economic events release calendar
Country Event Description
Consumer price index (mom)
Euro Zone Euro-Zone Consumer Confidence
Germany PMI Manufacturing
Germany Unemployment change (000's)
Euro Zone ECB announces interest rates
Change in Nonfarm payrolls
Consumer Price Index (YoY)
Industrial Production (YoY)
Source: Bloomberg, Angel Research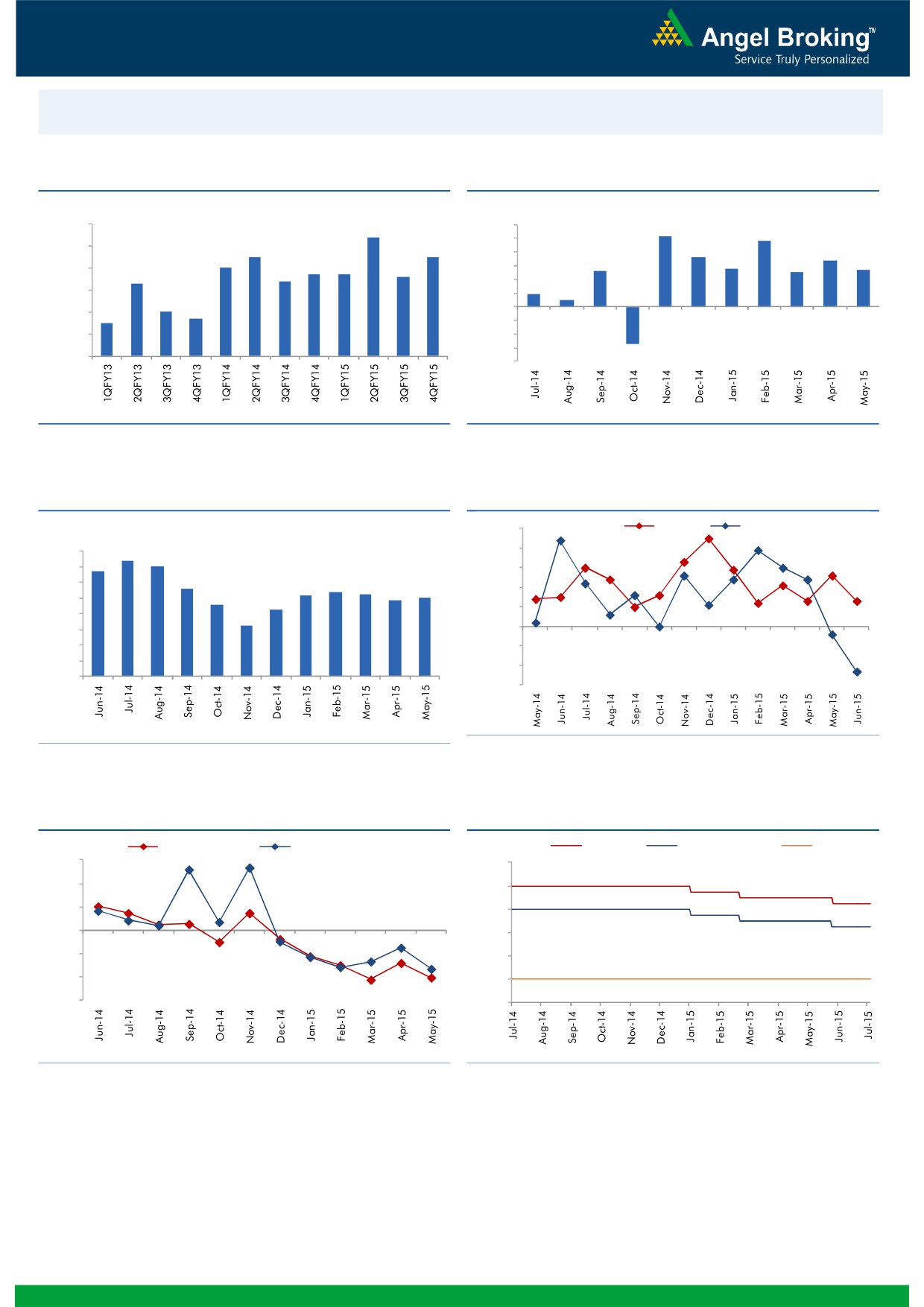 Exhibit 1: Quarterly GDP trends
Source: CSO, Angel Research
Source: MOSPI, Angel Research
Exhibit 3: Monthly CPI inflation trends
Exhibit 4: Manufacturing and services PMI
Source: Market, Angel Research; Note: Level above 50 indicates expansion
Source: MOSPI, Angel Research
Exhibit 5: Exports and imports growth trends
Exhibit 6: Key policy rates
Source: Bloomberg, Angel Research
Source: RBI, Angel Research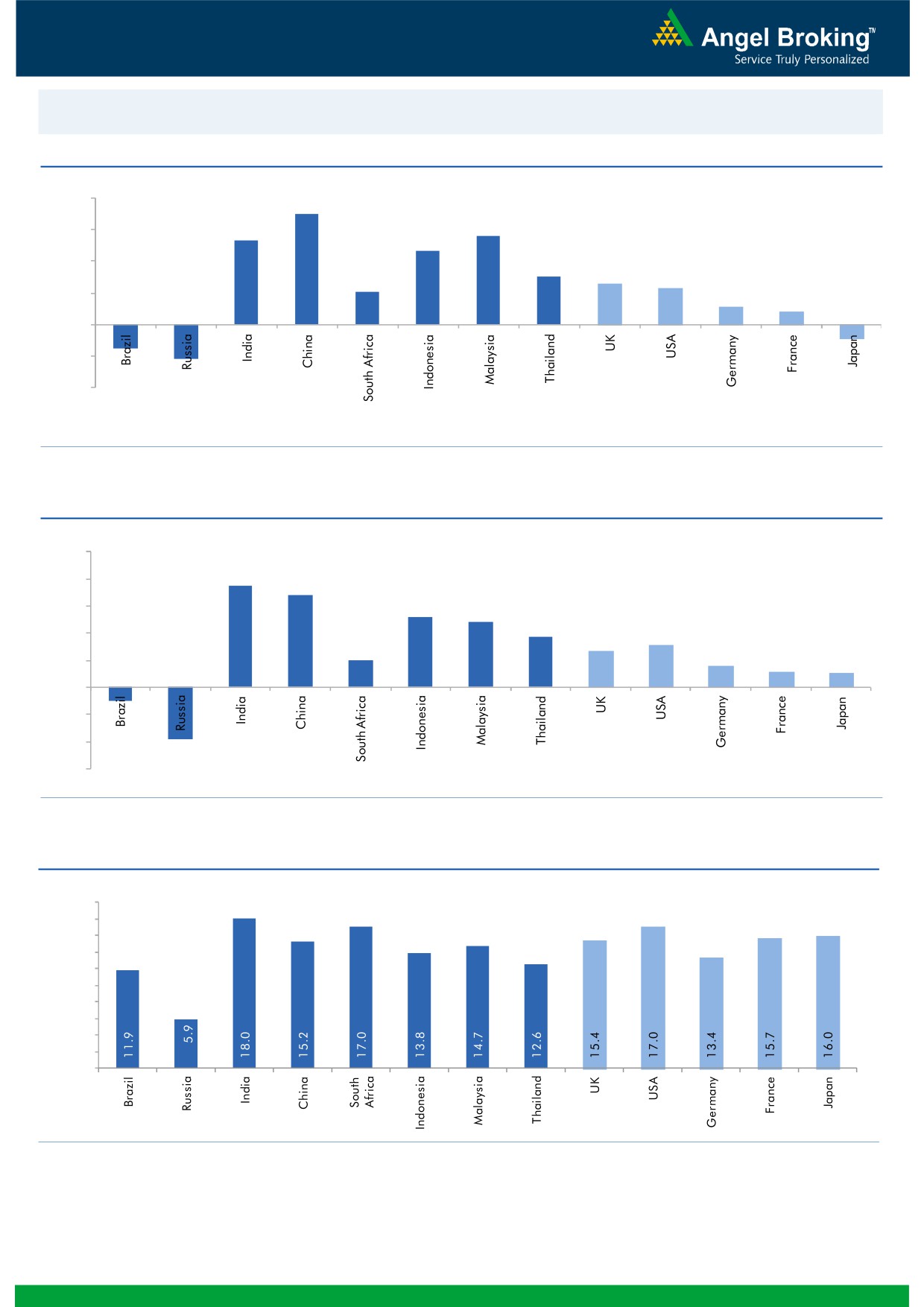 Exhibit 1: Latest quarterly GDP Growth (%, yoy) across select developing and developed countries
Source: Bloomberg, Angel Research
Exhibit 2: 2015 GDP Growth projection by IMF (%, yoy) across select developing and developed countries
Source: IMF, Angel Research
Exhibit 3: One year forward P-E ratio across select developing and developed countries
Source: Bloomberg, Angel Research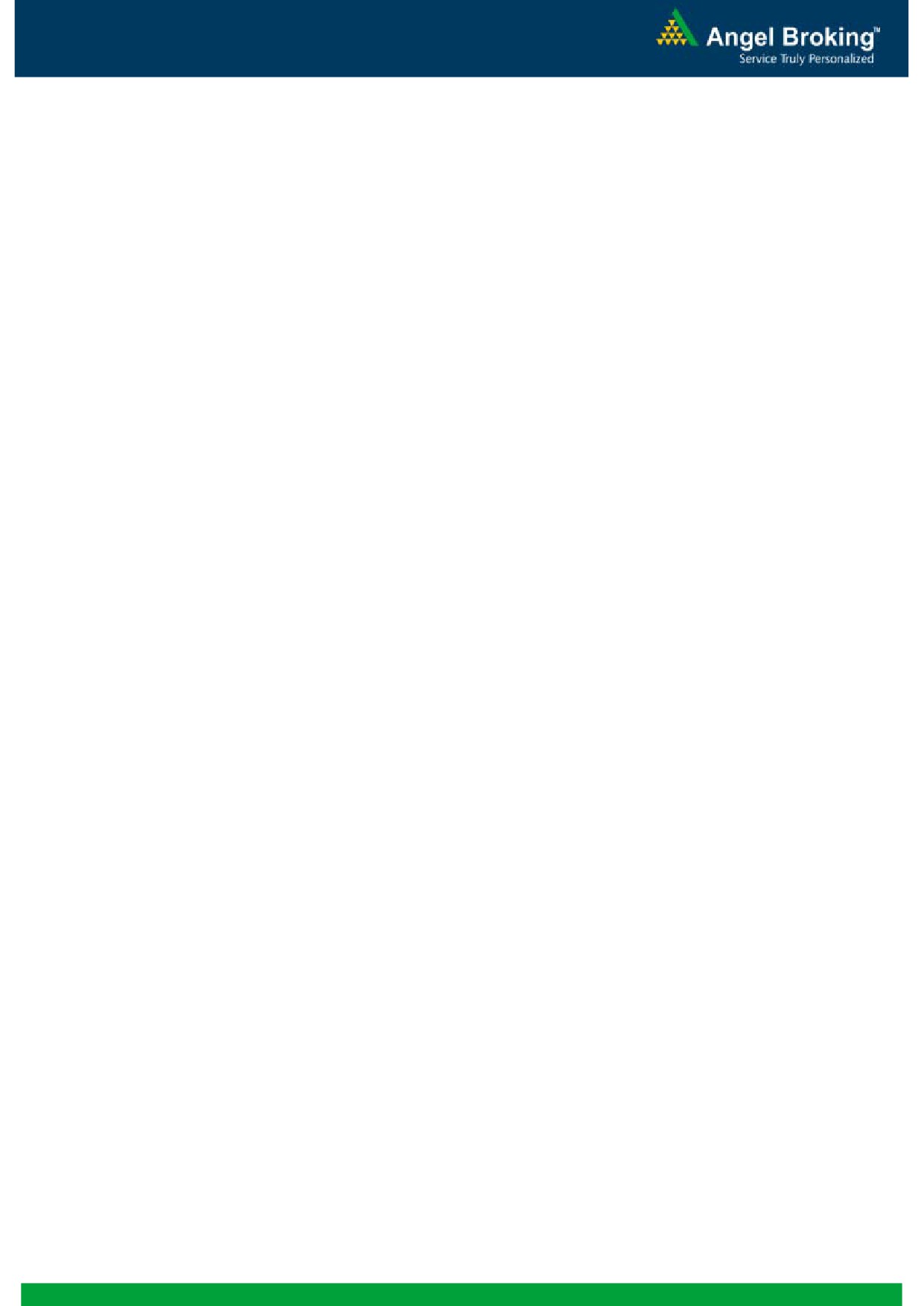 Research Team Tel: 022 - 39357800
Angel Broking Private Limited (hereinafter referred to as "Angel") is a registered Member of National Stock Exchange of India Limited,
Bombay Stock Exchange Limited and MCX Stock Exchange Limited. It is also registered as a Depository Participant with CDSL and
Portfolio Manager with SEBI. It also has registration with AMFI as a Mutual Fund Distributor. Angel Broking Private Limited is a registered
entity with SEBI for Research Analyst in terms of SEBI (Research Analyst) Regulations, 2014 vide registration number INH000000164.
Angel or its associates has not been debarred/ suspended by SEBI or any other regulatory authority for accessing /dealing in securities
Market. Angel or its associates including its relatives/analyst do not hold any financial interest/beneficial ownership of more than 1% in
the company covered by Analyst. Angel or its associates/analyst has not received any compensation / managed or co-managed public
offering of securities of the company covered by Analyst during the past twelve months. Angel/analyst has not served as an officer,
director or employee of company covered by Analyst and has not been engaged in market making activity of the company covered by
This document is solely for the personal information of the recipient, and must not be singularly used as the basis of any investment
decision. Nothing in this document should be construed as investment or financial advice. Each recipient of this document should make
such investigations as they deem necessary to arrive at an independent evaluation of an investment in the securities of the companies
referred to in this document (including the merits and risks involved), and should consult their own advisors to determine the merits and
risks of such an investment.
Reports based on technical and derivative analysis center on studying charts of a stock's price movement, outstanding positions and
trading volume, as opposed to focusing on a company's fundamentals and, as such, may not match with a report on a company's
The information in this document has been printed on the basis of publicly available information, internal data and other reliable sources
believed to be true, but we do not represent that it is accurate or complete and it should not be relied on as such, as this document is for
general guidance only. Angel Broking Pvt. Limited or any of its affiliates/ group companies shall not be in any way responsible for any
loss or damage that may arise to any person from any inadvertent error in the information contained in this report. Angel Broking Pvt.
Limited has not independently verified all the information contained within this document. Accordingly, we cannot testify, nor make any
representation or warranty, express or implied, to the accuracy, contents or data contained within this document. While Angel Broking
Pvt. Limited endeavors to update on a reasonable basis the information discussed in this material, there may be regulatory, compliance,
or other reasons that prevent us from doing so.
This document is being supplied to you solely for your information, and its contents, information or data may not be reproduced,
redistributed or passed on, directly or indirectly.
Neither Angel Broking Pvt. Limited, nor its directors, employees or affiliates shall be liable for any loss or damage that may arise from or
in connection with the use of this information.
Note: Please refer to the important 'Stock Holding Disclosure' report on the Angel website (Research Section). Also, please refer to the
latest update on respective stocks for the disclosure status in respect of those stocks. Angel Broking Pvt. Limited and its affiliates may have
investment positions in the stocks recommended in this report.