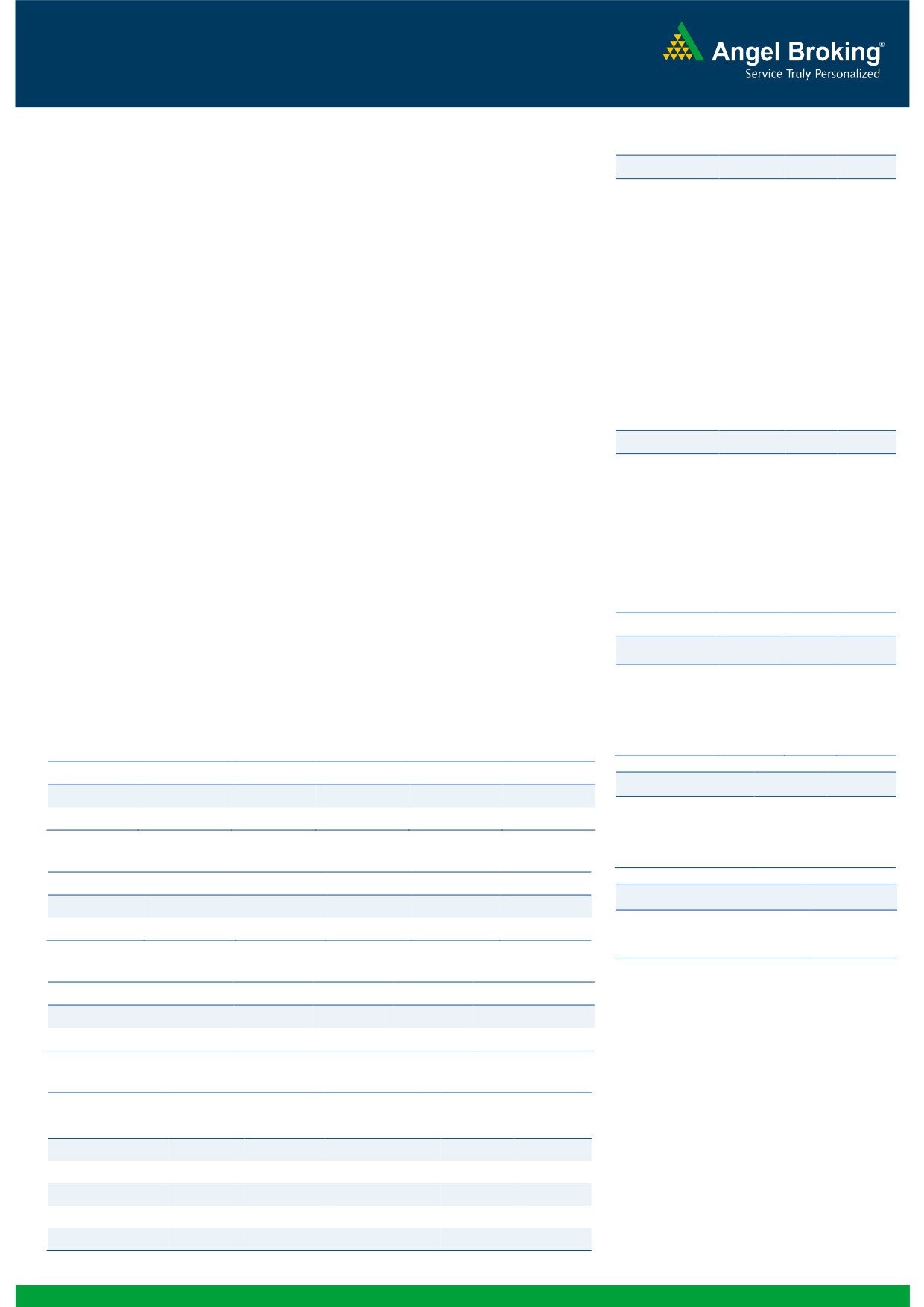 Indian markets are expected to open on a Flat note with Positive bias tracking the
SGX Nifty and most of global markets.
The US markets remained in the same range as its previous session throughout
Friday but managed to close in the green. The traders were on the side-line ahead
of the two day Federal Reserve's monetary policy meeting starting September 16,
For the second consecutive session, the European markets closed in the negative
territory on Thursday. The pull back was attributed to investor uncertainty ahead of
the release of China's Industrial Production data on September 13, 2015 and
outcome of FOMC meeting next week.
After registering early gains, Indian Markets ended flat on Friday as trader remained
cautious ahead of economic data release from China on Sunday as well as much
anticipated FOMC meet this week.

IIP posts growth of 4.2% in the month of July

JK Group (JK Tyres and group companies) to acquire Haridwar tyre unit of
Refer detailed news analysis on the following page
The trend deciding level for the day is 25,672 / 7,805 levels. If NIFTY trades above
this level during the first half-an-hour of trade then we may witness a further rally up
to 25,814 - 26,018 / 7,849 - 7,910 levels. However, if NIFTY trades below
25,672 / 7,805 levels for the first half-an-hour of trade then it may correct towards
25,468 - 25,327 / 7,745 - 7,700 levels.
Net Inflows (September 10, 2015)
FII Derivatives (September 11, 2015)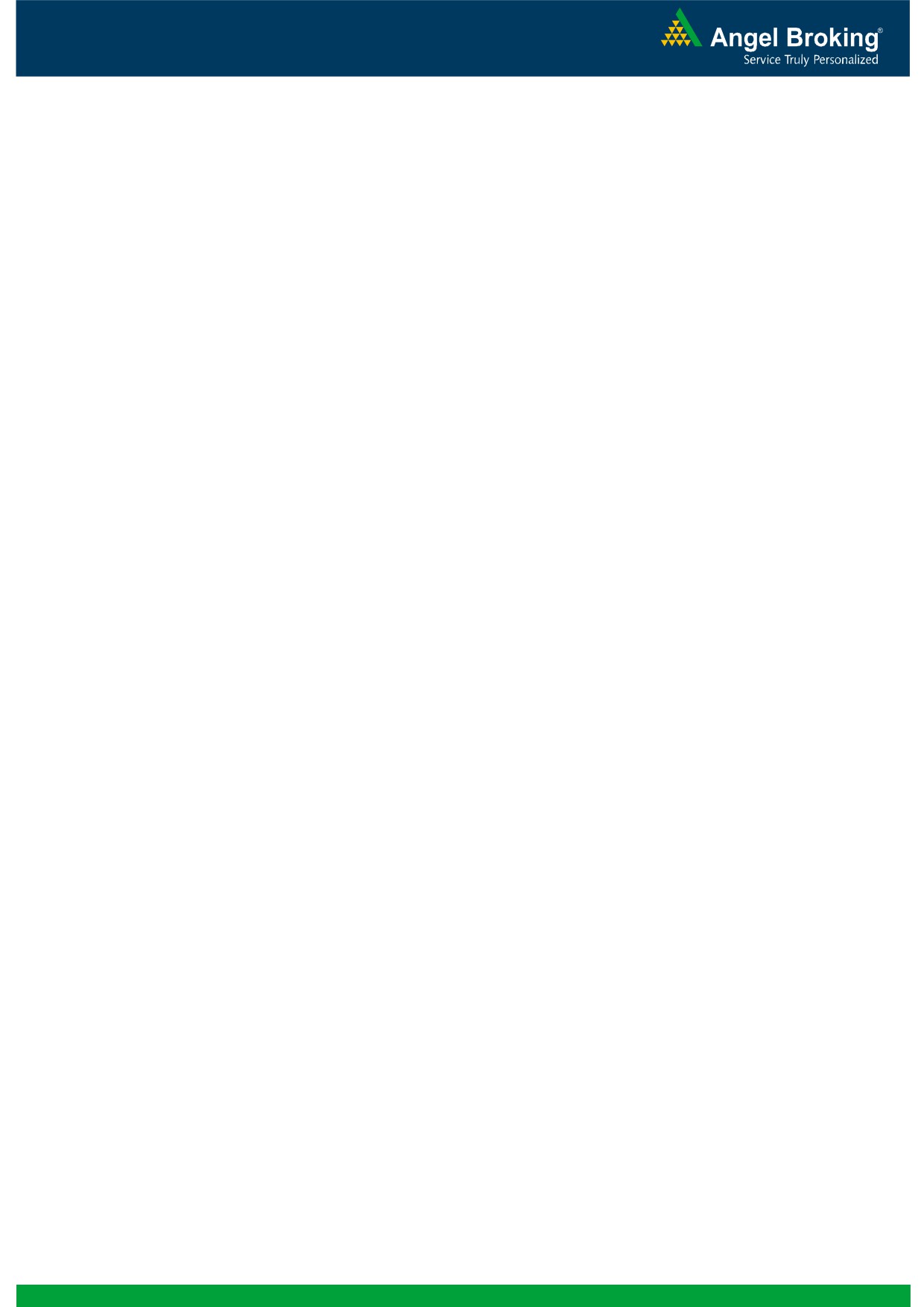 IIP posts growth of 4.2% in the month of July
India's Industrial Production growth in July came in above analyst expectation as
per the data released by Central Statistics Office on Friday. The industrial
production rose by 4.2% in July, much higher than estimates of 3.5%. This was
slightly below the revised June growth rate of 4.4%. The manufacturing posted
4.7% growth in July while mining and electricity generation grew by 1.3% and
JK Group (JK Tyres and group companies) to acquire Haridwar
tyre unit of Kesoram industries
JK Tyre & Industries (JKT) has signed a binding term sheet with Kesoram Industries
to acquire its tyre manufacturing unit at Haridwar (Cavendish Industries Ltd). The
Haridwar unit manufactures Truck and bus radial as well as two/three wheeler
tyres. JK Tyre along with its associate/group companies would acquire 100% of
Cavendish at an enterprise value not exceeding
`
2,200cr. JKT will hold the largest
shareholding block and will have substantial management control of Cavendish
with an option to place up to 55% with its associates /group companies. The
acquisition would be funded by combination of debt and internal accruals raised
by JKT and other JK Group entities. As per JKT, its financial exposure is expected to
be to the order of
`
450cr. The transaction is expected to be completed over next
few months. The deal appears to be expensive, as the tyre segment is currently loss
making for Kesoram. As per 9MFY15 financials, the tyre business of Kesoram
(which comprises of two plants one at Haridwar and other relatively smaller unit at
Balasore) had revenues of
`
2,045 cr and an EBIT loss of
`
293.9cr. Further, since
the acquisition is EPS dilutive and JKT would have to take debt to fund the
acquisition, JKT debt/equity ratio which is already high (Current debt/equity is
1.9x) would worsen further.
Given the expensive acquisition and deteriorating
financials in the near term, we keep our rating on JK Tyre under review. We would
update after getting more clarity from the management.
Economic and Political News

Govt may extend interest subsidy scheme for exporters by 3 yrs

FIPB clears 14 FDI proposals

Bharat Petroleum to invest
`
40,000cr to up capacity to 50 mtpa by 2021

Adani to expand capacity of Udupi power plant by 1600 MW

Elder Pharma in advanced talks with lenders for restructuring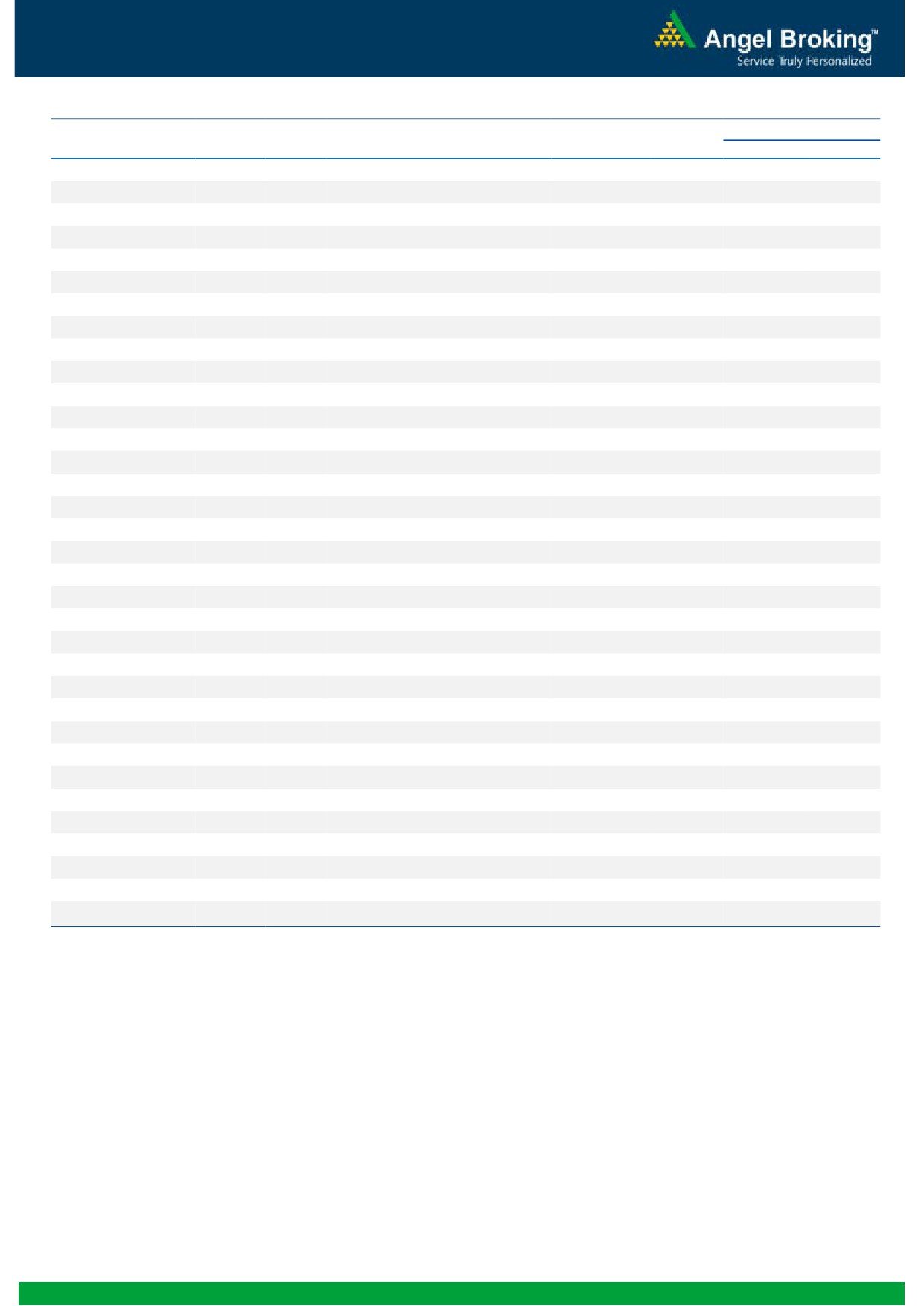 Global economic events release calendar
Country Event Description
Monthly Wholesale Prices YoY%
Euro Zone Euro-Zone CPI (YoY)
Consumer price index (mom)
Euro Zone Euro-Zone Consumer Confidence
Germany PMI Manufacturing
Germany Unemployment change (000's)
Change in Nonfarm payrolls
Industrial Production (YoY)
Industrial Production YoY
Consumer Price Index (YoY)
Source: Bloomberg, Angel Research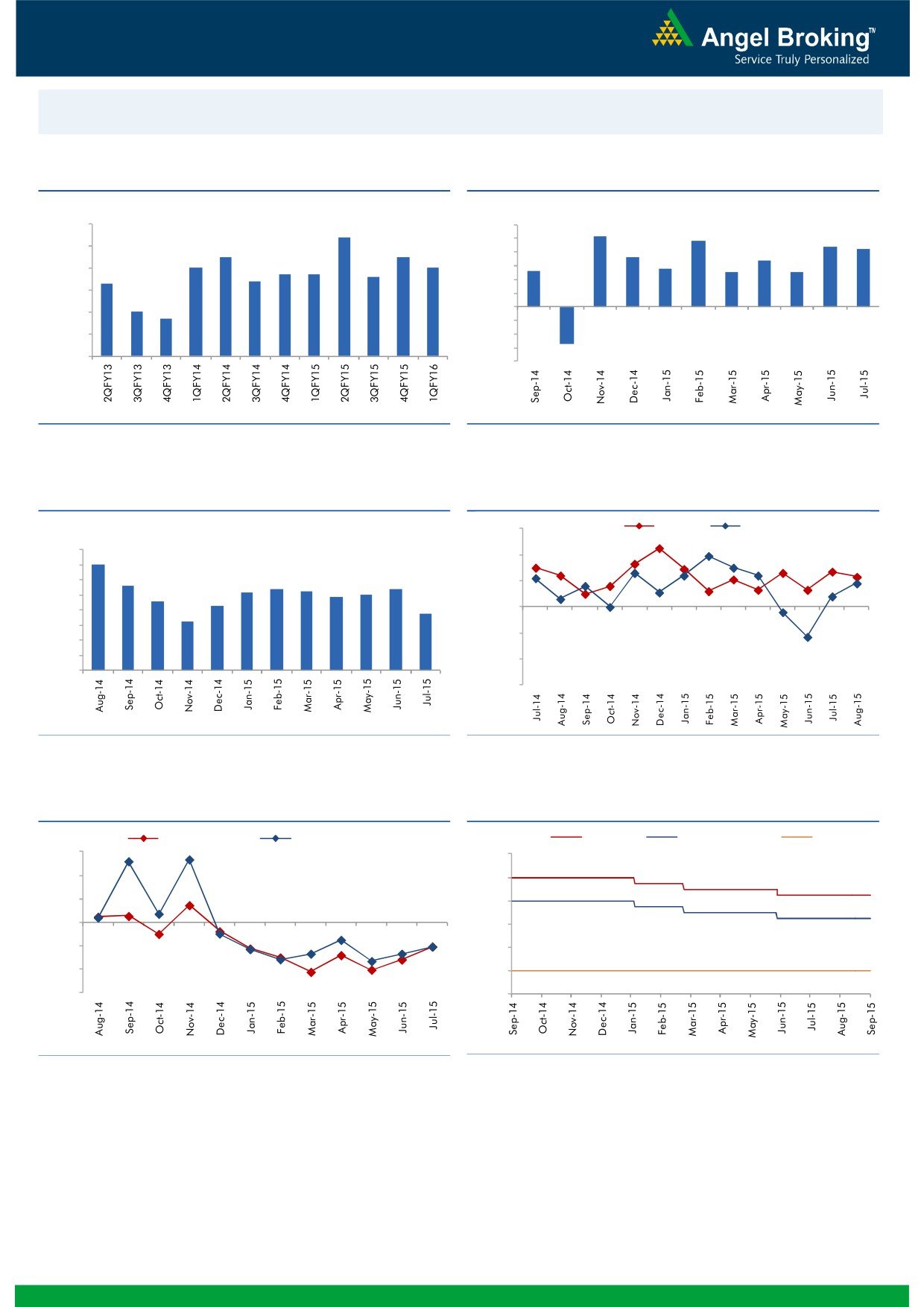 Exhibit 1: Quarterly GDP trends
Source: CSO, Angel Research
Source: MOSPI, Angel Research
Exhibit 3: Monthly CPI inflation trends
Exhibit 4: Manufacturing and services PMI
Source: MOSPI, Angel Research
Source: Market, Angel Research; Note: Level above 50 indicates expansion
Exhibit 5: Exports and imports growth trends
Exhibit 6: Key policy rates
Source: Bloomberg, Angel Research
Source: RBI, Angel Research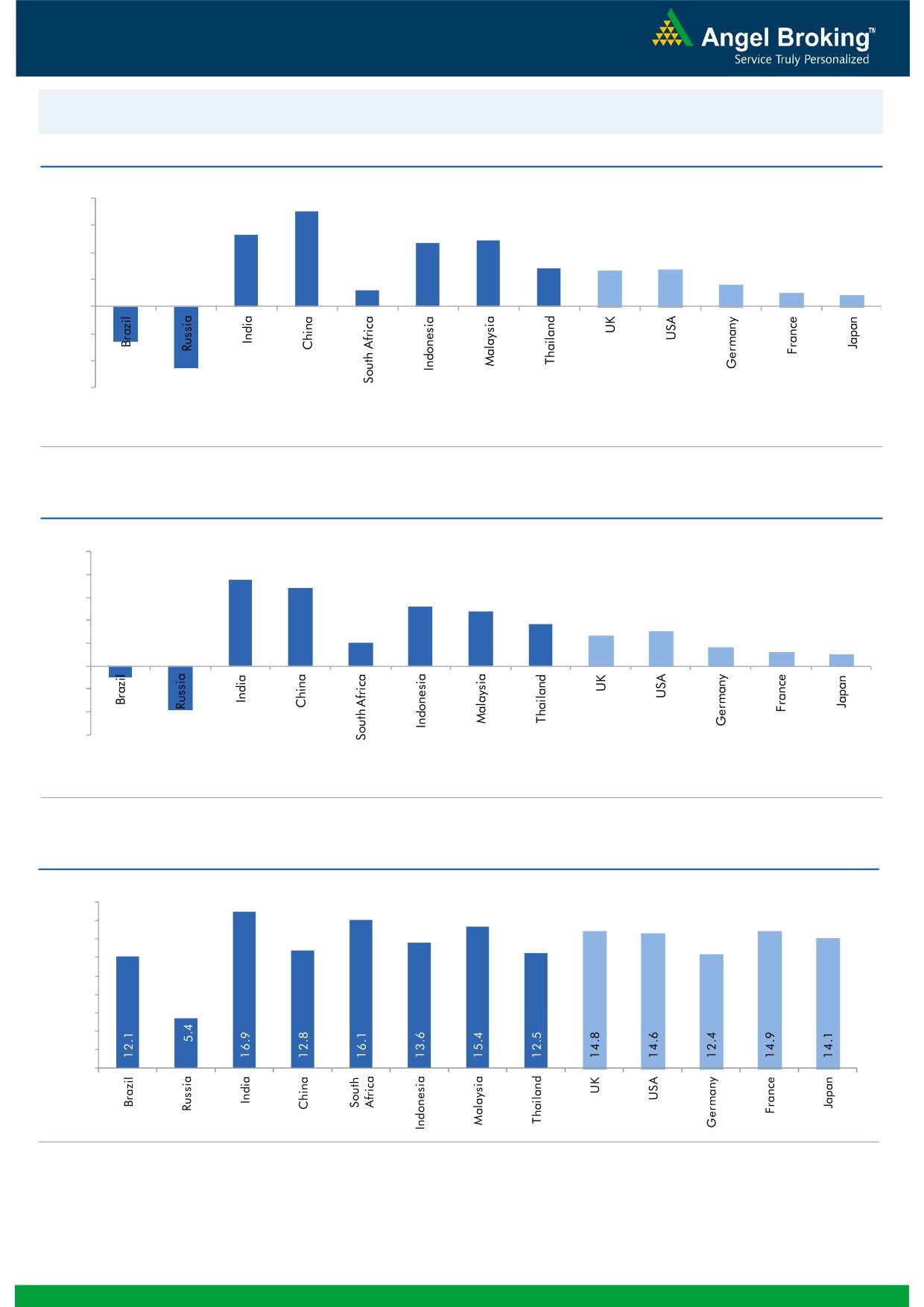 Exhibit 1: Latest quarterly GDP Growth (%, yoy) across select developing and developed countries
Source: Bloomberg, Angel Research
Exhibit 2: 2015 GDP Growth projection by IMF (%, yoy) across select developing and developed countries
Source: IMF, Angel Research
Exhibit 3: One year forward P-E ratio across select developing and developed countries
Source: Bloomberg, Angel Research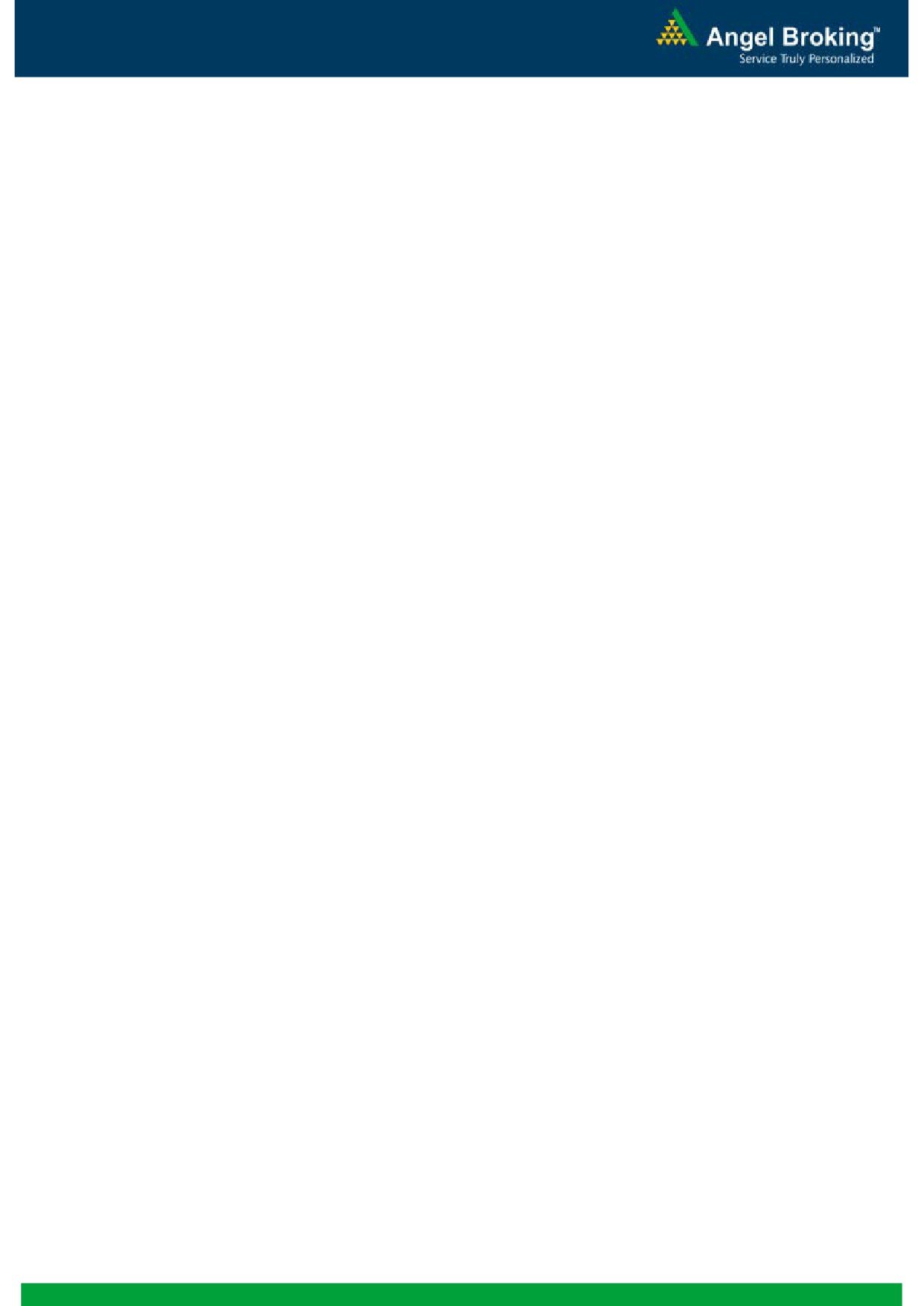 Research Team Tel: 022 - 39357800
Angel Broking Private Limited (hereinafter referred to as "Angel") is a registered Member of National Stock Exchange of India Limited,
Bombay Stock Exchange Limited and MCX Stock Exchange Limited. It is also registered as a Depository Participant with CDSL and
Portfolio Manager with SEBI. It also has registration with AMFI as a Mutual Fund Distributor. Angel Broking Private Limited is a registered
entity with SEBI for Research Analyst in terms of SEBI (Research Analyst) Regulations, 2014 vide registration number INH000000164.
Angel or its associates has not been debarred/ suspended by SEBI or any other regulatory authority for accessing /dealing in securities
Market. Angel or its associates including its relatives/analyst do not hold any financial interest/beneficial ownership of more than 1% in
the company covered by Analyst. Angel or its associates/analyst has not received any compensation / managed or co-managed public
offering of securities of the company covered by Analyst during the past twelve months. Angel/analyst has not served as an officer,
director or employee of company covered by Analyst and has not been engaged in market making activity of the company covered by
This document is solely for the personal information of the recipient, and must not be singularly used as the basis of any investment
decision. Nothing in this document should be construed as investment or financial advice. Each recipient of this document should make
such investigations as they deem necessary to arrive at an independent evaluation of an investment in the securities of the companies
referred to in this document (including the merits and risks involved), and should consult their own advisors to determine the merits and
risks of such an investment.
Reports based on technical and derivative analysis center on studying charts of a stock's price movement, outstanding positions and
trading volume, as opposed to focusing on a company's fundamentals and, as such, may not match with a report on a company's
The information in this document has been printed on the basis of publicly available information, internal data and other reliable sources
believed to be true, but we do not represent that it is accurate or complete and it should not be relied on as such, as this document is for
general guidance only. Angel Broking Pvt. Limited or any of its affiliates/ group companies shall not be in any way responsible for any
loss or damage that may arise to any person from any inadvertent error in the information contained in this report. Angel Broking Pvt.
Limited has not independently verified all the information contained within this document. Accordingly, we cannot testify, nor make any
representation or warranty, express or implied, to the accuracy, contents or data contained within this document. While Angel Broking
Pvt. Limited endeavors to update on a reasonable basis the information discussed in this material, there may be regulatory, compliance,
or other reasons that prevent us from doing so.
This document is being supplied to you solely for your information, and its contents, information or data may not be reproduced,
redistributed or passed on, directly or indirectly.
Neither Angel Broking Pvt. Limited, nor its directors, employees or affiliates shall be liable for any loss or damage that may arise from or
in connection with the use of this information.
Note: Please refer to the important 'Stock Holding Disclosure' report on the Angel website (Research Section). Also, please refer to the
latest update on respective stocks for the disclosure status in respect of those stocks. Angel Broking Pvt. Limited and its affiliates may have
investment positions in the stocks recommended in this report.