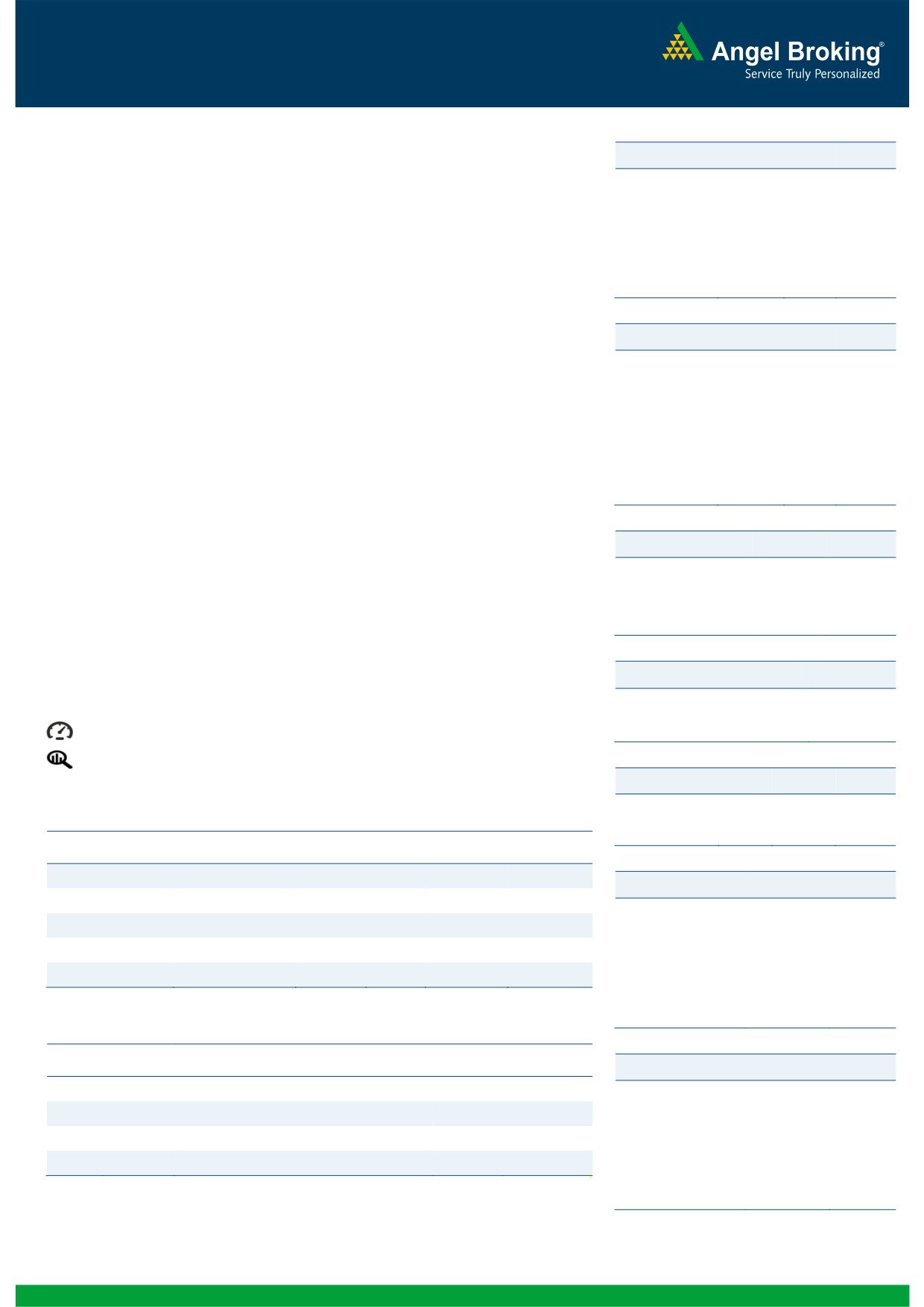 Indian markets are expected to open flat tracking the SGX Nifty and mixed Asian
US markets failed to sustain initial gains, witnessing a choppy session before closing
on a flat note. Markets opened higher after the ECB stimulus measures. However,
the positive sentiment was offset as ECB President said he does not anticipate the
need for further rate cuts.
European markets opened on a cautious note ahead of the ECB meet. The
European Central Bank delivered more than what markets hoped by cutting its
benchmark interest rate to zero and expanding its asset purchases, among other
steps. Markets saw a sharp upmove post the announcement, but could not sustain
the gains as investors took the opportunity to lock in some profits. Weakness in
crude oil prices also contributed to the late day sell-off.
Markets witnessed some profit booking after a six day post budget rally as caution
ahead of a key European Central Bank meeting and January IIP data triggered

Rajya Sabha passes Real Estate Bill

Cabinet approves MMDR amendment; move to spur M&As

Govt lends HELP to revive oil sector
Investor's Ready Reckoner
Key Domestic & Global Indicators
Stock Watch: Latest investment recommendations on 150+ stocks
Amara Raja Batteries Auto & Auto Ancillary
LIC Housing Finance Financials
Navkar Corporation Others
Industrial Production (YoY)
Monthly Wholesale Prices (YoY)
Producer Price Index (mom)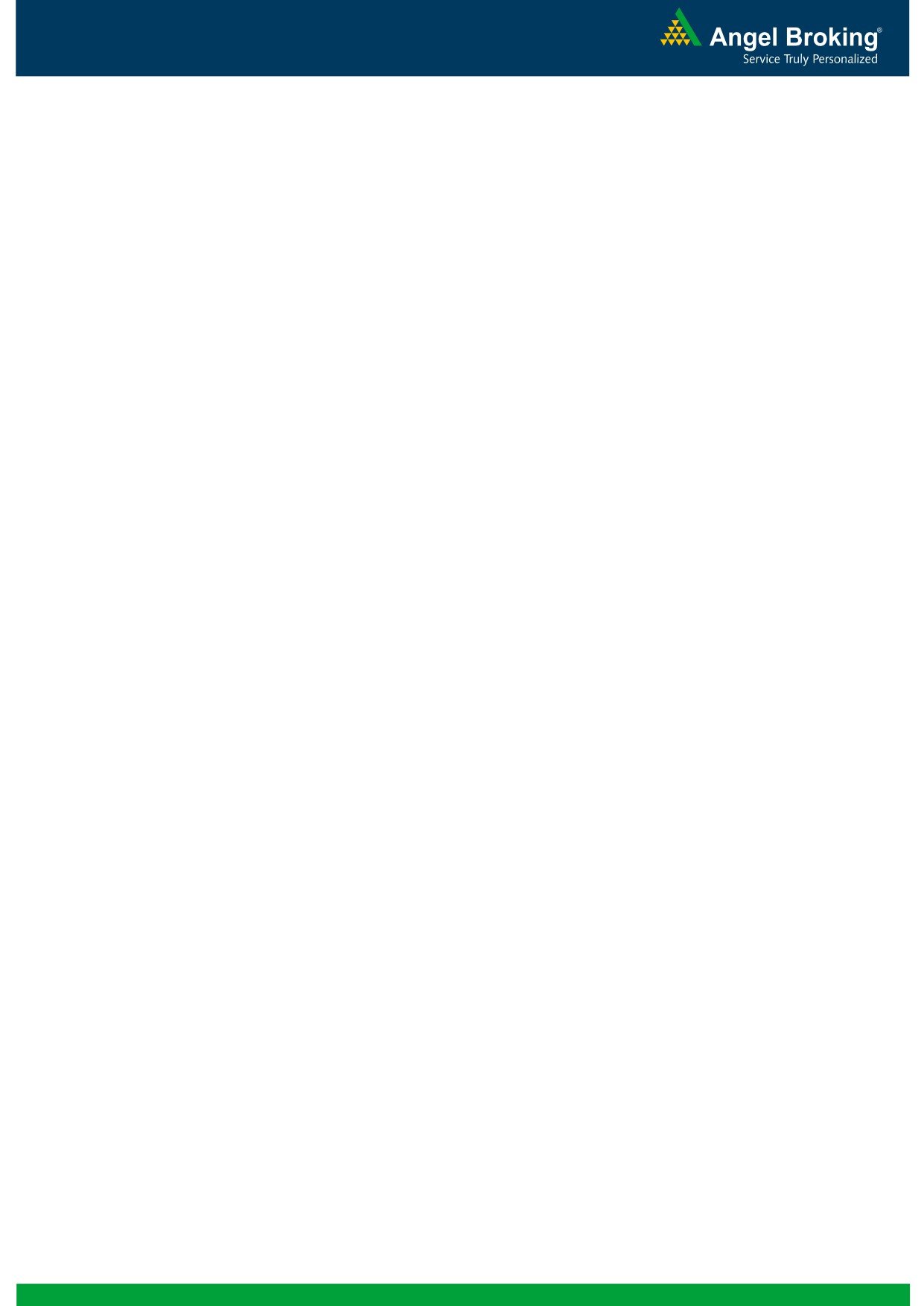 Rajya Sabha passes Real Estate Bill
The Rajya Sabha passed the Real Estate (Regulation and Development) Bill, 2015,
paving way for regulation in the real estate sector. The law will protect home
buyers against erring developers besides bringing in investments as well as
transparency in the sector. In December last year, the Cabinet had approved 20
major amendments to the Bill based on the recommendations of a Rajya Sabha
The developers will now have to deposit 70% of the sale proceeds, including the
land cost, in a separate escrow account, which was earlier brought down to 50%
by the NDA government. Also, an equal rate of interest has to be paid by
promoters and buyers in case of default or delays. Currently, developers pay only
2-3% interest in case of default, but a buyer pays 16-18% interest for his default,
Apart from three years' imprisonment for developers proposed by the government,
the liability of promoters for structural defects has been increased from the earlier
two years to five years now. Developers will have to register projects with 500 sq
mt area or 8 flats with a regulatory authority instead of 1,000 sq mt and 12 flats
earlier. A minimum of 50% of sale proceeds will have to be kept in a separate
bank account and used for construction of that project.
Cabinet approves MMDR amendment; move to spur M&As
The Cabinet today cleared an amendment in the new mining law that permits
transfer of captive mines granted on discretion. Major deals among cement
companies such as those of UltraTech, Reliance Cements and Lafarge, are stuck
because the Mines and Minerals (Development and Regulation) Amendment Act,
2015, permits transfer of mining leases only for auctioned mines.
With the amendment cleared by the Cabinet, the government would be tabling it
in Parliament soon so that such deals, which involve transfer of non auctioned
mines, may go through smoothly. Auction of non-coal mines was introduced in the
new mining law. Earlier, all non-coal mines in India were handed out by state
governments on discretion.
In the biggest deal in the cement industry, UltraTech Cement is acquiring the
22.4MT cement capacity of debt-ridden Jaiprakash Associates for
`
17,000cr. To
reduce its debt, Reliance Infrastructure is selling its cement subsidiary to Birla Corp
for
`
4,800cr. And, as a condition for its merger with Holcim, the Competition
Commission of India had asked Lafarge to sell two units. The company was
unable to sell its two units to Birla Corp because the mining rights could not be
In January, the government proposed the amendment to "spur merger and
acquisitions in the mining sector and help in checking the stressed and non-
performing assets of banks by allowing them to liquidate assets where a firm or its
captive mining lease is mortgaged".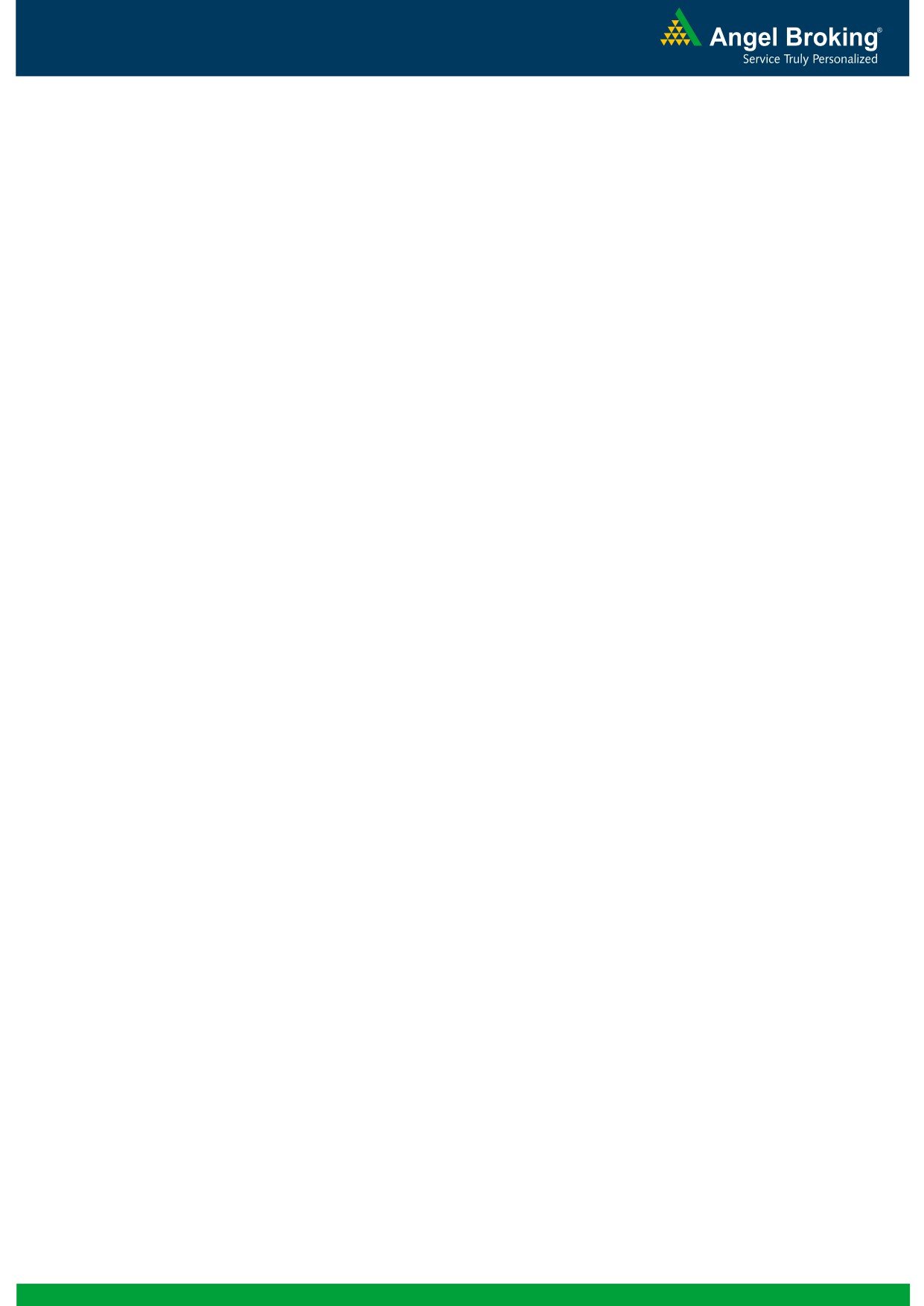 Govt lends HELP to revive oil sector
Faced with an investment challenge in the upstream oil and gas production sector,
the Union Cabinet announced major reforms to woo foreign investors and boost
the performance of the sector. The Cabinet Committee on Economic Affairs
(CCEA) approved a much-awaited policy, granting pricing and marketing freedom
to companies exploiting hydrocarbon reserves in difficult geological areas. The
aim is to ramp up domestic output to cut energy imports. It approved a new
Hydrocarbon Exploration Licensing Policy (HELP) that will replace the existing New
Exploration Licensing Policy (NELP) regime with more investor-friendly provisions of
revenue sharing and open acreage licensing.
Pricing freedom will benefit exploitation of 28 discoveries with 2.6 trillion cubic feet
of hydrocarbon reserves located in deep water, ultra deep water and high
pressure-high temperature areas, benefiting two of the country's largest upstream
companies - Oil and Natural Gas Corporation (ONGC) and Reliance Industries
The pricing and marketing freedom for exploitation would be capped by a ceiling
price that will be determined on the basis of landed price of alternative fuels. The
ceiling price (in $ per mmBtu) will be the lowest of three prices - landed price of
fuel oil; weighted average of the landed price of substitute fuels including coal,
fuel oil and naphtha; and landed price of imported liquefied natural gas (LNG).
The new HELP approval will allow exploration and production of conventional and
unconventional oil and gas including CBM (coalbed methane), shale gas, etc.
under a single license. The concept of Open Acreage Policy will also enable
exploration & production companies choose the blocks from designated areas.
The Union Cabinet also approved a policy for grant of extension to the production
sharing contracts (PSCs) for
28 small and medium-sized fields where the
recoverable reserves are unlikely to be produced within the remaining duration of
the contract periods. During the extended period of contracts for these blocks, the
government's share of profit petroleum will be 10% higher but royalty and cess will
be applicable at prevailing rates of nomination regime.
The Cabinet also approved cancellation of the award of medium-sized discovered
field of Ratna and R-Series to a consortium of Essar Oil and Oil Pacific UK, and
decided to revert the allocation of the fields to state-owned ONGC, the original
Economic and Political News

Cabinet gives nod to
`
8,000cr rural LPG scheme

Siam cuts passenger vehicles growth forecast due to infrastructure cess

Movement rationalisation of coal leads to
`
1,371 crore savings

JSPL to reschedule foreign banks' debt in 4-6 weeks

BHEL starts 500 Mw thermal unit at Anpara-D power plant

IndiGo takes delivery of its first A320neo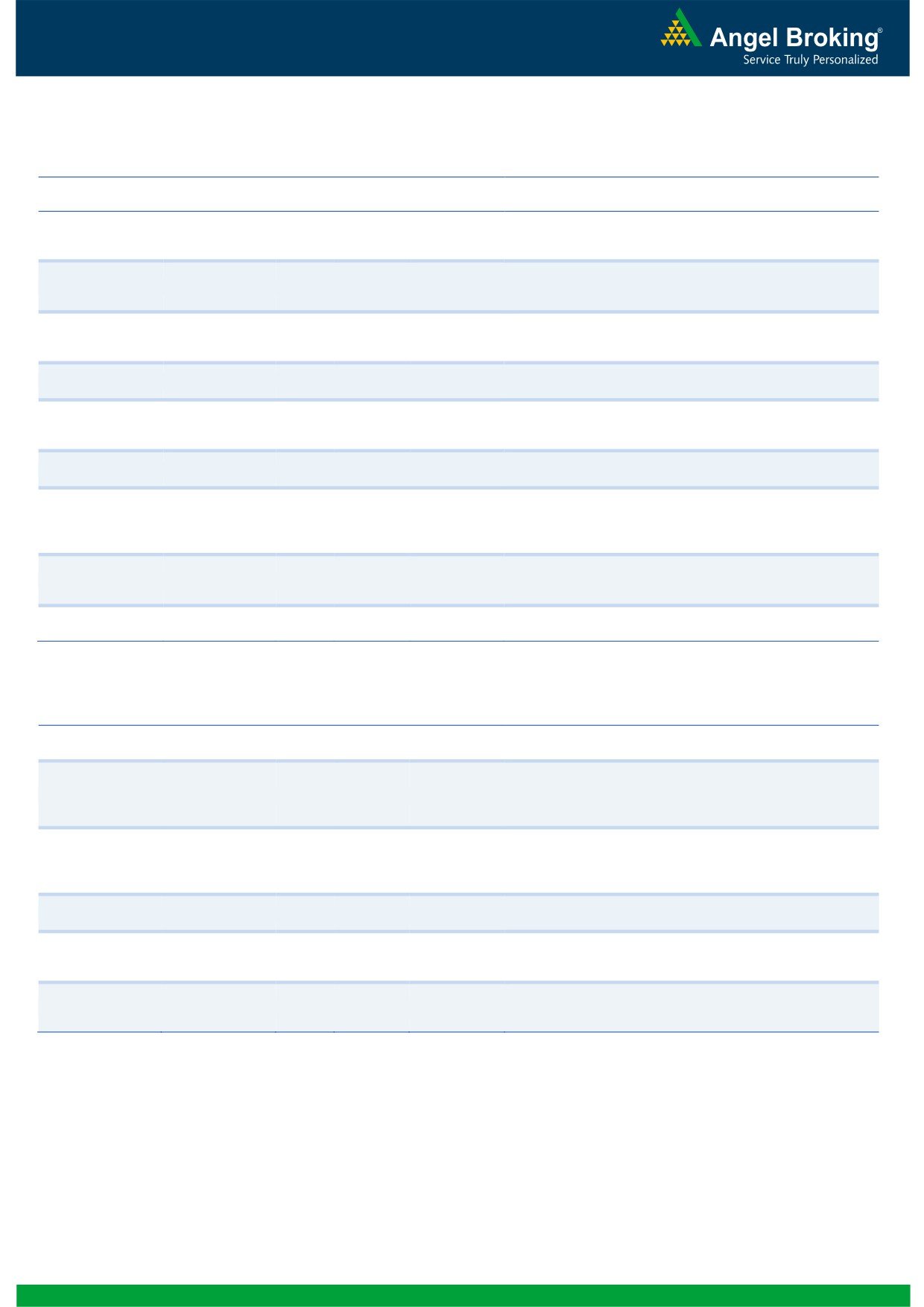 To outpace battery industry growth due to better technological
products leading to market share gains in both the automotive
OEM and replacement segments.
Earnings to grow strongly given the MHCV cyclical upturn.
Focus on exports and LCV's provides additional growth
Uptick in defense capex by government when coupled with
BELs strong market positioning, indicate that good times are
The stock is trading at attractive valuations and is factoring all
Strong visibility for a robust 20% earnings trajectory, coupled
with high quality of earnings on account of high quality retail
business and strategic focus on highly rated corporates.
Back on the growth trend, expect a long term growth of 14%
to be a US$20bn in FY2020.
LICHF continues to grow its retail loan book at a healthy pace
with improvement in asset quality. We expect the company to
post a healthy loan book which is likely to reflect in a strong
Huge bid pipeline of re-development works at Delhi and other
State Governments and opportunity from Smart City, positions
NBCC to report strong growth, going forward.
New launches to enable outpace industry growth; margins
expansion to boost earnings.
Source: Company, Angel Research
Favourable outlook for the AC industry to augur well for
Cooling products business which is out pacing the market
growth. EMPPAC division's profitability to improve once
operating environment turns around.
Economic recovery to have favourable impact on advertising &
circulation revenue growth. Further, the acquisition of a radio
business (Radio City) would also boost the company's revenue
Massive capacity expansion along with rail advantage at ICD
as well CFS augurs well for the company
Earnings boost on back of stable material prices and
favourable pricing environment. Valuation discount to peers
provides additional comfort
Strong brands and distribution network would boost growth
going ahead. Stock currently trades at an inexpensive
Source: Company, Angel Research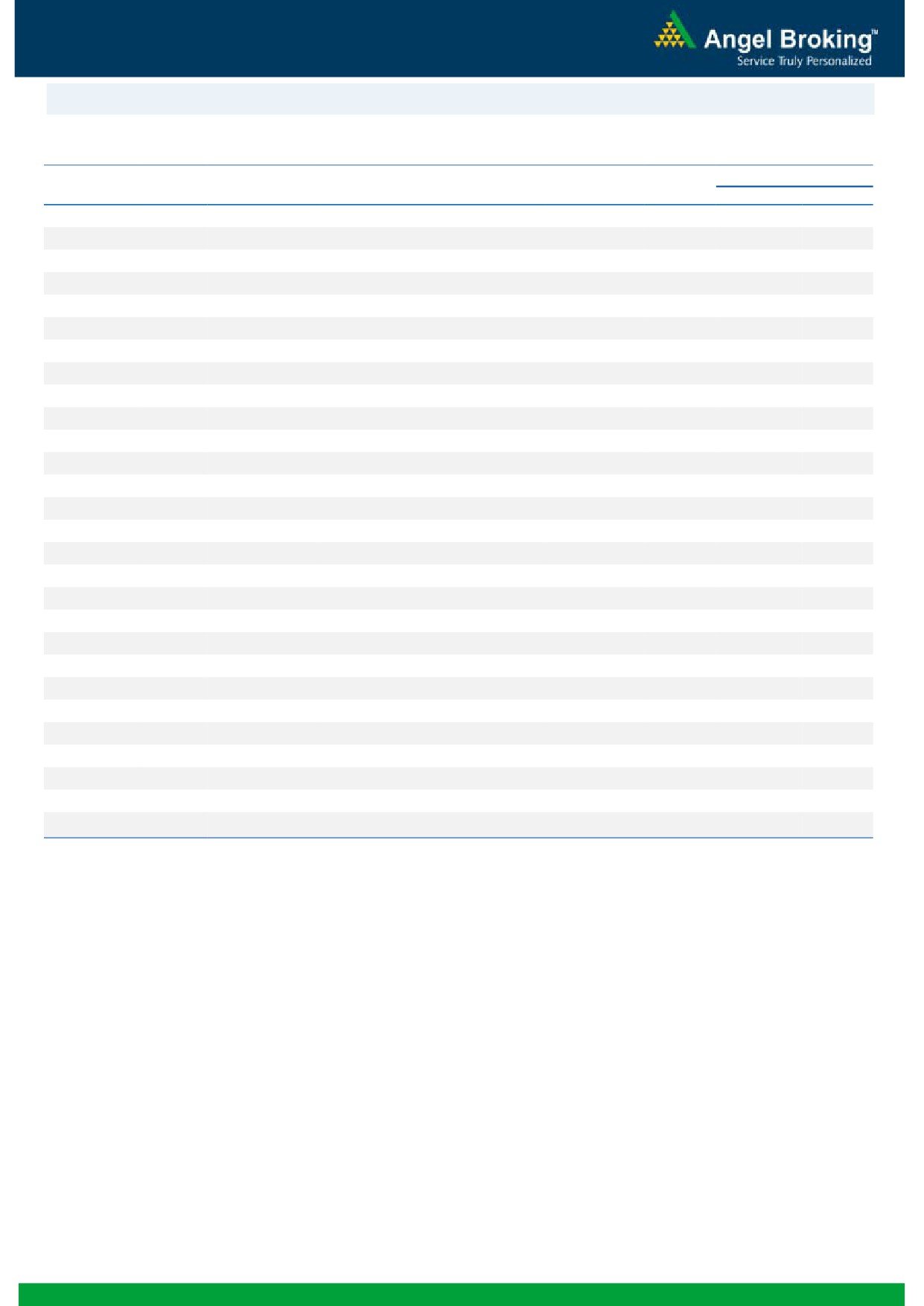 Global economic events release calendar
Industrial Production YoY
Monthly Wholesale Prices YoY%
Producer Price Index (mom)
Consumer price index (mom)
Euro-Zone Consumer Confidence
Unemployment change (000's)
Change in Nonfarm payrolls
Industrial Production (YoY)
Source: Bloomberg, Angel Research
Exhibit 1: Quarterly GDP trends
Source: CSO, Angel Research
Source: MOSPI, Angel Research
Exhibit 3: Monthly CPI inflation trends
Exhibit 4: Manufacturing and services PMI
Source: MOSPI, Angel Research
Source: Market, Angel Research; Note: Level above 50 indicates expansion
Exhibit 5: Exports and imports growth trends
Exhibit 6: Key policy rates
Source: Bloomberg, Angel Research
Source: RBI, Angel Research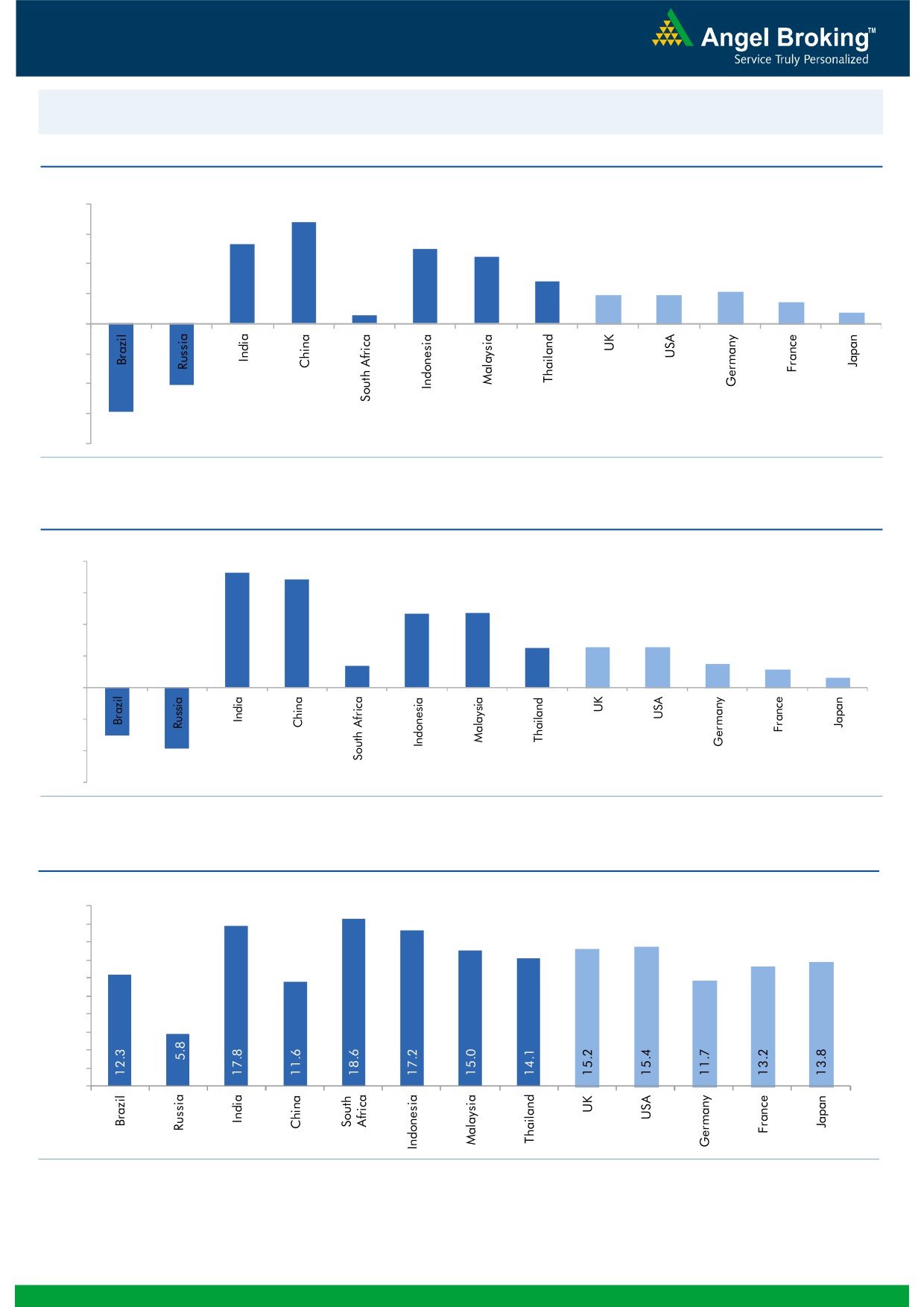 Exhibit 1: Latest quarterly GDP Growth (%, yoy) across select developing and developed countries
Source: Bloomberg, Angel Research
Exhibit 2: 2015 GDP Growth projection by IMF (%, yoy) across select developing and developed countries
Source: IMF, Angel Research
Exhibit 3: One year forward P-E ratio across select developing and developed countries
Source: IMF, Angel Research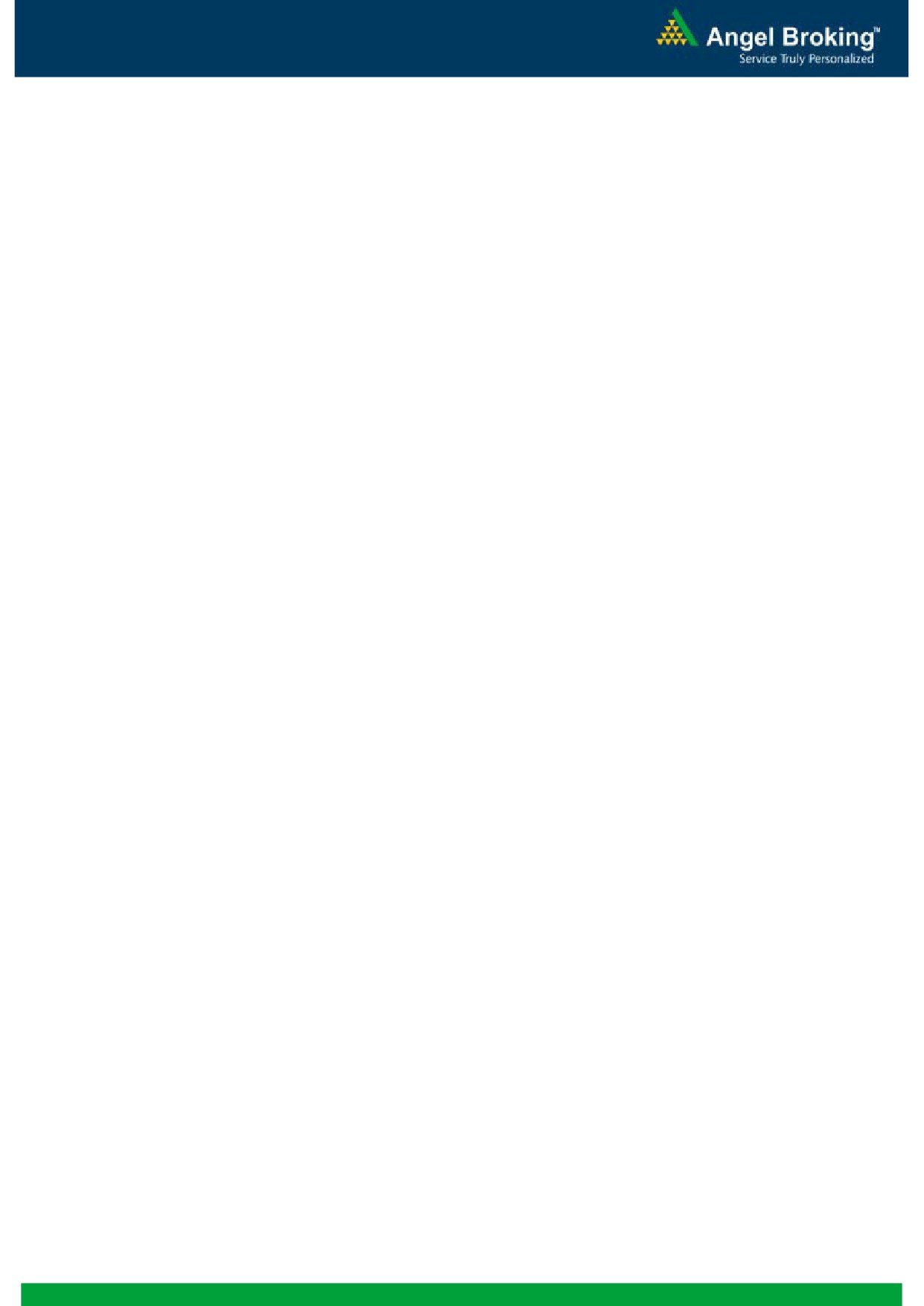 Research Team Tel: 022 - 39357800
Angel Broking Private Limited (hereinafter referred to as "Angel") is a registered Member of National Stock Exchange of India Limited,
Bombay Stock Exchange Limited and Metropolitian Stock Exchange of India Limited. It is also registered as a Depository Participant with
CDSL and Portfolio Manager with SEBI. It also has registration with AMFI as a Mutual Fund Distributor. Angel Broking Private Limited is a
registered entity with SEBI for Research Analyst in terms of SEBI (Research Analyst) Regulations, 2014 vide registration number
INH000000164. Angel or its associates has not been debarred/ suspended by SEBI or any other regulatory authority for accessing
/dealing in securities Market. Angel or its associates including its relatives/analyst do not hold any financial interest/beneficial ownership
of more than 1% in the company covered by Analyst. Angel or its associates/analyst has not received any compensation / managed or co
-managed public offering of securities of the company covered by Analyst during the past twelve months. Angel/analyst has not served as
an officer, director or employee of company covered by Analyst and has not been engaged in market making activity of the company
This document is solely for the personal information of the recipient, and must not be singularly used as the basis of any investment
decision. Nothing in this document should be construed as investment or financial advice. Each recipient of this document should make
such investigations as they deem necessary to arrive at an independent evaluation of an investment in the securities of the companies
referred to in this document (including the merits and risks involved), and should consult their own advisors to determine the merits and
risks of such an investment.
Reports based on technical and derivative analysis center on studying charts of a stock's price movement, outstanding positions and
trading volume, as opposed to focusing on a company's fundamentals and, as such, may not match with a report on a company's
The information in this document has been printed on the basis of publicly available information, internal data and other reliable sources
believed to be true, but we do not represent that it is accurate or complete and it should not be relied on as such, as this document is for
general guidance only. Angel Broking Pvt. Limited or any of its affiliates/ group companies shall not be in any way responsible for any
loss or damage that may arise to any person from any inadvertent error in the information contained in this report. Angel Broking Pvt.
Limited has not independently verified all the information contained within this document. Accordingly, we cannot testify, nor make any
representation or warranty, express or implied, to the accuracy, contents or data contained within this document. While Angel Broking
Pvt. Limited endeavors to update on a reasonable basis the information discussed in this material, there may be regulatory, compliance,
or other reasons that prevent us from doing so.
This document is being supplied to you solely for your information, and its contents, information or data may not be reproduced,
redistributed or passed on, directly or indirectly.
Neither Angel Broking Pvt. Limited, nor its directors, employees or affiliates shall be liable for any loss or damage that may arise from or
in connection with the use of this information.
Note: Please refer to the important 'Stock Holding Disclosure' report on the Angel website (Research Section). Also, please refer to the
latest update on respective stocks for the disclosure status in respect of those stocks. Angel Broking Pvt. Limited and its affiliates may have
investment positions in the stocks recommended in this report.