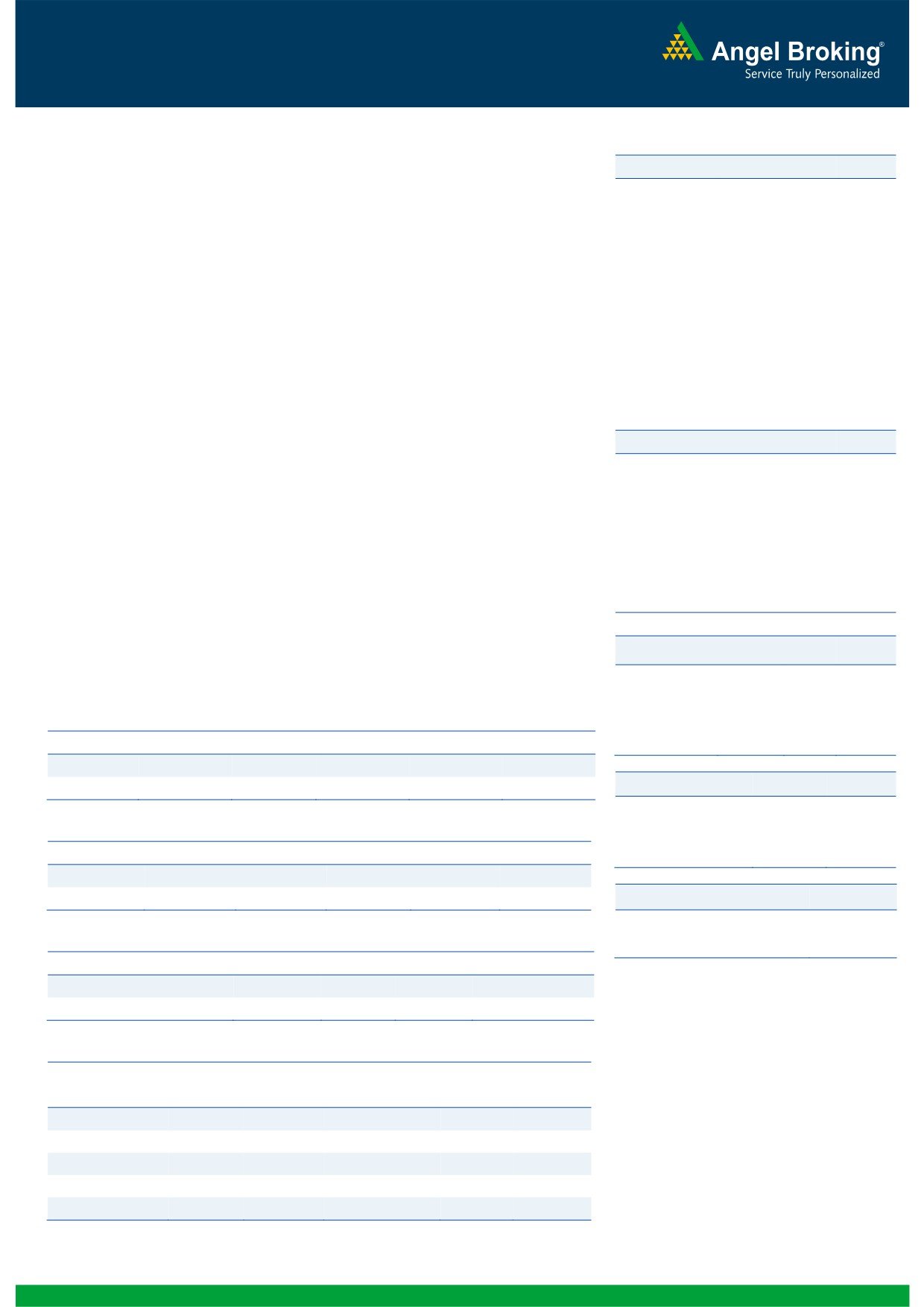 Indian markets are expected to open negative tracking SGX Nifty.
Wall Street traded lower, weighed by biotech shares and second day of sharp
declines in Media companies after Viacom's revenue miss was linked to viewers
increasingly shifting from cable television to online streaming.
U.K. stocks were little changed, paring an earlier retreat after fewer Bank of England
policy makers than expected voted to increase interest rates this month. FTSE 100
Index lost 0.1% at the close in London, after earlier falling as much as 0.5%.
Declines in miners and oil companies weighed on the benchmark. BHP Billiton Ltd.
and Glencore Plc fell at least 2%.
After a sluggish day, markets geared up to rally at the end. However, this rally of
Nifty to scale above 8,600 was not successful as index heavyweights ITC, CIL,
Vedanta, Reliance and Tech Mahindra pulled Nifty down.

Dr Reddy's in pact with Amgen

Result Review: Bajaj Electricals, Banco Products
Refer detailed news & result analysis on the following page
The trend deciding level for the day is 28,274 / 8,582 levels. If NIFTY trades above
this level during the first half-an-hour of trade then we may witness a further rally up
to 28,384 - 28,470 / 8,613 - 8,637 levels. However, if NIFTY trades below
28,274 / 8,582 levels for the first half-an-hour of trade then it may correct towards
28,188 - 28,078 / 8,558 - 8,527 levels.
Net Inflows (August 5, 2015)
FII Derivatives (August 6, 2015)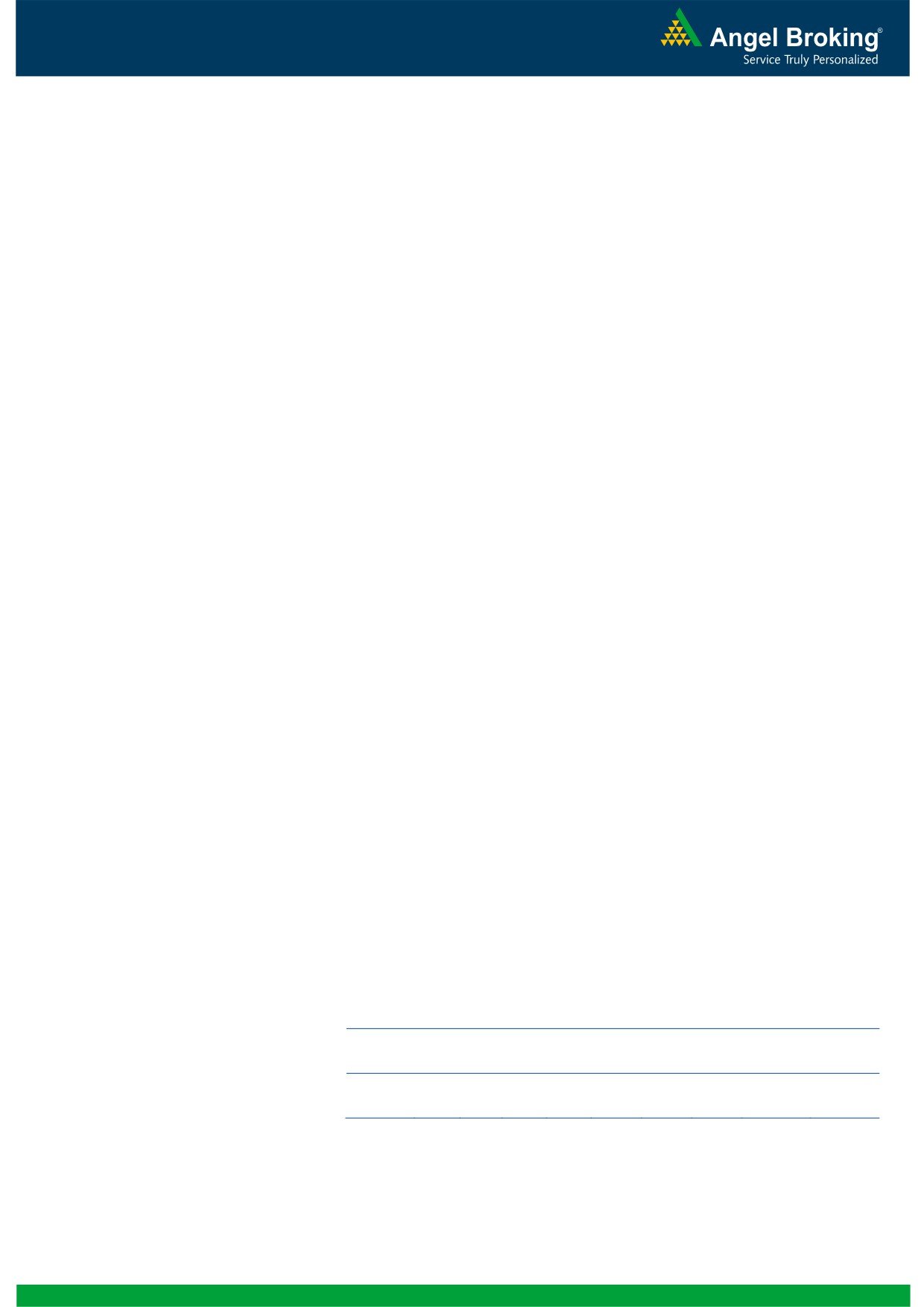 Dr Reddy's in pact with Amgen
Dr Reddy's has entered into a strategic collaboration with Amgen, the
biotechnology company, to market and distribute three Amgen medicines in India
in the area of oncology and cardiology. Under the terms of collaboration, the drug
major will perform a full range of regulatory and commercial services to seek
approval and launch Kyprolis (carfilzomib), Blincyto (blinatumomab) and Repatha
(evolocumab) in India. Kyprolis was approved by the US Food and Drug
2015, in combination with lenalidomide and
dexamethasone, for the treatment of patients with relapsed multiple myelomas
who have received one to three prior lines of therapy. Blincyto is an example of
immunotherapy, a treatment that uses certain parts of a person's immune system
to fight diseases such as cancer. Repatha got approval from European
Commission for marketing in July, which is used for the treatment of patients with
uncontrolled cholesterol. The alliance will enhance its biotechnology product
portfolio. On number terms it will not be that significant to the overall sales of the
company. We maintain our neutral on the stock.
Bajaj Electricals (CMP-
`
274/ TP-
`
343 / Upside-25.1%)
For 1QFY216, Bajaj Electricals reported good set of numbers. The top-line
witnessed a 13.7% yoy increase to
`
1,009cr which is broadly in-line with our
estimate of
`
1,045cr. The top-line growth was on account of 20.3% yoy growth in
the Lighting segment (
`
203cr) and 54.1% yoy growth in the E&P segment (
`
330cr).
The Consumer Durables segment witnessed marginal de-growth of 5.7% on yoy
basis, reporting top-line of
`
476cr.
The EBITDA grew by 63.5% yoy to
`
60cr and EBITDA margin expanded by 182bp
yoy to 6.0% against our estimated EBITDA and EBITDA margin of
`
60cr and 6.0%
respectively. The improvement in margins was mainly on account of lower other
expenses which declined by 222bp yoy to 12.3% of sales. As far as segmental
margins are concerned, the Lighting and E&P segment margins grew by 269bp
yoy and 862bp yoy to 4.2% and 5.8% respectively while the Consumer Durables
margins were stable on yoy basis.
Owing to better operating performance and 124.6% yoy increase in other income
to
`
5cr, the net profit increased by 261.3% yoy to
`
20cr vis-à-vis our expectation
At current market price, the stock is trading at EV/Sales multiple of 0.6x for
FY2017E. We maintain our Buy rating on the stock with a target price of
`
343
based on target EV/ Sales multiple of 0.7x for FY2017E.
Banco Products (CMP:
`
128/ TP:
-
/ Upside: -)
For 1QFY2016, Banco Products reported a mixed set of numbers. Consolidated
top-line during the quarter witnessed a 1.3% yoy decline to
`
319cr. This is slightly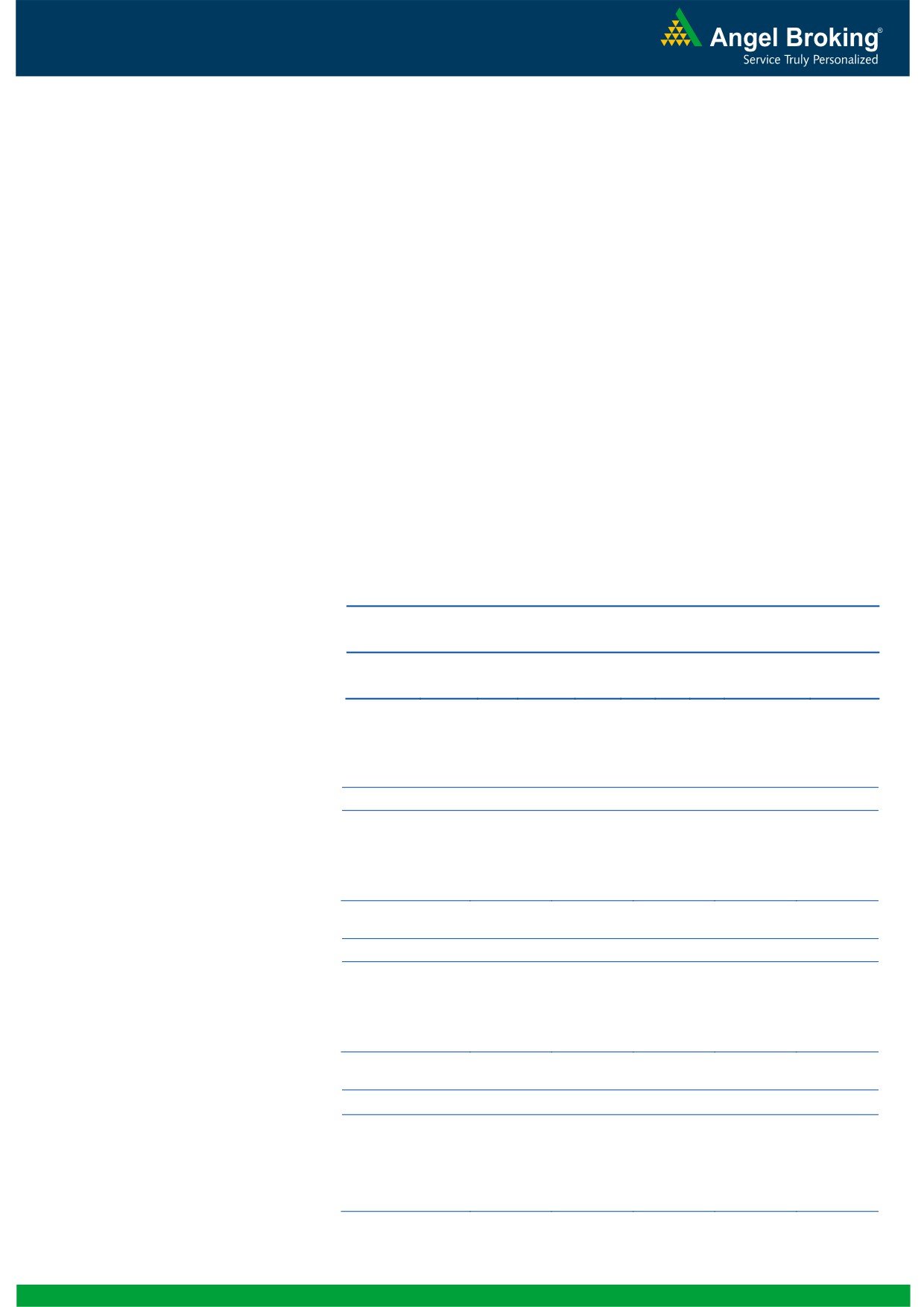 lower than our estimate of
`
326cr. The raw material cost as a percentage of sales
declined by 135bp yoy to 52.5%. Employee cost as a percentage of sales declined
by 73bp to 11.9% while other expenses increased by 55bp yoy to 21.6% of sales.
This resulted in EBITDA margins expanding by 154bp yoy to 14.0% against our
12.3%. The company has witnessed significant improvement in
performance on yoy basis where EBITDA margin stood at 0.9%. Interest expense
has come down to
`
1cr from
`
3cr in 1QFY2015. On the back of improvement in
operating performance, the net profit during the quarter improved to
`
28cr
representing a yoy growth of 15.3% vis-à-vis our estimate of
`
25cr.
On standalone basis, top line remained unchanged on yoy basis coming in
at
`
113cr. Exports being hurt on the back of weakness in Euro against the INR can
be attributed to flat top-line. Raw material cost, employee and other expenses all
increased by 20bp each on yoy basis resulting in EBITDA margin declining by
60bp yoy to 18.2%. Other income during the quarter increased by 755.7% yoy
to
`
14.3cr while interest expense decline to
`
0.5cr from
`
2cr in 1QFY2015.
Consequently, the net profit grew by 62.5% yoy to
`
24cr.
At the current market price, the stock is trading at PE of 8.9x its FY2017E earnings.
The consolidated performance has been impacted in the past few quarters owing
to depreciating Euro against the INR along with slowdown in the European
markets. While we await for the performance to stabilize and gain clarity on the
company, we maintain our Neutral rating on the stock.
EPS ROE P/E P/BV EV/EBITDA EV/Sales
Quarterly Bloomberg Brokers Consensus Estimate
Tata Motors Ltd (Consol)- August 07, 2015
Mahindra & Mahindra Ltd- August 07, 2015
Bharat Heavy Electricals Ltd- August 07, 2015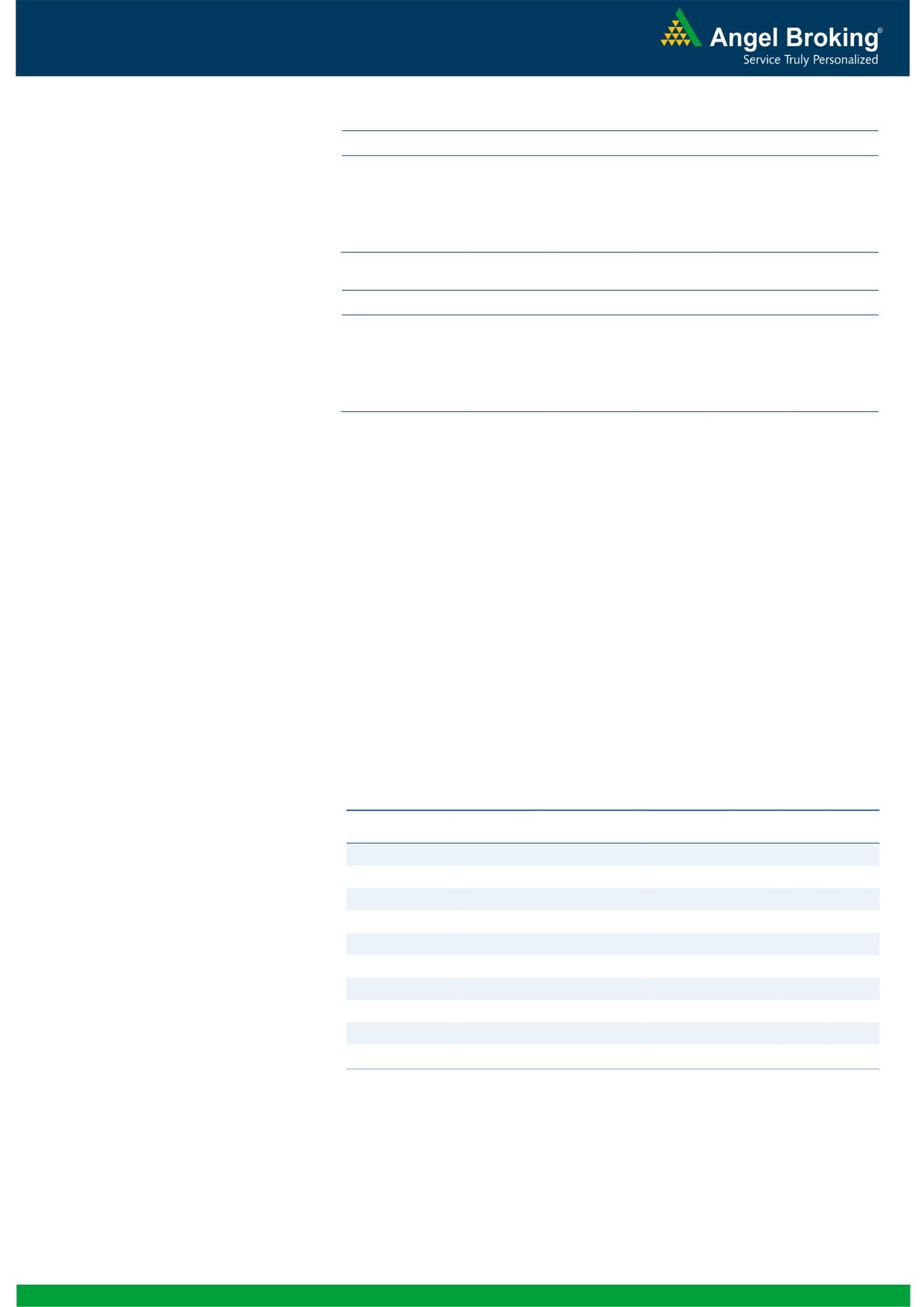 Rural Electrification Corp Ltd- August 07, 2015
Divi's Laboratories Ltd- August 08, 2015
Economic and Political News

PM directs speeding up of rural electrification

Centre plans to end upstream under-recoveries for kerosene from FY17

Rajasthan signs pact for
`
2,452cr investments

Airtel launches 4G services nationally ahead of Jio

JLR making strategic adjustments to arrest falling China sales

Mumbai Metro: R-Infra, govt set for a showdown

Srei Infra plans to scale up acquisition of stressed infra projects
LIC Housing Fin. Financials
Source: Angel Research, Bloomberg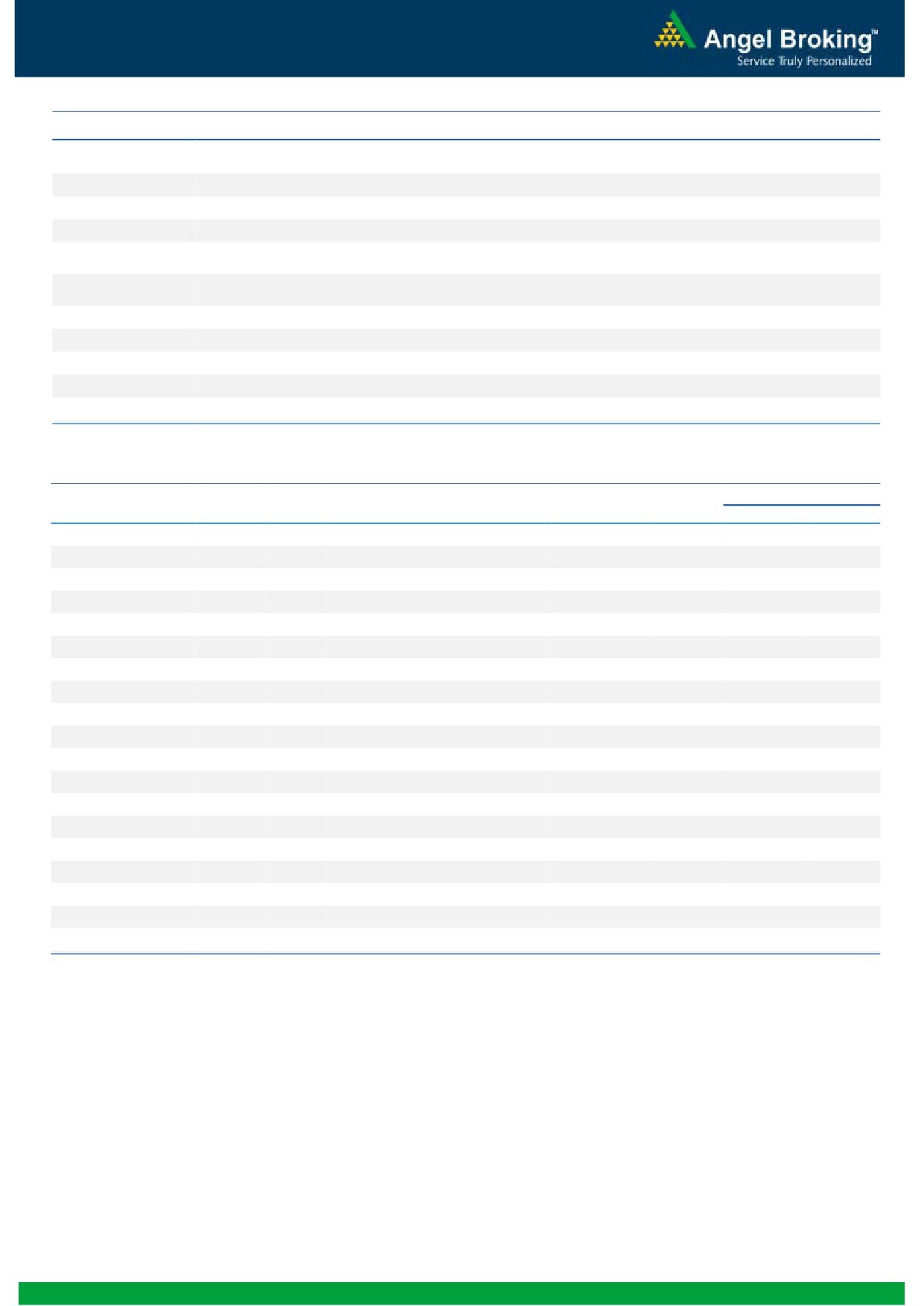 Tata Motors, M&M, BHEL, Mangalam Cement, Rural Elec.Corp., Corporation Bank, GSPL, Kirloskar Engines India Ltd,
Central Bank, UCO Bank, Divi's Lab.
LMW, J & K Bank, Finolex Cables, Power Grid Corpn, Adani Power, HDIL, Radico Khaitan
Bosch India, Apollo Tyres, J K Lakshmi Cements, St Bk of India, NMDC, Tata Steel, Prakash Industries, HPCL, Siyaram
Silk Mills, Sun Pharma, Reliance Power
Ashok Leyland, India Cements, IDBI Bank, Coal India, Jindal Steel, Nalco, Bhushan Steel, TVS Srichakra, Cadila
Healthcare, Aurobindo Pharma, Anant Raj
IOC, Page Industries, Surya Roshni, Tata Power Co., Unitech
Amara Raja Batteries, SAIL, Hindalco, BPCL, Elecon Engineering, GIPCL
Source: Bloomberg, Angel Research
Global economic events release calendar
Country Event Description
Change in Nonfarm payrolls
7:00AM China Consumer Price Index (YoY)
11:00AM China Industrial Production (YoY)
Industrial Production YoY
2:30PM Euro Zone Euro-Zone CPI (YoY)
Monthly Wholesale Prices YoY%
2:30PM Euro Zone Euro-Zone GDP s.a. (QoQ)
11:30AM Germany GDP nsa (YoY)
Consumer price index (mom)
Source: Bloomberg, Angel Research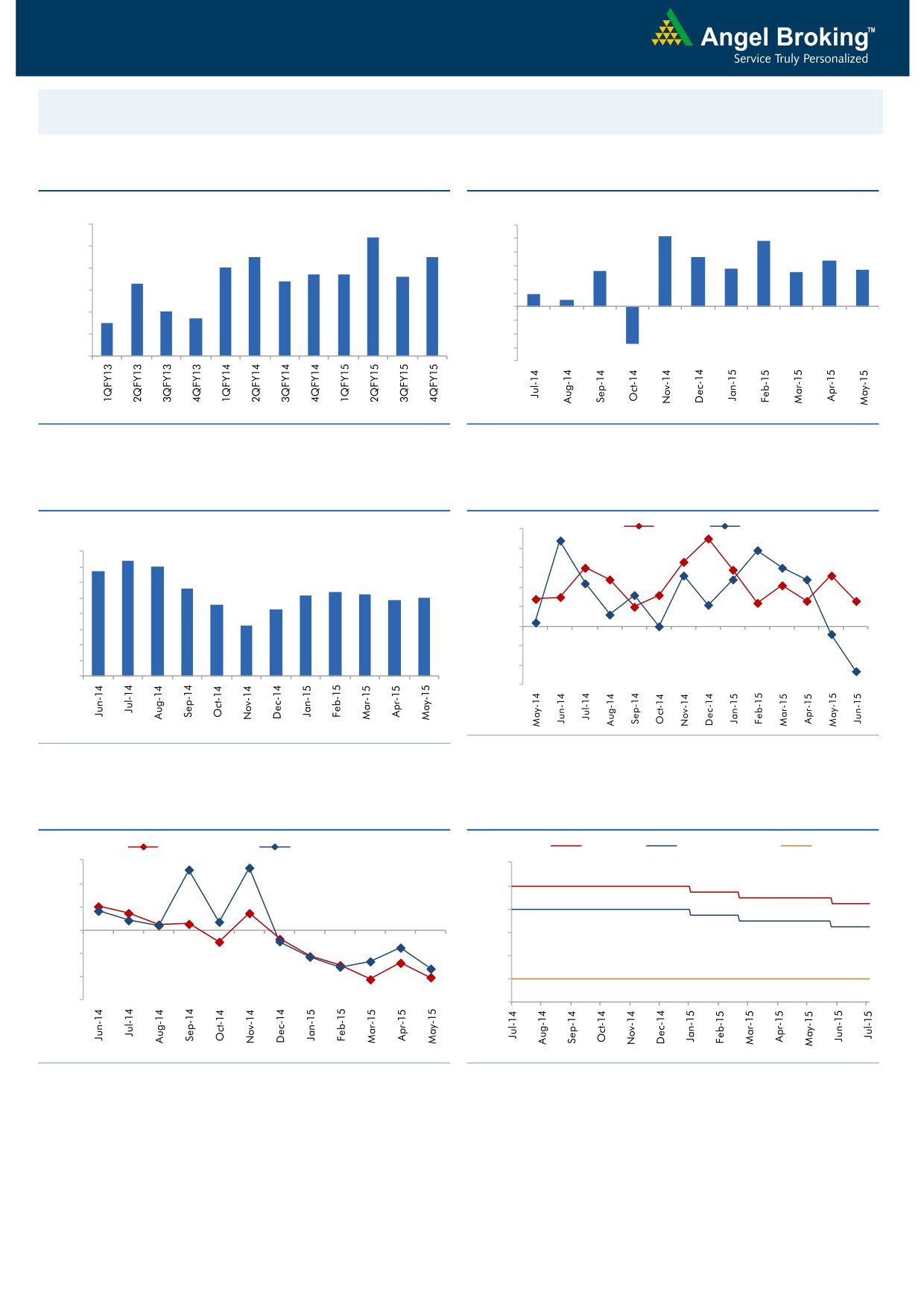 Exhibit 1: Quarterly GDP trends
Source: CSO, Angel Research
Source: MOSPI, Angel Research
Exhibit 3: Monthly CPI inflation trends
Exhibit 4: Manufacturing and services PMI
Source: Market, Angel Research; Note: Level above 50 indicates expansion
Source: MOSPI, Angel Research
Exhibit 5: Exports and imports growth trends
Exhibit 6: Key policy rates
Source: Bloomberg, Angel Research
Source: RBI, Angel Research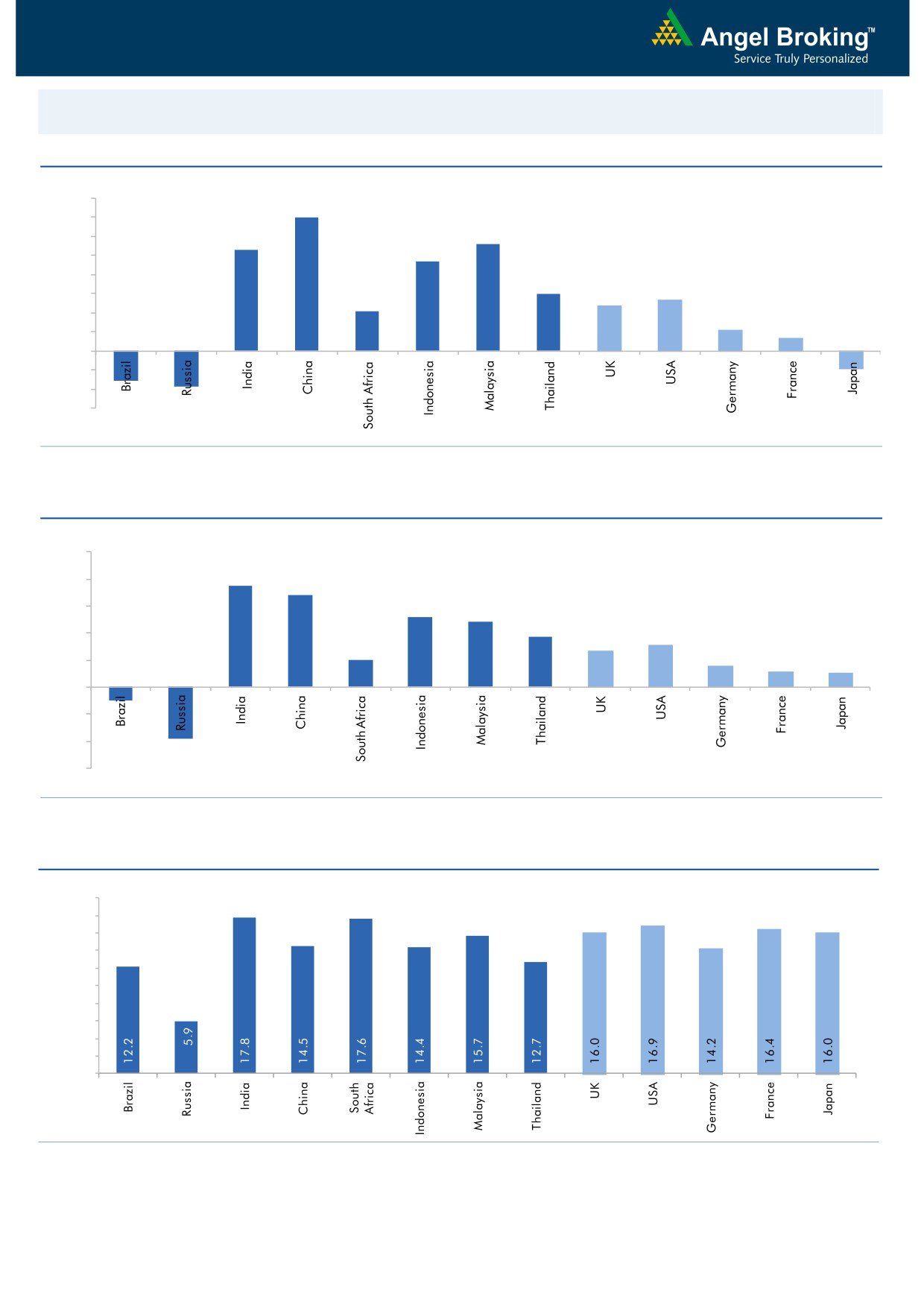 Exhibit 1: Latest quarterly GDP Growth (%, yoy) across select developing and developed countries
Source: Bloomberg, Angel Research
Exhibit 2: 2015 GDP Growth projection by IMF (%, yoy) across select developing and developed countries
Source: IMF, Angel Research
Exhibit 3: One year forward P-E ratio across select developing and developed countries
Source: Bloomberg, Angel Research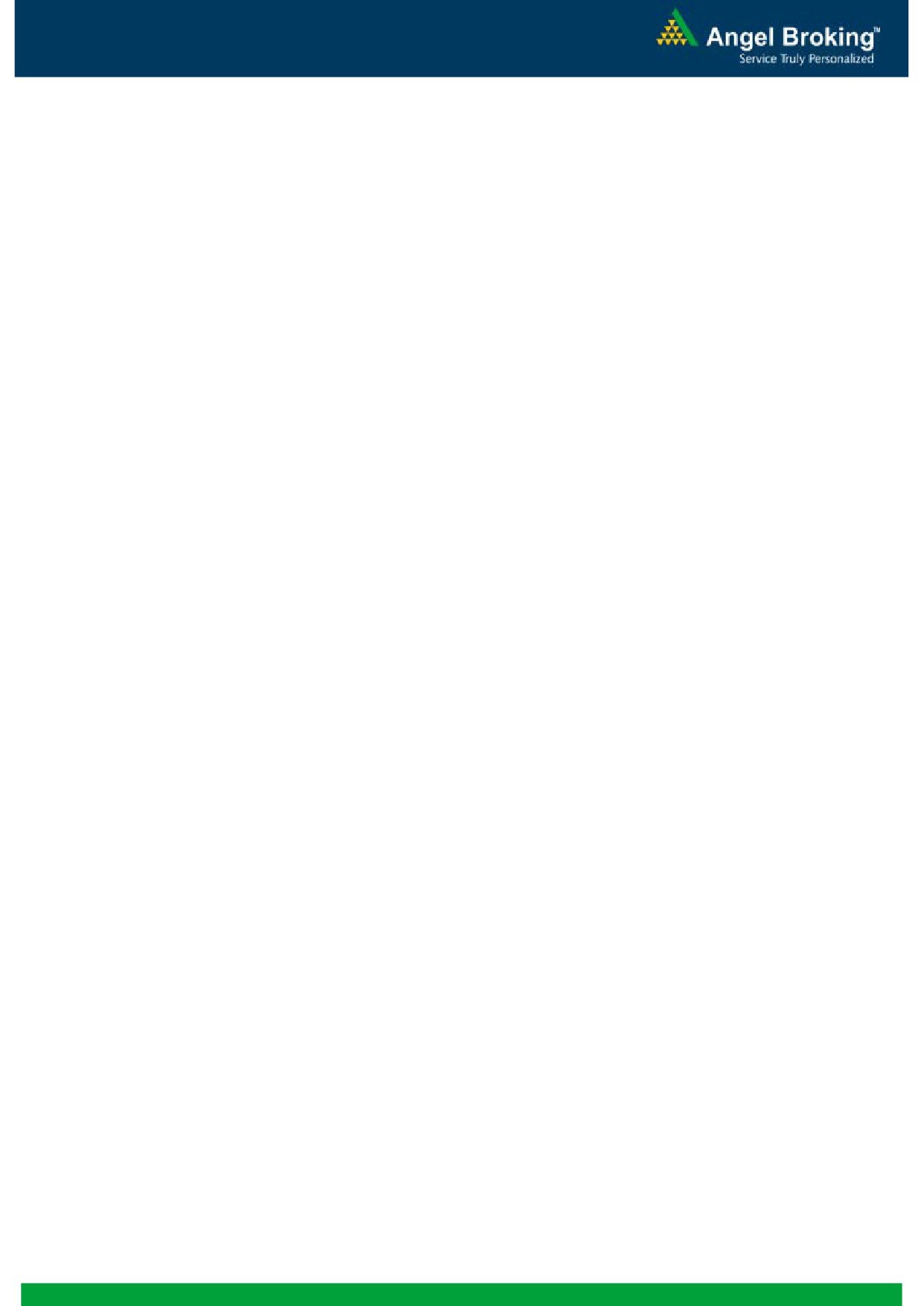 Research Team Tel: 022 - 39357800
Angel Broking Private Limited (hereinafter referred to as "Angel") is a registered Member of National Stock Exchange of India Limited,
Bombay Stock Exchange Limited and MCX Stock Exchange Limited. It is also registered as a Depository Participant with CDSL and
Portfolio Manager with SEBI. It also has registration with AMFI as a Mutual Fund Distributor. Angel Broking Private Limited is a registered
entity with SEBI for Research Analyst in terms of SEBI (Research Analyst) Regulations, 2014 vide registration number INH000000164.
Angel or its associates has not been debarred/ suspended by SEBI or any other regulatory authority for accessing /dealing in securities
Market. Angel or its associates including its relatives/analyst do not hold any financial interest/beneficial ownership of more than 1% in
the company covered by Analyst. Angel or its associates/analyst has not received any compensation / managed or co-managed public
offering of securities of the company covered by Analyst during the past twelve months. Angel/analyst has not served as an officer,
director or employee of company covered by Analyst and has not been engaged in market making activity of the company covered by
This document is solely for the personal information of the recipient, and must not be singularly used as the basis of any investment
decision. Nothing in this document should be construed as investment or financial advice. Each recipient of this document should make
such investigations as they deem necessary to arrive at an independent evaluation of an investment in the securities of the companies
referred to in this document (including the merits and risks involved), and should consult their own advisors to determine the merits and
risks of such an investment.
Reports based on technical and derivative analysis center on studying charts of a stock's price movement, outstanding positions and
trading volume, as opposed to focusing on a company's fundamentals and, as such, may not match with a report on a company's
The information in this document has been printed on the basis of publicly available information, internal data and other reliable sources
believed to be true, but we do not represent that it is accurate or complete and it should not be relied on as such, as this document is for
general guidance only. Angel Broking Pvt. Limited or any of its affiliates/ group companies shall not be in any way responsible for any
loss or damage that may arise to any person from any inadvertent error in the information contained in this report. Angel Broking Pvt.
Limited has not independently verified all the information contained within this document. Accordingly, we cannot testify, nor make any
representation or warranty, express or implied, to the accuracy, contents or data contained within this document. While Angel Broking
Pvt. Limited endeavors to update on a reasonable basis the information discussed in this material, there may be regulatory, compliance,
or other reasons that prevent us from doing so.
This document is being supplied to you solely for your information, and its contents, information or data may not be reproduced,
redistributed or passed on, directly or indirectly.
Neither Angel Broking Pvt. Limited, nor its directors, employees or affiliates shall be liable for any loss or damage that may arise from or
in connection with the use of this information.
Note: Please refer to the important 'Stock Holding Disclosure' report on the Angel website (Research Section). Also, please refer to the
latest update on respective stocks for the disclosure status in respect of those stocks. Angel Broking Pvt. Limited and its affiliates may have
investment positions in the stocks recommended in this report.