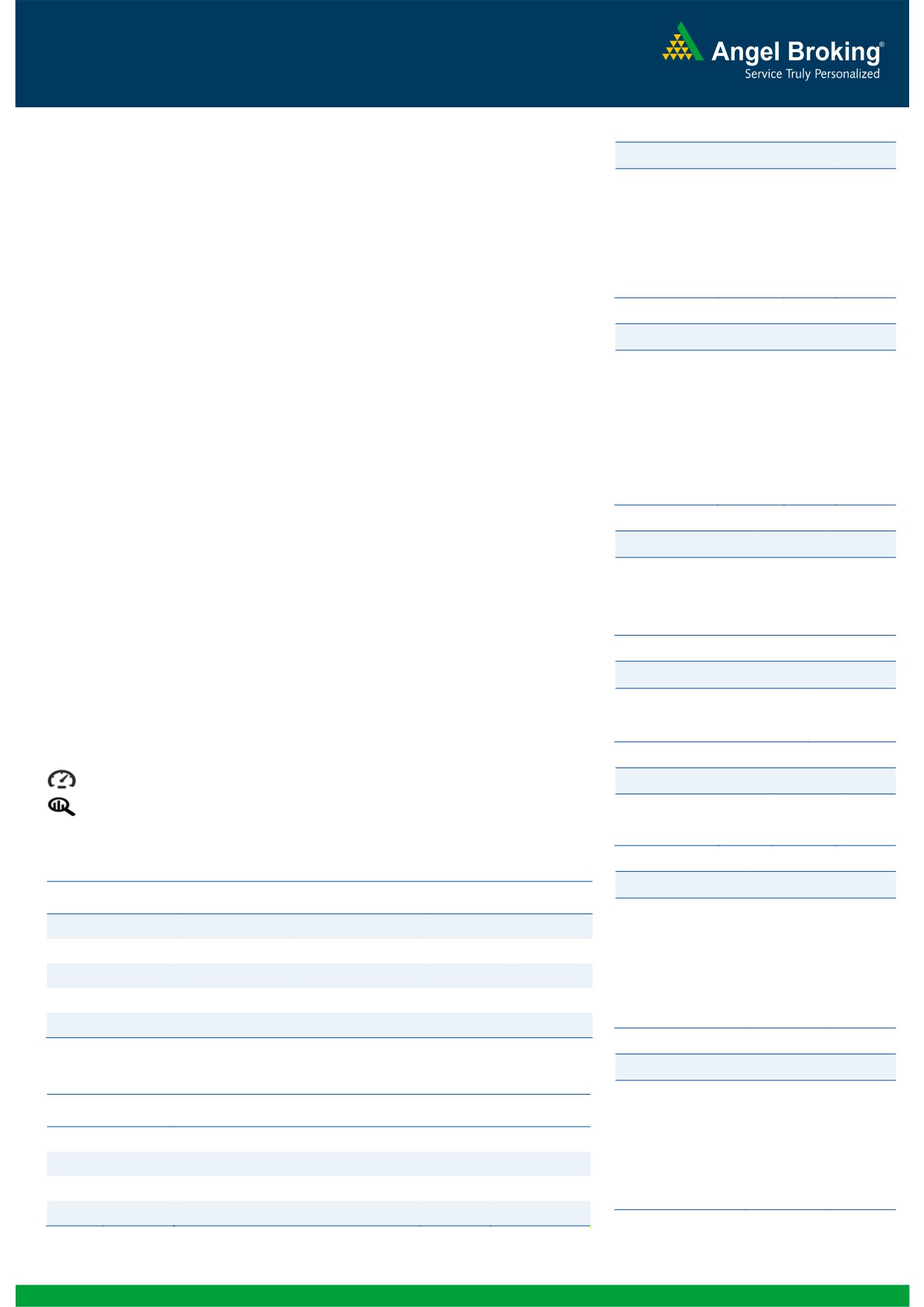 Indian markets are expected to open on a flat to positive note tracking the SGX
US Stocks ended in red, adding to the losses posted in the previous session. The
tech-heavy Nasdaq ended the session at its lowest closing level in almost two
months. The weakness on Wall Street was partly due to the release of some
disappointing economic data, with a report from payroll processor ADP showing
weaker than expected private sector job growth. The report raised some concerns
ahead of the release of the Labor Department's more closely watched monthly jobs
The European markets ended in the red, extending its losses from the previous
session. Investor sentiment was impacted by some disappointing regional economic
data and some weaker than expected corporate earnings results.
Indian shares extend losses for the third consecutive day as worries about global
growth and deflation weighted on dollar and pushed commodities lower. European
stocks gave up early gains on the back of mixed earnings and data releases; Indian
markets also followed suit to end modestly lower at the end of the day. Adani Ports
and Special Economic Zone slumped 12 percent after posting lower than expected
quarterly earnings and unveiling plans to raise funds up to
`
10,000cr.

L&T says Hyderabad Metro Rail to be completed in Dec 2018

Sun Pharma says phase-3 trials in skin disorder drug show positive results

Result Review: Dewan Housing Finance
Investor's Ready Reckoner
Key Domestic & Global Indicators
Stock Watch: Latest investment recommendations on 150+ stocks
Auto & Auto Ancillary Accumulate
Navkar Corporation Others
Change in Nonfarm payrolls (thousands)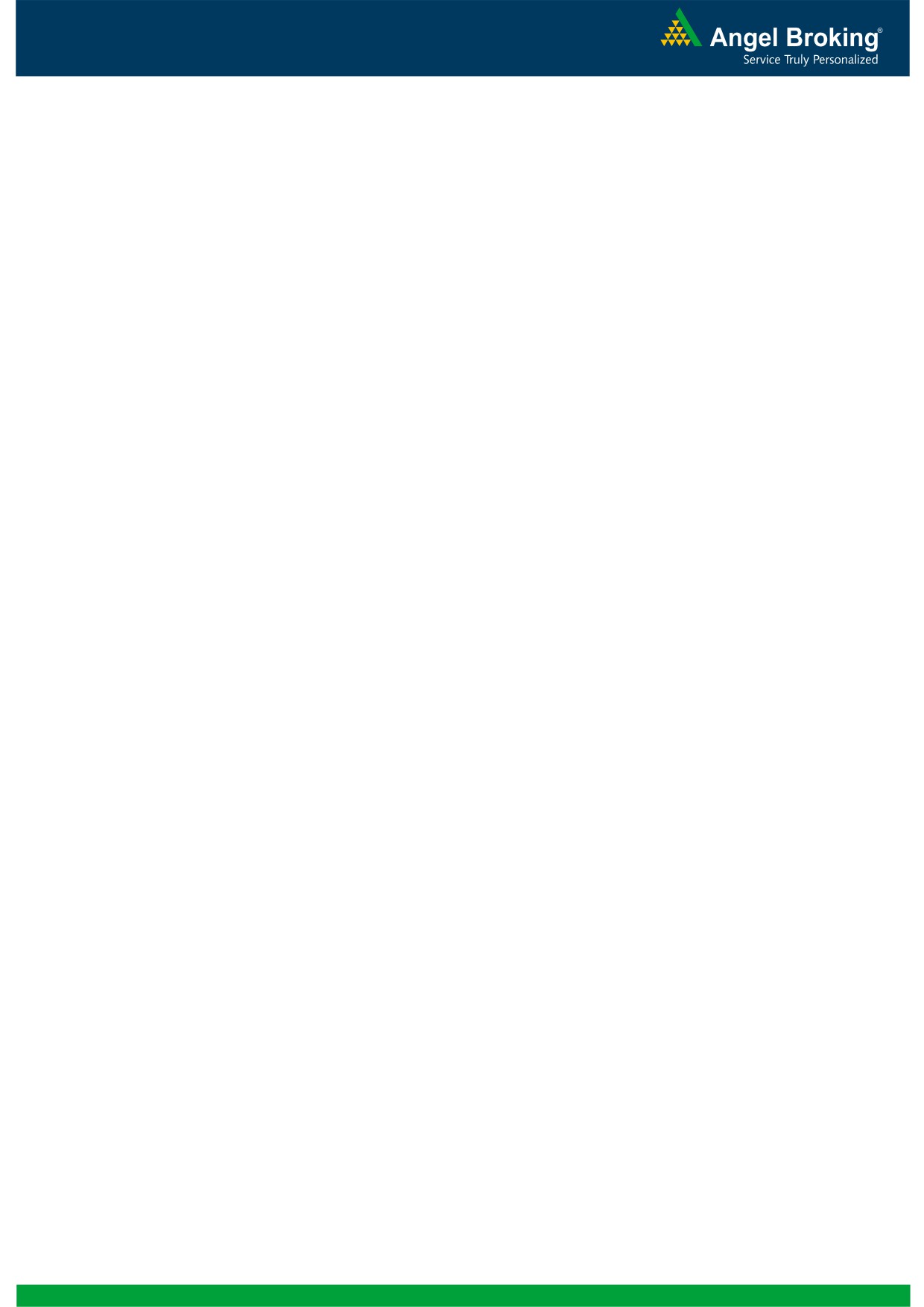 L&T says Hyderabad Metro Rail to be completed in Dec 2018
L&T Limited, the concessionaire of the
`
16,000cr Hyderabad Metro Rail, indicated
that project was likely to be completed in December 2018, much beyond the five-
year deadline that expires in July 2017.
Despite faster progress achieved on the ground during the last three-and-a-half
years, L&T Metro Rail (Hyderabad) Limited has been facing time and cost overruns
owing to delays that it has attributed to the grant of right of ways among other
things. The company so far has spent about
`
10,000cr on the project, including
`
2,800cr from its equity and about
`
600cr from the Viability Gap Fund (VGF)
being provided by Government of India. About 60 per cent of the work has been
completed, according to the officials.
Besides seeking to address the 18-month delay expected to arise in project
completion, the company is also expecting a solution for the problem of cost
overrun, estimated to be around
`
3,000cr, from the state government as well as
the Centre. We maintain our Accumulate rating on the stock.
Sun Pharma says phase-3 trials in skin disorder drug show
Sun Pharmaceutical Industries stated that two pivotal phase-3 clinical trials for
plaque psoriasis drug have shown positive results.
The drug, Tildrakizumab, is being developed by Sun Pharmaceutical under license
from multinational drug major MSD. The trials focused on evaluating the efficacy
and safety of the under trial drug in patients with moderate-to-severe plaque
psoriasis, a skin disorder. Sun Pharma acquired worldwide rights to tildrakizumab
for use in all human indications from MSD in exchange for an upfront payment of
$80 million. We maintain our Buy rating on the stock.
Dewan Housing Finance (CMP:
`
198/ TP:
`
270/Upside:36.4%)
Dewan Housing reported results for the quarter ended March 31, 2016 which
were marginally lower than our expectations; however the dividend payout is a key
positive. The company's total income for the quarter stood at
`
1,965cr, up 24.3%
yoy. The company reported a PAT growth of 16.9% yoy to
`
189.7cr. On the asset
quality front, it is maintaining Gross NPA consistently below one per cent.
Currently, Gross NPA has been reported at 0.93%.
The board of directors of DHFL has recommended a final dividend of
`
2 per
equity share for 2015-16. The total dividend for this financial year including the
interim dividend is
`
8 per equity share as against
`
6 per equity share for the
We believe Housing Finance Companies like LIC Housing are expected to see
improvement in operating parameters as demand for housing loans is expected to
pick up in the years to come, backed by lower interest rate in the economy. At the
CMP of
`
198, the stock is trading at 0.9x its FY17 Book Value. We maintain our
BUY rating on the stock with a target price of
`
270.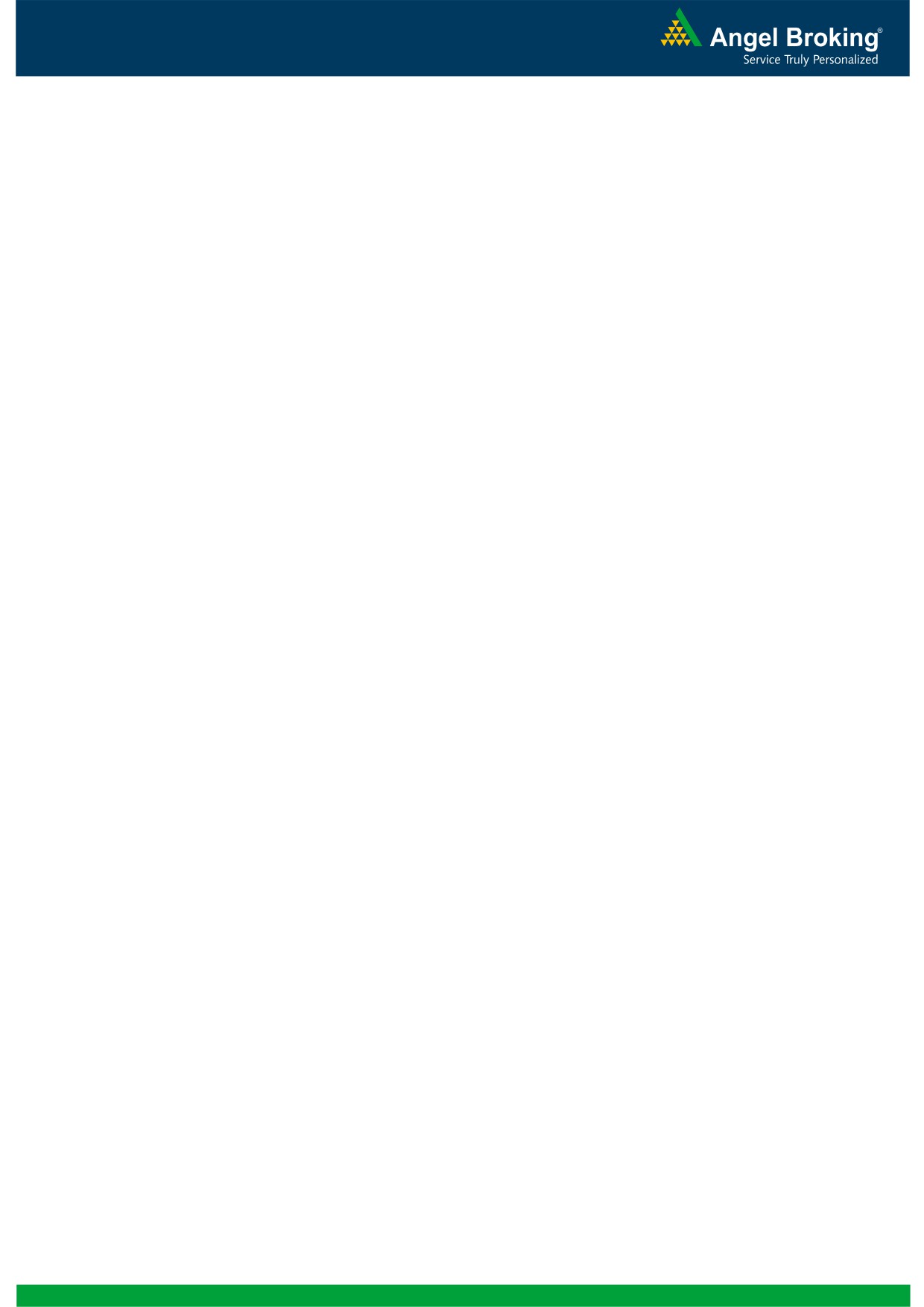 Economic and Political News

Excise duty on jewellery: NDA allies seek rollback in Parliament

Government may offer bluechip PSU shares to FIIs, domestic buyers

Banks now go the extra mile with the clean-up act

Bank credit grows at 9.7 per cent in December quarter

L&T Infotech signs a multi-year contract with Elkjøp Nordic

HDFC Ltd to raise
`
1,135cr via debentures

Srei Equipment Finance launches equipment exchange scheme

Parag Milk IPO gets subscribed 10% on Day 1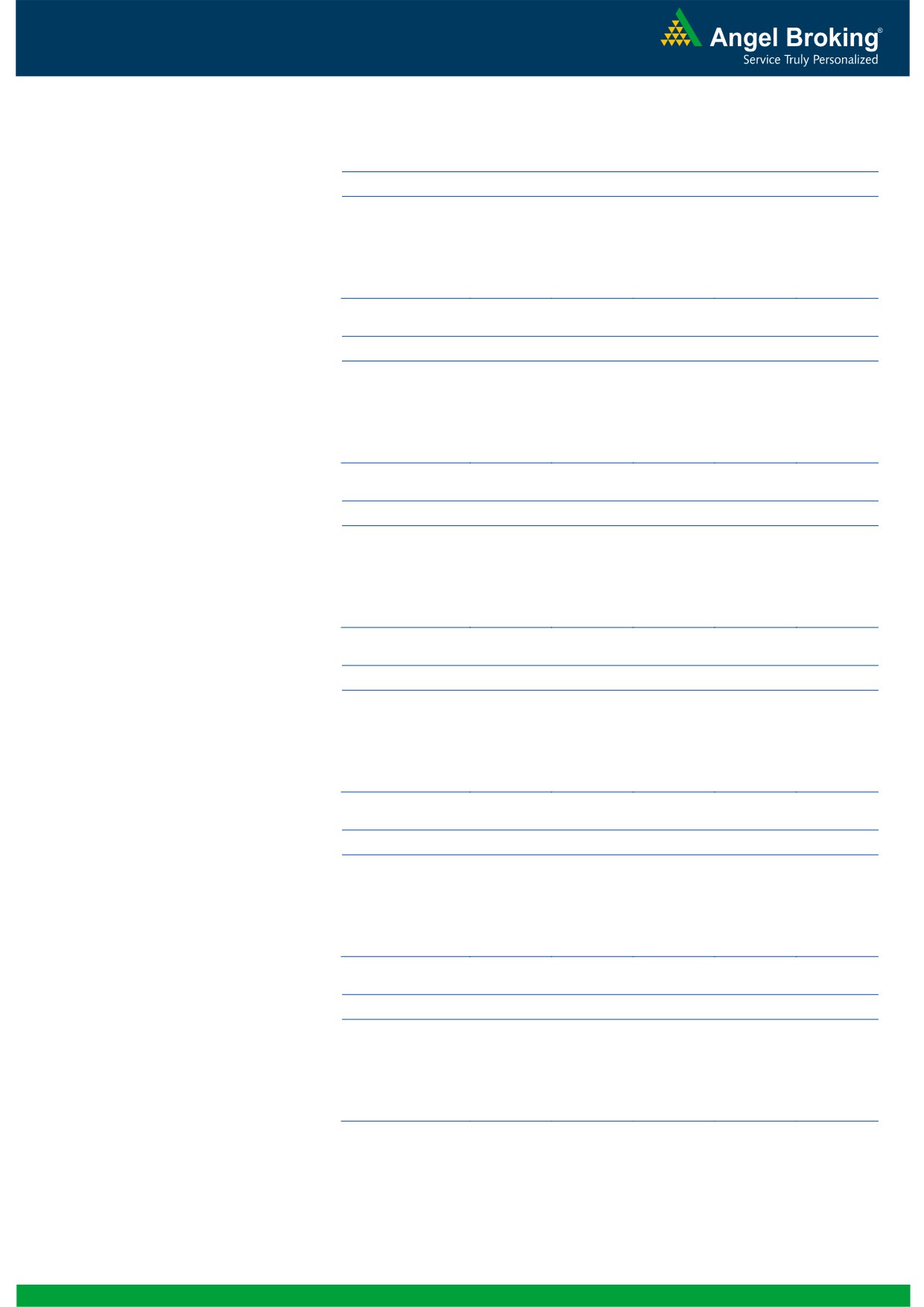 Quarterly Bloomberg Brokers Consensus Estimate
Hero MotoCorp Ltd - May 5, 2016
Eicher Motors Ltd - May 5, 2016
Reliance Capital Ltd. - May 6, 2016
Siemens Ltd. - May 6, 2016
Titan company Ltd. - May 6, 2016
Grasim Industries Ltd. - May 7, 2016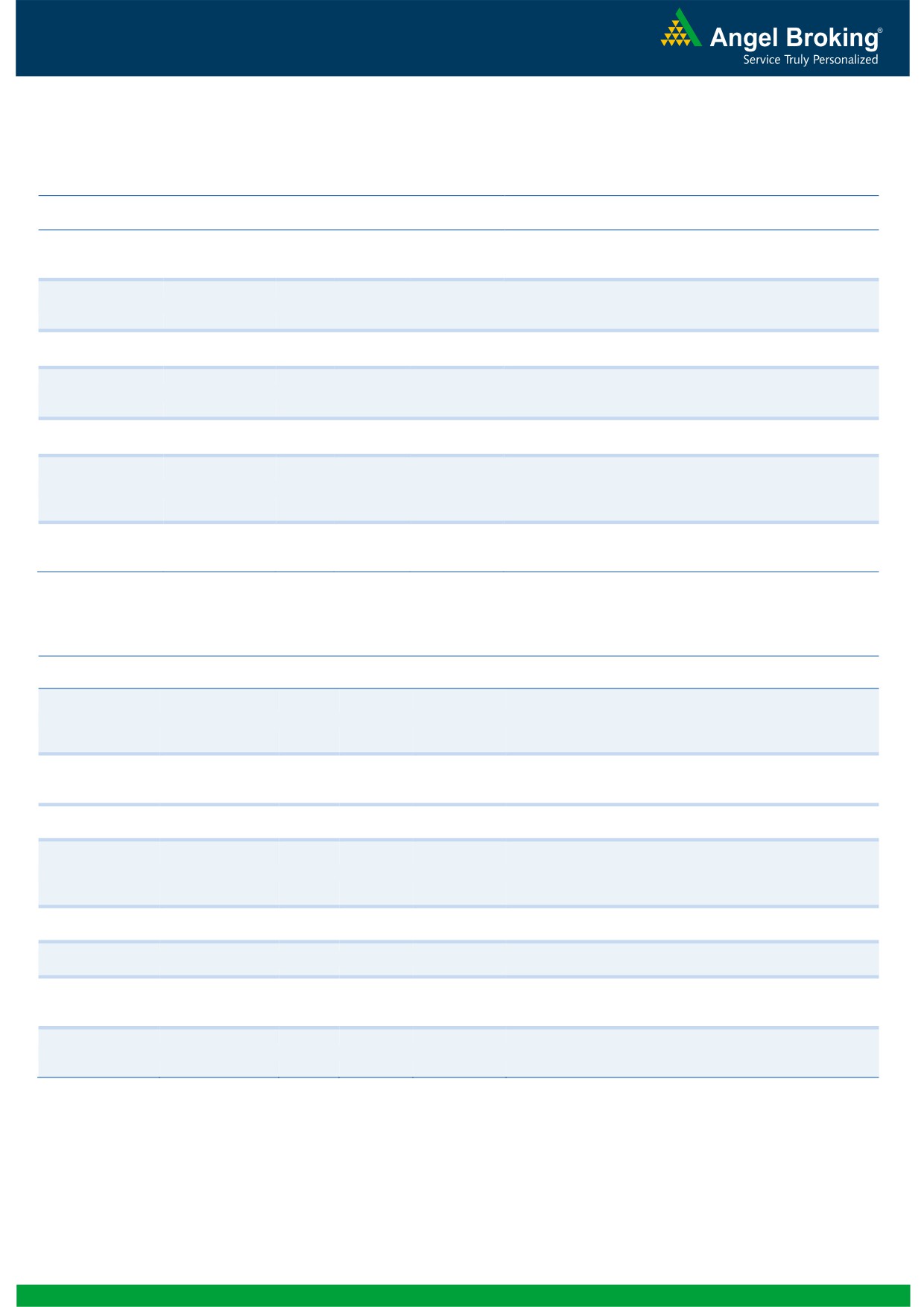 To outpace battery industry growth due to better technological
products leading to market share gains in both the automotive
OEM and replacement segments.
Uptick in defense capex by government when coupled with
BELs strong market positioning, indicate that good times are
The stock is trading at attractive valuations and is factoring all
Strong visibility for a robust 20% earnings trajectory, coupled
with high quality of earnings on account of high quality retail
business and strategic focus on highly rated corporates.
Back on the growth trend, expect a long term growth of 14%
to be a US$20bn in FY2020.
LICHF continues to grow its retail loan book at a healthy pace
with improvement in asset quality. We expect the company to
post a healthy loan book which is likely to reflect in a strong
Huge bid pipeline of re-development works at Delhi and other
State Governments and opportunity from Smart City, positions
NBCC to report strong growth, going forward.
Source: Company, Angel Research
Favorable outlook for the AC industry to augur well for
Cooling products business which is out pacing the market
growth. EMPPAC division's profitability to improve once
operating environment turns around.
With a focus on the low and medium income (LMI) consumer
segment, the company has increased its presence in tier-II &
III cities where the growth opportunity is immense.
Commencement of new projects, downtrend in the interest
rate cycle, to lead to stock re-rating
Economic recovery to have favourable impact on advertising
& circulation revenue growth. Further, the acquisition of a
radio business (Radio City) would also boost the company's
Speedier execution and speedier sales, strong revenue visibilty
in short-to-long run, attractive valuations
Massive capacity expansion along with rail advantage at ICD
as well CFS augurs well for the company
Earnings boost on back of stable material prices and
favourable pricing environment. Valuation discount to peers
provides additional comfort
Strong brands and distribution network would boost growth
going ahead. Stock currently trades at an inexpensive
Source: Company, Angel Research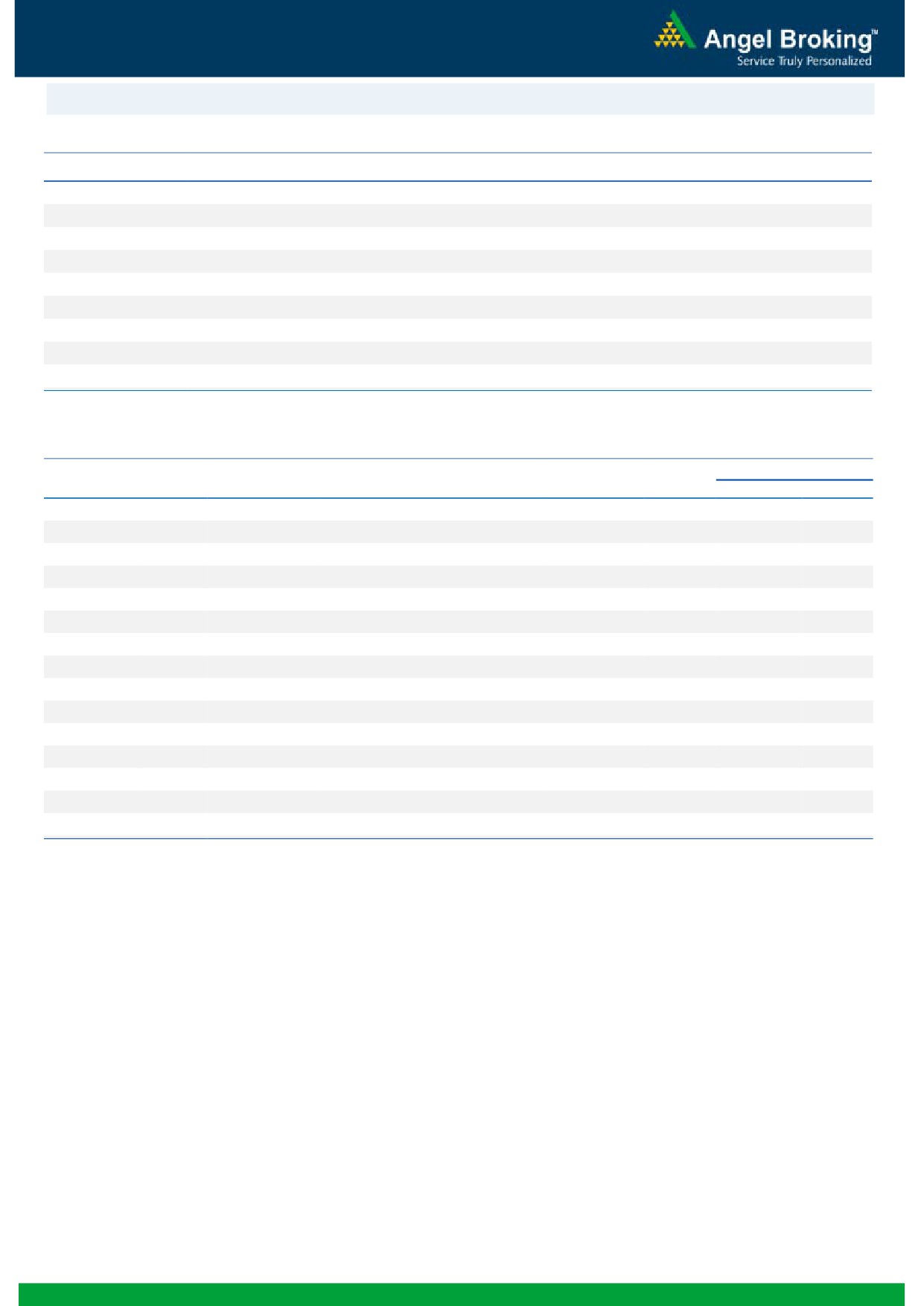 Siemens, Reliance Capital
Automotive Axle, NIIT, Visaka Industries, Radico Khaitan
Apollo Tyres, Kotak Mah. Bank, Indian Bank, South Ind.Bank, Asian Paints, TVS Srichakra, Quick Heal
Bank of Maharashtra, Nestle, ITD Cementation, Dr Reddy's, Glenmark Pharma.
Central Bank, Cadila Healthcare
Electrosteel Castings, Relaxo
Source: Bloomberg, Angel Research
Global economic events release calendar
Change in Nonfarm payrolls
May 10, 2016 7:00AM China
Consumer Price Index (YoY)
Industrial Production (YoY)
May 12, 2016 5:30PM India
Industrial Production YoY
May 13, 2016 2:30PM Euro Zone
Producer Price Index (mom)
May 14, 201611:00AM China
Industrial Production (YoY)
May 16, 201612:00PM India
Monthly Wholesale Prices YoY%
Source: Bloomberg, Angel Research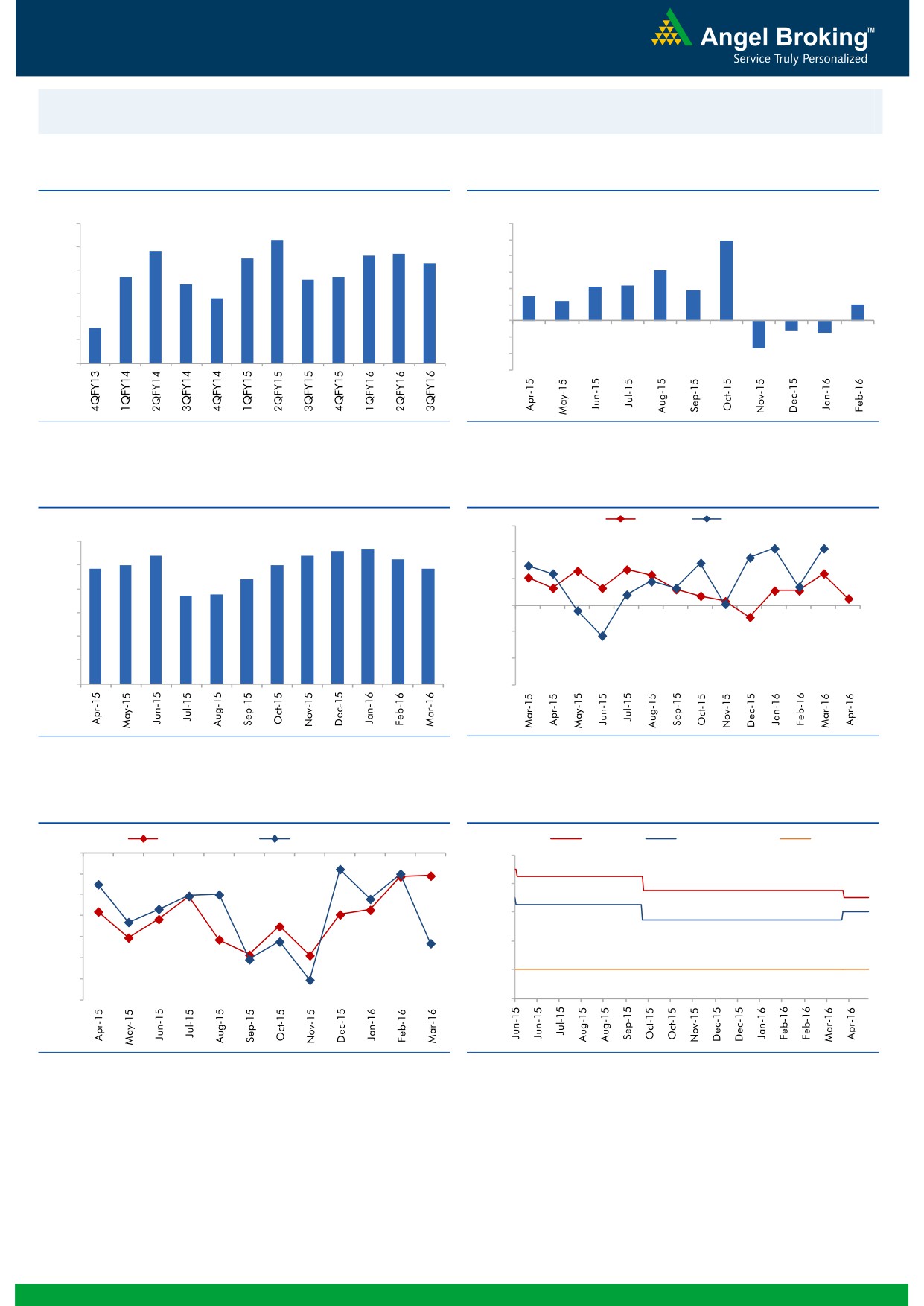 Exhibit 1: Quarterly GDP trends
Source: CSO, Angel Research
Source: MOSPI, Angel Research
Exhibit 3: Monthly CPI inflation trends
Exhibit 4: Manufacturing and services PMI
Source: MOSPI, Angel Research
Source: Market, Angel Research; Note: Level above 50 indicates expansion
Exhibit 5: Exports and imports growth trends
Exhibit 6: Key policy rates
Source: Bloomberg, Angel Research
Source: RBI, Angel Research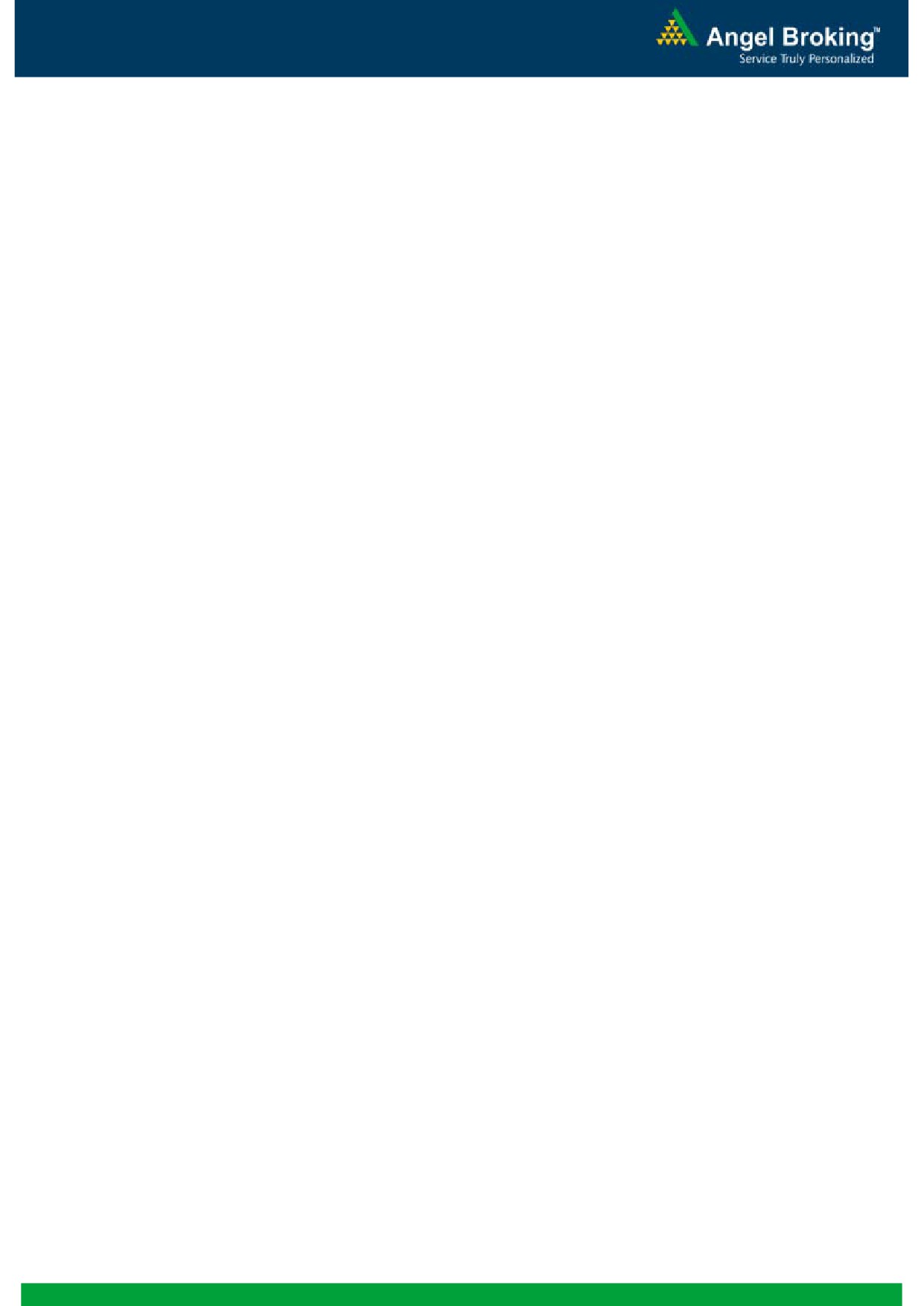 Research Team Tel: 022 - 39357800
Angel Broking Private Limited (hereinafter referred to as "Angel") is a registered Member of National Stock Exchange of India Limited,
Bombay Stock Exchange Limited and Metropolitian Stock Exchange of India Limited. It is also registered as a Depository Participant with
CDSL and Portfolio Manager with SEBI. It also has registration with AMFI as a Mutual Fund Distributor. Angel Broking Private Limited is a
registered entity with SEBI for Research Analyst in terms of SEBI (Research Analyst) Regulations, 2014 vide registration number
INH000000164. Angel or its associates has not been debarred/ suspended by SEBI or any other regulatory authority for accessing
/dealing in securities Market. Angel or its associates including its relatives/analyst do not hold any financial interest/beneficial ownership
of more than 1% in the company covered by Analyst. Angel or its associates/analyst has not received any compensation / managed or co
-managed public offering of securities of the company covered by Analyst during the past twelve months. Angel/analyst has not served as
an officer, director or employee of company covered by Analyst and has not been engaged in market making activity of the company
This document is solely for the personal information of the recipient, and must not be singularly used as the basis of any investment
decision. Nothing in this document should be construed as investment or financial advice. Each recipient of this document should make
such investigations as they deem necessary to arrive at an independent evaluation of an investment in the securities of the companies
referred to in this document (including the merits and risks involved), and should consult their own advisors to determine the merits and
risks of such an investment.
Reports based on technical and derivative analysis center on studying charts of a stock's price movement, outstanding positions and
trading volume, as opposed to focusing on a company's fundamentals and, as such, may not match with a report on a company's
The information in this document has been printed on the basis of publicly available information, internal data and other reliable sources
believed to be true, but we do not represent that it is accurate or complete and it should not be relied on as such, as this document is for
general guidance only. Angel Broking Pvt. Limited or any of its affiliates/ group companies shall not be in any way responsible for any
loss or damage that may arise to any person from any inadvertent error in the information contained in this report. Angel Broking Pvt.
Limited has not independently verified all the information contained within this document. Accordingly, we cannot testify, nor make any
representation or warranty, express or implied, to the accuracy, contents or data contained within this document. While Angel Broking
Pvt. Limited endeavors to update on a reasonable basis the information discussed in this material, there may be regulatory, compliance,
or other reasons that prevent us from doing so.
This document is being supplied to you solely for your information, and its contents, information or data may not be reproduced,
redistributed or passed on, directly or indirectly.
Neither Angel Broking Pvt. Limited, nor its directors, employees or affiliates shall be liable for any loss or damage that may arise from or
in connection with the use of this information.
Note: Please refer to the important 'Stock Holding Disclosure' report on the Angel website (Research Section). Also, please refer to the
latest update on respective stocks for the disclosure status in respect of those stocks. Angel Broking Pvt. Limited and its affiliates may have
investment positions in the stocks recommended in this report.