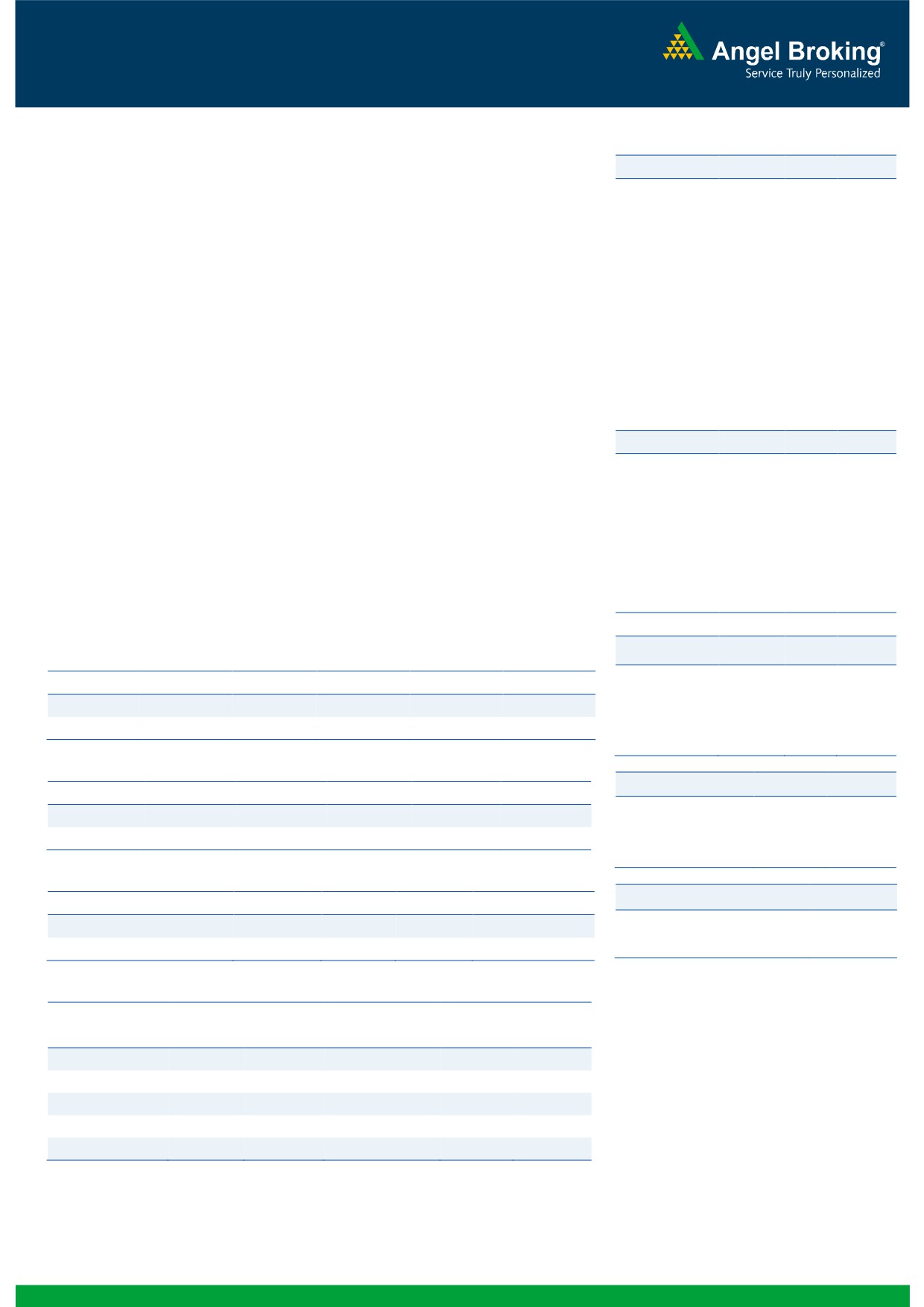 Indian markets are expected to open positive tracking the SGX Nifty and global
US markets closed positive as traders picking up stock at lower levels and a notable
increase in private sector employment during August.
European markets ended in the green but gains were eroded in late trade due to
weakness in energy stocks. Early gains were fueled by bargain hunting and positive
US private sector employment data.
Indian markets too gave up all the early gains to close in the red with banking stocks
seeing sharp cuts on account of the RBI draft guidelines of the new formula to

China Yuan devaluation to boost tyre imports

Revenue share approved for oil & gas fields
Refer detailed news analysis on the following page
The trend deciding level for the day is 25,596 / 7,760 levels. If NIFTY trades above
this level during the first half-an-hour of trade then we may witness a further rally up
to 25,797 - 26,140 / 7,820 - 7,923 levels. However, if NIFTY trades below
25,596 / 7,760 levels for the first half-an-hour of trade then it may correct towards
25,253 - 25,052 / 7,657 - 7,596 levels.
Net Inflows (September 01, 2015)
FII Derivatives (September 02, 2015)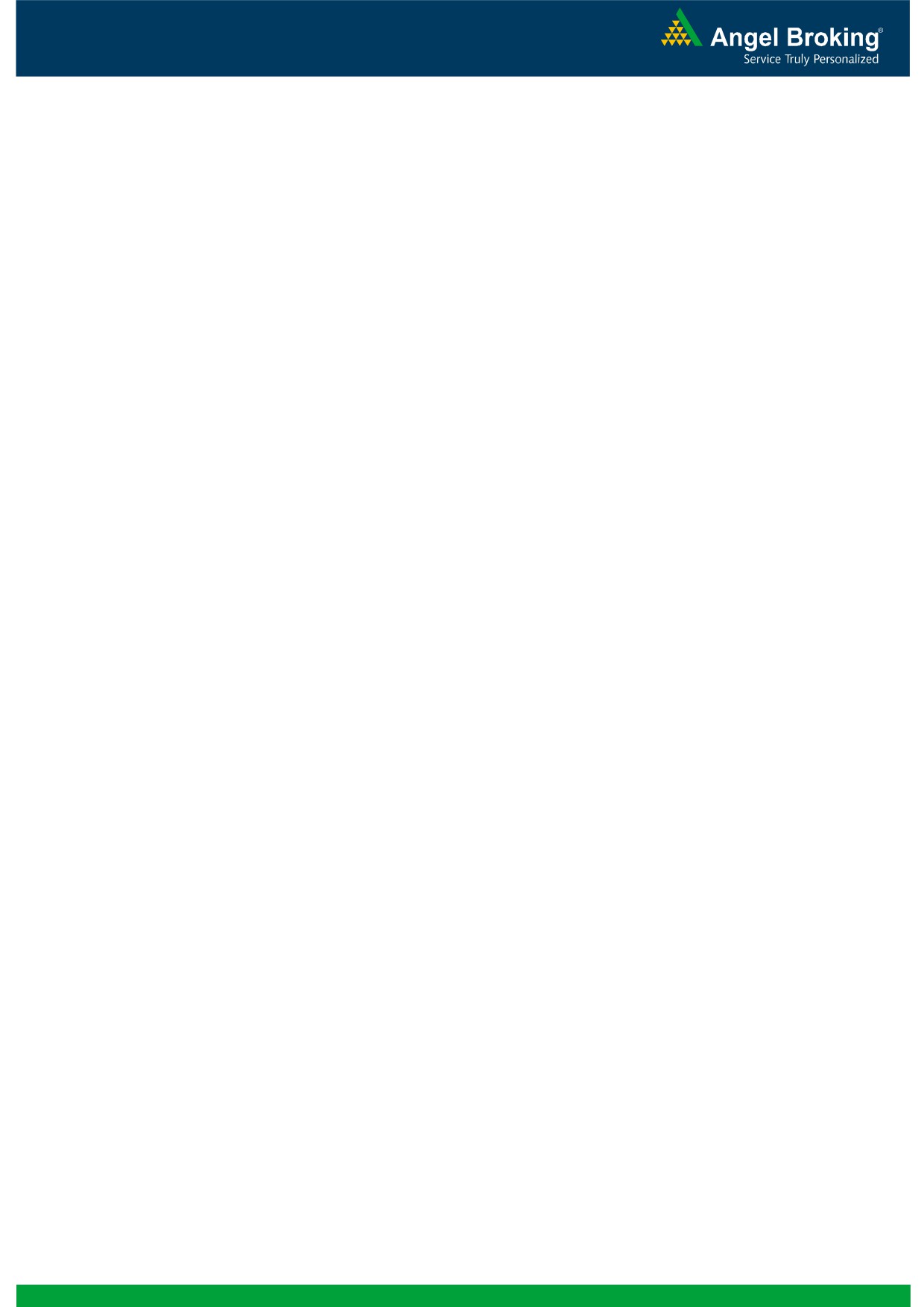 China Yuan devaluation to boost tyre imports
A cheaper yuan is likely to boost supplies of Chinese tyres in the domestic market.
The industry expects imports to pick up from this month onwards. According to the
Automotive Tyre Manufacturers' Association (ATMA), the share of China in
imported tyres has gone up to 90% from 48% in the past three years. Imports of
Chinese tyres increased 24% last financial year and in the April-June quarter, truck
tyre imports rose nearly 75% from a year earlier. In the truck-bus radial segment,
the low-cost Chinese tyres have grabbed over 10% of the replacement market, and
this is likely to increase in the future due to further yuan devaluation. These tyres
are available pan India and are 25-30% cheaper than locally produced tyres.
India, along with the US and Europe, are the top three markets that China is
targeting for tyre exports. China has built huge capacities, which were facing a
shutdown due to a recession in the automobile market. The US has imposed anti-
dumping and countervailing duties on Chinese tyre imports. The influx of Chinese
tyres is likely to be boosted by the currency devaluation (Chinese Yuan has
depreciated by 4% visa vis the INR in last one month). Chinese tyres are likely to
gain market share in the truck replacement segment which currently constitutes
about 40% of the overall tyre industry. The tyre companies have already applied
for re imposition of the anti dumping duty on Chinese imports which expired in
February 2015 and the decision is likely to be expected only by March 2016. We
expect the Chinese imports to continue to surge until the Government decides its
stand on levy of anti dumping.
We currently have Buy rating on JK Tyres but have
Neutral view on both Apollo Tyres and Ceat.
Revenue share approved for oil & gas fields
The Union government will auction marginal oil & gas fields where discoveries
could not be monetised by state-owned explorers because of difficult geology and
small size of blocks and changed the policy towards a revenue-sharing mechanism
in oil & gas production. Under the new policy, 69 fields, with 89MMT of reserves,
worth
`
70,000cr at current prices, will be bid out in three months. The changed
policy will imply a shift from production sharing based on cost-recovery to revenue
sharing, market-linked pricing and marketing freedom to developers. The new
policy also allows the operator to explore and produce all forms of hydrocarbons,
including oil, gas, shale and coal-bed methane with one licence. The oil ministry
hopes to attract Indian and foreign investors despite the fall in crude oil prices with
the new policy for marginal fields
Economic and Political News

Bank credit growth remains subdued at 9.5% as on 21 August

Credit-deposit ratio slips to four-year low of 74.4% in August 2015

Aggregate deposits growth shows marginal pick up at 11.9%

Chief economic advisor flags deflation as new challenge for economy

VA Tech Wabag consortium bags
`
1,500cr worth ETP order

Vascon to raise
`
100cr through non-core asset sale

Jet Airways has announced its merger with loss making subsidiary JetLite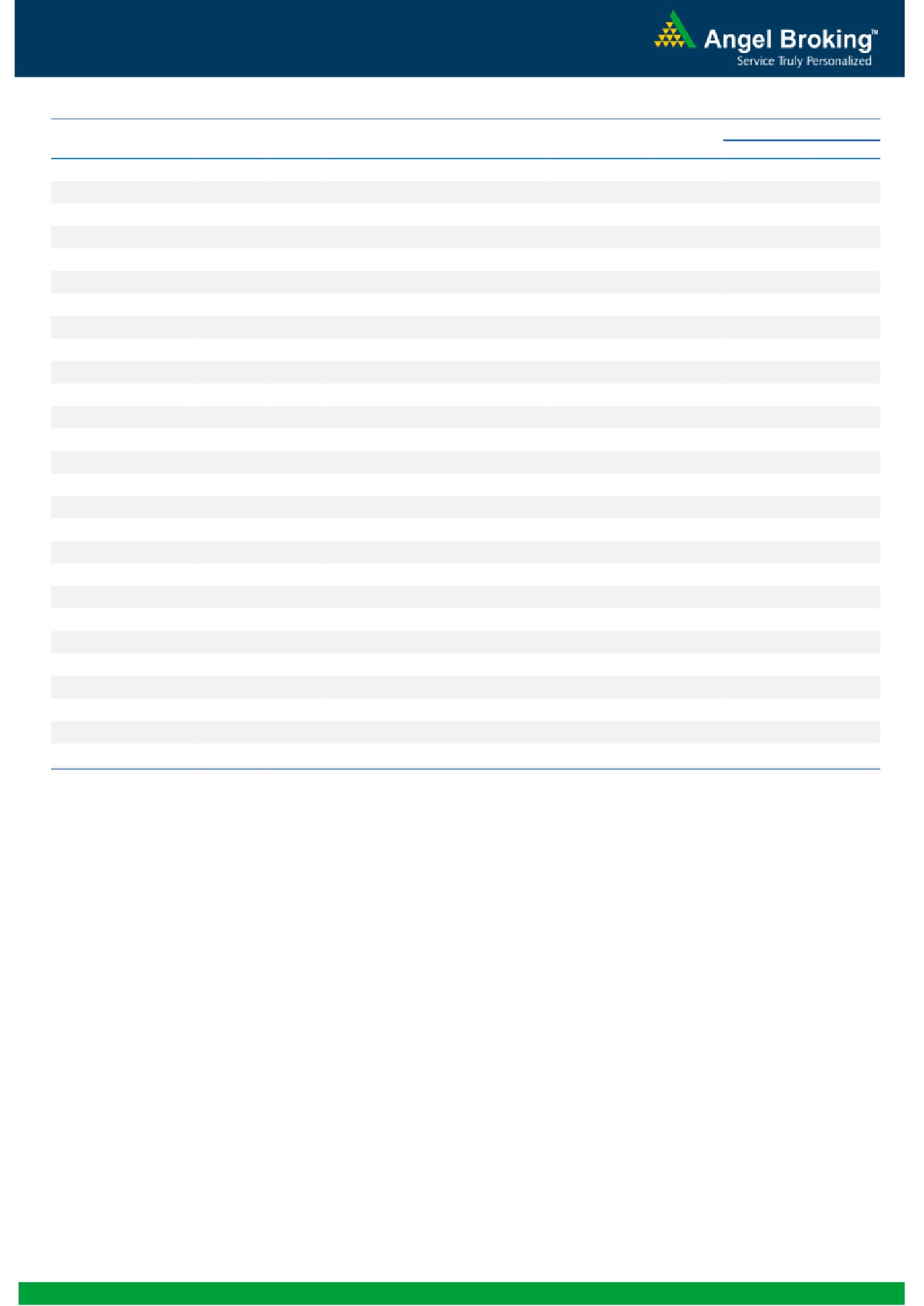 Global economic events release calendar
Country Event Description
Euro Zone ECB announces interest rates
Change in Nonfarm payrolls
Euro Zone Euro-Zone GDP s.a. (QoQ)
Industrial Production (YoY)
Consumer Price Index (YoY)
Industrial Production YoY
Industrial Production (YoY)
Monthly Wholesale Prices YoY%
Euro Zone Euro-Zone CPI (YoY)
Consumer price index (mom)
Euro Zone Euro-Zone Consumer Confidence
Source: Bloomberg, Angel Research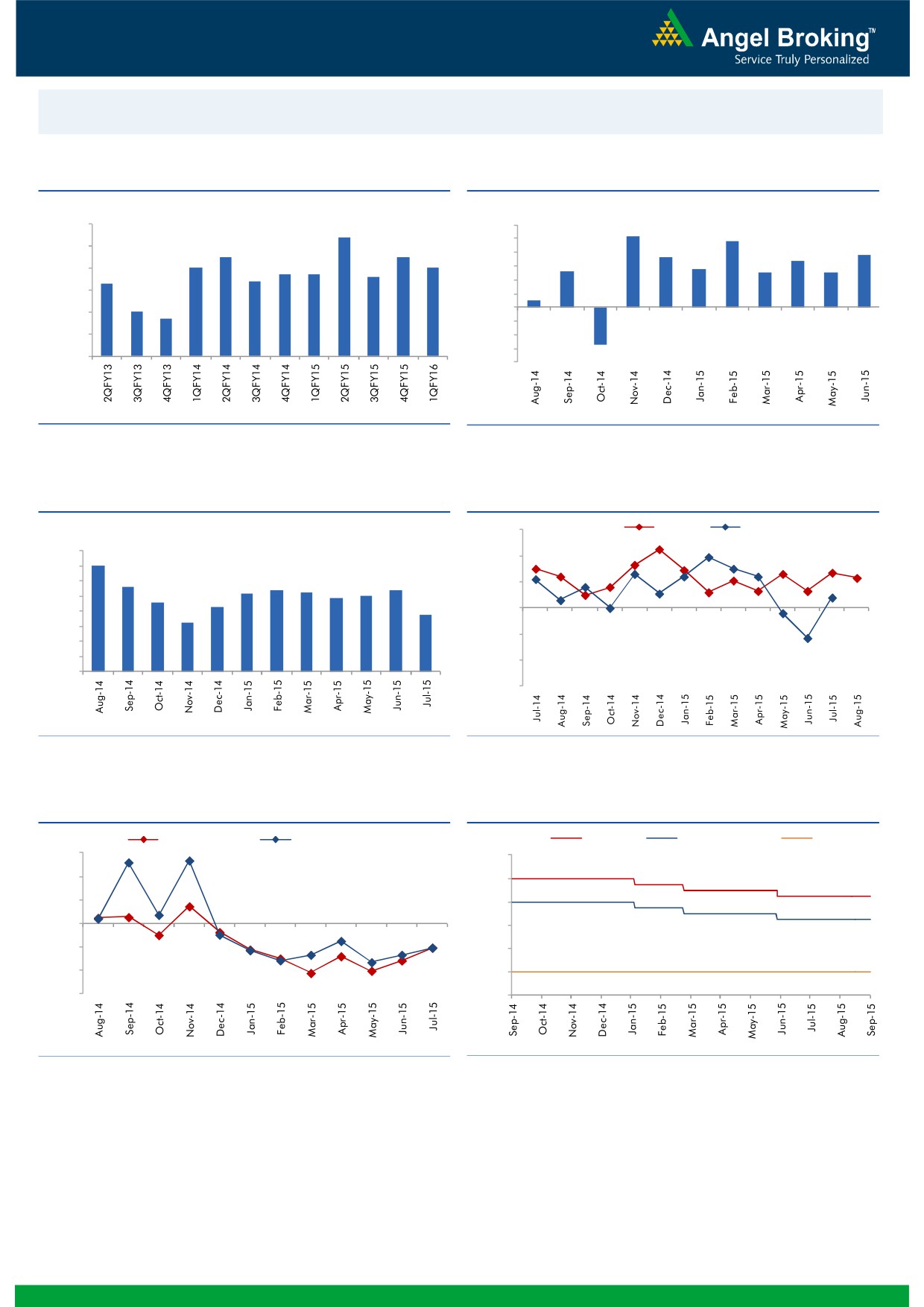 Exhibit 1: Quarterly GDP trends
Source: CSO, Angel Research
Source: MOSPI, Angel Research
Exhibit 3: Monthly CPI inflation trends
Exhibit 4: Manufacturing and services PMI
Source: MOSPI, Angel Research
Source: Market, Angel Research; Note: Level above 50 indicates expansion
Exhibit 5: Exports and imports growth trends
Exhibit 6: Key policy rates
Source: Bloomberg, Angel Research
Source: RBI, Angel Research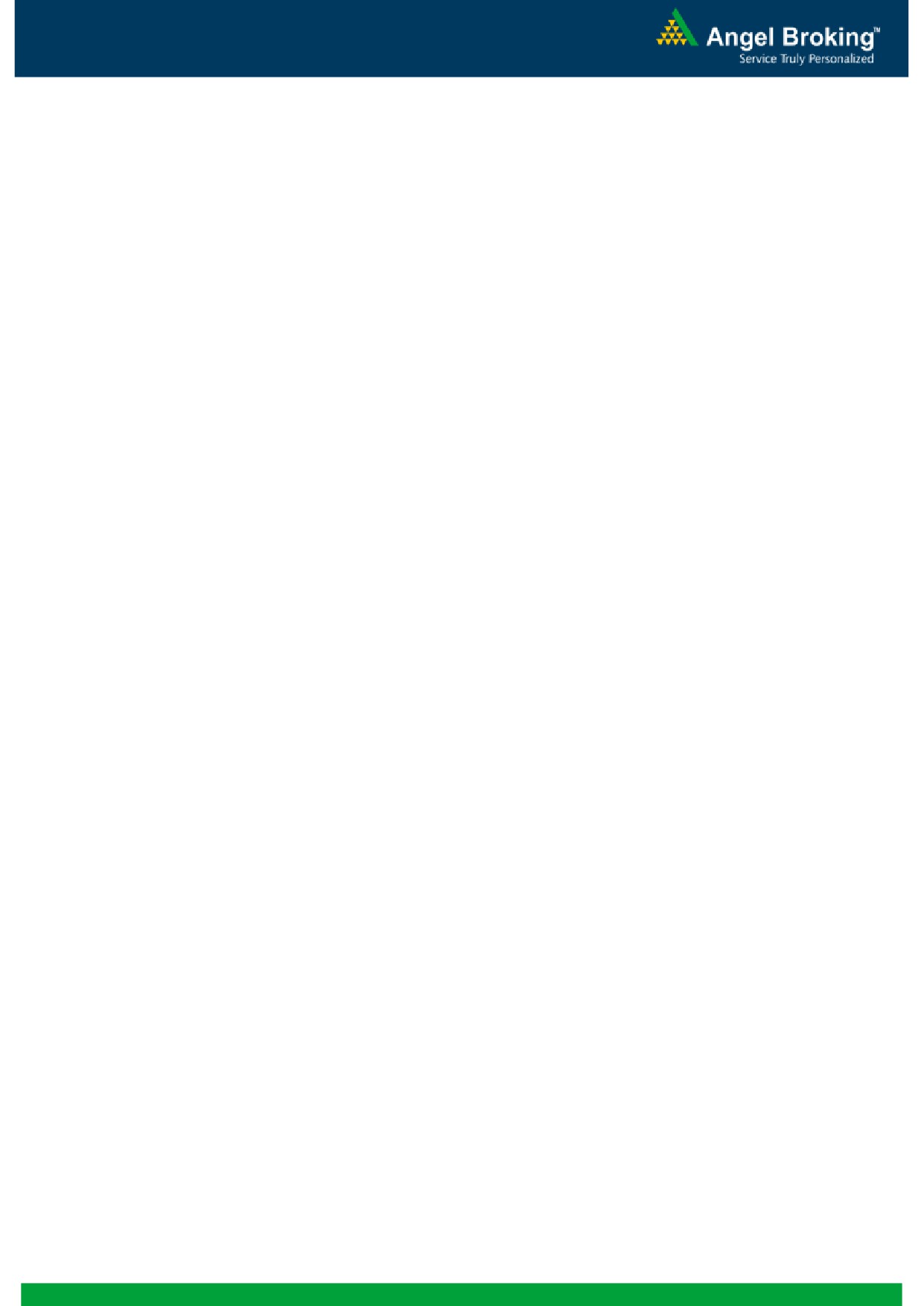 Research Team Tel: 022 - 39357800
Angel Broking Private Limited (hereinafter referred to as "Angel") is a registered Member of National Stock Exchange of India Limited,
Bombay Stock Exchange Limited and MCX Stock Exchange Limited. It is also registered as a Depository Participant with CDSL and
Portfolio Manager with SEBI. It also has registration with AMFI as a Mutual Fund Distributor. Angel Broking Private Limited is a registered
entity with SEBI for Research Analyst in terms of SEBI (Research Analyst) Regulations, 2014 vide registration number INH000000164.
Angel or its associates has not been debarred/ suspended by SEBI or any other regulatory authority for accessing /dealing in securities
Market. Angel or its associates including its relatives/analyst do not hold any financial interest/beneficial ownership of more than 1% in
the company covered by Analyst. Angel or its associates/analyst has not received any compensation / managed or co-managed public
offering of securities of the company covered by Analyst during the past twelve months. Angel/analyst has not served as an officer,
director or employee of company covered by Analyst and has not been engaged in market making activity of the company covered by
This document is solely for the personal information of the recipient, and must not be singularly used as the basis of any investment
decision. Nothing in this document should be construed as investment or financial advice. Each recipient of this document should make
such investigations as they deem necessary to arrive at an independent evaluation of an investment in the securities of the companies
referred to in this document (including the merits and risks involved), and should consult their own advisors to determine the merits and
risks of such an investment.
Reports based on technical and derivative analysis center on studying charts of a stock's price movement, outstanding positions and
trading volume, as opposed to focusing on a company's fundamentals and, as such, may not match with a report on a company's
The information in this document has been printed on the basis of publicly available information, internal data and other reliable sources
believed to be true, but we do not represent that it is accurate or complete and it should not be relied on as such, as this document is for
general guidance only. Angel Broking Pvt. Limited or any of its affiliates/ group companies shall not be in any way responsible for any
loss or damage that may arise to any person from any inadvertent error in the information contained in this report. Angel Broking Pvt.
Limited has not independently verified all the information contained within this document. Accordingly, we cannot testify, nor make any
representation or warranty, express or implied, to the accuracy, contents or data contained within this document. While Angel Broking
Pvt. Limited endeavors to update on a reasonable basis the information discussed in this material, there may be regulatory, compliance,
or other reasons that prevent us from doing so.
This document is being supplied to you solely for your information, and its contents, information or data may not be reproduced,
redistributed or passed on, directly or indirectly.
Neither Angel Broking Pvt. Limited, nor its directors, employees or affiliates shall be liable for any loss or damage that may arise from or
in connection with the use of this information.
Note: Please refer to the important 'Stock Holding Disclosure' report on the Angel website (Research Section). Also, please refer to the
latest update on respective stocks for the disclosure status in respect of those stocks. Angel Broking Pvt. Limited and its affiliates may have
investment positions in the stocks recommended in this report.