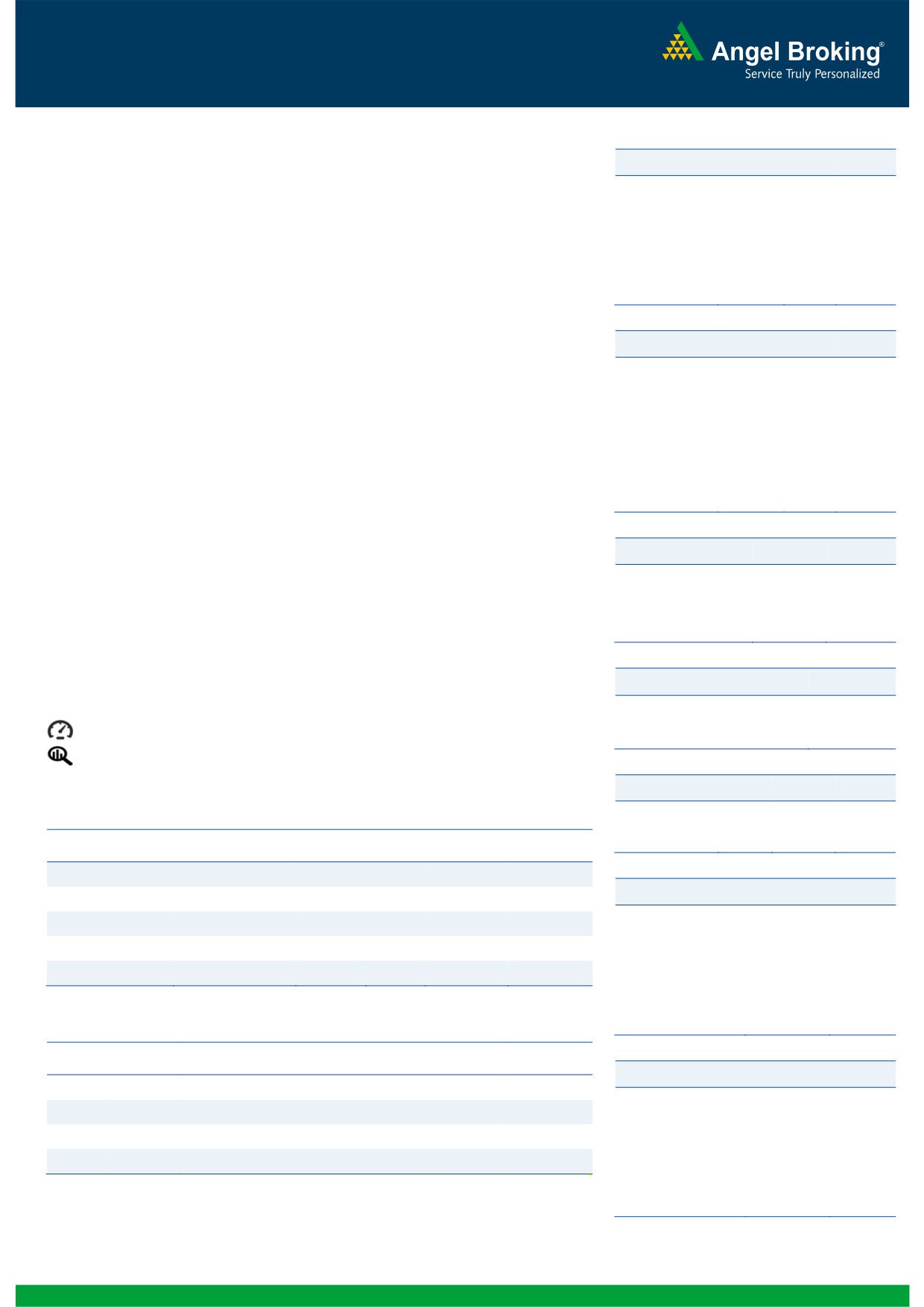 Indian markets are expected to open in red tracking the SGX Nifty and its asian
US markets ended in red as the sell-off on Wall Street came amid a notable
decrease by the price of crude oil, with crude for March delivery down by $1.74 to
$29.88 a barrel. Traders may have been looking ahead to the release of some key
economic data in the coming days, including the closely watched monthly jobs
report due out on Friday.
The European markets dropped sharply, adding to the weakness of the previous
session. Concerns about oversupply is weighing on crude prices as rumored talks
between Russia and OPEC regarding production cuts have failed to materialize.
Disappointing earnings reports from energy giant BP and Swiss bank UBS also
contributed to the negative mood among investors.
Indian markets fell tracking weak global markets as oil extended Monday's steep
losses. Meanwhile, as widely expected, the Reserve Bank of India (RBI) kept its key
policy rates unchanged, seeking to wait for the government's budget statement at the
end of February. Metal stocks like Vedanta and Tata Steel fell about 8 percent each
on concerns over the health of the Chinese economy.

Lupin has launched its Metformin HCl ER Tablets

Result Review: Amara Raja Batteries, Minda Industries, HSIL
Investor's Ready Reckoner
Key Domestic & Global Indicators
Stock Watch: Latest investment recommendations on 150+ stocks
Amara Raja Batteries Auto & Auto Ancillary
LIC Housing Finance Financials
Navkar Corporation Others
Change in Nonfarm payrolls (thousands)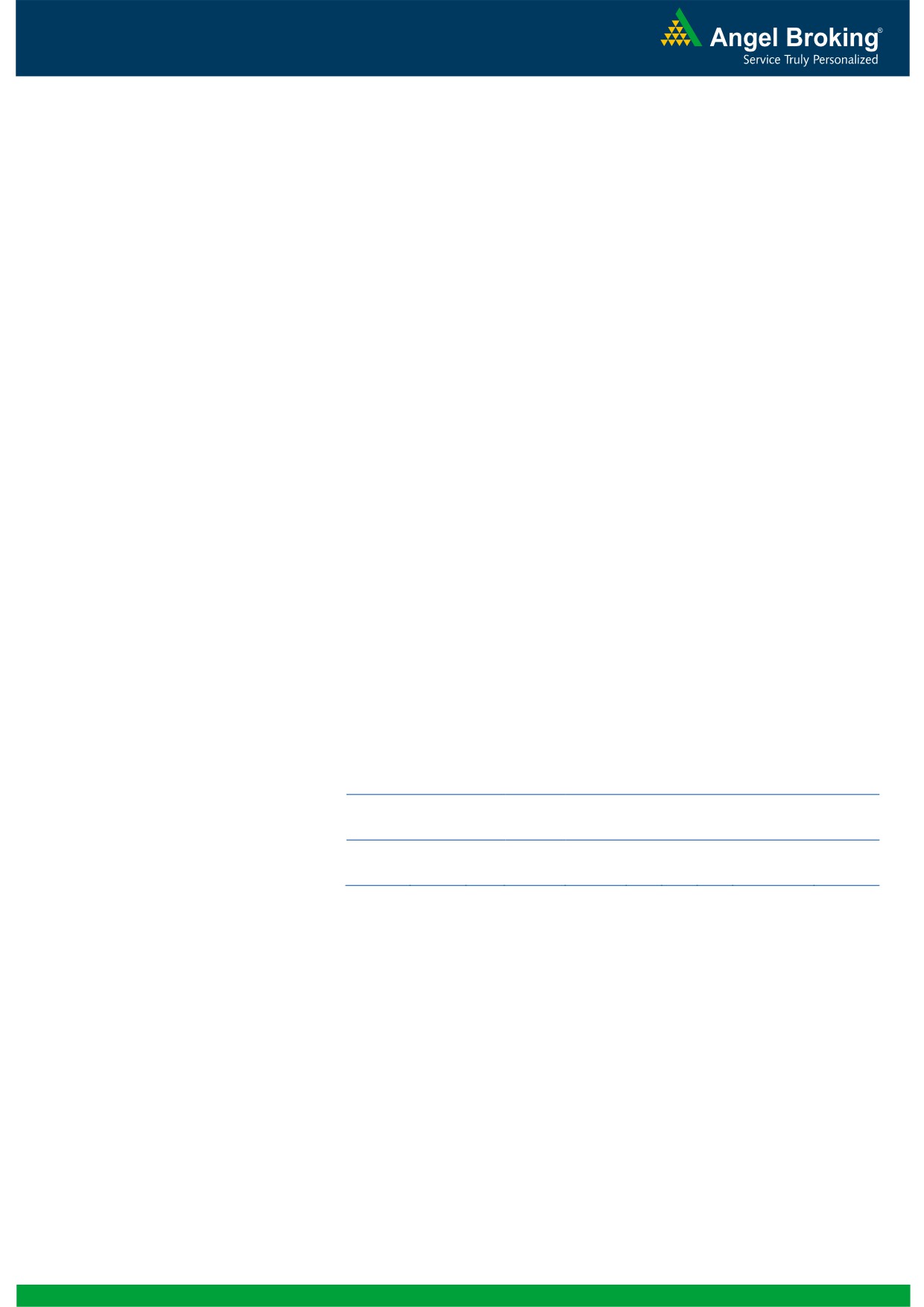 Lupin has launched its Metformin HCl ER Tablets
Lupin announced that its US subsidiary, Lupin Pharmaceuticals Inc. has launched
its Metformin HCl ER Tablets, 500 mg and 1000 mg to market a generic
equivalent of Santarus Inc.'s Glumetza® HCl ER Tablets, 500 mg and 1000 mg.
Lupin's Metformin HCl ER Tablets, 500 mg and 1000 mg are the AB-rated generic
equivalent of Santarus Inc.'s Glumetza® HCl ER Tablets, 500 mg and 1000 mg
strengths. It is indicated as an adjunct to diet and exercise to improve glycemic
control in adults with type II diabetes mellitus. Lupin is eligible for 180 days of
generic drug exclusivity for its Metformin HCl ER Tablets, 500 mg and 1000 mg.
Glumetza® HCI ER Tablets had US sales of US$450.4mn (IMS MAT September
The company is likely to gross sales of US$ 25-30mn during the 180-day
exclusivity and given the low contribution on overall sales, the product is unlikely to
contribute significantly to the bottom line. Thus, we maintain our neutral stance on
Amara Raja Batteries (CMP:
`
861/ TP:
`
1,040 /Upside: 21%)
Amara Raja Batteries Ltd (ARBL) 3QFY2016 results were ahead of estimates driven
by strong operating performance. Revenues grew 16% yoy to
`
1,225 cr coming in
line with estimates. Both automotive (led by market share gains) and the industrial
segment (led by strong demand in telecom) posted healthy double digit growth.
Given the soft lead prices and a better product mix, ARBL margins improved 240
bp yoy to 18.7% coming in higher than our estimate of 17.4%. ARBL reported
highest ever margins in the last six years. Given the robust operating performance,
Net profit at
`
136 cr came in ahead of our estimates of
`
126 cr. We currently
have Buy rating on the stock.
EPS ROE P/E P/BV EV/EBITDA EV/Sales
Minda Industries (CMP:
`812
/ TP: 1,047 /Upside: 29%)
Minda Industries Ltd (MIL) posted yet another set of strong quarterly numbers
beating our estimates. For 3QFY2016, MIL revenues grew 13% yoy to
`
626 cr
which was in line with our estimates. MIL continues to outpace industry growth on
back of new product introduction which has enabled it to increase the
content/vehicle. MIL operating margins improved sharply 210 bp yoy to 9.4%
coming in ahead of our estimates of
8.5%. Given the strong operating
performance the Net profit at
`
31.4 cr almost doubled on yoy basis and was
ahead of our estimates of
`
25 cr. We continue to maintain our positive stance on
the stock and upgrade our target price to
`
1,047 based on (16x FY2017 EPS).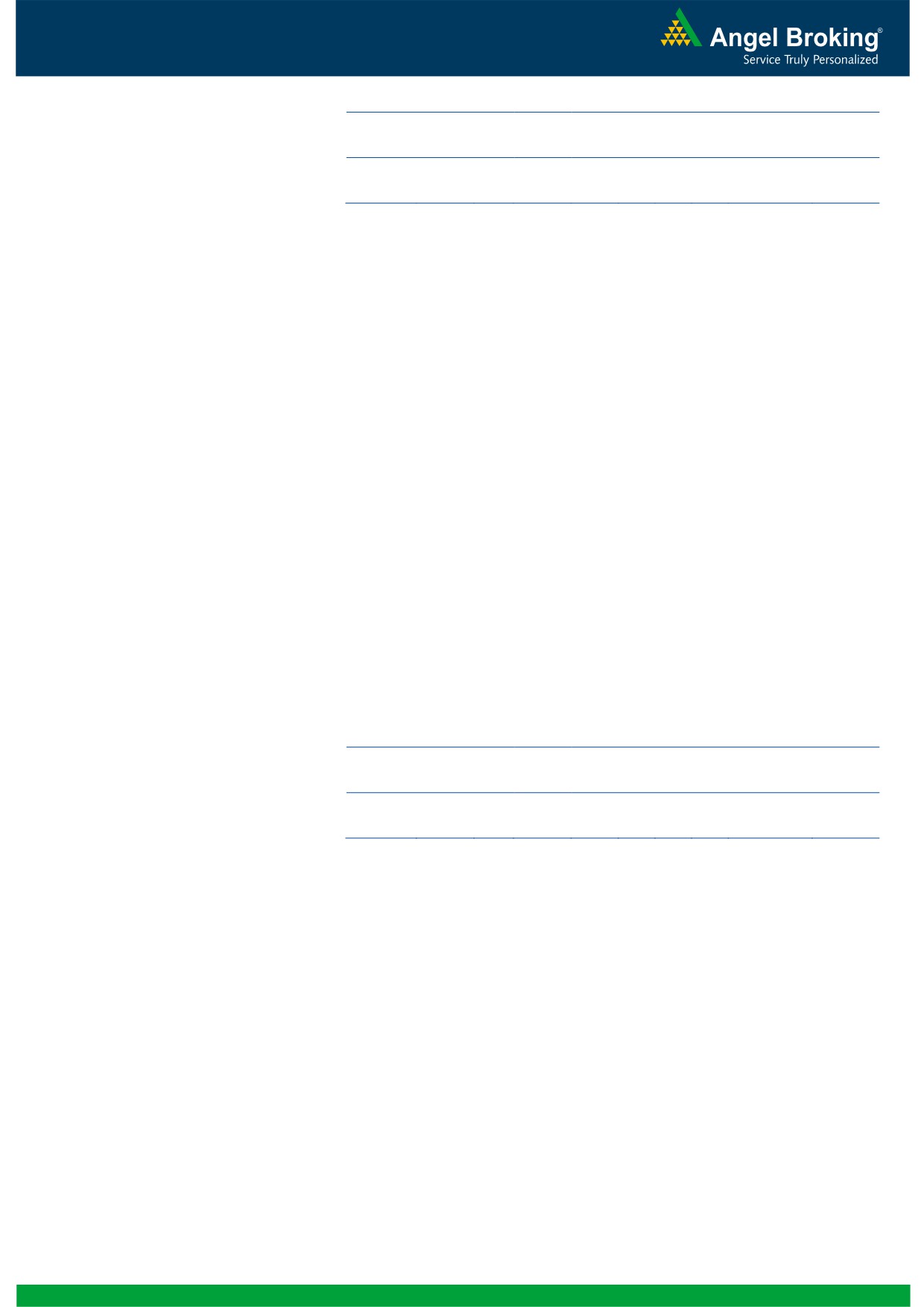 EPS ROE P/E P/BV EV/EBITDA EV/Sales
HSIL (CMP:
`
273/ TP:
`
303/ Upside: 10.8%)
HSIL reported a good set of numbers of numbers for 3QFY2016. The top-line
grew by 9.5% yoy to
`
506cr which is marginally higher than our estimate of
`
499cr. The Building Products business grew by 17.3% yoy to
`
268cr while
Packaging Products business posted a muted growth of 2.0% yoy decline to
The raw material cost increased by 323bp yoy to 35.8% of sales and employee
cost grew by 65bp yoy to 12.0%. However, the other expenses declined by 231bp
yoy to 33.4% of sales subsiding increase in expenses. The EBITDA margin declined
by 157bp yoy to 18.8% (against our estimate of 19.7%) and EBITDA came in at
`
95cr which is in-line with our estimate of
`
98.
The EBIT margin for the Building Products declined by 229bp yoy to 16.2% but the
same has increased by 76bp on qoq basis. The packaging products business
margin increased by 140bp yoy and 455bp qoq to 14.8%.
The interest expense has come down by ~51%% yoy to
`
10cr as a result of
reduction in debt. Mainly on account of lower interest expense, the bottom line
grew by 22.0% yoy to
`
37 which is in-line with our estimate of
`
38cr.
At current market price, the stock is trading at 15.9x its FY2017 earnings. We
maintain our Accumulate rating on the stock with a target price of
`
303. We may
change our rating post 3QFY2016 result conference call
EPS ROE P/E P/BV EV/EBITDA EV/Sales
Economic and Political News

Govt may announce incentives for solar projects in Budget

GST Bill: Govt will leave no stone unturned, says Venkaiah Naidu

India could raise $12.65 billion in overseas loans to boost irrigation: Reports

Adani's coal mine project in Australia gets environmental approval

IndianOil plans to build strong upstream portfolio

SREI Infra to raise
`
17,500 crore in debt next fiscal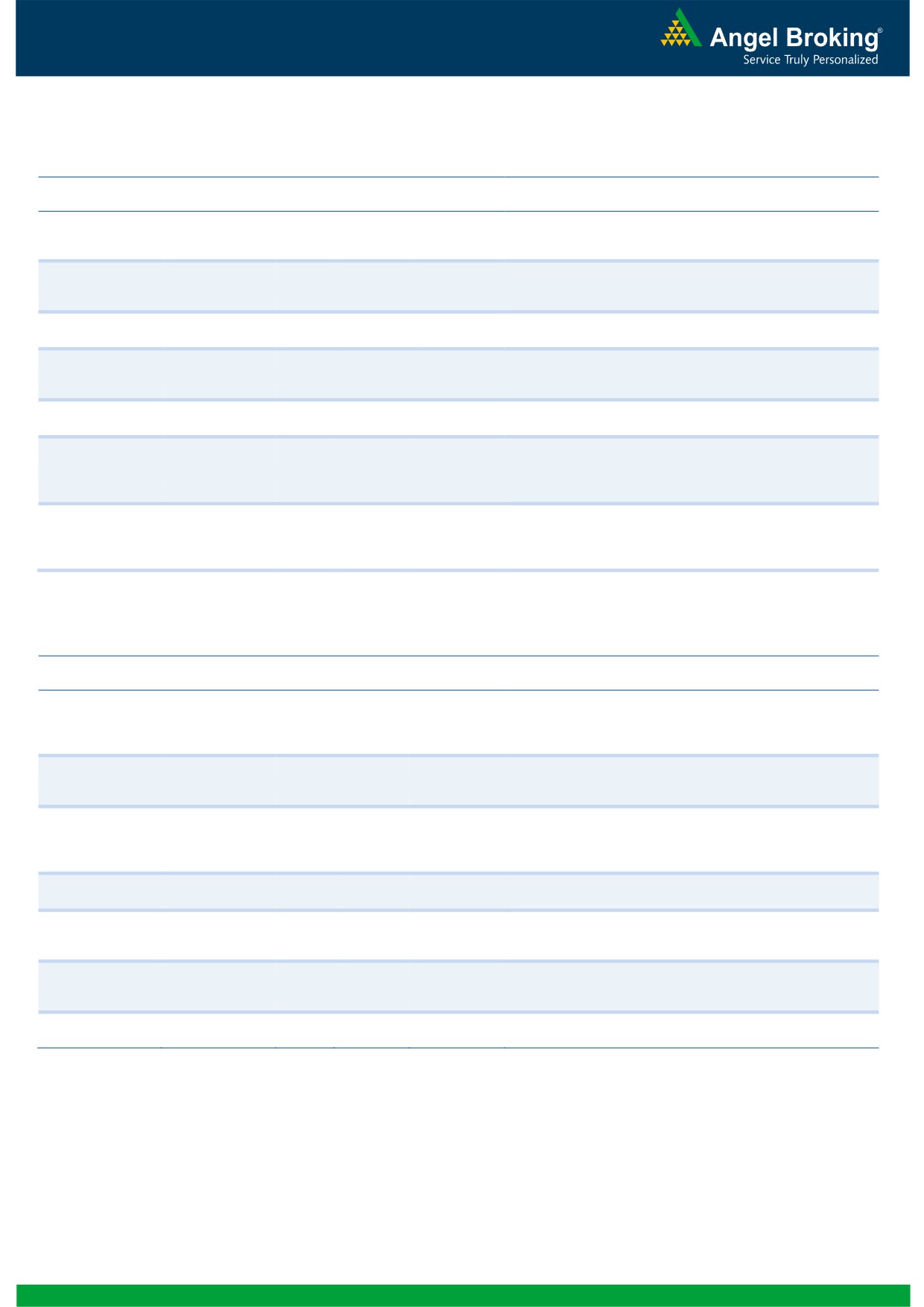 To outpace battery industry growth due to better technological
products leading to market share gains in both the automotive
OEM and replacement segments.
Earnings to grow strongly given the MHCV cyclical upturn.
Focus on exports and LCV's provides additional growth
The stock is trading at attractive valuations and is factoring all
Strong visibility for a robust 20% earnings trajectory, coupled
with high quality of earnings on account of high quality retail
business and strategic focus on highly rated corporates.
Back on the growth trend, expect a long term growth of 14%
to be a US$20bn in FY2020.
Well positioned to benefit from such expected gradual
recovery in the overall domestic capex cycle, given its presence
across various infrastructure segments, its execution
capabilities, and its strong balance sheet.
LICHF continues to grow its retail loan book at a healthy pace
with improvement in asset quality. We expect the company to
post a healthy loan book which is likely to reflect in a strong
Source: Company, Angel Research
Favourable outlook for the AC industry to augur well for
Cooling products business which is out pacing the market
growth. EMPPAC division's profitability to improve once
operating environment turns around.
Change in business focus towards high-margin chronic &
lifestyle segments and increasing penetration in Europe and
Economic recovery to have favourable impact on advertising &
circulation revenue growth. Further, the acquisition of a radio
business (Radio City) would also boost the company's revenue
Massive capacity expansion along with rail advantage at ICD
as well CFS augurs well for the company
Earnings boost on back of stable material prices and
favourable pricing environment. Valuation discount to peers
provides additional comfort
Strong brands and distribution network would boost growth
going ahead. Stock currently trades at an inexpensive
Structural shift in the Lighting industry towards LED lighting will
Source: Company, Angel Research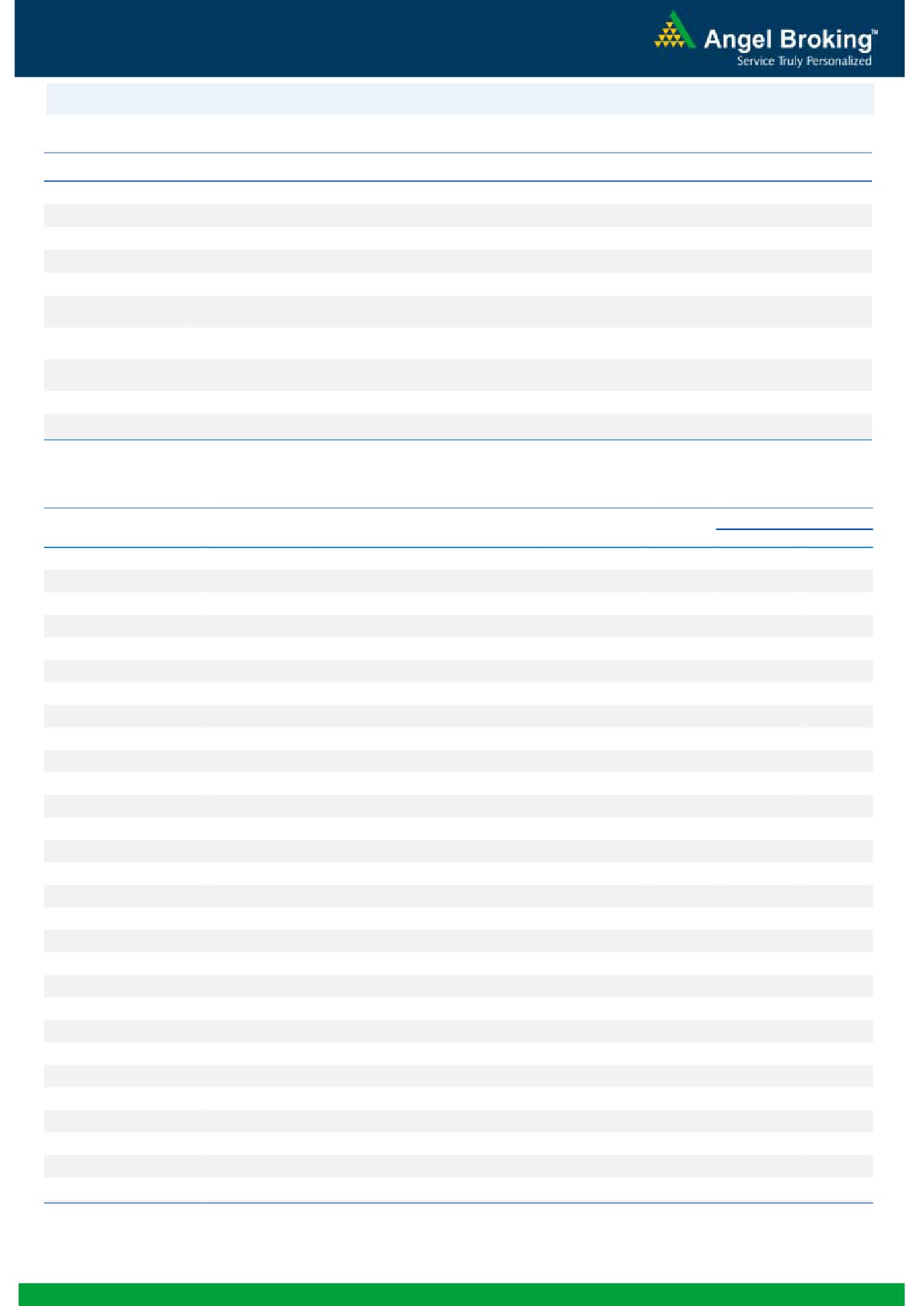 KEC International, Mangalam Cement, Hexaware, IOC, The Byke Hospitality
Bajaj Auto, ABB, J K Lakshmi Cements, Mphasis, Tata Steel, GSPL, Styrolution, Visaka Industries, Aventis, MT Educare
Bosch India, Vijaya Bank, Goodyear, Lupin, Cadila Healthcare, Divi's Lab., Tata Power Co., PTC India, Radico Khaitan
Prakash Industries, TVS Srichakra
JK Tyre, GlaxoSmith Con, Hitachi, Sterling Tools, Ipca labs
Motherson Sumi, Apollo Tyres, Ramco Cements, Allahabad Bank, Britannia, SAIL, Hindalco, MOIL, GAIL, Petronet
LNG, Dr Reddy's, Aurobindo Pharma, CESC
Tata Chemicals, Tata Global, Automotive Axle, Ambuja Cements, ACC, India Cements, Rural Elec.Corp., Bank of
Maharashtra, Bajaj Electrical, Finolex Cables, GSK Pharma, NHPC
Tata Motors, Ashok Leyland, BHEL, BGR Energy , Indian Bank, ONGC, Indraprasth Gas, Page Industries, GIPCL,
Coffee Day Enterprises Ltd
M&M, FAG Bearings, Nestle, BPCL, HPCL, Sun Pharma
Source: Bloomberg, Angel Research
Global economic events release calendar
Change in Nonfarm payrolls
Industrial Production (YoY)
Industrial Production YoY
Monthly Wholesale Prices YoY%
Producer Price Index (mom)
Consumer Price Index (YoY)
Consumer price index (mom)
Euro-Zone Consumer Confidence
Source: Bloomberg, Angel Research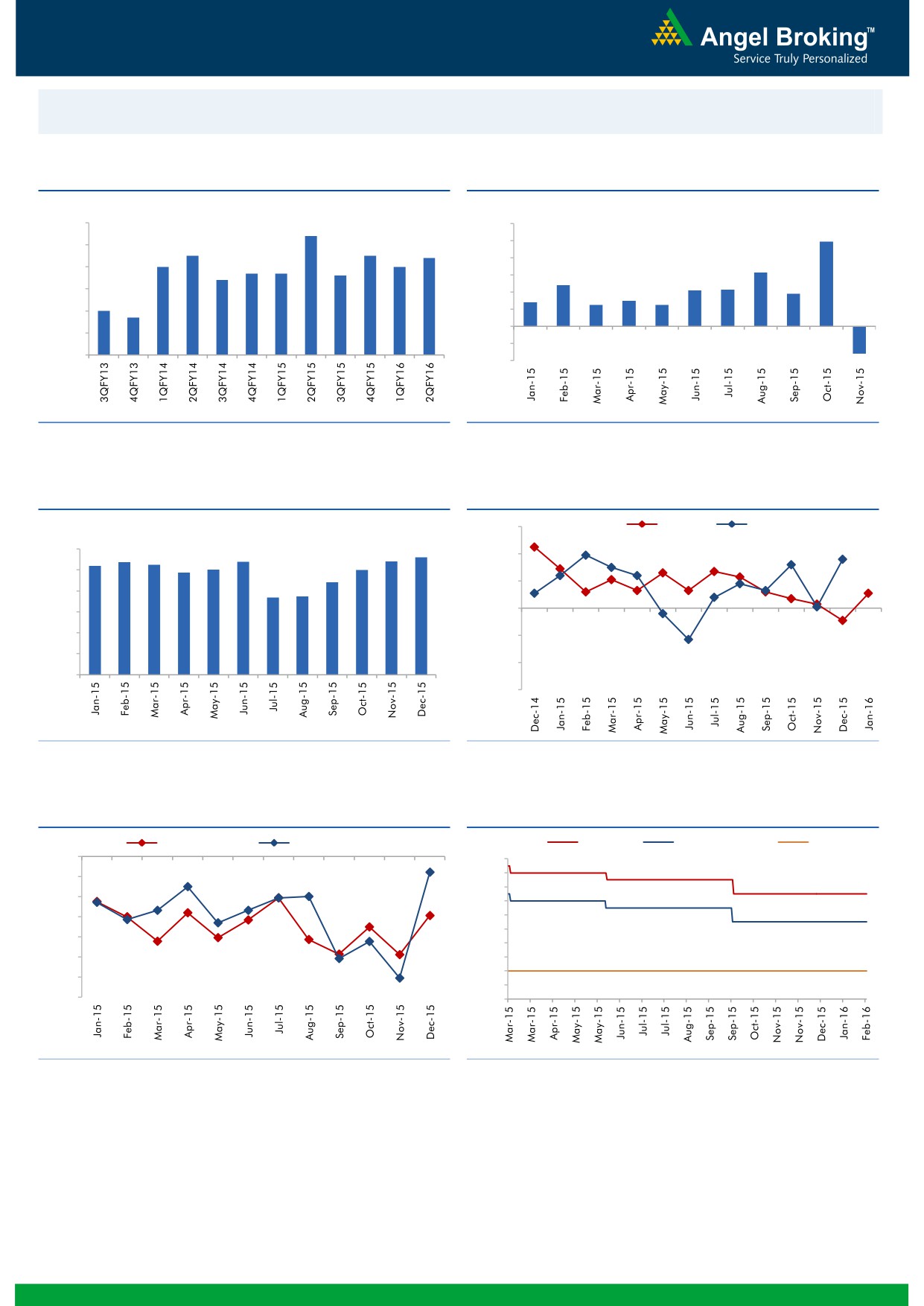 Exhibit 1: Quarterly GDP trends
Source: CSO, Angel Research
Source: MOSPI, Angel Research
Exhibit 3: Monthly CPI inflation trends
Exhibit 4: Manufacturing and services PMI
Source: MOSPI, Angel Research
Source: Market, Angel Research; Note: Level above 50 indicates expansion
Exhibit 5: Exports and imports growth trends
Exhibit 6: Key policy rates
Source: Bloomberg, Angel Research
Source: RBI, Angel Research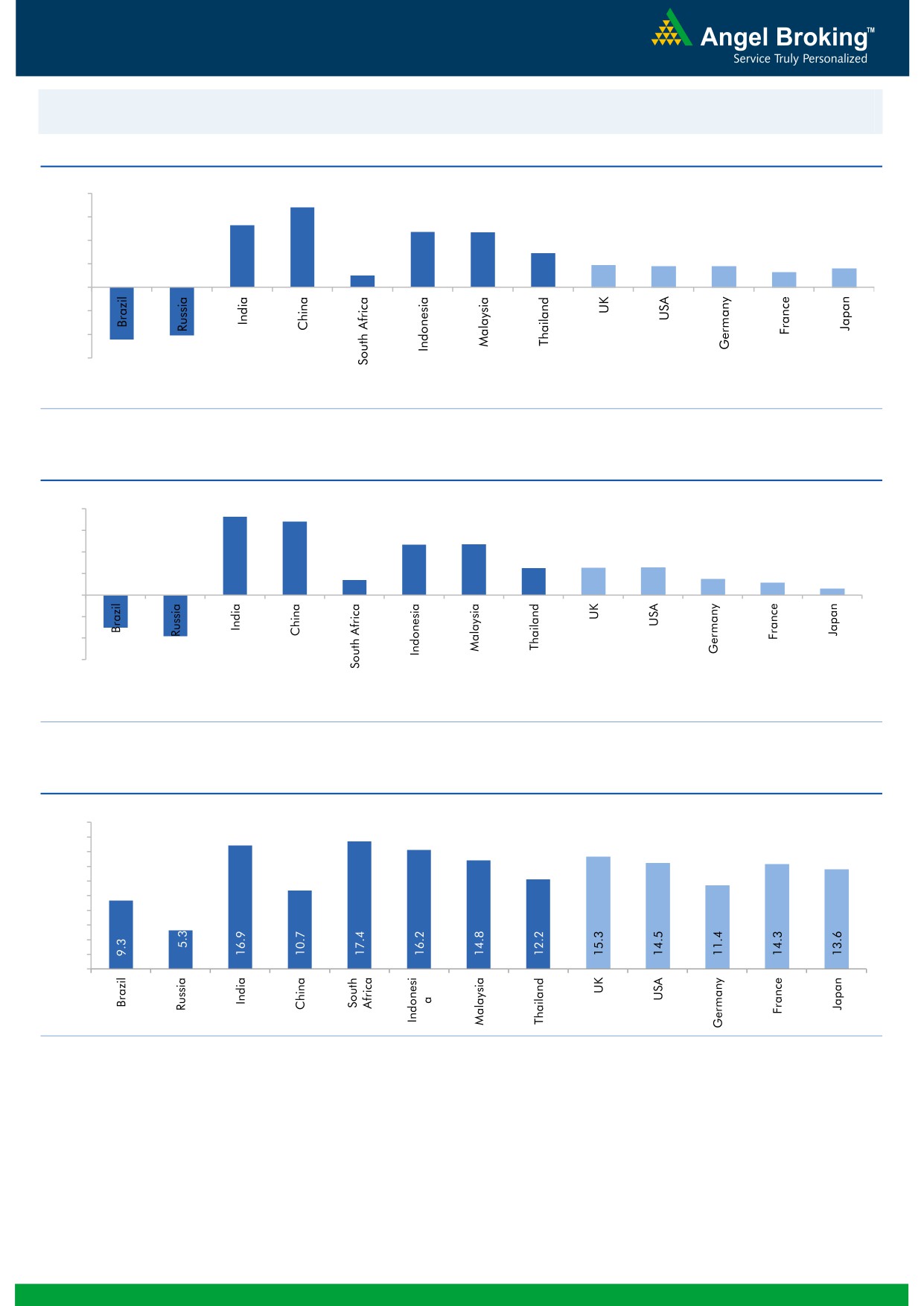 Exhibit 1: Latest quarterly GDP Growth (%, yoy) across select developing and developed countries
Source: Bloomberg, Angel Research
Exhibit 2: 2015 GDP Growth projection by IMF (%, yoy) across select developing and developed countries
Source: IMF, Angel Research
Exhibit 3: One year forward P-E ratio across select developing and developed countries
Source: IMF, Angel Research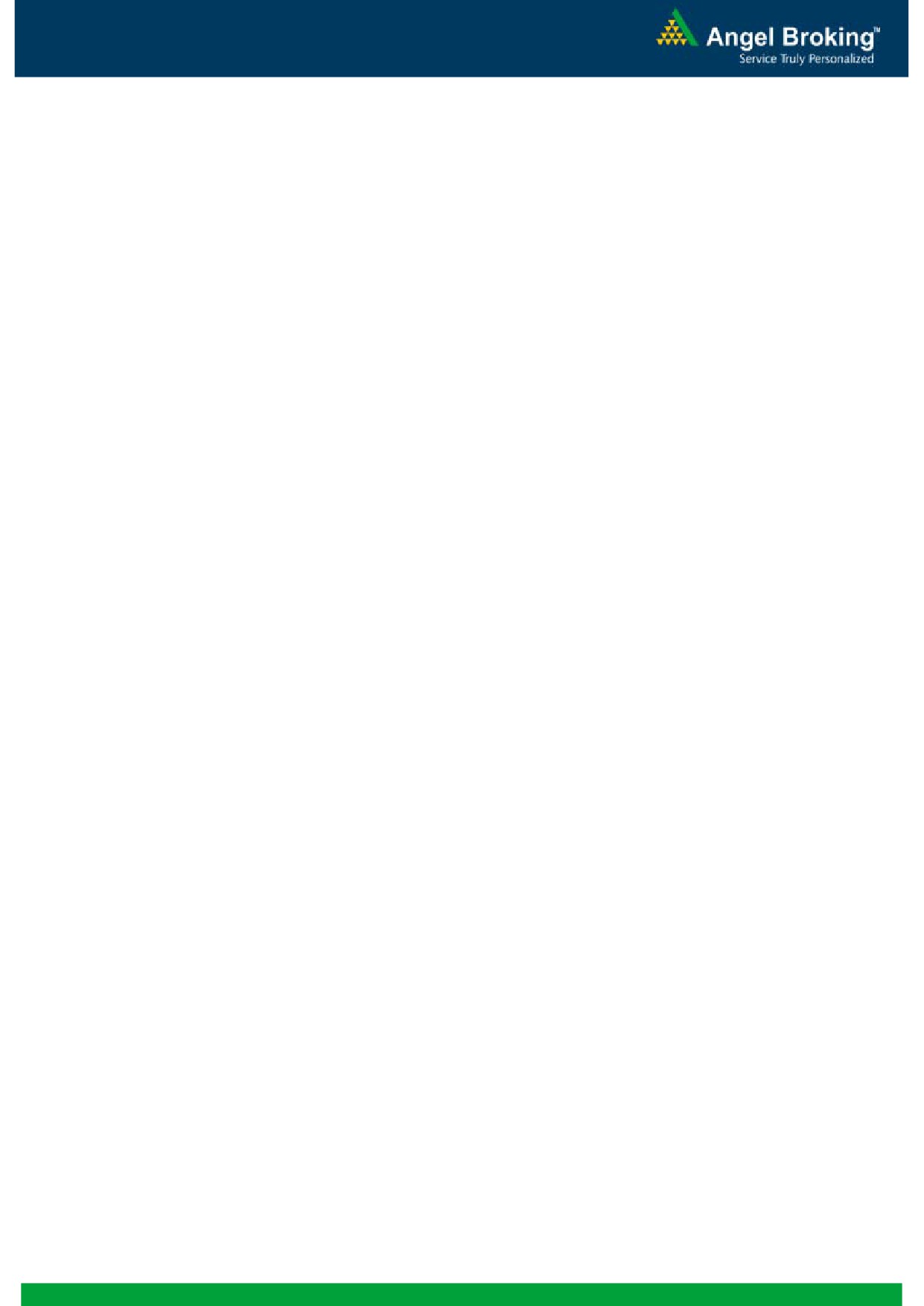 Research Team Tel: 022 - 39357800
Angel Broking Private Limited (hereinafter referred to as "Angel") is a registered Member of National Stock Exchange of India Limited,
Bombay Stock Exchange Limited and Metropolitian Stock Exchange of India Limited. It is also registered as a Depository Participant with
CDSL and Portfolio Manager with SEBI. It also has registration with AMFI as a Mutual Fund Distributor. Angel Broking Private Limited is a
registered entity with SEBI for Research Analyst in terms of SEBI (Research Analyst) Regulations, 2014 vide registration number
INH000000164. Angel or its associates has not been debarred/ suspended by SEBI or any other regulatory authority for accessing
/dealing in securities Market. Angel or its associates including its relatives/analyst do not hold any financial interest/beneficial ownership
of more than 1% in the company covered by Analyst. Angel or its associates/analyst has not received any compensation / managed or co
-managed public offering of securities of the company covered by Analyst during the past twelve months. Angel/analyst has not served as
an officer, director or employee of company covered by Analyst and has not been engaged in market making activity of the company
This document is solely for the personal information of the recipient, and must not be singularly used as the basis of any investment
decision. Nothing in this document should be construed as investment or financial advice. Each recipient of this document should make
such investigations as they deem necessary to arrive at an independent evaluation of an investment in the securities of the companies
referred to in this document (including the merits and risks involved), and should consult their own advisors to determine the merits and
risks of such an investment.
Reports based on technical and derivative analysis center on studying charts of a stock's price movement, outstanding positions and
trading volume, as opposed to focusing on a company's fundamentals and, as such, may not match with a report on a company's
The information in this document has been printed on the basis of publicly available information, internal data and other reliable sources
believed to be true, but we do not represent that it is accurate or complete and it should not be relied on as such, as this document is for
general guidance only. Angel Broking Pvt. Limited or any of its affiliates/ group companies shall not be in any way responsible for any
loss or damage that may arise to any person from any inadvertent error in the information contained in this report. Angel Broking Pvt.
Limited has not independently verified all the information contained within this document. Accordingly, we cannot testify, nor make any
representation or warranty, express or implied, to the accuracy, contents or data contained within this document. While Angel Broking
Pvt. Limited endeavors to update on a reasonable basis the information discussed in this material, there may be regulatory, compliance,
or other reasons that prevent us from doing so.
This document is being supplied to you solely for your information, and its contents, information or data may not be reproduced,
redistributed or passed on, directly or indirectly.
Neither Angel Broking Pvt. Limited, nor its directors, employees or affiliates shall be liable for any loss or damage that may arise from or
in connection with the use of this information.
Note: Please refer to the important 'Stock Holding Disclosure' report on the Angel website (Research Section). Also, please refer to the
latest update on respective stocks for the disclosure status in respect of those stocks. Angel Broking Pvt. Limited and its affiliates may have
investment positions in the stocks recommended in this report.