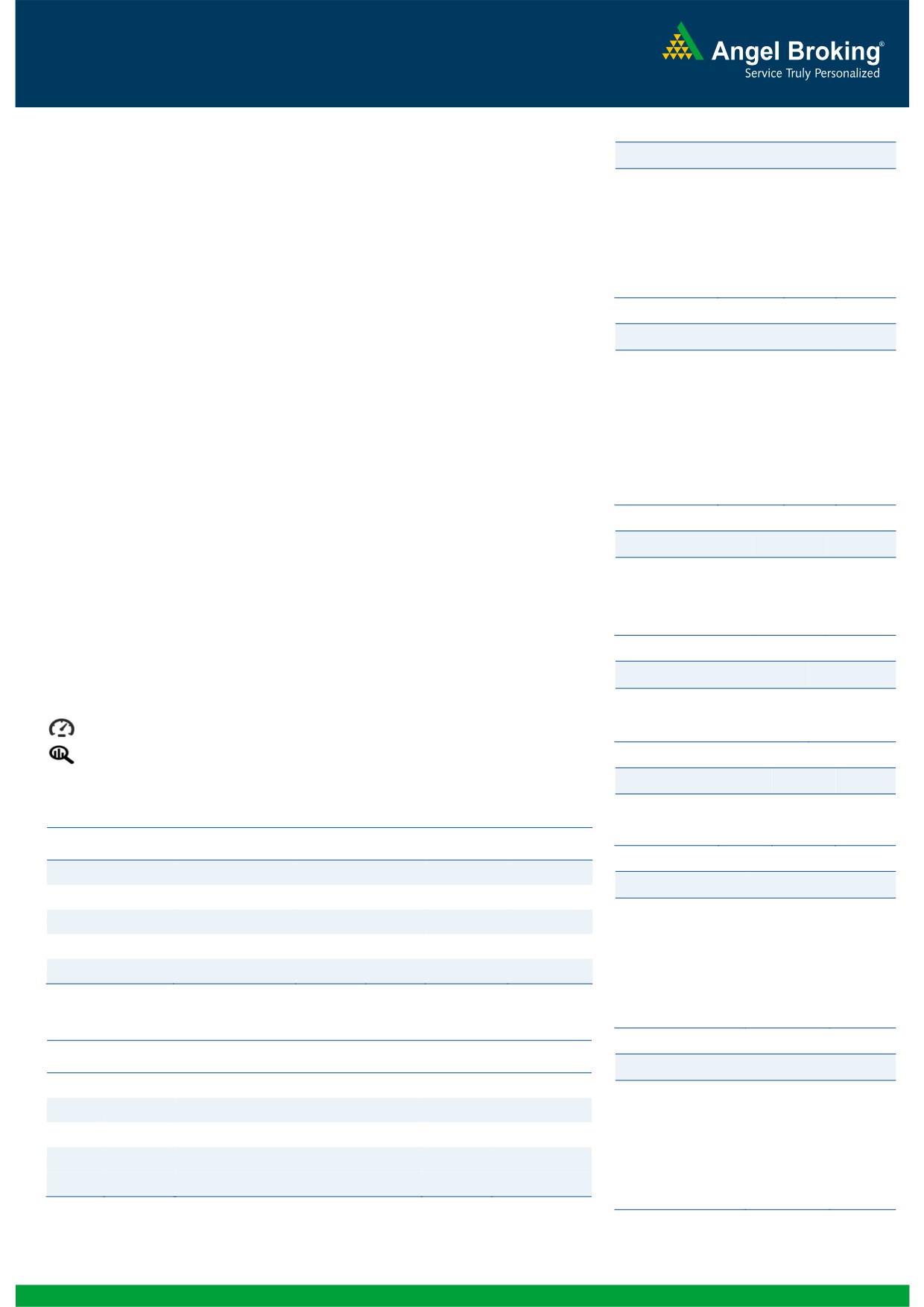 Indian markets are expected to open flat tracking SGX Nifty.
U.S. stocks lost momentum to finish mostly lower Monday as crude-oil futures
returned to bear-market territory and weaker-than-expected manufacturing data
raised doubts about economy strength. S&P 500 was down 0.1%, after the large-cap
index hit a record intraday high of 2,178.29. A 3.3% drop in Energy sector dragged
S&P 500 into negative territory, outweighing modest gains in health-care and tech
stocks. Nasdaq Composite Index climbed up 0.4%, to end at 5,184.20, boosted by
appetite for tech giants, including a 1.8% jump in shares of Apple Inc.
U.K. stocks erased earlier gains and ended lower on Monday, following data
confirming sharp deterioration in British manufacturing activity in the wake of the
Brexit vote. FTSE 100 lost 0.5% to close at 6,694 after having been up much as
0.7%. The index had earlier traded above its 2016 closing high of 6,750.43 logged
on July 27. The biggest riser was the giant mining group Anglo American, up 2.2%.
Equity benchmarks ended marginally lower with both, the Sensex and Nifty closing
in red. We sense market is 'entering into a no-news kind of trade' and that is what
caused market taking a break from its rally mode. Country's largest private sector
lender ICICI Bank fell over 5% after bad asset quality performance in 1QFY2017.
News Analysis & Result Review

Results Review: Tech Mahindra
NHPC to raise
`
4,500cr after Subansiri project clearance
Investor's Ready Reckoner
Key Domestic & Global Indicators
Stock Watch: Latest investment recommendations on 150+ stocks
Navkar Corporation Others
Change in Nonfarm payrolls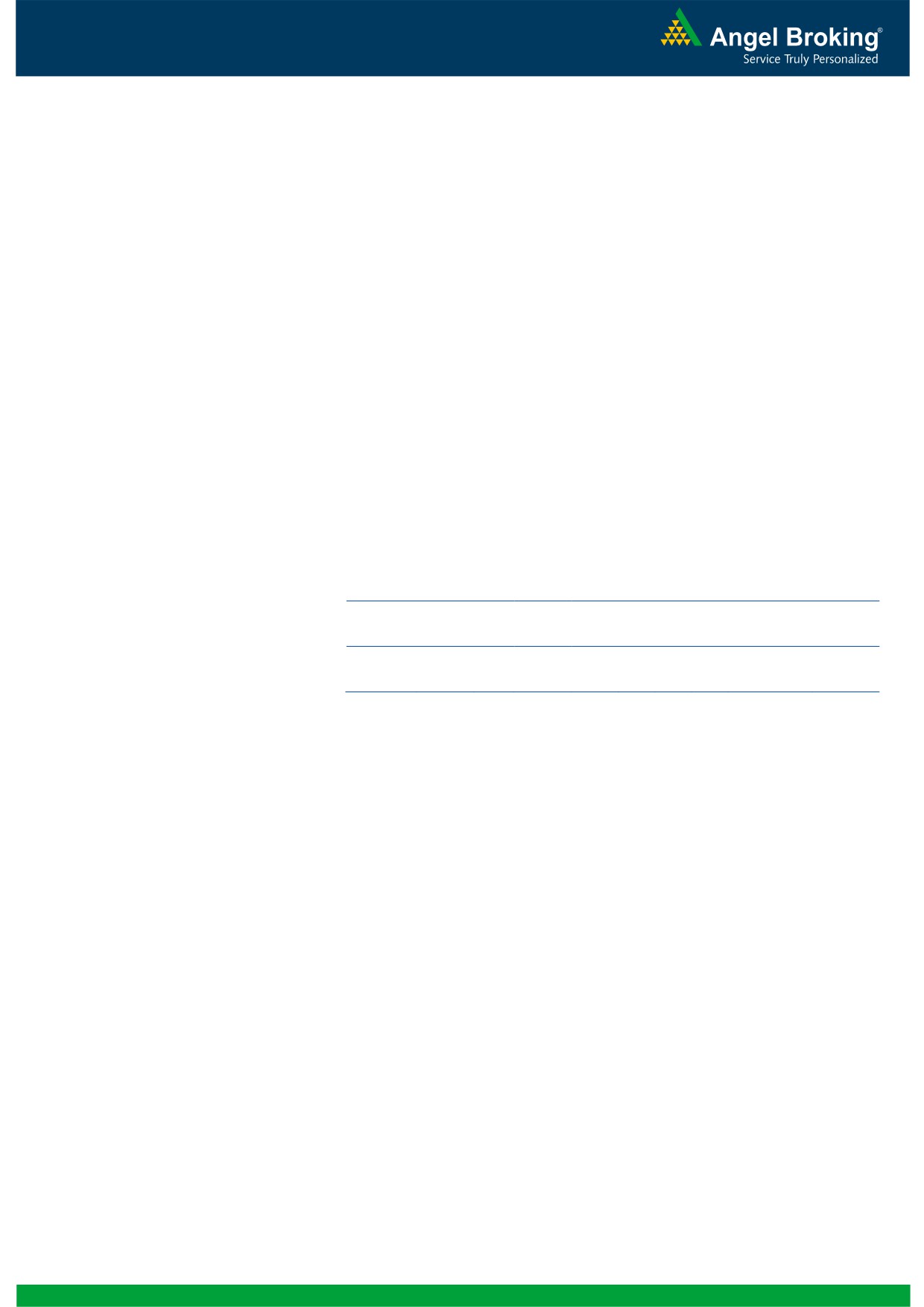 Tech Mahindra (CMP:
`
490
/ TP: /Upside:)
For 1QFY2017, the company posted results lower than expected. On sales the
company posted sales of
`
6,921cr V/s
`
6,880cr expected and V/s
`
6,884cr in
4QFY2016, a QoQ de-growth of 0.5%. In US$ terms, it came in at US$ 1,032mn
V/s US$1,027mn expected and V/s US$1,023mn, a QoQ growth of 0.9%.
The top line growth, during the quarter was driven by USA (which was 49.0% of
sales V/s 46.8% in 4QFY2016), while ROW was a drag, constituting around
22.8% V/s 24.7% in 4QFY2016. In terms of Industries, Manufacturing and BFSI
Industries were the key drivers of the top-line growth of the company.
Manufacturing, constituted around 18.1% of sales V/s 17.1% in 4QFY2016, while
BFSI contributed around 11.3% of sales V/s 10.6% of sales in 4QFY2016. In terms
of client additions, the company added 11 clients, of which 2 were in US$20mn+,
On operating profit front, the EBIT margins came in at 12.0% V/s 12.3% expected
and V/s 13.7% in 4QFY2016, QoQ dip of 176bps. On utilization levels, the
company clocked 78% v/s 77% in 4QFY2016, while attrition remained same at
21%. Thus, the Adj. net profit came in at
`
750cr V/s
`
816crexpected and V/s
`
897cr in 4QFY2016, a QoQ de-growth of 16.4%. While our estimates might get
revised, we maintain our buy rating.
EPS ROE P/E P/BV EV/EBITDA EV/Sales
NHPC to raise
`
4,500cr after Subansiri project clearance
As per media reports, NHPC is working on
`
3,000cr diversification plan to venture
into Solar & Wind Power projects. Company also plans to raise
`
4,500cr through
private placement, but is waiting National Green Tribunal (NGT) clearance for the
2,000MW Lower Subansiri Hydroelectric project at Gerukamukh along the Assam-
Arunachal Pradesh border.
Following protests from pressure groups, project was stalled since Dec-2011 on
grounds that seismic activity could pose threat to people in downstream areas. The
project was expected to be completed by 2012.
This fund raised would be used to meet new capex. NHPC completed 70% work
on project by Dec-2011, which was scheduled to go on-stream in Dec-2012.
NHPC plans to add 430MW of Solar and Wind power projects, as it has inked
deals with Andhra, Tamil Nadu & Uttar Pradesh Government.
Also, NHPC has joined U. P. to develop 50MW Solar power project. This project is
to be executed through Uttar Pradesh New and Renewable Energy Development
NHPC has already reached final stage of completion of 50MW Wind project in
Jaisalmer, Rajasthan. The company has also received letter of intent to set up 50-
MW solar power project in Tamil Nadu and has also signed deal with A.P.
government for setting up 200MW project but much will hinge on feasibility study.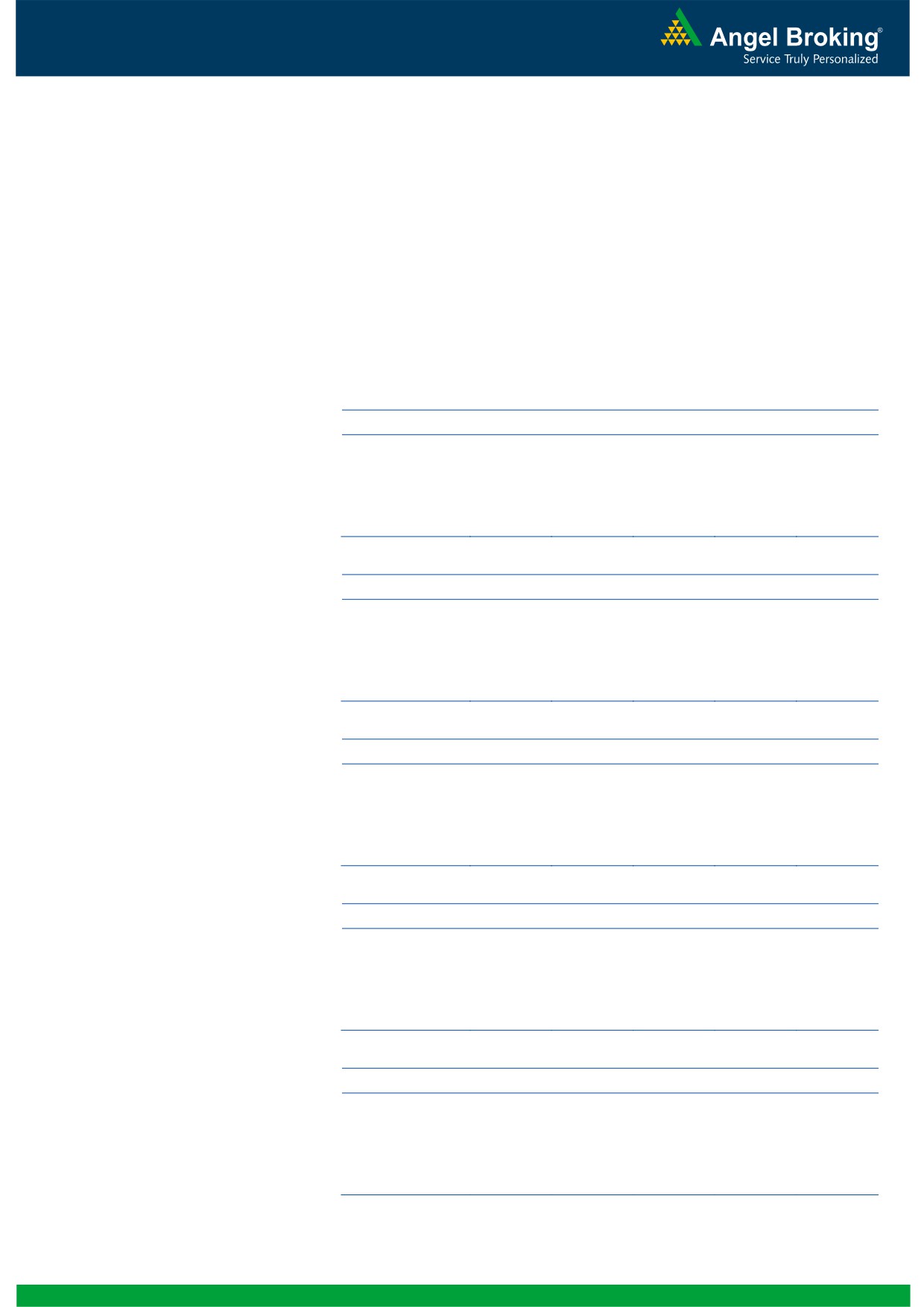 Economic and Political News

Govt clears 89 single-brand retail, 1 multi-brand proposals

Centre provides
`
6,403cr to Andhra as financial assistance

India's total Power generation capacity crosses 300GW mark

Wipro Infra Engg to acquired Israel based Givon in all-cash deal

GVK's Goindwal Sahib power project faces coal hurdles

NTPC bets big on domestic coal-driven growth

ICICI Bank, Apollo to set up Indian Asset Reconstruction company
Quarterly Bloomberg Brokers Consensus Estimate
HCL Technologies Ltd - Aug 3, 2016
Cadila Healthcare Ltd - Aug 3, 2016
Tata Power Co Ltd Consol- Aug 4, 2016
Siemens Ltd - Aug 4, 2016
Cummins India Ltd - Aug 4, 2016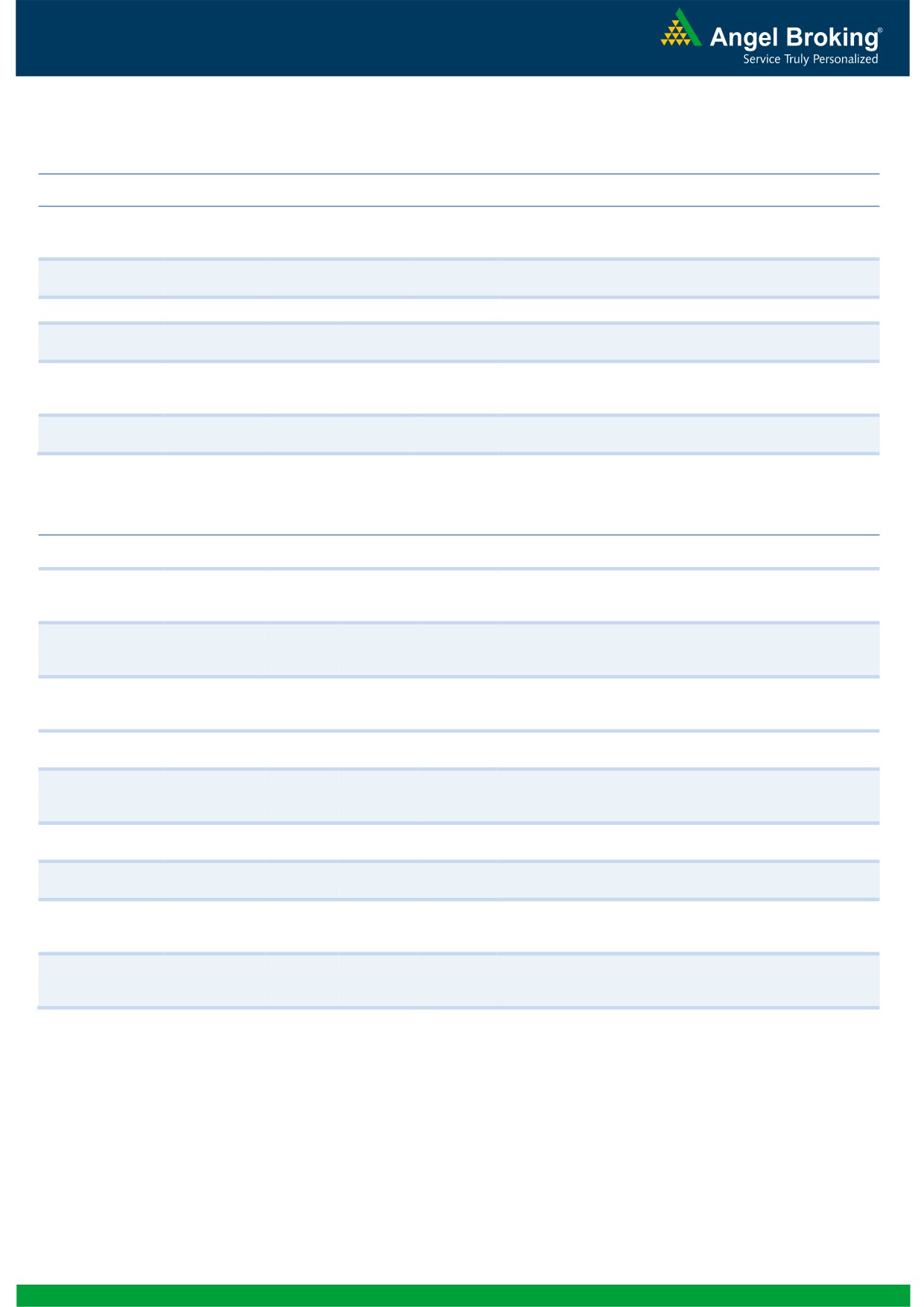 To outpace battery industry growth due to better technological
products leading to market share gains in both the automotive
OEM and replacement segments.
Uptick in defense capex by government, coupled with BELs
strong market positioning, indicate good times ahead for BEL.
Stock is trading at attractive valuations & factors all bad news.
Back on the growth trend, expect a long term growth of 14% to
Continues to grow its retail loan book at healthy pace with
improvement in asset quality. Expect LICHF to post a healthy
loan book which is likely to reflect in a strong earnings growth.
Strong market positioning within the domestic AC markets to
continue, EMP business set to revive
Source: Company, Angel Research
With a focus on the low and medium income (LMI) consumer
segment, the company has increased its presence in tier-II & III
cities where the growth opportunity is immense.
Strong loan growth backed by diversified loan portfolio and
adequate CAR. ROE & ROA likely to remain decent as risk of
dilution remains low. Attractive valuations considering growth.
Expectations of above average monsoon augurs well for
Goodyear India as it derives ~50% of its turnover from farm
Commencement of new projects, downtrend in the interest rate
cycle, to lead to stock re-rating
Economic recovery to have favourable impact on advertising &
circulation revenue growth. Further, the acquisition of a radio business
(Radio City) would also boost the company
`
s revenue growth.
Speedier execution and speedier sales, strong revenue visibility
in short-to-long run, attractive valuations
Massive capacity expansion along with rail advantage at ICD
as well CFS augurs well for the company
Earnings boost on back of stable material prices and
favourable pricing environment. Valuation discount to peers
provides additional comfort
Strong brands and distribution network would boost growth
going ahead. Stock currently trades at an inexpensive
Source: Company, Angel Research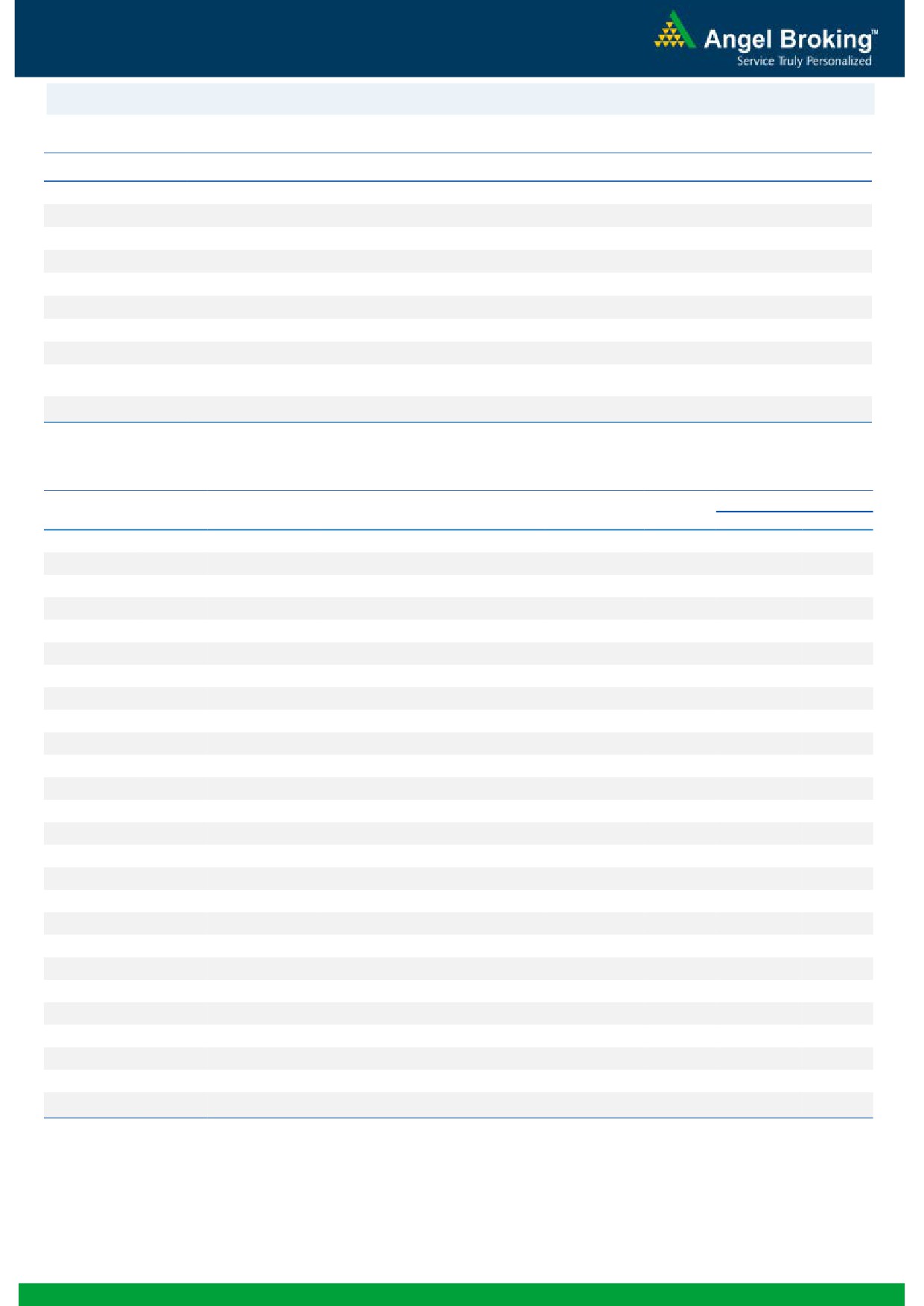 Ramco Cements, HCL Tech, Cadila Healthcare, Dishman Pharma, The Byke Hospitality
Siemens, Cummins India, Hindustan Media Ventures, Kirloskar Engines India Ltd, Tata Power Co.
Bharat Forge, LMW, GlaxoSmith Con, Quick Heal
Amara Raja Batteries, Mangalam Cement, Union Bank, Andhra Bank
Subros, Colgate, Britannia, Vesuvius India, Sterling Tools
Apollo Tyres, Finolex Cables, Lupin, Team Lease Serv., S H Kelkar & Co.
M&M, Motherson Sumi, Thermax, ITD Cementation
Rural Elec.Corp., Page Industries, MRF, Jyothy Laboratories, MM Forging, Tide Water Oil India, Coffee Day Enterprises
Automotive Axle, Hindalco, Bajaj Electrical, Cravatex, NHPC
Source: Bloomberg, Angel Research
Global economic events release calendar
Change in Nonfarm payrolls
Consumer Price Index (YoY)
Industrial Production (YoY)
Aug 12, 2016 2:30PM Euro Zone
Industrial Production (YoY)
Producer Price Index (mom)
Industrial Production YoY
Aug 15, 2016 12:00PM India
Monthly Wholesale Prices YoY%
Consumer price index (mom)
Aug 17, 2016 2:30PM Euro Zone
Aug 18, 2016 7:30PM Euro Zone
Euro-Zone Consumer Confidence
Source: Bloomberg, Angel Research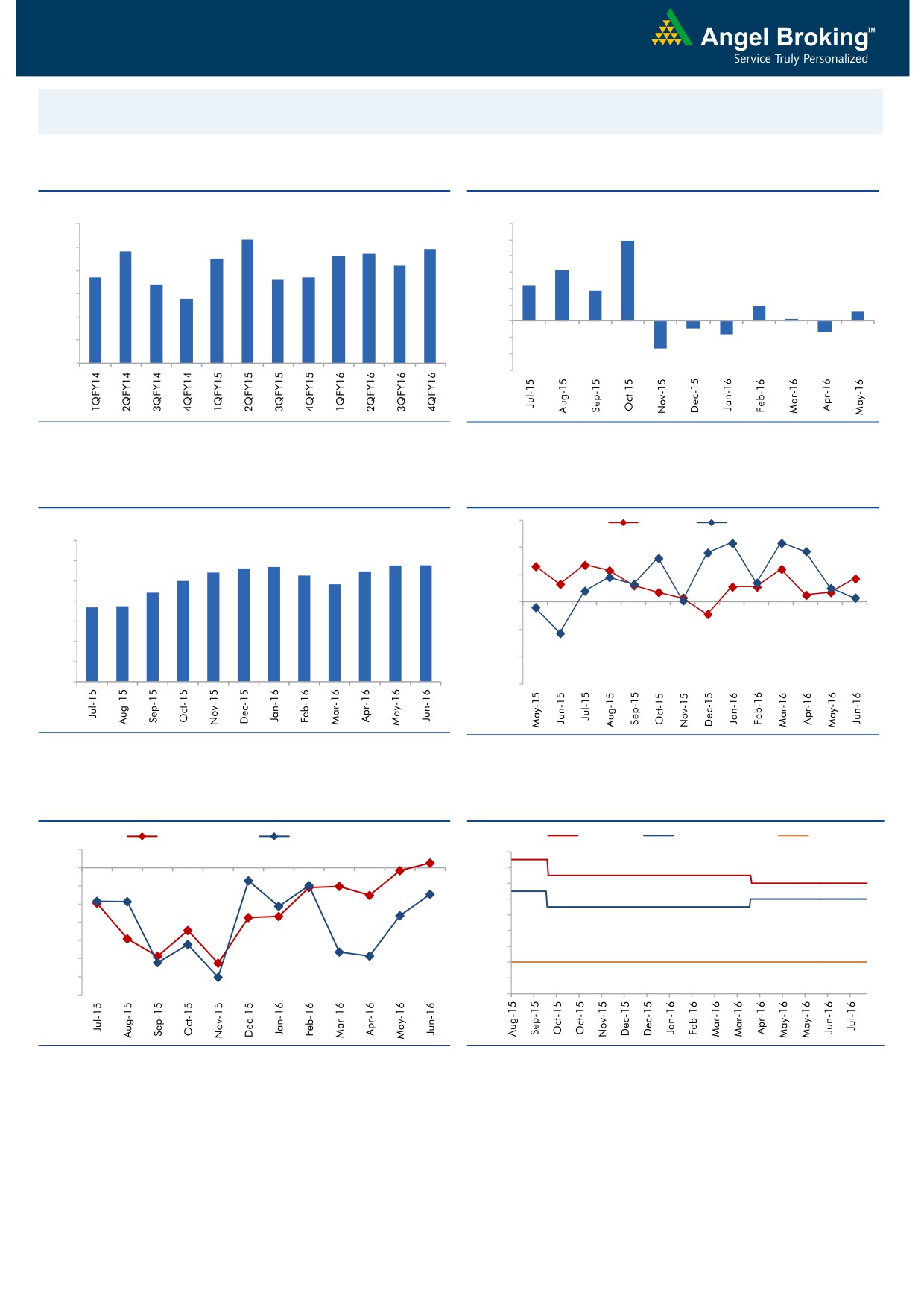 Exhibit 1: Quarterly GDP trends
Source: CSO, Angel Research
Source: MOSPI, Angel Research
Exhibit 3: Monthly CPI inflation trends
Exhibit 4: Manufacturing and services PMI
Source: MOSPI, Angel Research
Source: Market, Angel Research; Note: Level above 50 indicates expansion
Exhibit 5: Exports and imports growth trends
Exhibit 6: Key policy rates
Source: Bloomberg, Angel Research
Source: RBI, Angel Research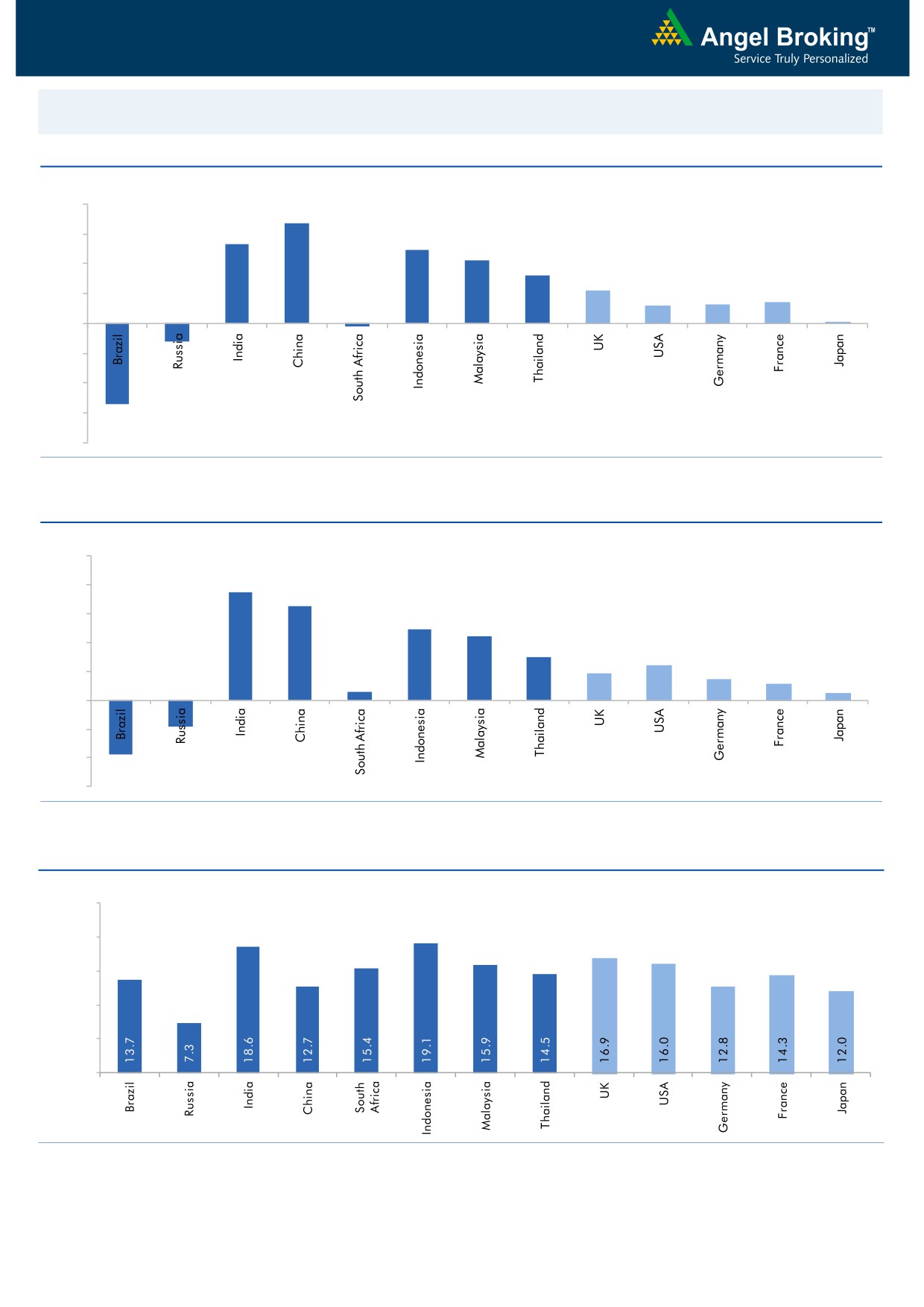 Exhibit 1: Latest quarterly GDP Growth (%, yoy) across select developing and developed countries
Source: Bloomberg, Angel Research
Exhibit 2: 2016 GDP Growth projection by IMF (%, yoy) across select developing and developed countries
Source: IMF, Angel Research
Exhibit 3: One year forward P-E ratio across select developing and developed countries
Source: IMF, Angel Research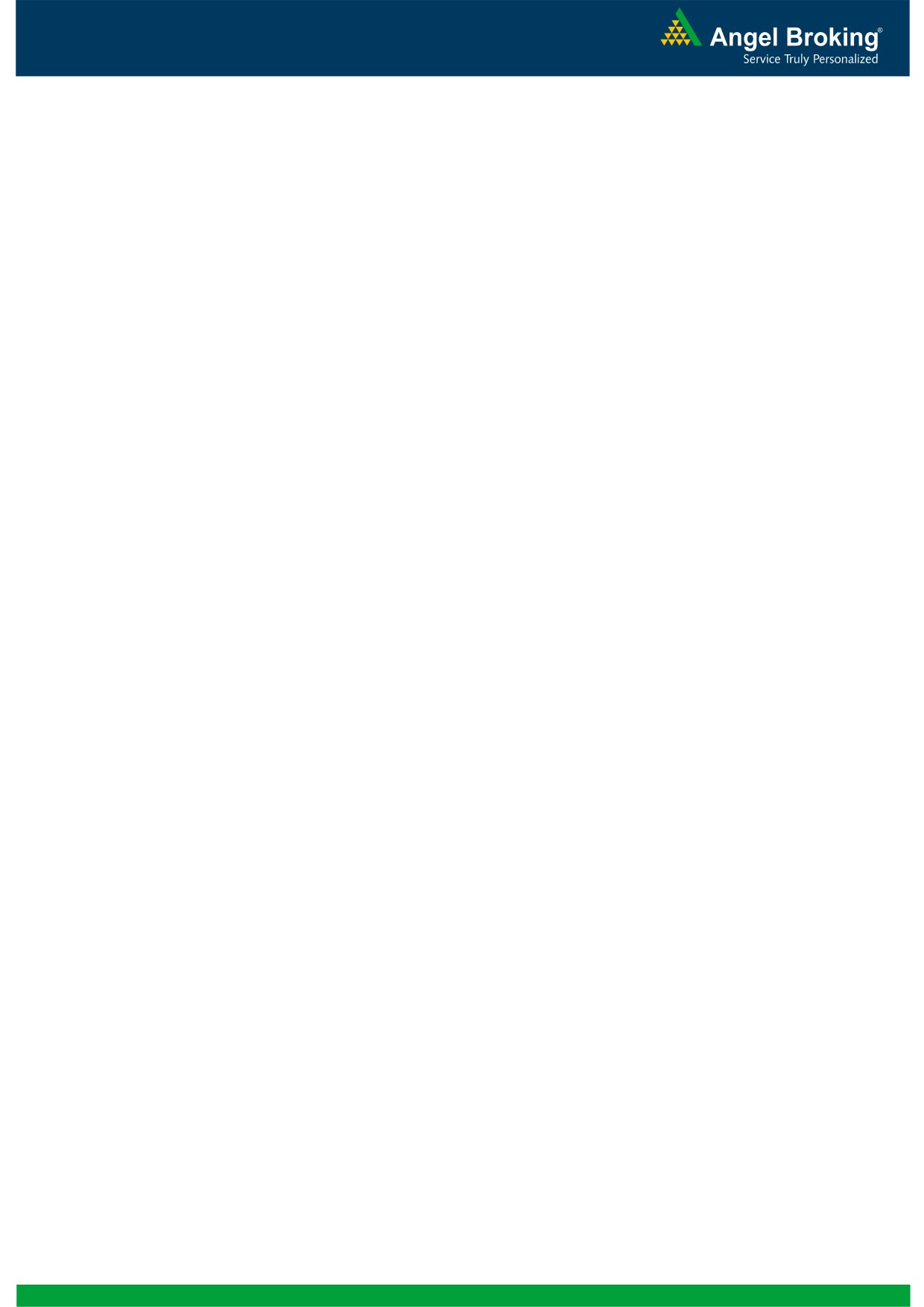 Research Team Tel: 022 - 39357800
Angel Broking Private Limited (hereinafter referred to as "Angel") is a registered Member of National Stock Exchange of India Limited,
Bombay Stock Exchange Limited and Metropolitan Stock Exchange Limited. It is also registered as a Depository Participant with CDSL
and Portfolio Manager with SEBI. It also has registration with AMFI as a Mutual Fund Distributor. Angel Broking Private Limited is a
registered entity with SEBI for Research Analyst in terms of SEBI (Research Analyst) Regulations, 2014 vide registration number
INH000000164. Angel or its associates has not been debarred/ suspended by SEBI or any other regulatory authority for accessing
/dealing in securities Market. Angel or its associates/analyst has not received any compensation / managed or co-managed public
offering of securities of the company covered by Analyst during the past twelve months.
This document is solely for the personal information of the recipient, and must not be singularly used as the basis of any investment
decision. Nothing in this document should be construed as investment or financial advice. Each recipient of this document should make
such investigations as they deem necessary to arrive at an independent evaluation of an investment in the securities of the companies
referred to in this document (including the merits and risks involved), and should consult their own advisors to determine the merits and
risks of such an investment.
Reports based on technical and derivative analysis center on studying charts of a stock's price movement, outstanding positions and
trading volume, as opposed to focusing on a company's fundamentals and, as such, may not match with a report on a company's
fundamentals. Investors are advised to refer the Fundamental and Technical Research Reports available on our website to evaluate the
The information in this document has been printed on the basis of publicly available information, internal data and other reliable
sources believed to be true, but we do not represent that it is accurate or complete and it should not be relied on as such, as this
document is for general guidance only. Angel Broking Pvt. Limited or any of its affiliates/ group companies shall not be in any way
responsible for any loss or damage that may arise to any person from any inadvertent error in the information contained in this report.
Angel Broking Pvt. Limited has not independently verified all the information contained within this document. Accordingly, we cannot
testify, nor make any representation or warranty, express or implied, to the accuracy, contents or data contained within this document.
While Angel Broking Pvt. Limited endeavors to update on a reasonable basis the information discussed in this material, there may be
regulatory, compliance, or other reasons that prevent us from doing so.
This document is being supplied to you solely for your information, and its contents, information or data may not be reproduced,
redistributed or passed on, directly or indirectly.
Neither Angel Broking Pvt. Limited, nor its directors, employees or affiliates shall be liable for any loss or damage that may arise from
or in connection with the use of this information.