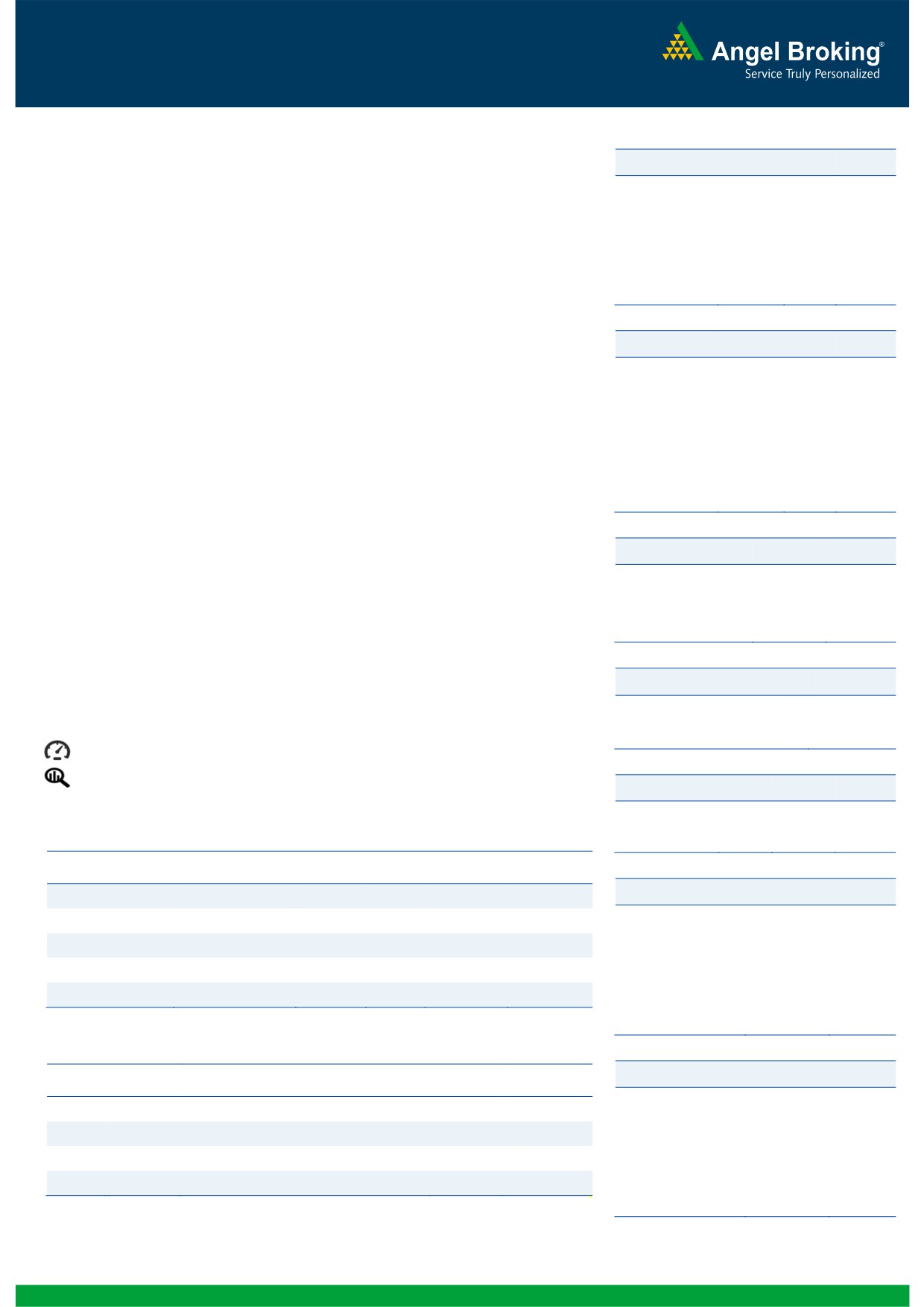 Indian markets are expected to open flat to positive tracking the SGX Nifty and its
US markets closed roughly flat after seeing early weakness. The early weakness on
Wall Street came amid a sharp drop by the price of crude oil as well as the release
of some disappointing Chinese manufacturing data. Crude oil for March delivery
tumbled $2 to $31.26 a barrel after rising $0.33 or 0.1 percent to $33.62 a barrel
in the previous week. The pullback by the price of crude came after a report from
the Chinese National Bureau of Statistics showed that the Chinese manufacturing
sector contracted at a faster rate in January,
The European markets ended the first session of the new trading week in the red.
Following the rally at the end of the prior trading week, stocks gave up early gains
Monday due to falling crude oil prices and renewed concerns over China.
Indian shares ended a lackluster session in the red, tracking mixed global markets
after oil prices fell around 2 percent and disappointing data out of China and South
Korea led to growth concerns. Investors looked ahead to the Reserve Bank monetary
policy meet due today at 11am, although the central bank is widely expected to

USFDA Action on Indian Pharma companies

Auto January 2016 sales update

Result Review: Tech Mahindra, Transport Corporation of India
Investor's Ready Reckoner
Key Domestic & Global Indicators
Stock Watch: Latest investment recommendations on 150+ stocks
Amara Raja Batteries Auto & Auto Ancillary
LIC Housing Finance Financials
Navkar Corporation Others
Change in Nonfarm payrolls (thousands)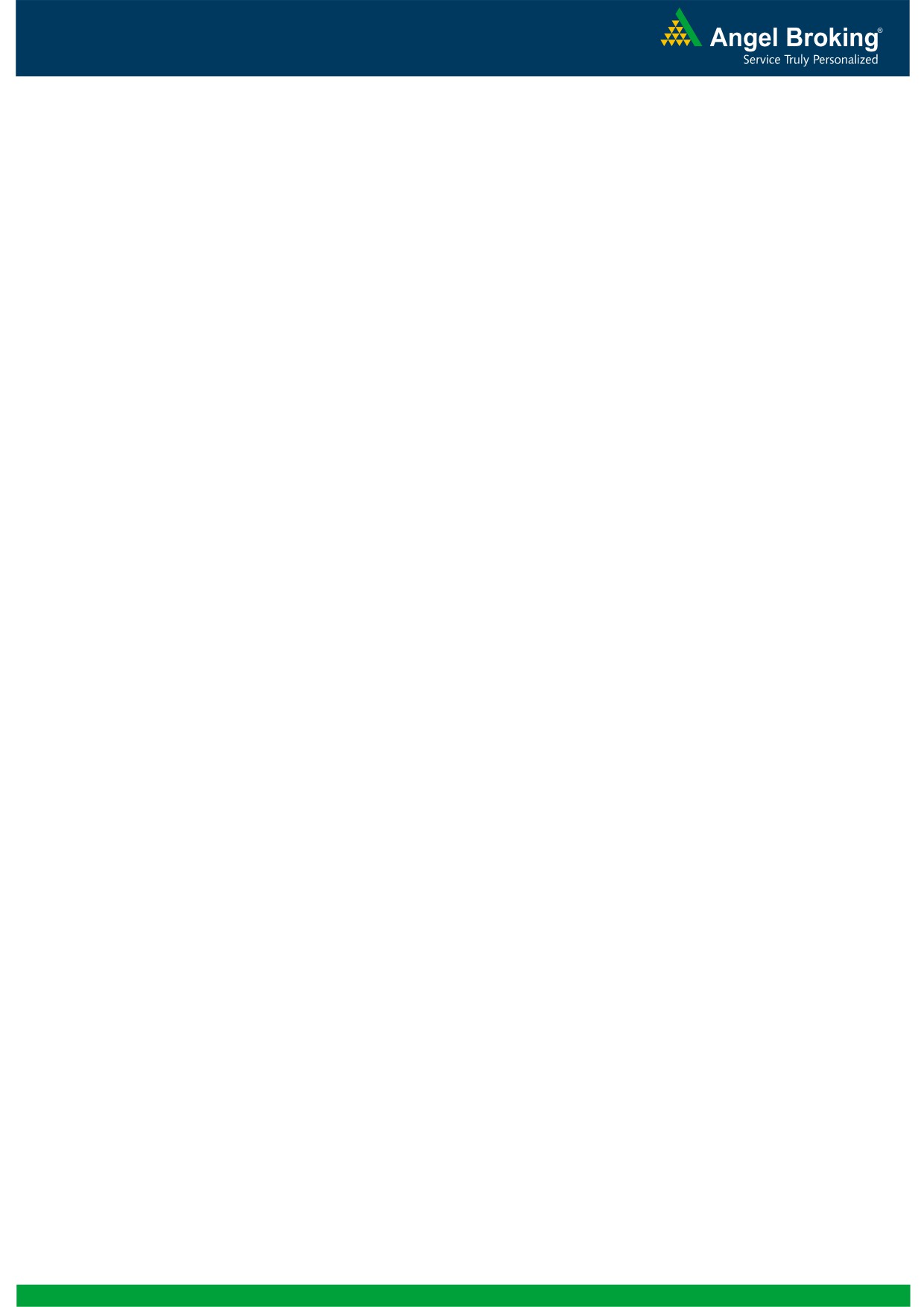 USFDA Action on Indian Pharma companies:
The Indian companies witnessed action from the USFDA which included IPCA
Labs, Aurobindo Pharma and Lupin.
IPCA Laboratories got a warning letter outlining manufacturing quality lapses
observed at three of its Indian factories. The letter concerns the company's
finished-drug plants at Piparia in western India, and Indore in central India, as well
as the drug ingredients facility at Ratlam in central India. The plants have already
been banned from supplying to the United States after the FDA inspected them in
July 2014, January 2015 and March 2015, and first highlighted the lapses. IPCA
said it has since been trying to fix the problems and has been informing the FDA
of its remedial measures. The company is fully committed to resolving these issues
While this is negative news given that the company is already on import alert since
last one year. it will not impact the financials greatly as the company is already not
supplying from these plants apart from the 4 API drugs which constitute around
45% of US sales, the impact on the same is uncertain. Overall US constitute
around 12% of sales in FY2015. Thus if these drugs, come under the import alert,
then the earnings estimates could be cut by 6%. As of now, we are not changing
our estimates on the company until more clarity from the management, though
our view is that this letter has lengthened the overall resolution process for the
Two other pharmaceutical companies that have come under the USFDA scanner
are Aurobindo Pharma and Lupin on back of US FDA inspections in their
respective plants. US regulator conducted inspections in oral solid facilities of
Aurobindio - Unit 3 and Unit 7. While the Unit 3 was cleared with no Form 483 for
observations, Unit 7 saw few observations from the regulator. The observations are
likely to be minor and more procedural in nature. Thus we are not changing our
estimates. The company will have to respond to US FDA regarding the
observations. US FDA also inspected Lupin's three plants in Pithampur,
Aurangabad and Tarapur. All the three plants have been cleared without any
observations. We maintain our recommendations on the stock.
Auto sales update for the month of January 2016
Hero Motocorp: Hero Motocorp sales continued to remain under pressure with the
company reporting flat sales during the month. The sales were in line with our
estimates. HMCL reported volumes of 563,348 units in Jan 2016 as against
558,982 units in the corresponding month last year. While the scooter segment
sales were robust with about 20% growth given the two new launches (Maestro
Edge and Duet), motorcycle sales declined by about 2% given the weak rural
sentiments and market share loss. We have Accumulate rating on the stock
TVS Motors: TVS Motors sales grew strongly 12% yoy and were in line with our
estimates. TVS continues to outstrip the industry growth on back of success of new
launches. Overall two wheeler sales grew 12% yoy to 2.08 lakh units. Motorcycle
sales grew 20% yoy to 83,374 units backed by the newly launched "Victor".
Scooter sales remained healthy growing 14% yoy to 62,552 units. Moped and
three wheeler segment sales grew marginally by 1% and 4% respectively. We have
Accumulate rating on the stock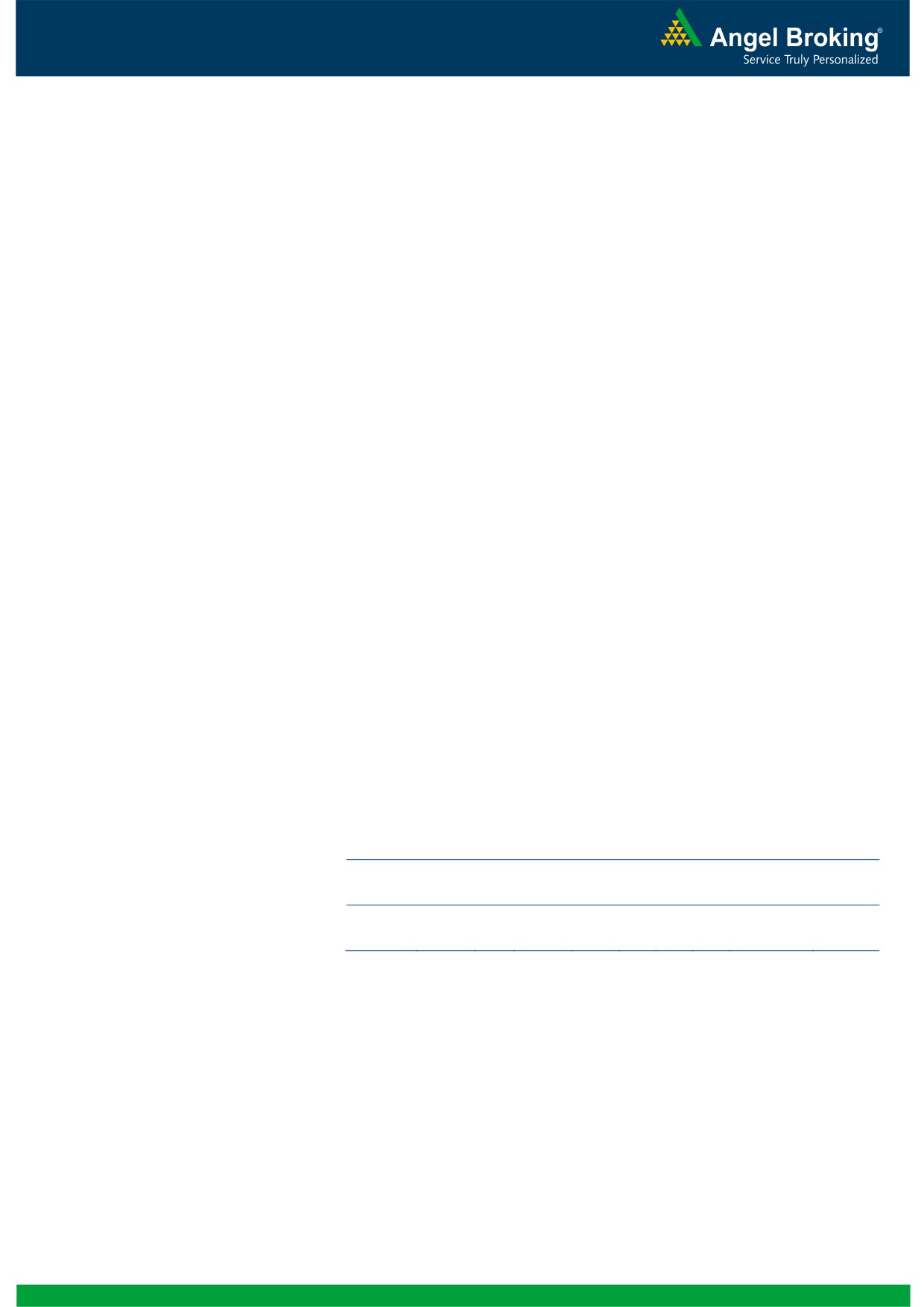 Tata Motors: Tata Motors sales in January 2016 were at 47,034 vehicles, higher
by 10%, over 42,595 vehicles sold in January 2015. The sales were marginally
better than our estimates. M&HCV sales continued to grow at 14,693 nos., higher
by 30%, over January 2015. The Light & Small Commercial Vehicle sales grew at
15,977 nos., higher by 12% over January 2015 led by recovery in the industry
volumes. The overall commercial vehicles sales were at 30,670 nos, an increase of
20% over January 2015. Tata Motors domestic passenger vehicles sales were at
10,728 nos., decline of 18%, compared to 13,047 nos mainly due to lack of new
product launches. The company's sales from exports were 5,636 nos., in January
2016, higher by 42% compared to 3,961 vehicles in January 2015. We currently
have Buy rating on the stock.
Tech Mahindra (CMP:
`
499/ TP:
`
646 / Upside: 29.5%)
Tech Mahindra for 3QFY2016 posted a 0.4% QoQ growth to end the period at
US$1,015mn V/s US$1,021mn expected and V/s US$1,011mn in 2QFY2016. In
`
terms, the company posted sales of
`
6,701cr V/s
`
6,729cr expected, a QoQ growth
of 1.3%. On Constant currency (CC), the company posted a 1.2% QoQ growth.
The growth was mainly driven by the ROW, which constituted around 23.2% of
sales in 3QFY2016 V/s 21.9% of sales in 2QFY2016. USA and Europe constituted
47.8% (48.9% of sales in 2QFY2016) and 28.9% (29.3% of sales in 2QFY2016).
In terms of Industry the manufacturing drove the growth. On the operating front,
the EBDITA came in at 16.9% V/s 17.2% expected and 16.6% in 2QFY2016, a
QoQ expansion of 60bps, while the EBIT came in at 14.3% V/s 14.2% expected
and 13.7% in 2QFY2016. On net profit, the company posted a net profit of
`
759cr V/s
`
809cr expected V/s
`
786cr in 2QFY2016, a QoQ de-growth of 3.4%.
On the operating matrix, the company had utilisation level of 77% same as last
quarter, while the attrition rate was around 20% also in line with the last quarter.
In terms of client addition, the company added 13 clients ending with active client
base of 801. We remain positive on the stock with a price target of
`
646.
EPS ROE P/E P/BV EV/EBITDA EV/Sales
Transport Corporation of India (CMP:-
`
253 TP: -/ Upside:- )
For 3QFY2016, Transport Corporation of India Ltd (TCIL)'s top-line & bottom-line
came in below our estimates. The top-line, at ~
`
551cr is flat on a YoY basis, with
all business segments posting poor performances, barring freight division. For the
quarter, the company reported an operating profit of ~
`
44cr, up ~5% YoY.
Further, the company's operating margin expanded by 43bp YoY to 8.0%,
primarily on account of lower operating expenses, which were down 207bp as a
percentage of sales. The net profit grew by ~11% YoY to ~
`
19cr mainly due to
lower sales growth during the quarter. Currently, we have a NEUTRAL rating on
the stock and will update the same post our interaction with the Management.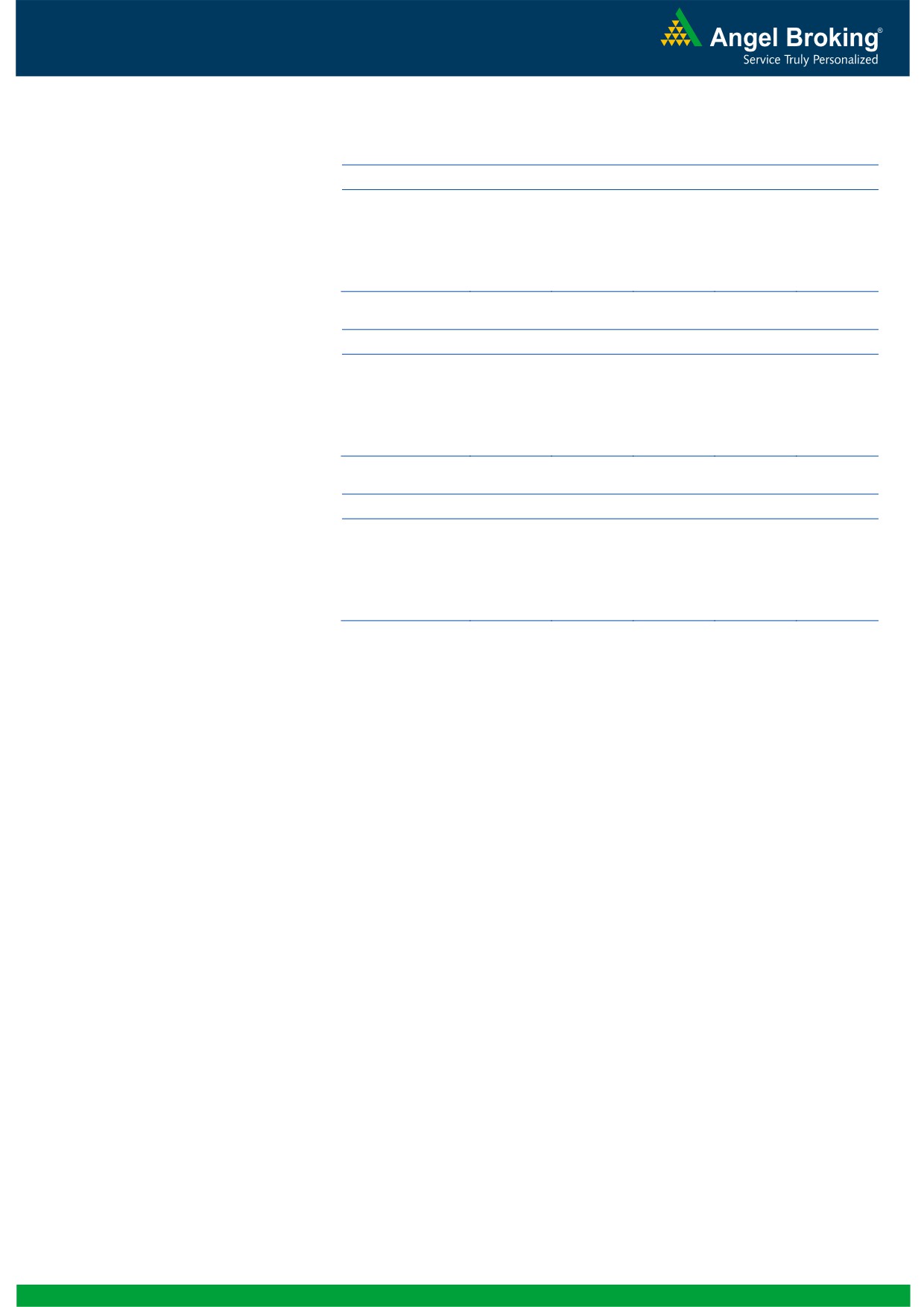 Quarterly Bloomberg Brokers Consensus Estimate
Crompton Greaves Ltd - February 2, 2016
Cummins India Ltd - February 2, 2016
DLF Ltd - February 2, 2016
Economic and Political News

ATF prices cut by sharp 12%, non-subsidised LPG to cost less

Industry to uncover its best at Auto Expo 2016
2016 to be a challenging year for Asian corporates: Moody's

Vedanta to ramp up aluminium SEZ capacity from next fiscal

New Banks may Get 74% FDI from Start

Ramdev Hits Out at Global FMCG Cos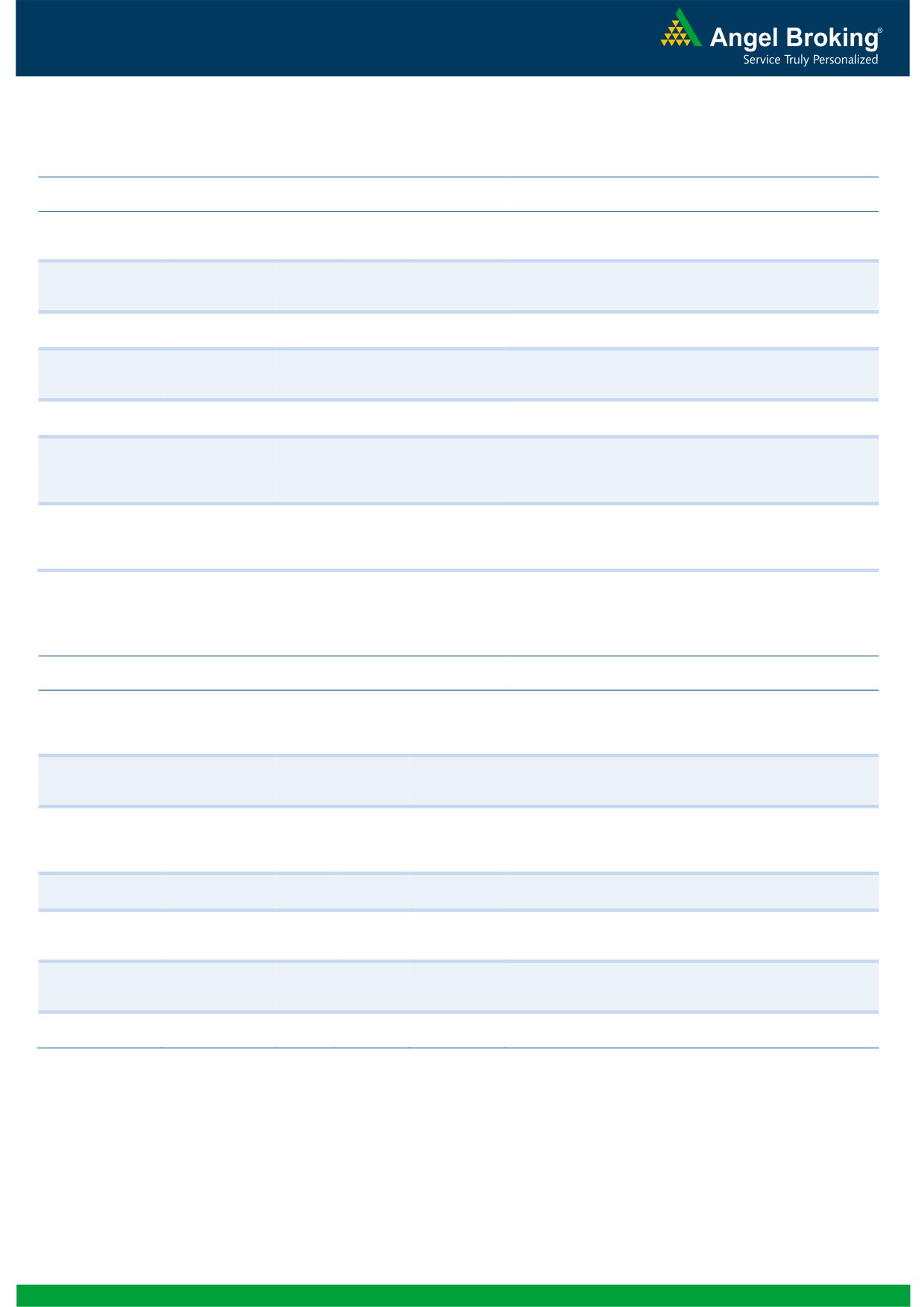 To outpace battery industry growth due to better technological
products leading to market share gains in both the automotive
OEM and replacement segments.
Earnings to grow strongly given the MHCV cyclical upturn.
Focus on exports and LCV's provides additional growth
The stock is trading at attractive valuations and is factoring all
Strong visibility for a robust 20% earnings trajectory, coupled
with high quality of earnings on account of high quality retail
business and strategic focus on highly rated corporates.
Back on the growth trend, expect a long term growth of 14%
to be a US$20bn in FY2020.
Well positioned to benefit from such expected gradual
recovery in the overall domestic capex cycle, given its presence
across various infrastructure segments, its execution
capabilities, and its strong balance sheet.
LICHF continues to grow its retail loan book at a healthy pace
with improvement in asset quality. We expect the company to
post a healthy loan book which is likely to reflect in a strong
Source: Company, Angel Research
Favourable outlook for the AC industry to augur well for
Cooling products business which is out pacing the market
growth. EMPPAC division's profitability to improve once
operating environment turns around.
Change in business focus towards high-margin chronic &
lifestyle segments and increasing penetration in Europe and
Economic recovery to have favourable impact on advertising &
circulation revenue growth. Further, the acquisition of a radio
business (Radio City) would also boost the company's revenue
Massive capacity expansion along with rail advantage at ICD
as well CFS augurs well for the company
Earnings boost on back of stable material prices and
favourable pricing environment. Valuation discount to peers
provides additional comfort
Strong brands and distribution network would boost growth
going ahead. Stock currently trades at an inexpensive
Structural shift in the Lighting industry towards LED lighting will
Source: Company, Angel Research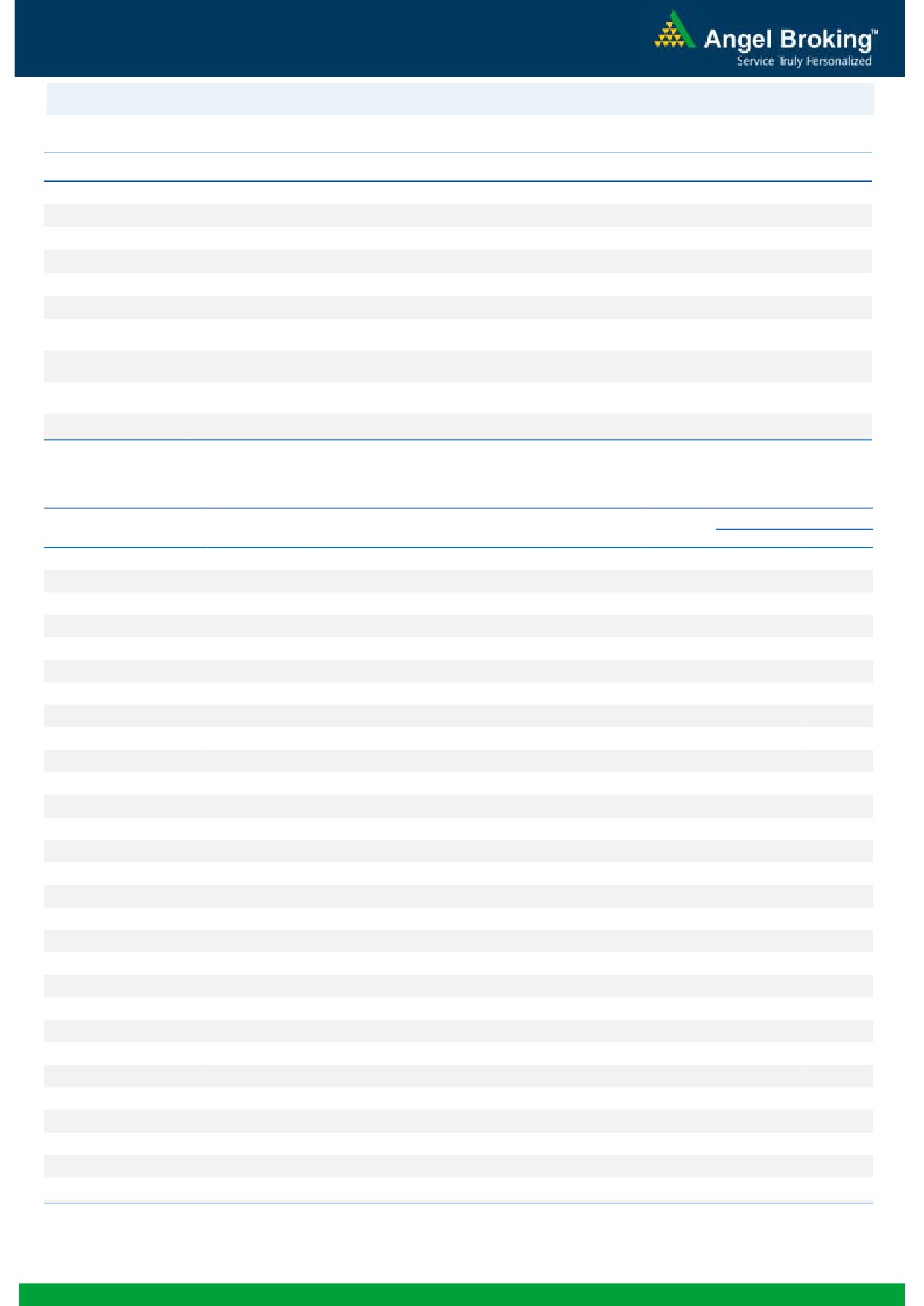 Amara Raja Batteries, Cummins India, Crompton Greaves, HSIL, DLF
Mangalam Cement, Hexaware, IOC, The Byke Hospitality
Bajaj Auto, ABB, J K Lakshmi Cements, Mphasis, Tata Steel, GSPL, Styrolution, Visaka Industries, Aventis, MT Educare
Bosch India, Vijaya Bank, Goodyear, Lupin, Cadila Healthcare, Divi's Lab., Tata Power Co., PTC India, Radico Khaitan
Prakash Industries, TVS Srichakra
JK Tyre, GlaxoSmith Con, Hitachi, Sterling Tools, Ipca labs
Motherson Sumi, Apollo Tyres, Ramco Cements, Allahabad Bank, Britannia, SAIL, Hindalco, MOIL, GAIL, Petronet
LNG, Dr Reddy's, Aurobindo Pharma, CESC
Tata Chemicals, Tata Global, Automotive Axle, Ambuja Cements, ACC, India Cements, Rural Elec.Corp., Bank of
Maharashtra, Bajaj Electrical, Finolex Cables, GSK Pharma, NHPC
Tata Motors, Ashok Leyland, BHEL, BGR Energy , Indian Bank, ONGC, Indraprasth Gas, Page Industries, GIPCL,
Coffee Day Enterprises Ltd
M&M, FAG Bearings, Nestle, BPCL, HPCL, Sun Pharma
Source: Bloomberg, Angel Research
Global economic events release calendar
Unemployment change (000's)
Change in Nonfarm payrolls
Industrial Production (YoY)
Industrial Production YoY
Monthly Wholesale Prices YoY%
Producer Price Index (mom)
Consumer Price Index (YoY)
Consumer price index (mom)
Euro-Zone Consumer Confidence
Source: Bloomberg, Angel Research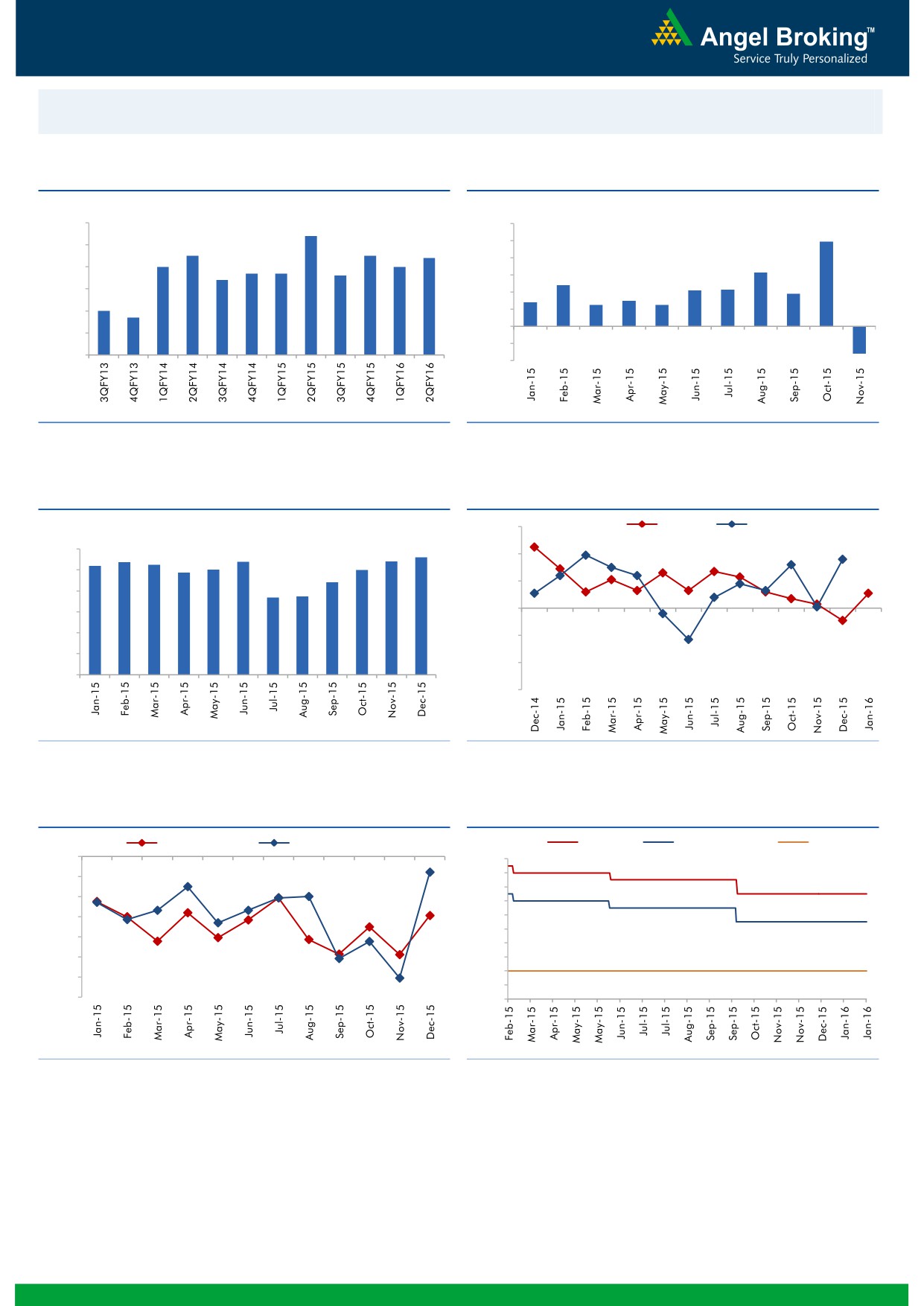 Exhibit 1: Quarterly GDP trends
Source: CSO, Angel Research
Source: MOSPI, Angel Research
Exhibit 3: Monthly CPI inflation trends
Exhibit 4: Manufacturing and services PMI
Source: MOSPI, Angel Research
Source: Market, Angel Research; Note: Level above 50 indicates expansion
Exhibit 5: Exports and imports growth trends
Exhibit 6: Key policy rates
Source: Bloomberg, Angel Research
Source: RBI, Angel Research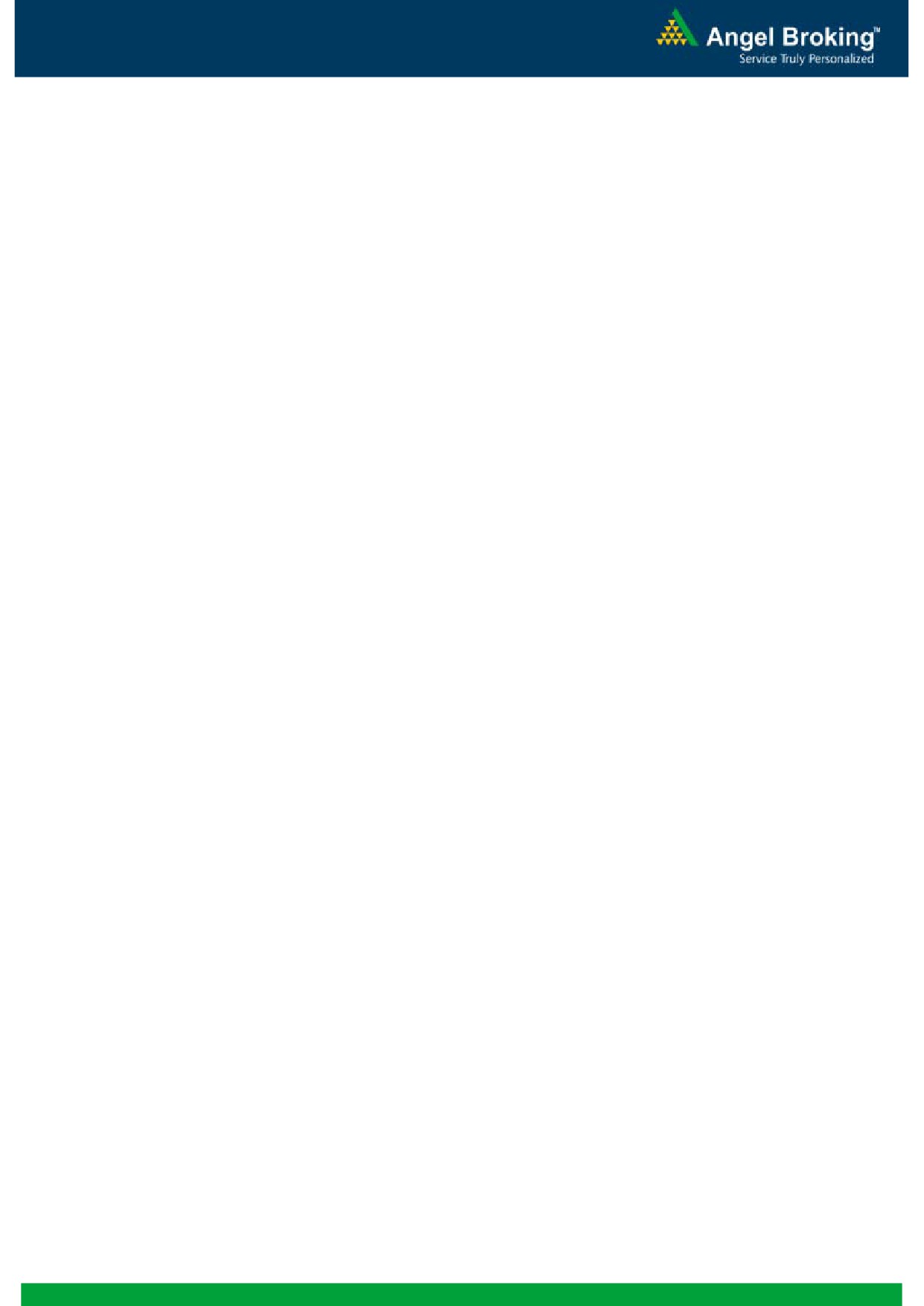 Research Team Tel: 022 - 39357800
Angel Broking Private Limited (hereinafter referred to as "Angel") is a registered Member of National Stock Exchange of India Limited,
Bombay Stock Exchange Limited and Metropolitian Stock Exchange of India Limited. It is also registered as a Depository Participant with
CDSL and Portfolio Manager with SEBI. It also has registration with AMFI as a Mutual Fund Distributor. Angel Broking Private Limited is a
registered entity with SEBI for Research Analyst in terms of SEBI (Research Analyst) Regulations, 2014 vide registration number
INH000000164. Angel or its associates has not been debarred/ suspended by SEBI or any other regulatory authority for accessing
/dealing in securities Market. Angel or its associates including its relatives/analyst do not hold any financial interest/beneficial ownership
of more than 1% in the company covered by Analyst. Angel or its associates/analyst has not received any compensation / managed or co
-managed public offering of securities of the company covered by Analyst during the past twelve months. Angel/analyst has not served as
an officer, director or employee of company covered by Analyst and has not been engaged in market making activity of the company
This document is solely for the personal information of the recipient, and must not be singularly used as the basis of any investment
decision. Nothing in this document should be construed as investment or financial advice. Each recipient of this document should make
such investigations as they deem necessary to arrive at an independent evaluation of an investment in the securities of the companies
referred to in this document (including the merits and risks involved), and should consult their own advisors to determine the merits and
risks of such an investment.
Reports based on technical and derivative analysis center on studying charts of a stock's price movement, outstanding positions and
trading volume, as opposed to focusing on a company's fundamentals and, as such, may not match with a report on a company's
The information in this document has been printed on the basis of publicly available information, internal data and other reliable sources
believed to be true, but we do not represent that it is accurate or complete and it should not be relied on as such, as this document is for
general guidance only. Angel Broking Pvt. Limited or any of its affiliates/ group companies shall not be in any way responsible for any
loss or damage that may arise to any person from any inadvertent error in the information contained in this report. Angel Broking Pvt.
Limited has not independently verified all the information contained within this document. Accordingly, we cannot testify, nor make any
representation or warranty, express or implied, to the accuracy, contents or data contained within this document. While Angel Broking
Pvt. Limited endeavors to update on a reasonable basis the information discussed in this material, there may be regulatory, compliance,
or other reasons that prevent us from doing so.
This document is being supplied to you solely for your information, and its contents, information or data may not be reproduced,
redistributed or passed on, directly or indirectly.
Neither Angel Broking Pvt. Limited, nor its directors, employees or affiliates shall be liable for any loss or damage that may arise from or
in connection with the use of this information.
Note: Please refer to the important 'Stock Holding Disclosure' report on the Angel website (Research Section). Also, please refer to the
latest update on respective stocks for the disclosure status in respect of those stocks. Angel Broking Pvt. Limited and its affiliates may have
investment positions in the stocks recommended in this report.