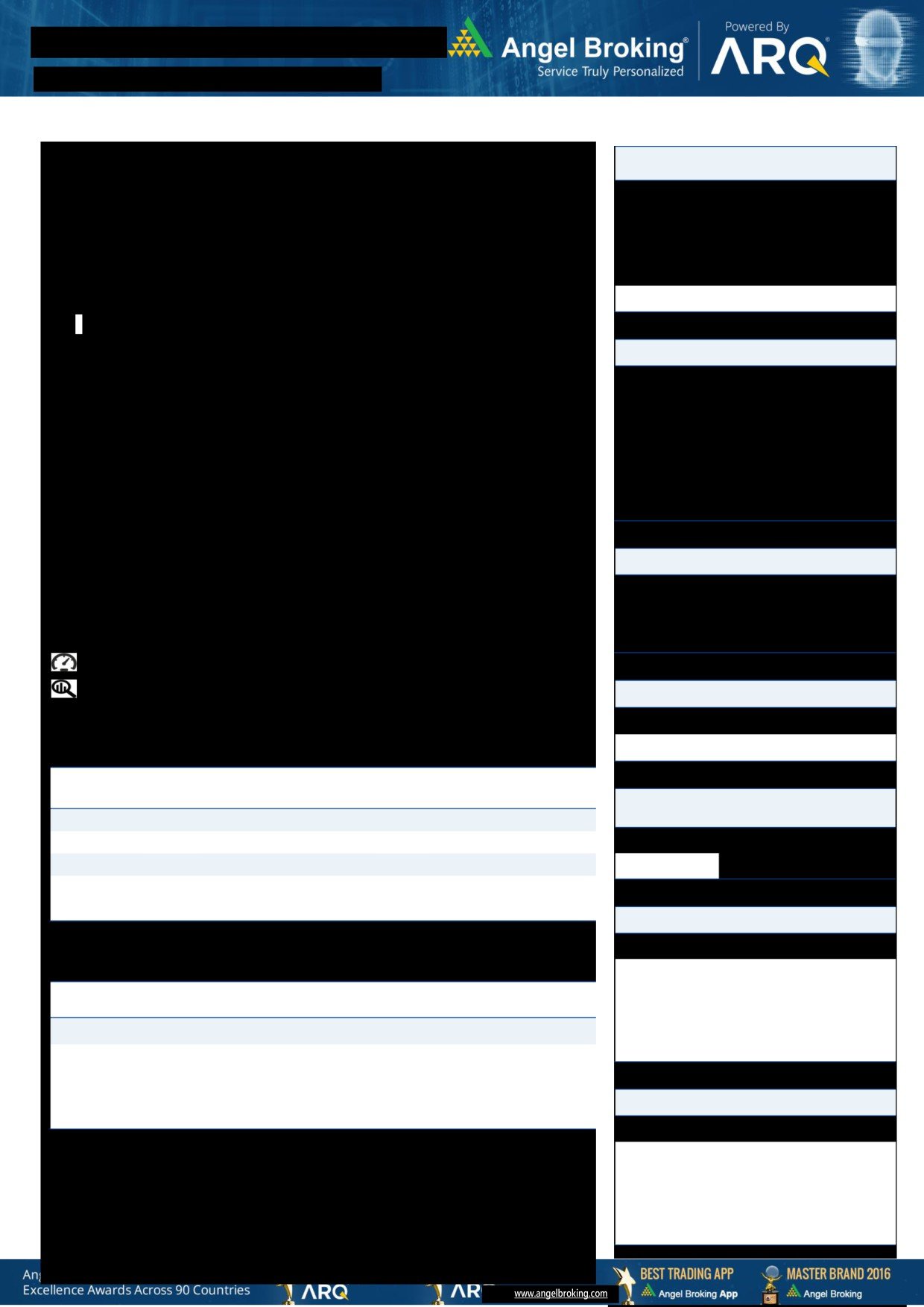 Indian markets are likely to open negative tracking global indices and SGX Nifty.
US stocks remain mostly negative in mid-day trading on Tuesday following the
downward move seen earlier in the session. Selling pressure has remained
somewhat subdued, however, limiting the downside for the major averages. The
Dow is down 0.2 percent at 26,679 and the Nasdaq is down 0.7 percent at 7,949.
U.K. stocks fell on Tuesday after the United States slapped sanctions on Tehran and
the Iranian government said the measures spell the "permanent closure" for
diplomacy between the two nations. The FTSE 100 was down by 0.2 percent to
On domestic front, Indian rose notably on Tuesday to snap a two-day losing streak,
as oil prices edged lower on concerns over declining crude demand and the rupee
held firm on the back of broad weakness in the dollar in the global
currency markets. The benchmark BSE Sensex was up by 0.8 percent to 39,434.

NCLT approves okays Dhanuka Laboratories' resolution plan for Orchid Pharma
Investor's Ready Reckoner
Key Domestic & Global Indicators
Stock Watch: Latest investment recommendations on 150+ stocks
TU Central Bank Inflation Report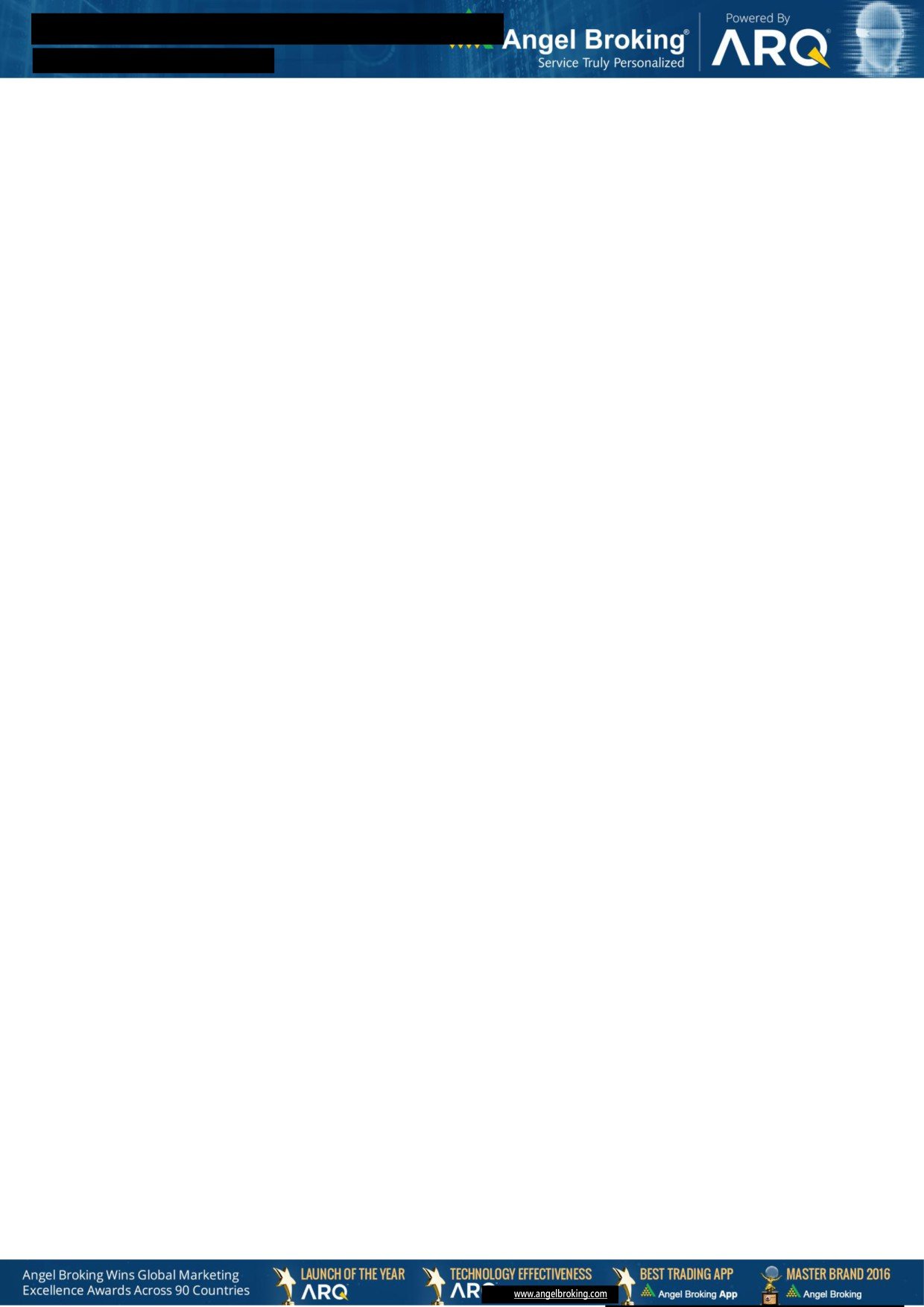 NCLT approves okays Dhanuka Laboratories' resolution plan
The National Company Law Tribunal (NCLT), Chennai Bench, has approved the
tribunal rejected the application filed by
Accord Life
Spec, another resolution
applicant. Creditors would get Rs 1,116 crore, including the Rs 570 crore quoted
crore. The earlier resolution plan by Ingen, which was approved by the
NCLT i
n
the first attempt, was for a total of Rs 1,490 crore. The selection of a prospective
plan by the committee of creditors (CoC) had met with trouble with one of the
seeking to change its e-voting to dissent before the voting period was over.
Dhanuka's reolution plan, which initially got 67.07 per cent votes against the
regulatory requirement of 66 per cent, would have gone down to 65.53 per cent if
the change was considered. It would thus fall short of the regulatory requirement.
The
NCLT
bench, comprising B S V Prakash Kumar, member (juducial), and S
Bank (
International) has sent an email, it has not placed any grievance before
the
NCLT.
Simply sending an email against the voting need not be taken into
consideration, it added. Around 1,400 employees are making their livelihood from
the company, and if there is no solution, the immediate effect will be on the
employees. Besides, if the company is revived and generates revenue, it will also
be beneficial to the state, observed the Bench.
Economic and Political News

Govt sets 1-yr deadline for e-commerce policy, says won't change FDI rules

Bank NPAs likely to drop to 8% by March 2020, says CRISIL report

Govt plans common platform for RERA of all states, UTs; move to help buyers

Centre resolves 615 infrastructure projects worth Rs 22.35 trillion

Madras HC dismisses Cognizant's plea over Rs 2,800 crore tax demand

IL&FS case: Court extends ED custody of two former officials by 3 days

L&T-Mindtree takeover battle: Subroto Bagchi may offload stake this week

SBI-led group of lenders approves Adani Power's bid for GMR Chhattisgarh

NCLT approves okays Dhanuka Laboratories' resolution plan for Orchid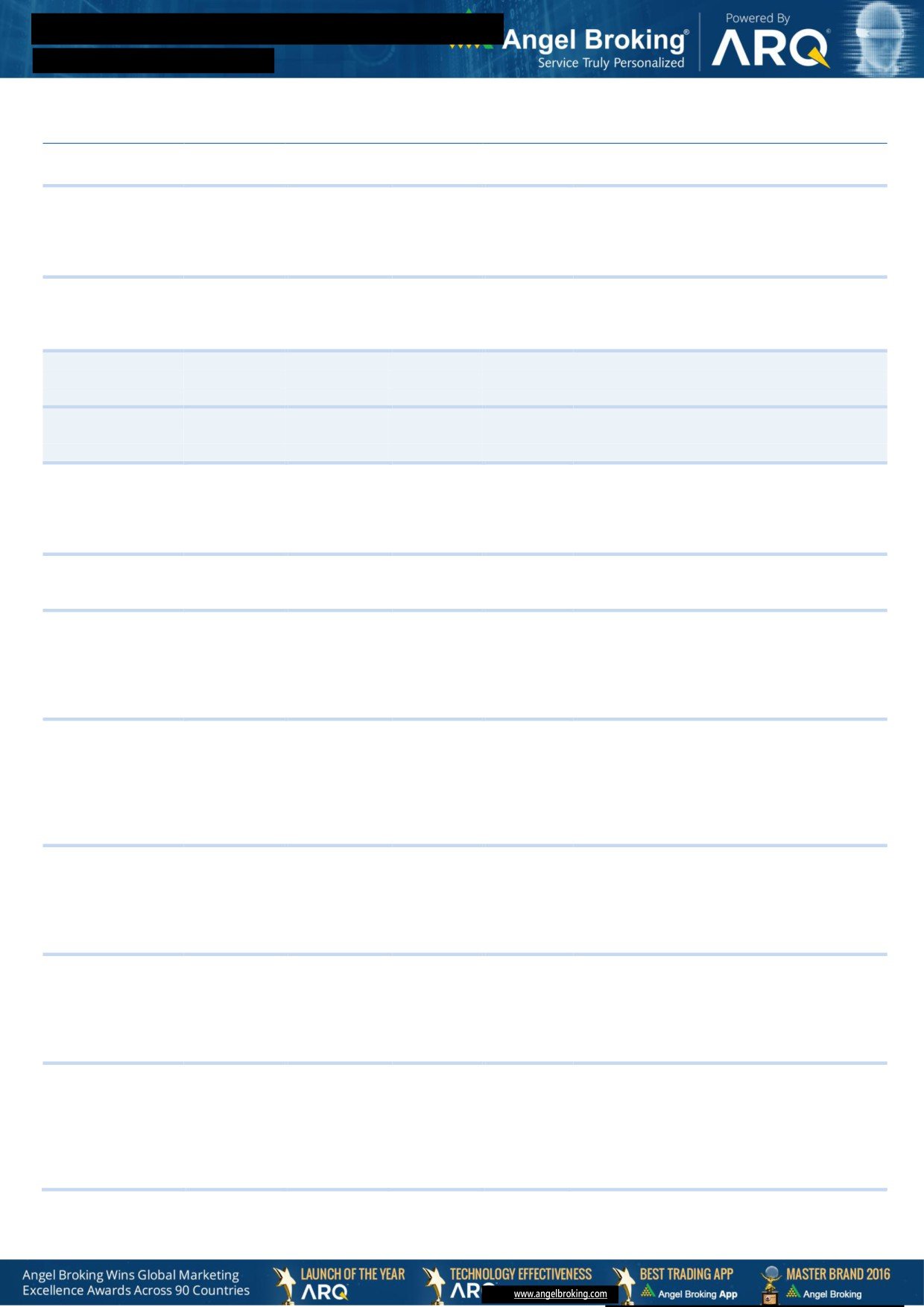 Favorable outlook for the AC industry to augur
well for Cooling products business which is out
pacing the market growth. EMPPAC division's
environment turns around.
Well capitalized with CAR of 18.1% which gives
sufficient room to grow asset base. Faster
resolution of NPA would reduce provision cost,
which would help to report better ROE.
High order book execution in EPC segment, rising
B2C sales and higher exports to boost the
revenues and profitability
GST regime and the Gujarat plant are expected to
improve the company's sales volume and margins,
Third largest brand play in luggage segment
Increased product offerings and improving
distribution network is leading to strong growth in
business. Likely to post robust growth for next 3-4
We expect financialisation of savings and
increasing penetration in Insurance & Mutual fund
would ensure steady growth.
One of the leading Indian dairy products
companies in India created strong brands in dairy
products. Rising revenue share of high-margin
Value Added Products and reduction in interest
cost is likely to boost margins and earnings in next
HDFC Bank maintained its steady growth in the
4QFY18. The bank's net profit grew by
Steady growth in interest income and other
income aided PAT growth. The Strong liability
franchise and healthy capitalisation provides
strong earning visibility. At the current market
price, the bank is trading at 3.2x FY20E ABV.
We expect strong PAT growth on back of healthy
growth in automobile segment (on back of new
launches and facelifts in some of the model ) and
strong growth in Tractors segment coupled by its
strong brand recall and improvement in rural
Market leader in the room air conditioner (RAC)
outsourced manufacturing space in India with a
market share of 55.4%. It is a one-stop solutions
provider for the major brands in the RAC industry
and currently serves eight out of the 10 top RAC
BIL is the largest footwear retailer in India, offering
footwear, accessories and bags across brands. We
expect BIL to report net PAT CAGR of ~16% to
~`3115cr over FY2018-20E mainly due to new
product launches, higher number of stores
addition and focus on women's high growth
segment and margin improvement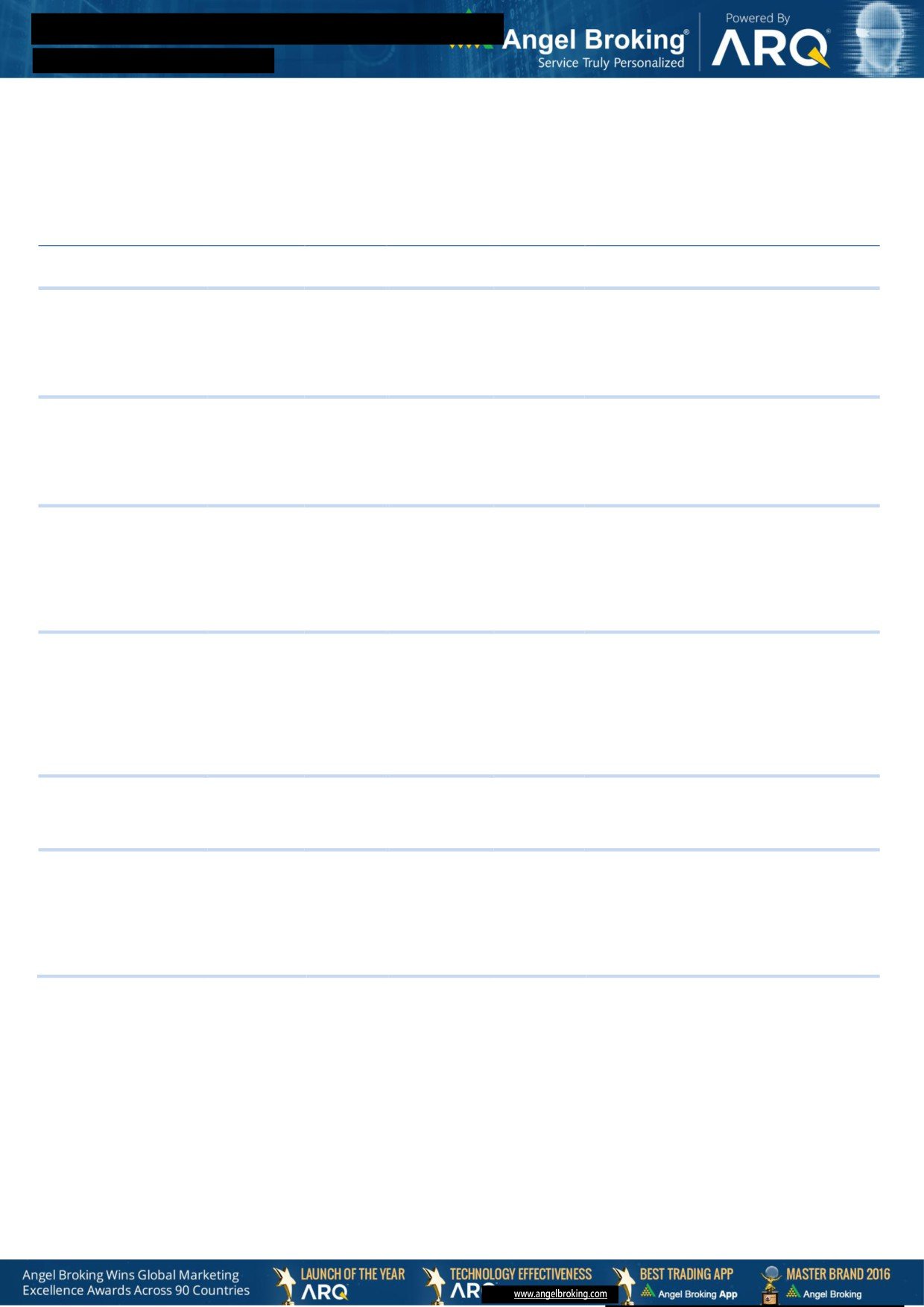 SHTF is in the sweet spot with benefits from
stronger CV volumes, NIMs unaffected by
Shriram Transport Finance
rising bond yields on the back of stronger
pricing power and an enhancing ROE by
750bps over FY18-20E, supported by decline in
We expect JSPL's top line to grow at 27%
CAGR over FY19-FY20 on the back of strong
steel demand and capacity addition. On the
Jindal Steel & Power Limited
bottom line front, we expect JSPL to turn in to
profit by FY19 on back of strong operating
GMM Pfaudler Limited (GMM) is the Indian
market leader in glass-lined (GL) steel
equipment. GMM is expected to cross CAGR
15%+ in revenue over the next few years
mainly led by uptick in demand from user
industries and it is also expecting to increase
its share of non-GL business to 50% by 2020.
Aurobindo Pharmaceuticals, amongst the
Indian Pharmaceutical companies, is well
placed to face the challenging generic markets,
given its focus on achieving growth through
Aurobindo Pharmaceuticals
productivity. Aurobindo will report net revenue
& net profit CAGR of ~13% & ~8% resp.
during FY2018-20E. Valuations are cheap V/s
its peers and own fair multiples of 17-18x.
We believe advance to grow at a healthy CAGR
of 35% over FY18-20E. Below peers level ROA
(1.2% FY18) to expand led by margin
expansion and lower credit cost.
TTK Prestige has emerged as one of the
leading brands in kitchen appliances in India
after its successful transformation from a single
product company to offering an entire gamut
of home and kitchen appliances. We are
expecting a CAGR of 18% in revenue and 25%
Source: Company, Angel Research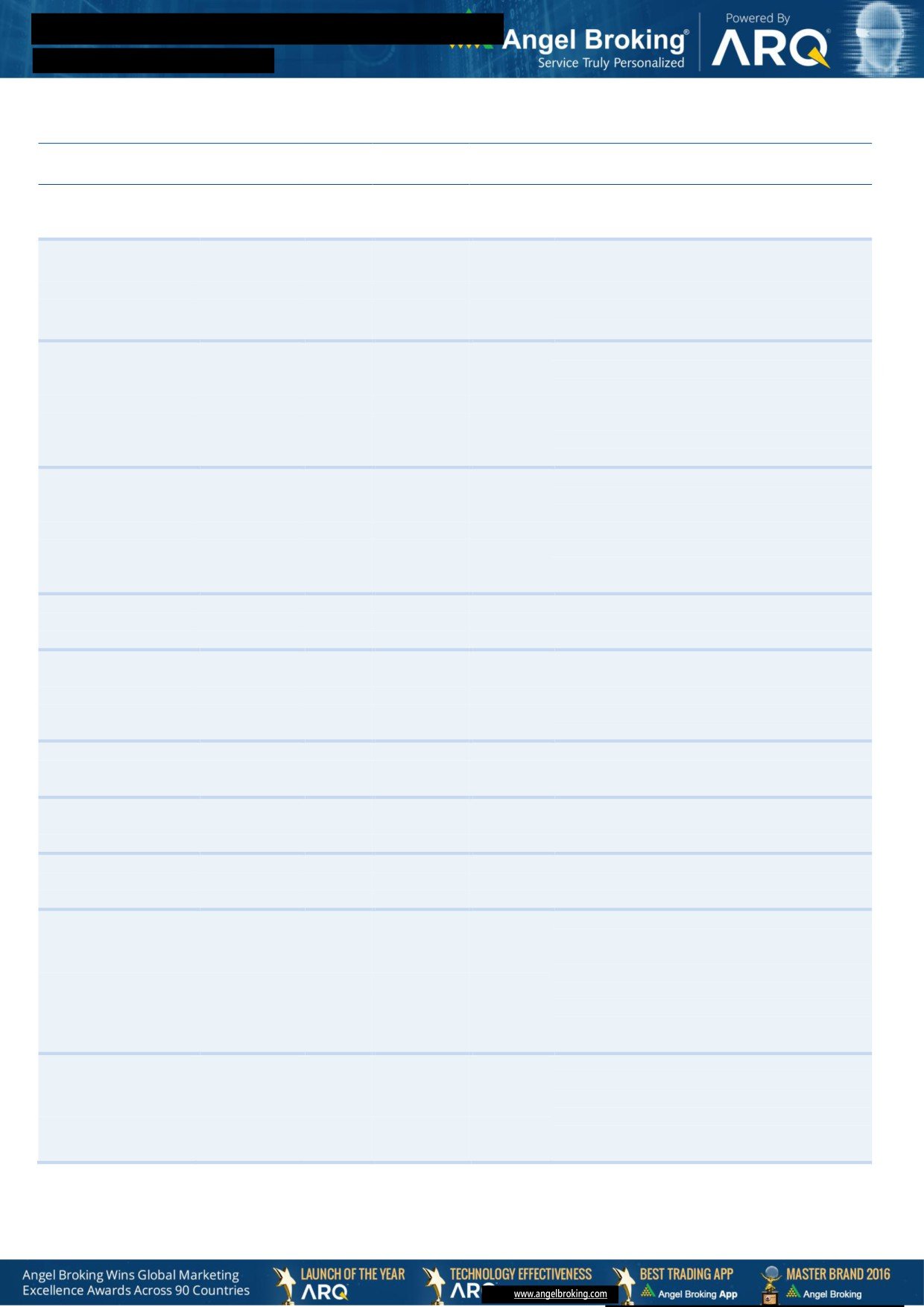 CCL is likely to maintain the strong growth
trajectory over FY18-20 backed by capacity
expansion and new geographical foray
We forecast Nilkamal to report top-line CAGR of
~9% to
`
2,635cr over FY17-20E on the back of
healthy demand growth in plastic division. On the
bottom-line front, we estimate ~10% CAGR to
`
162cr owing to improvement in volumes.
Elantas Beck India is the Indian market leader in
liquid insulation segment used in electrical
equipments like motors, transformers etc. It derives
demand from several industries which are expected
to register 10%+ CAGR in demand in the coming
years. We can book out from the stock with 16%
Greenply Industries Ltd (GIL) manufactures
plywood & allied products and medium density
fibreboards (MDF). GIL to report net revenue CAGR
of ~14% to ~`2,478cr over FY2017-20E mainly due
to healthy growth in plywood & lamination
business on the back of strong brand and
L&T Fin's new management is on track to achieve
ROE of 18% by 2020 and recent capital infusion of
`3000cr would support advance growth.
Well planned strategy to grow small business loans
and cross-selling would propel fees income. We
expect YES to grow its advance much higher than
industry and improvement in asset quality to
We expect loan book to grow at 24.3% over next
two year; change in borrowing mix will help in NIM
Strong brands and distribution network would
boost growth going ahead. Stock currently trades
at an inexpensive valuation.
Expected to benefit from the lower capex
requirement and 15 year long radio broadcast
We expect Inox Wind to report exponential growth
in top-line and bottom-line over FY19-20E. The
growth would be led by changing renewable
energy industry dynamics in favor of wind energy
segment viz. changes in auction regime from Feed-
In-Tariff (FIT) to reverse auction regime and
Government's guidance for 10GW auction in FY19
Considering the strong CV demand due to change
in BS-VI emission norms (will trigger pre-buying
activities), pick up in construction activities and no
significant impact on industry due to recent axle
load norms, we recommend BUY on Ashok Leyland