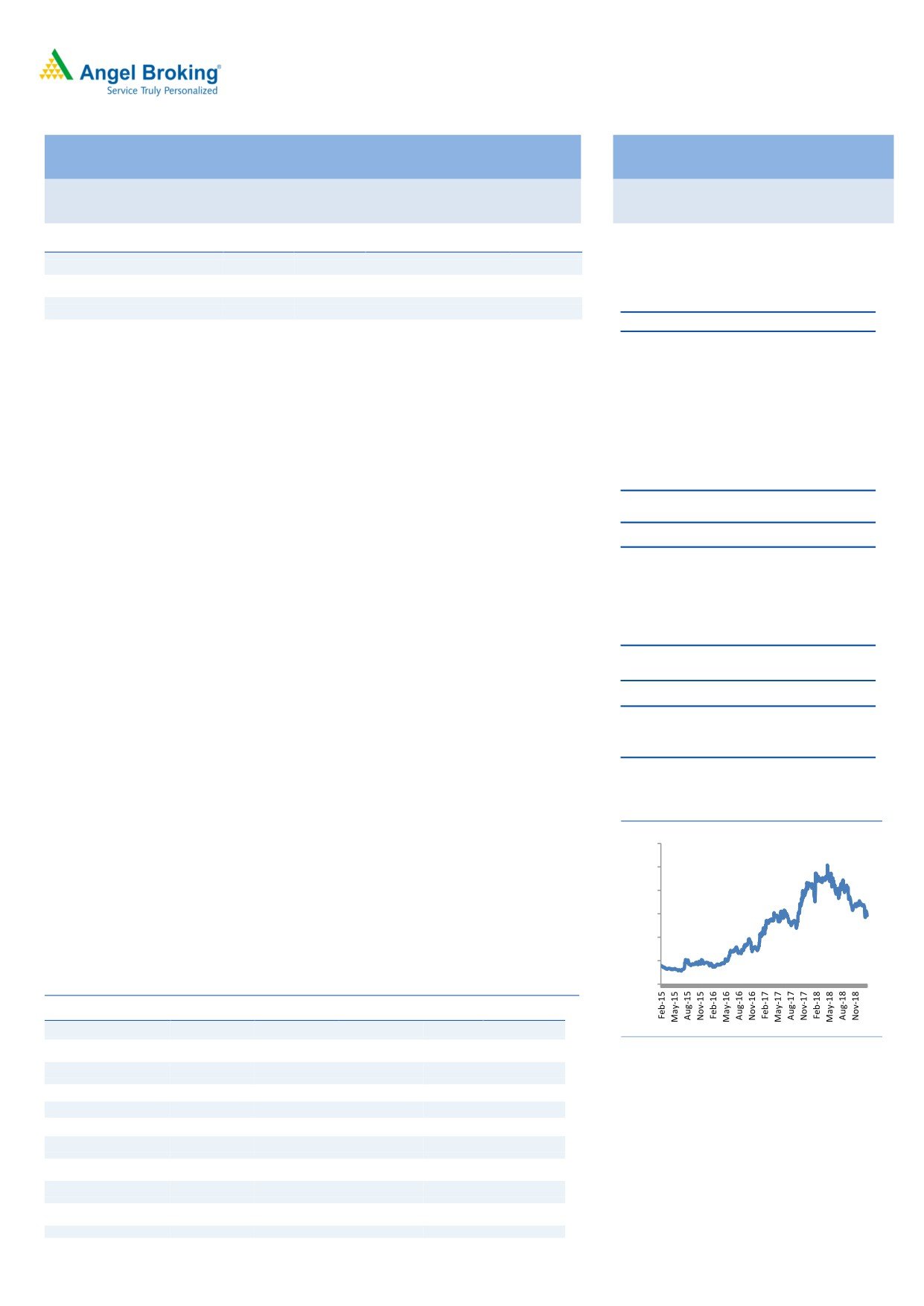 Lumax Industries |3QFY2019 Result Update
In Q3 FY19, Lumax Industry Ltd. (LIL) has reported 16% growth on Y-o-Y basis on
revenue front to
`
431 Cr as compare to
`
371 Cr in Q3FY18 largely on account of
value growth. Growth in revenue is encouraging owing to flattish growth in sales by
PAT has grown by 15% on Y-o-Y basis post adjustment of exceptional gain (one
`
36.20 Cr.) to
`
19.67 Cr as against
`
17.1 Cr in same quarter last year.
Operating margin has been remain flat to 8.8% in Q3FY19 as against 8.89% in
During the quarter LIL has added four new models in its portfolio such as Ertiga,
WagonR, Jawa and Marrazo we expect this will be key revenue driver for LIL in
coming quarter as launch of new model initially capture market share.
LED contribution to improve margin: Share of LED is remain same in the quarter
under review against previous quarter however it has improved from 8% in FY17 to
35% in Q3FY19 but at same level compare to Q2FY19, However LIL enjoys 80%
market share in LED lightning in CV segment, current penetration of LED in CV is
very low and management expect it to improve going forward as major OEM's like
Ashok Leyland, Bharat Benz and Tatamotors are coming up with LED lightening in
3 Years Performance charts
Outlook and Valuation: Our long term bet on LIL is positive and we expect LIL to
grow above the industry growth going forward. At the CMP of
`
1461 stock is
available at 13X of FY20E EPS of
`
116. Recent correction in stock price provide
good entry opportunity for investment. We maintain our BUY recommendation for
target price of
`
2150 with potential upside of 47%.
Exhibit 1: Key Financials
Source: Capitaline Angel Research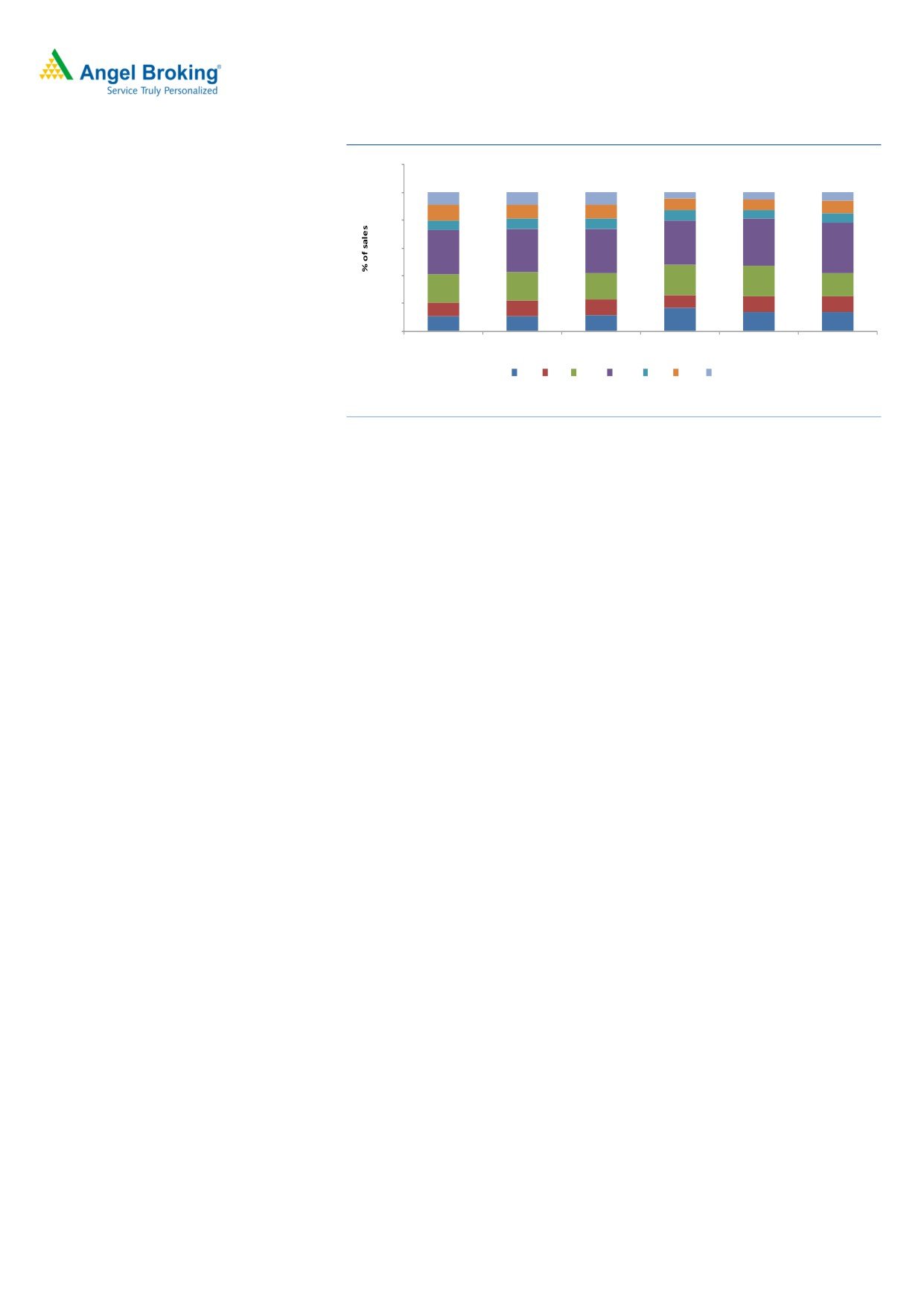 Lumax Industries |3QFY2019 Result Update
HMSI HML Others Maruti TATA M&M HCIL
Source: Company, Angel Research
Q3FY2019 Key highlights of results and con call

LIL has reported robust growth of 16% in revenue from
`
371Cr. in FYQ3FY18
to
`
431Cr in Q3FY19 despite subdued growth in OEM business under the
quarter review. Growth was mainly attributed to 14-15% growth in value of

During the quarter LIL has made exceptional gain on
`
36.2Cr by selling land

Management expects similar kind of profit from associate by end of FY19;

Total capex for FY19 is guided around
`
80 Cr of which
`
66 is already been
done and for FY20 expect capex to be around
`
100-150 Cr. against
technological upgrade, R&D and brownfield expansion. At current level overall
Management expects localization of LED component to bring down to 50% by
FY20 from 65% currently which will help to improve operating margin.
Our long term bet on LIL is bullish and expect LIL to grow above the industry growth
going forward owing to increasing penetration of LED lights. At the CMP of
`
1461
stock is available at 13X of FY20E EPS of
`
116. We maintain our BUY recommendation
for target price of
`
2150 with potential upside of 47%.

Downside risk to target revenue and net income is slower than expected adoption
of LED lamp by OEM's and higher content of import raw material respectively.

Upside risk to target revenue is faster growth in PV and 2W segments.
Lumax Industries |3QFY2019 Result Update
Long Term Loans & Advances
Source: Company, Angel Research
Change in Working Capital
Interest / Dividend (Net)
Cash Flow from Operations
(Inc.)/ Dec. in Fixed Assets
(Inc.)/ Dec. in Investments
Source: Company, Angel Research Lumax Industries |3QFY2019 Result Update
Research Team Tel: 022 - 39357800
Angel Broking Limited (hereinafter referred to as "Angel") is a registered Member of National Stock Exchange of India Limited, Bombay Stock
Exchange Limited, Metropolitan Stock Exchange Limited, Multi Commodity Exchange of India Ltd and National Commodity & Derivatives
Exchange Ltd It is also registered as a Depository Participant with CDSL and Portfolio Manager and Investment Adviser with SEBI. It also has
registration with AMFI as a Mutual Fund Distributor. Angel Broking Limited is a registered entity with SEBI for Research Analyst in terms of SEBI
(Research Analyst) Regulations, 2014 vide registration number INH000000164. Angel or its associates has not been debarred/ suspended by
SEBI or any other regulatory authority for accessing /dealing in securities Market. Angel or its associates/analyst has not received any
compensation / managed or co-managed public offering of securities of the company covered by Analyst during the past twelve months.
This document is solely for the personal information of the recipient, and must not be singularly used as the basis of any investment decision.
Nothing in this document should be construed as investment or financial advice. Each recipient of this document should make such
investigations as they deem necessary to arrive at an independent evaluation of an investment in the securities of the companies referred to in
this document (including the merits and risks involved), and should consult their own advisors to determine the merits and risks of such an
Reports based on technical and derivative analysis center on studying charts of a stock's price movement, outstanding positions and trading
volume, as opposed to focusing on a company's fundamentals and, as such, may not match with a report on a company's fundamentals.
Investors are advised to refer the Fundamental and Technical Research Reports available on our website to evaluate the contrary view, if any
The information in this document has been printed on the basis of publicly available information, internal data and other reliable sources
believed to be true, but we do not represent that it is accurate or complete and it should not be relied on as such, as this document is for
general guidance only. Angel Broking Limited or any of its affiliates/ group companies shall not be in any way responsible for any loss or
damage that may arise to any person from any inadvertent error in the information contained in this report. Angel Broking Limited has not
independently verified all the information contained within this document. Accordingly, we cannot testify, nor make any representation or
warranty, express or implied, to the accuracy, contents or data contained within this document. While Angel Broking Limited endeavors to
update on a reasonable basis the information discussed in this material, there may be regulatory, compliance, or other reasons that prevent us
This document is being supplied to you solely for your information, and its contents, information or data may not be reproduced, redistributed
or passed on, directly or indirectly.
Neither Angel Broking Limited, nor its directors, employees or affiliates shall be liable for any loss or damage that may arise from or in
connection with the use of this information.
Disclosure of Interest Statement
1. Financial interest of
research analyst or Angel or his Associate or his relative
2. Ownership of 1% or more of the stock by
research analyst or Angel or associates or relatives
3. Served as an officer, director or employee of the company covered under Research
4. Broking relationship with company covered under Research