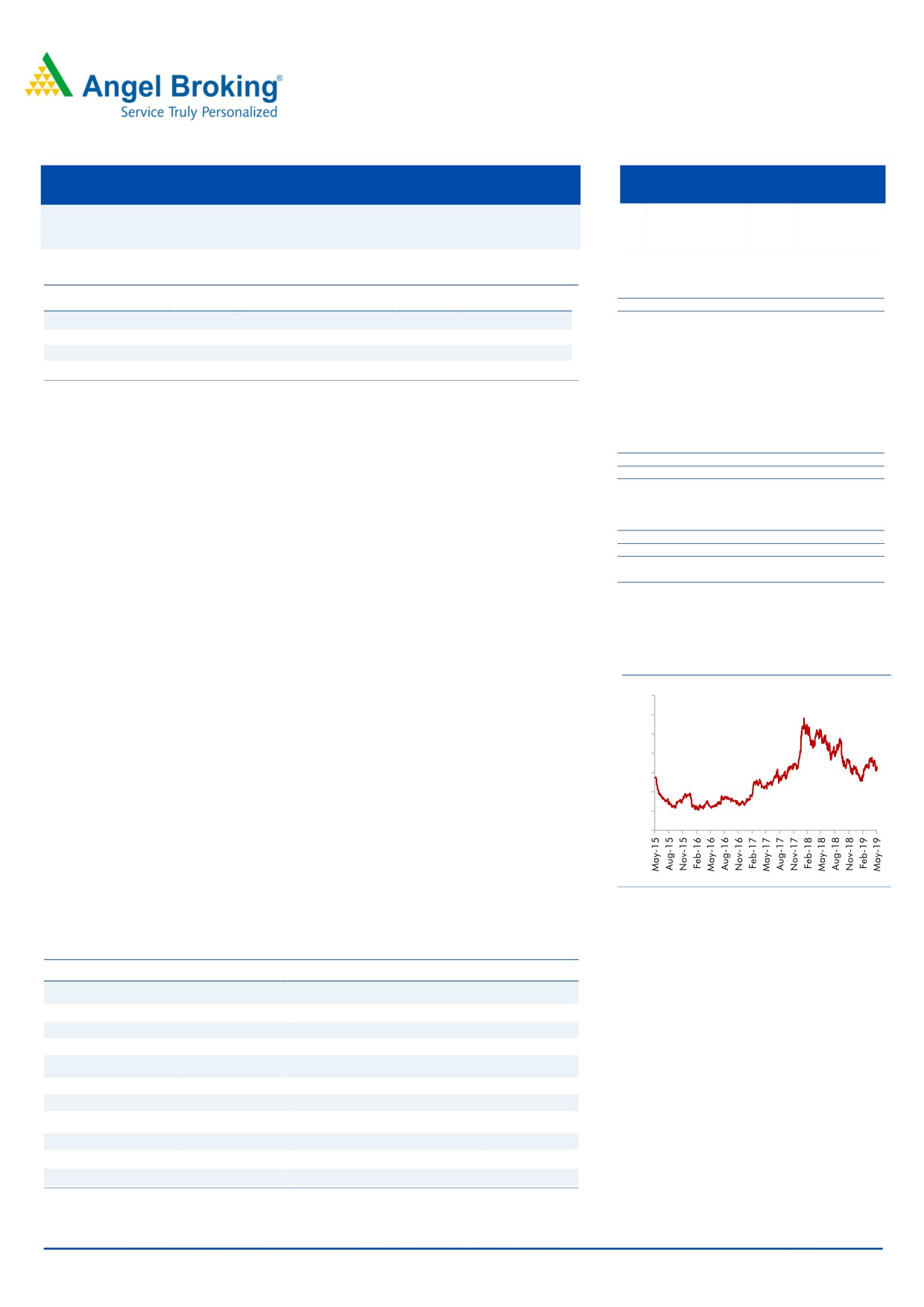 4QFY2019 Result Update | Steel & Power
Source: Company, Angel Research
For Q4FY2019, on consolidated basis, JSPL has reported 15% yoy growth to
`
10,026cr,
primarily on account of robust performance in domestic steel business and improved
realizations. However, during the quarter, raw material prices have increased
substantially resulting in reduction of operating margin by 750bps to 18.5%. Operating
profit has reduced by 17% yoy basis to
`
1,841cr. During the quarter, management has
charged various one-time adjustments like (a) depreciation includes impairment of
Australian mine due to downward revolution of asset worth
`
1260cr; (b) exceptional
item of
`
1,733cr includes write-off of coal levy charges, write-off of industrial incentive
and electricity duty benefits and shut down of Barbil Power plant, resulting in a loss of
`
2,714cr as against loss of
`
333cr in the corresponding quarter last year.
Going forward, we expect EBIDTA/tonne to sustain around
`
10,000/tonne owing to
stable global steel prices, increasing domestic consumption of steel, internal operational
efficiency on the back of further ramp-up of Angul plant.
JPL: During Q4FY2019, despite the low coal availability through e-auction, JPL as
registered a growth of 5% yoy to
`
999cr vs.
`
947cr in the corresponding quarter last
year. The company has generated 2,609 million units similar to that in corresponding
quarter last year, resulting in flattish operating profit at
`
267cr.
Outlook & Valuation: Given the ongoing global trade concerns, we expect steel prices to
remain volatile along with increasing iron ore prices due to Vale incidence. However, we
project that domestic demand will continue to remain positive for steel and power
sectors on long term basis, and expect JSPL to perform well in coming years along with
the ramp-up of Angul plant and realizations in steel segment. We also anticipate that
power segment will perform well on account of improving visibility of PPA (short and
long term) and various efforts by GoI for availability of fuel to power generators. We
maintain our Buy recommendation on JSPL with a Target Price of
`
250 with a potential
Source: Company, Angel Research
upside of 64% over a period of next 9-12 months.
Source: Company, Angel Research
Valuation done based on 23
nd
May, 2019 closing price
Please refer to important disclosures at the end of this report JSPL | 4QFY2019 Result Update
Exhibit 1:
4QFY2019 Performance
Purchase of Finished Goods
Purchase of Finished Goods
Exceptional Item (gain)/loss
Source: Company, Angel Research
JSPL
is part OP Jindal Group with presence in steel, power and mining sectors.
JSPL has capacity of 10.6 MTPA crude steel and 3,400MW of power generation
capacity through its subsidiary Jindal Power Limited (JPL).
JSPL operates the largest coal based sponge iron plant in the world and has an
installed capacity of 3 MTPA (million tonnes per annum) of steel at Raigarh in
Chhattisgarh. Moreover, it has set up a 0.6 MTPA wire rod mill and a 1 MTPA
capacity bar mill at Patratu, Jharkhand, a medium and light structural mill at
Raigarh, Chhattisgarh and a 2.5 MTPA steel melting shop and a plate mill to
produce up to 5 meter-wide plates at Angul, Odisha. In Oman (Middle East), the
company has a 2 MTPA integrated steel plant with a 1.5 MTPA gas-based Hot
Briquetted Iron (HBI) plant. JSPL | 4QFY2019 Result Update
JSPL has installed power capacity of 3,400MW through its wholly owned subsidiary
Jindal Power Limited (JPL). In FY2019, JPL had Power Purchase Agreement (PPA) of
1,020MW and it operates at 45-50% utilization.
Con-call highlights Q4FY2019
Management has guided for further debt reduction of
FY2020, of which
`
5,000cr would come from operations and remaining
`
3,000cr will come from Monetization of assets. FY2019 debt stood at
Expect EBIDTA/tone to improve by
`
1,000-1,500/tones due to operational
efficiency primarily on account of ramp-up in Angul plant.
Expect to receive USD150-200mn from disinvestment of African asset,
USD100mn from Iron ore mine in Africa and USD200-300mn from part
Depreciation of
`
5,480cr includes
`
1,260cr impairment cost of Australian
mine due to downward revolution of asset from AUD750mn to
Exceptional item includes
1) write-off of coal levy charges paid in
`
308cr against benefit promised by
Chhattisgarh government through industrial incentive
but later on the decision was withdrawn and 3)
`
71cr on account of shut
down of Barbil Power plant.
Total capex outlay for FY20 would be near
`
1,000cr.
Increase in finance cost due to rise in interest cost and interest pertaining
Management expects to participate in upcoming iron mine auction, which
may start very soon for arrangement of mines on account of expiry of
In Rail segment, JSPL is running at 85% utilization (0.7mn capacity) and
expects to increase the capacity to close to 1 million tonne. Rail segments
have seen higher realization of 20% on new orders as compared to
Expect 515MW of PPA from NHPC currently, JPL emerged as L1 bidder.
From April 2019, power segment has seen improvement in PLF and now
producing 1,700 megawatts, up from the average 1,400 megawatts, this
will lead improvement in PLF from 34% to 50%.
Management believes this can also improve further once NHPC
aggregation tender starts by October where JPL is L1 bidder.
In recent development, TANGEDCO will start paying its dues to JPL for the
In another development, TANGEDCO has started paying JPL dues, which
We value the stock on Asset based approach, valuing each segment's assets at
discount to its peer companies, while applying multiple to respective asset. We
arrive at the SOTP based target price of
`
250.
JSPL | 4QFY2019 Result Update
Exhibit 2: Asset Based SOTP Valuation
Consol Enterprise Value (A)
Equity Value ( F)= (D)-(E)
Value per share INR (F)/(G)
Source: Company, Angel Research
*Disinvestment announced in May 2016 by JSW Energy to acquire 1,000MW
(4X250) Tamnar Thermal Power Plant from JSPL.
Valuing Power segment by applying multiple of
`
4cr/MW at 12% discount to JSW
# Valuing the steel segment by applying multiple of
`
4,800cr/MTPA at 19%
discount to JSW Steel's EV/tonne of
`
5,907cr/MTPA.
Exhibit 3:
Peer
Asset
Valuation
Crude steel Capacity (MTPA)
Power Generation Capacity (MW)
Source: Company, Angel Research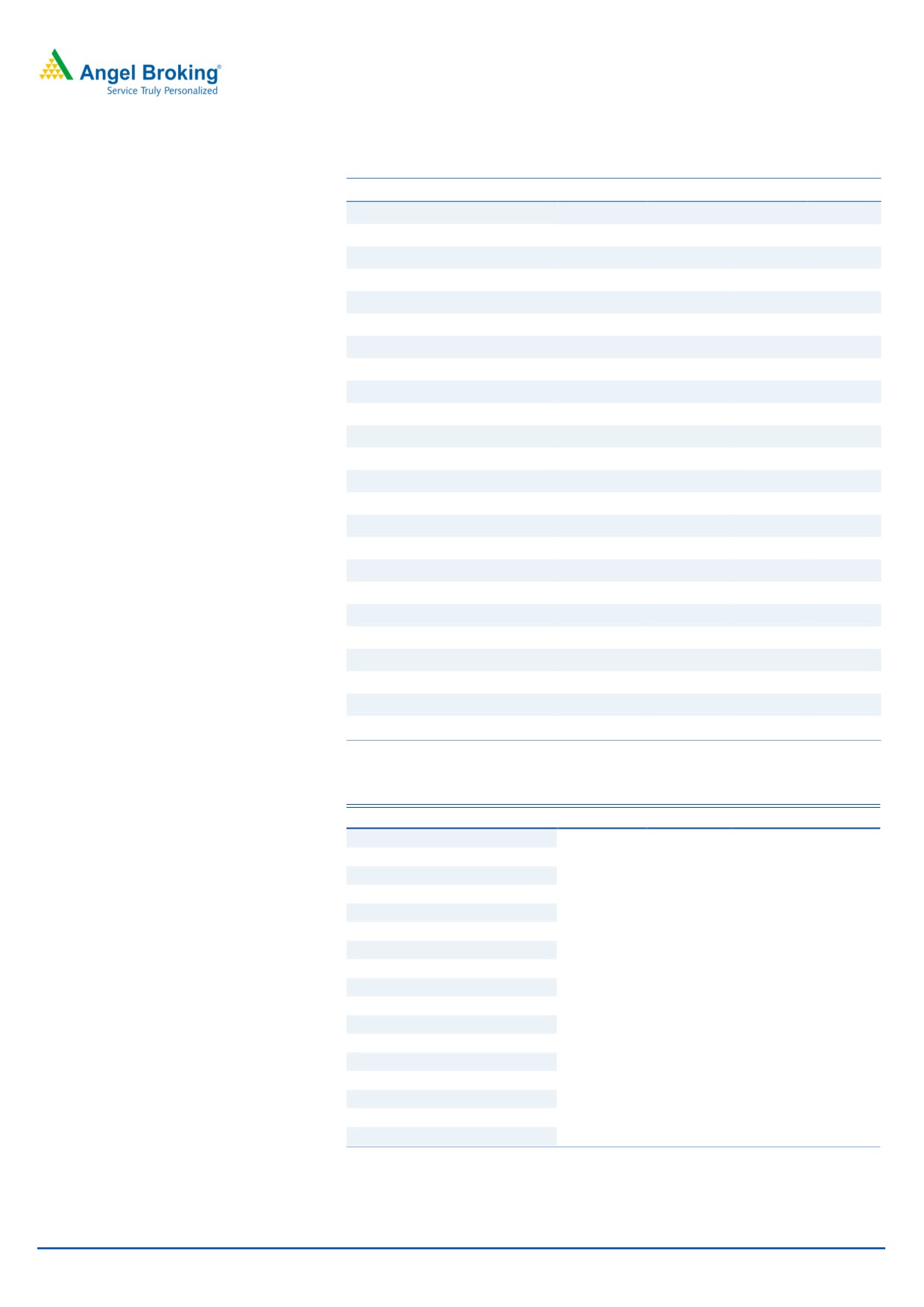 JSPL | 4QFY2019 Result Update
Long Term Loans & Advances
Source: Company, Angel Research
Change in Working Capital
Interest / Dividend (Net)
Cash Flow from Operations
(Inc.)/ Dec. in Fixed Assets
(Inc.)/ Dec. in Investments
Source: Company, Angel Research JSPL | 4QFY2019 Result Update
Research Team Tel: 022 - 39357800
Angel Broking Limited (hereinafter referred to as "Angel") is a registered Member of National Stock Exchange of India Limited, Bombay
Stock Exchange Limited, Metropolitan Stock Exchange Limited, Multi Commodity Exchange of India Ltd and National Commodity &
Derivatives Exchange Ltd It is also registered as a Depository Participant with CDSL and Portfolio Manager and Investment Adviser with
SEBI. It also has registration with AMFI as a Mutual Fund Distributor. Angel Broking Limited is a registered entity with SEBI for Research
Analyst in terms of SEBI (Research Analyst) Regulations, 2014 vide registration number INH000000164. Angel or its associates has not
been debarred/ suspended by SEBI or any other regulatory authority for accessing /dealing in securities Market. Angel or its
associates/analyst has not received any compensation / managed or co-managed public offering of securities of the company covered
by Analyst during the past twelve months.
This document is solely for the personal information of the recipient, and must not be singularly used as the basis of any investment
decision. Nothing in this document should be construed as investment or financial advice. Each recipient of this document should make
such investigations as they deem necessary to arrive at an independent evaluation of an investment in the securities of the companies
referred to in this document (including the merits and risks involved), and should consult their own advisors to determine the merits and
risks of such an investment.
Reports based on technical and derivative analysis center on studying charts of a stock's price movement, outstanding positions and
trading volume, as opposed to focusing on a company's fundamentals and, as such, may not match with a report on a company's
fundamentals. Investors are advised to refer the Fundamental and Technical Research Reports available on our website to evaluate the
The information in this document has been printed on the basis of publicly available information, internal data and other reliable
sources believed to be true, but we do not represent that it is accurate or complete and it should not be relied on as such, as this
document is for general guidance only. Angel Broking Limited or any of its affiliates/ group companies shall not be in any way
responsible for any loss or damage that may arise to any person from any inadvertent error in the information contained in this report.
Angel Broking Limited has not independently verified all the information contained within this document. Accordingly, we cannot testify,
nor make any representation or warranty, express or implied, to the accuracy, contents or data contained within this document. While
Angel Broking Limited endeavors to update on a reasonable basis the information discussed in this material, there may be regulatory,
compliance, or other reasons that prevent us from doing so.
This document is being supplied to you solely for your information, and its contents, information or data may not be reproduced,
redistributed or passed on, directly or indirectly.
Neither Angel Broking Limited, nor its directors, employees or affiliates shall be liable for any loss or damage that may arise from or in
connection with the use of this information.
Disclosure of Interest Statement
1. Financial interest of
research analyst or Angel or his Associate or his relative
2. Ownership of 1% or more of the stock by
research analyst or Angel or associates or
3. Served as an officer, director or employee of the company covered under Research
4. Broking relationship with company covered under Research