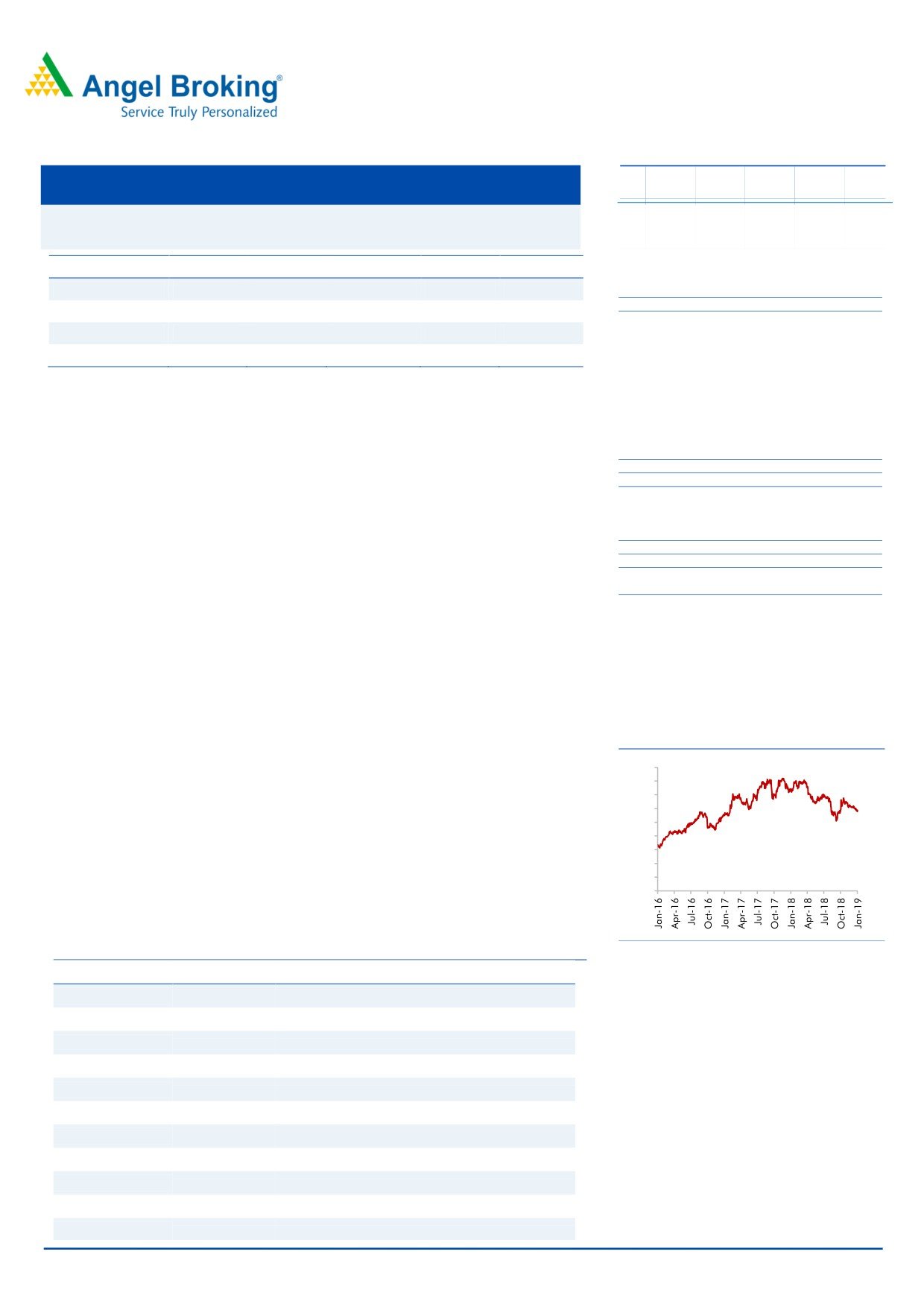 3QFY2019 Result Update | Cons. Durable
Source: Company, Angel Research
For 3QFY2019, Blue Star posted results below our expectations on the bottom-line front.
The company reported ~18% yoy top-line growth, whereas PAT was down ~70% yoy due
to losses in JV and higher interest cost.
Strong revenue growth across segments boosted top-line: The company's top-line grew
~18% yoy at
`
1,099cr on the back of strong performance in EMP business (up ~16% yoy)
driven by the increased pace of execution of projects, and a pick-up in the central air
conditioning business, especially chillers and VRF systems. Further, the revenue of Unitary
Products business increased by ~22% yoy due to strong growth in deep freezers and
storage water coolers in the commercial refrigeration business coupled with growth in the
air coolers and water purifiers businesses. Sales grew in the RAC segment by ~8% yoy, thus
increasing the market share to ~12.5%. Professional Electronics and Industrial Systems
business' revenue grew~16% yoy during the quarter.
Adj. PAT de-grew ~70% yoy: On the operating front, the company's margins contracted by
135bps yoy on the back of weak margin in the UCP segment due to increasing pricing
pressure and higher consumer financing cost. The bottom-line registered de-growth of
~70% yoy to
`
4cr on account of higher interest cost (
`
14.5cr) and losses in International
Outlook & Valuation: We forecast Blue Star to report top-line CAGR of ~12% to
`
5,871cr
over FY2018-20E on the back of healthy demand growth in Air Conditioning and Unitary
Products division. On the bottom-line front, we estimate ~17% CAGR to
`
198cr owing to
improvement in volumes and better operating margins. We maintain our Buy
recommendation on Blue Star with a Target Price of
`
867.
Source: Company, Angel Research
Please refer to important disclosures at the end of this report Blue Star Ltd | 2QFY2019 Result Update
Cooling Products division - the backbone of growth: Company is estimating more
than 20% growth (outperforming the market at 15-20% growth) in FY2019E in the
cooling products division. Further, considering the strong growth in last summer,
the market is expected to be further driven by the rise in demand over the coming
Newer products and strong demand to aid overall profitability: Blue Star is
planning to add two brand new models to its RAC product range in FY2019,
having four models currently. The company is planning to launch one high wall-
cordless split AC model around the same time. Moreover, increase in demand
from large government related infra projects like metro and some small segments
from hospitals and educational institutions will also boost sales.
Wide distribution network: Blue Star has a strong presence in the South and West
regions of India and is now planning to increase its presence in North. Hence, the
company has already increased its dealer count and is taking steps to improve per
dealer output in Northern region. Moreover, Bluster Silicones, an overseas
subsidiary of China National Bluster (Group) signed a distribution agreement with
Grasim Industries in India for its whole series of silicone products in an attempt to
expand its distribution network in India and increase its market share. Blue Star Ltd | 2QFY2019 Result Update
We forecast Blue Star to report top-line CAGR of ~12% to
`
5,871cr over FY2018-20E on
the back of healthy demand growth in Air Conditioning and Unitary Products division. On
the bottom-line front, we estimate ~17% CAGR to
`
198cr owing to improvement in volumes
and better operating margins. We maintain our Buy recommendation on Blue Star with a
Downside risks to our estimates

Any slowdown in consumer segments like IT/ITES, healthcare, hospitality and
infrastructure could impact the company's growth.

Foreign exchange fluctuations have a direct impact on the profit of the cooling
products division since commercial refrigerators are imported.

The RAC industry has been witnessing high traction and the company has
been able to outperform the industry over the past few years. Any unexpected
drop in performance of the RAC industry would pose a threat to our estimates.
Blue Star Limited is an air-conditioning and commercial refrigeration company.
The company conducts various activities, such as electrical, plumbing and fire-
fighting services. Its segments include Electro-Mechanical Projects and Packaged
Air Conditioning Systems, and Unitary Products. The Electro-Mechanical Projects
and Packaged Air-Conditioning Systems segment includes central air-conditioning
projects, electrical contracting business and packaged air-conditioning businesses,
including manufacturing and after sales service. The Unitary Products segment
includes cooling appliances, cold storage products, including manufacturing and
after sales service. The company's products include central air conditioning, room
air conditioners and speciality cooling products. Its other businesses include
marketing and maintenance of imported professional electronic equipment and
services, as well as industrial products and systems, which is handled by Blue Star
Engineering & Electronics. Blue Star Ltd | 2QFY2019 Result Update
Consolidated Cash flow Statement
Change in Working Capital
Interest / Dividend (Net)
Cash Flow from Operations
(Inc.)/ Dec. in Fixed Assets
(Inc.)/ Dec. in Investments
Dividend Paid (Incl. Tax)
Interest / Dividend (Net)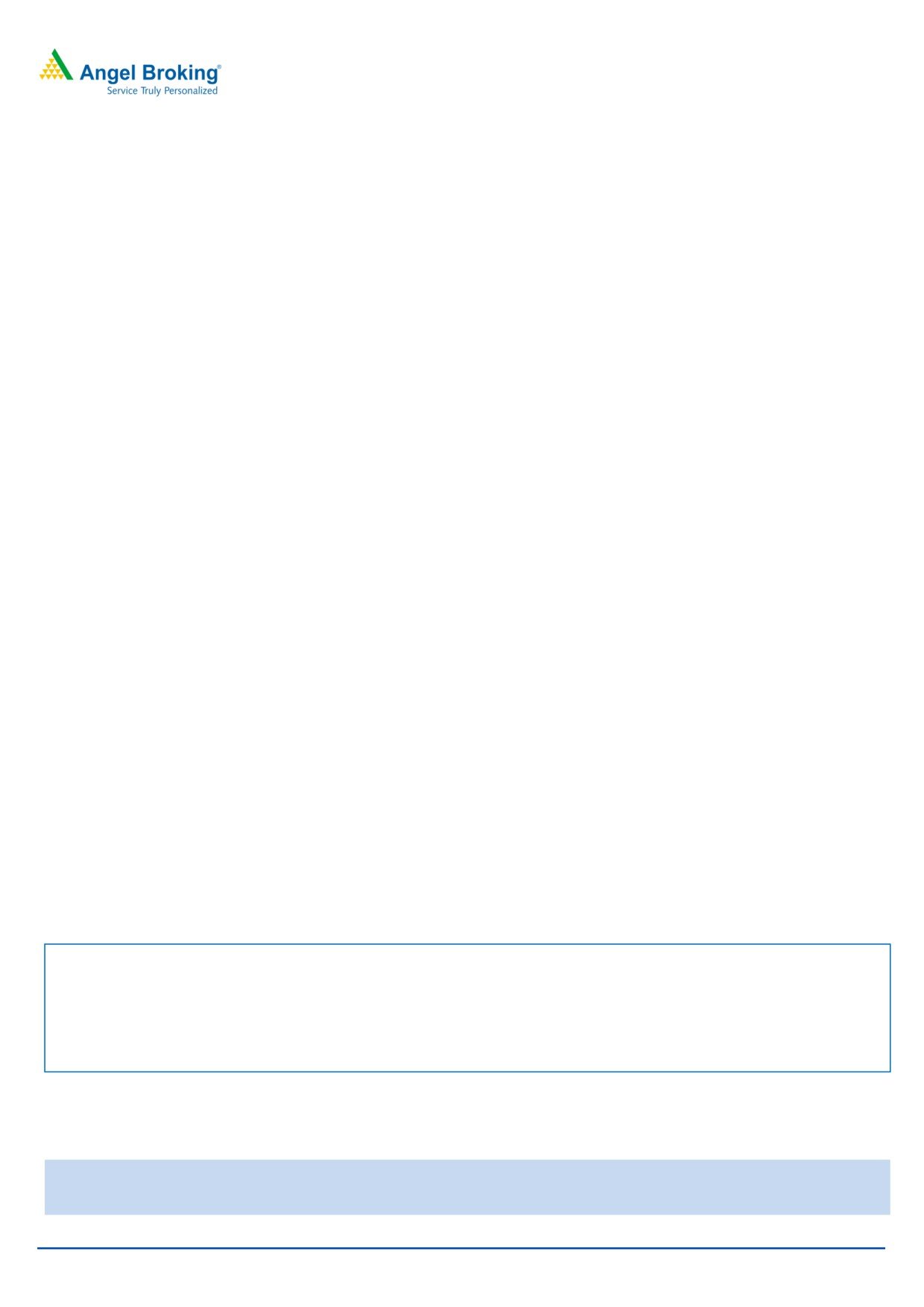 Blue Star Ltd | 2QFY2019 Result Update
Research Team Tel: 022 - 39357800
Angel Broking Limited (hereinafter referred to as "Angel") is a registered Member of National Stock Exchange of India Limited, Bombay
Stock Exchange Limited, Metropolitan Stock Exchange Limited, Multi Commodity Exchange of India Ltd and National Commodity &
Derivatives Exchange Ltd It is also registered as a Depository Participant with CDSL and Portfolio Manager and Investment Adviser with
SEBI. It also has registration with AMFI as a Mutual Fund Distributor. Angel Broking Limited is a registered entity with SEBI for Research
Analyst in terms of SEBI (Research Analyst) Regulations, 2014 vide registration number INH000000164. Angel or its associates has not
been debarred/ suspended by SEBI or any other regulatory authority for accessing /dealing in securities Market. Angel or its
associates/analyst has not received any compensation / managed or co-managed public offering of securities of the company covered
by Analyst during the past twelve months.
This document is solely for the personal information of the recipient, and must not be singularly used as the basis of any investment
decision. Nothing in this document should be construed as investment or financial advice. Each recipient of this document should make
such investigations as they deem necessary to arrive at an independent evaluation of an investment in the securities of the companies
referred to in this document (including the merits and risks involved), and should consult their own advisors to determine the merits and
risks of such an investment.
Reports based on technical and derivative analysis center on studying charts of a stock's price movement, outstanding positions and
trading volume, as opposed to focusing on a company's fundamentals and, as such, may not match with a report on a company's
fundamentals. Investors are advised to refer the Fundamental and Technical Research Reports available on our website to evaluate the
The information in this document has been printed on the basis of publicly available information, internal data and other reliable
sources believed to be true, but we do not represent that it is accurate or complete and it should not be relied on as such, as this
document is for general guidance only. Angel Broking Limited or any of its affiliates/ group companies shall not be in any way
responsible for any loss or damage that may arise to any person from any inadvertent error in the information contained in this report.
Angel Broking Limited has not independently verified all the information contained within this document. Accordingly, we cannot testify,
nor make any representation or warranty, express or implied, to the accuracy, contents or data contained within this document. While
Angel Broking Limited endeavors to update on a reasonable basis the information discussed in this material, there may be regulatory,
compliance, or other reasons that prevent us from doing so.
This document is being supplied to you solely for your information, and its contents, information or data may not be reproduced,
redistributed or passed on, directly or indirectly.
Neither Angel Broking Limited, nor its directors, employees or affiliates shall be liable for any loss or damage that may arise from or in
connection with the use of this information.
Disclosure of Interest Statement
1. Financial interest of research analyst or Angel or his Associate or his relative
2. Ownership of 1% or more of the stock by research analyst or Angel or associates or relatives
3. Served as an officer, director or employee of the company covered under Research
4. Broking relationship with company covered under Research
Note: We have not considered any Exposure below
`
1 lakh for Angel, its Group companies and Directors