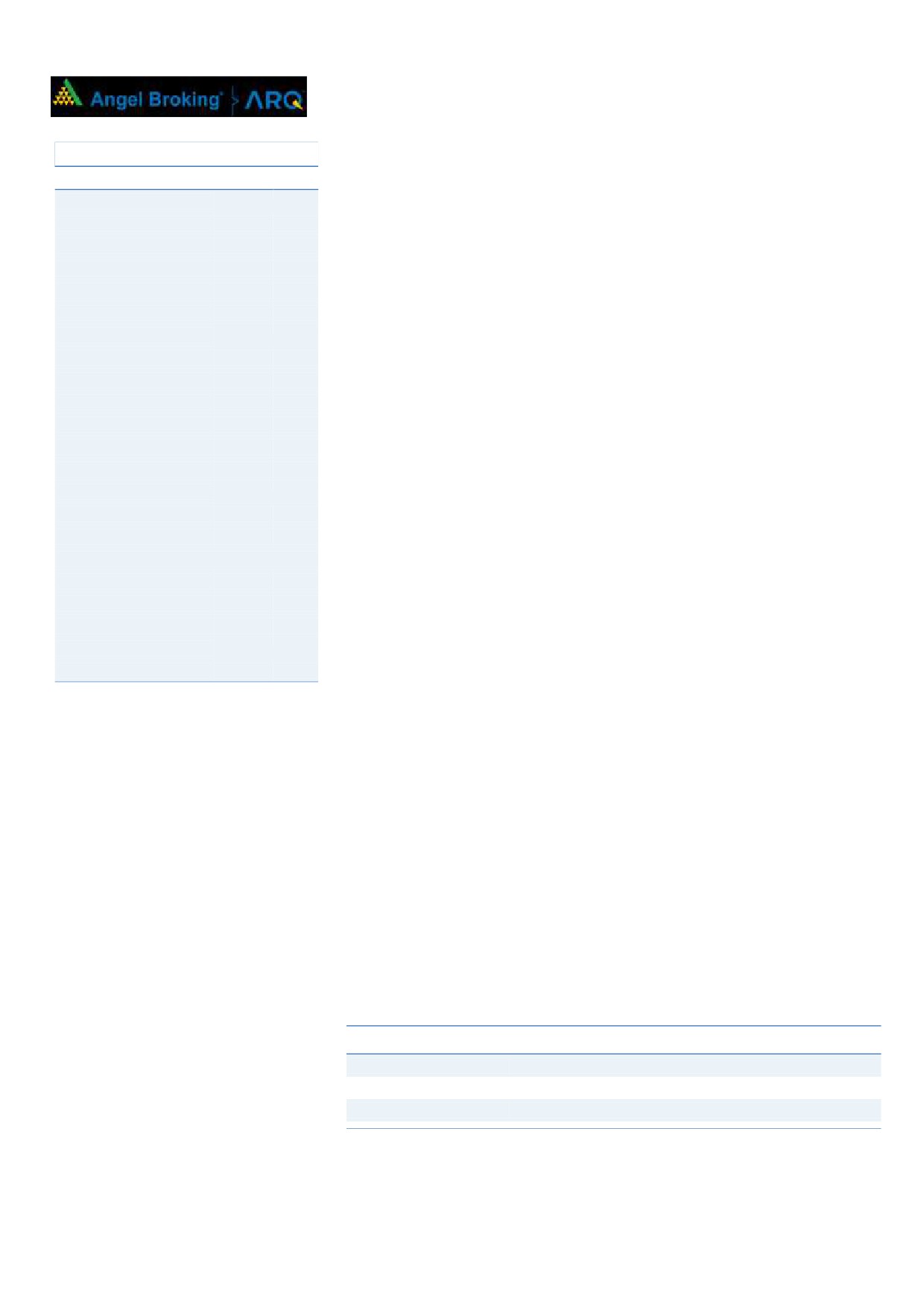 Angel Top Picks - August 2019
Indian stock market was down sharply during the month as the BSE 100 index was
down by 5.9% for the month of July. Post the sharp fall in the month of July
markets have now given up its entire gains for the calender year with the index up
by just 0.5% since the beginning of the year.
Taxation on FPI leads to FII outflow for the month - The Government in the
Union Budget proposed to increase surcharge on Individuals and trusts
earning more than ` 2 cr. and ` 5 cr. One of the unintentional consequence
Shriram Transport Finance
of the hike in surcharge is that FPI's who are registered as trusts in India will
now be required to pay higher taxes. As a result FII flows turned sharply
negative in July as they pulled out ` 12,419 cr. during the month as compared
to net inflows of ` 2,596 cr. in Jun'19. FII flows for calendar year 2019 now
Escalating US-China trade war added to volatility - The trade war between US
and China has escalated further with the US President proposing tariffs of 10%
on additional Chinese goods worth USD 300bn. The recent escalation in trade
war is expected to hurt global growth and is one of the biggest risk to both the
global and Indian economy.
Real Estate/Infra/Logistics/Power
Improving monsoon deficit and RBI rate cuts to help markets - Monsoon deficit
has now reduced to 9% at the end of July as compared to a deficit of over 30%
in end June. The deficit is likely to reduce significantly over the next few weeks
which bode well for the rural economy. The RBI is expected to announce a
25bps rate cut in the benchmark repo rate on the 7
th
of Aug'19. Given very
low inflation of ~3% we expect that the RBI will maintain it's accommodative
stance and indicate more rate cuts during the year which should reduce cost of
Note: CMP as of 31 July, 2019
borrowings for businesses and individuals over the next 6-9 months.
Macros suggests that worst is almost behind us - Rate cuts by the RBI,
Improving monsoon situation along with expected relief for FPI's from
additional surcharge should help in reversing the FII outflows going forward.
We believe that the worst is almost over for the markets and a firm bottom
should be in place in the immediate future.
We recommend our top picks as it has outperformed the benchmark BSE 100
significantly since inception. All of our top picks are backed by sound business
model and are likely to do well in coming years. We continue to remain
positive on consumer (both discretionary and non discretionary) space and
private sector banks (both corporate and retail).
Exhibit 1: Top Picks Performance
Return Since Inception (30th Oct, 2015)
Source: Company, Angel Research
Please refer to important disclosures at the end of this report
Angel Top Picks | August 2019

Aditya Birla Capital (ABCL) is one of the most diversified financial services
entities, with a presence in non-bank financing, asset management, housing
finance, insurance and advisory businesses.

ABFL (NBFC) business contributes highest value in our SOTP valuation. It has
recorded a strong CAGR of 32% over FY14-19. Despite aggressive growth in
lending and migration to 90dpd for NPA recognition, GNPA has remained at
~1%. Banka Tie up with HDFC bank has gaining traction which is visible in
improvement in VNB margin (FY18-4.5%, FY19-9.5%) and new business

We expect financialization of savings, increasing penetration in Insurance &
Mutual funds would ensure steady growth. Further, Banca tie-up with HDFC
Bank, DBS and LVB should restore insurance business.
Source: Company, Angel Research
Source: Company, Angel Research

Amber Enterprises India Ltd. (Amber) is the market leader in the room air
conditioners (RAC) outsourced manufacturing space in India. It is a one-stop
solutions provider for the major brands in the RAC industry and currently
serves eight out of the ten top RAC brands in India.

In line with its strategy to capture more wallet share, it has made 2 acquisitions
in the printed circuit board (PCB) manufacturing space over the last 1 year
which will boost its manufacturing capabilities.

We expect Amber to report consolidated revenue/PAT CAGR of 23%/41%
respectively over FY2018-20E. Its growing manufacturing capabilities and
scale put it in a sweet spot to capture the underpenetrated RAC market in
Source: Company, Angel Research
Source: Company, Angel Research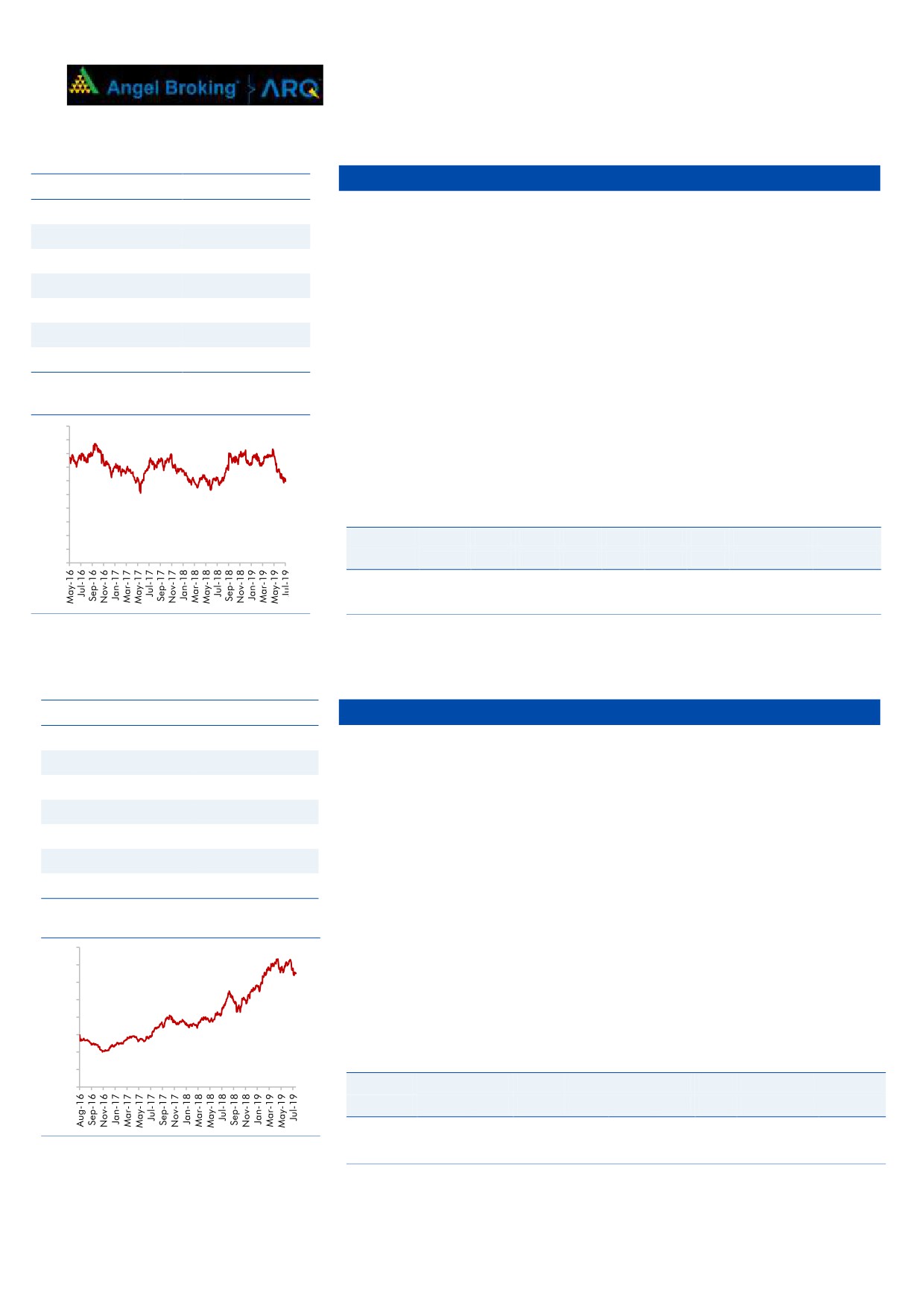 Angel Top Picks | August 2019

Aurobindo Pharmaceuticals is an India-based leading global generic
company. It's predominately formulations Export Company, with USA &
Europe contributing ~80% of sales (FY2018).

Recently it acquired dermatology and oral solids businesses from Sandoz Inc.,
USA. With this acquisition, Aurobindo adds sales of US$0.9bn and would
become the 2nd largest generic player in the US by number of prescriptions.

Aurobindo has a robust pipeline (has filed 519 ANDA's; second highest
amongst Indian companies) & is investing to enhance its foray into complex
generic (mainly injectables, ophthalmic etc.) & biosimilar, which will drive its

We expect Aurobindo to report net revenue CAGR of ~22% & net profit to
grow at ~19% CAGR during FY2018-20E, aided by acquisitions. Valuations of
the company are cheap V/s its peers and own fair multiples of 17-18x.
Source: Company, Angel Research
Source: Company, Angel Research

Bata India Ltd (BIL) is the largest footwear retailer in India, offering footwear,
accessories and bags across brands like Bata, Hush Puppies, Naturalizer,
Power, etc. BIL's ~70% revenue is derived from Men & Kids segment and
balance from women's segment. BIL has over 1,400 Bata retail stores across

Further, over the last 3 years, the company has added 135 stores (net
addition). Going forward, the company has plans to open 500 stores (already
identified 435 cities) mainly in tier-II and tier-III cities over the next 4-5 years.

We expect BIL to report net revenue CAGR of ~17% to ~`4,100cr over
FY2019-21E mainly due increasing brand consciousness amongst Indian
consumers, new product launches and focus on women's segment (high
growth segment). Further, on the bottom-line front, we expect CAGR of ~18%
`422cr over the same period on the back of margin improvement
(increasing premium product sales).
Source: Company, Angel Research
Source: Company, Angel Research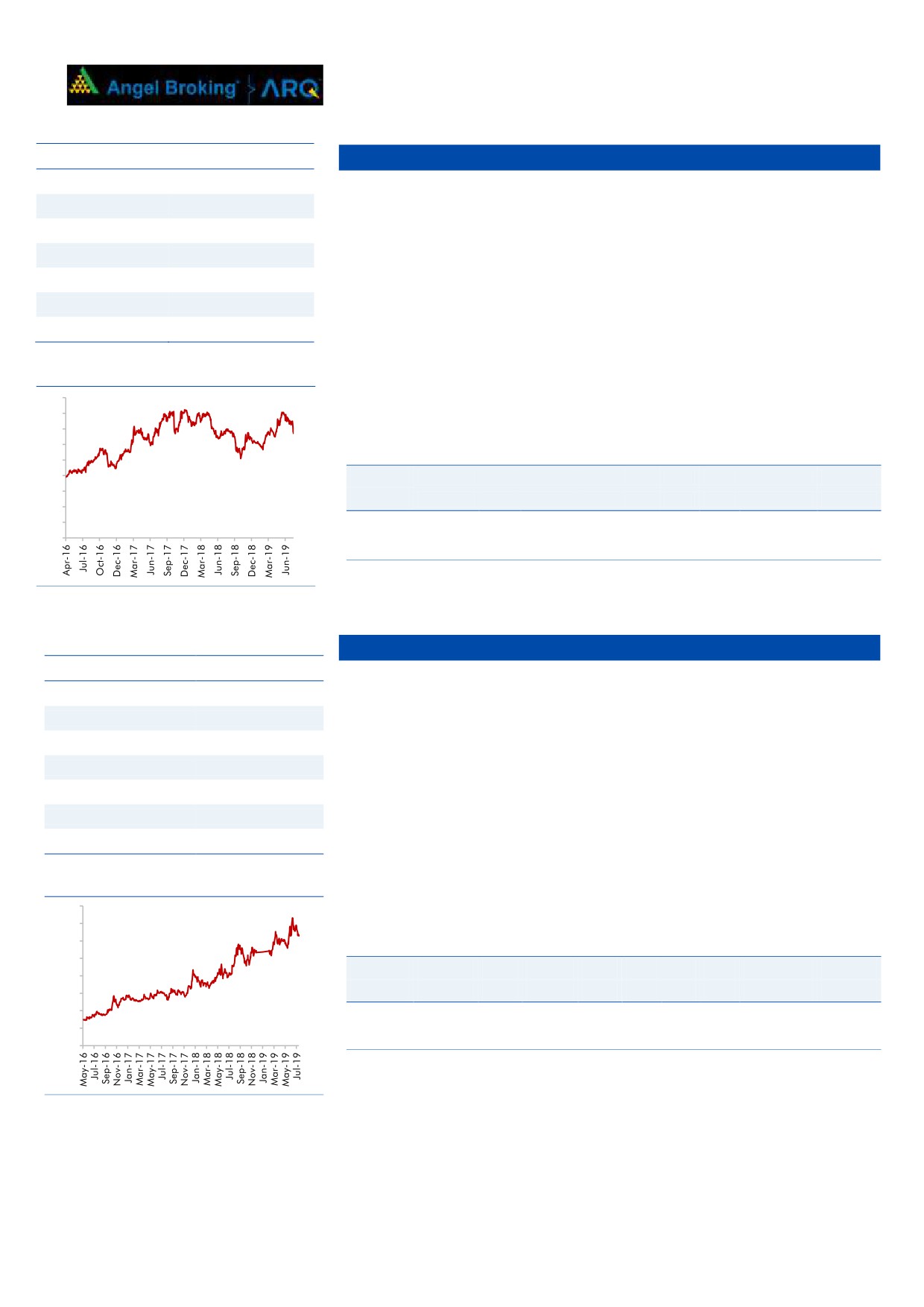 Angel Top Picks | August 2019

BSL is one of the largest air-conditioning companies in India. With a mere 3%
penetration level of ACs vs 25% in China, the overall outlook for the room air-
conditioner (RAC) market in India is favorable.

BSL's RAC business has been outgrowing the industry by ~10% points over the
last few quarters, resulting in the company consistently increasing its market
share. This has resulted in the Cooling Products Division (CPD)'s share in
overall revenues increasing from~23% in FY2010 to ~50% in FY2018
(expected to improve to ~50-55% in FY20E). With strong brand equity and
higher share in split ACs, we expect the CPD to continue to drive growth.

Going Aided by increasing contribution from the Unitary Products, we expect
the overall top-line to post revenue CAGR of ~13% over FY2018-20E and
margins to improve from 5.8% in FY2018 to 6.2% in FY2020E.
Source: Company, Angel Research
Source: Company, Angel Research

GMM Pfaudler Limited (GMM) is the Indian market leader in glass-lined (GL)
steel equipment used in corrosive chemical processes of agrochemicals,
specialty chemical and pharma sector. The company is seeing strong order
inflow from the user industries which is likely to provide 20%+ growth outlook
for next couple of years.

GMM has also increased focus on the non-GL business, which includes mixing
equipment, filtration and drying equipment for the chemical processing
industry. It is expecting to increase its share of non-GL business to 50% by

GMM is likely to maintain the 20%+ growth trajectory over FY18-20 backed
by capacity expansion and cross selling of non-GL products to its clients.
Source: Company, Angel Research
Source: Company, Angel Research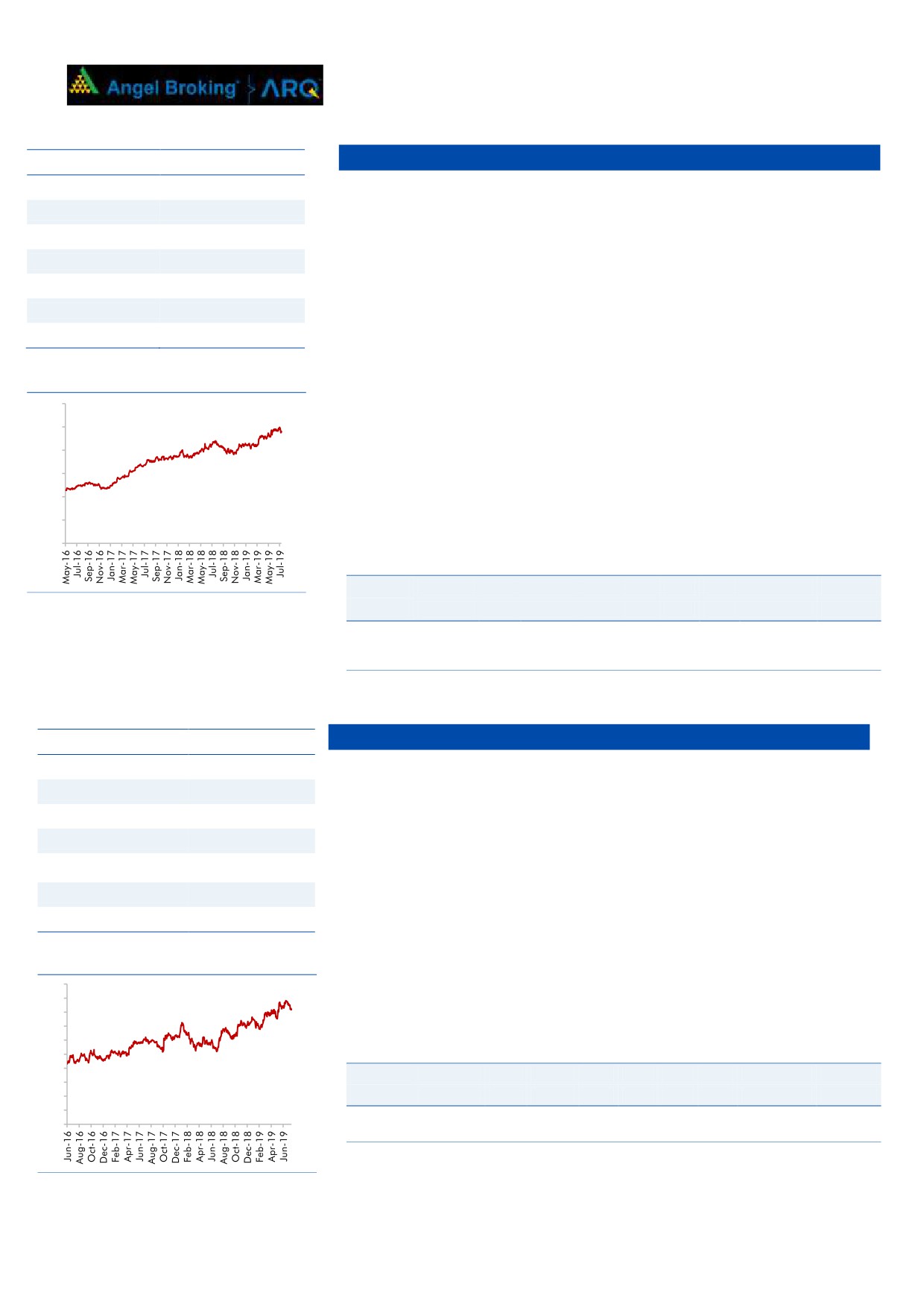 Angel Top Picks | August 2019

Bank has planned to improve business with digital platform and engaging with
mid market client. Banks next leg of growth road map 1) increasing branch
opening number from 300 current to 600 annually in non urban area. 2)
Increase POS 4x to 4mn by FY21 and double the virtual relationship manager

Asset Strong and steady NIM of 4.4% on the back of lower cost of funds and
lower credit cost will ensure healthy return ratios for the company. Despite
strong growth, the company has maintained stable asset quality (GNPA/NPA -

HDFC bank's subsidiaries, HDB Financial Services (HDBFS) and HDFC
Securities continue to contribute well to the banks overall growth. Strong loan
book, well-planned product line and clear customer segmentation aided this

We We expect the company's loan growth to remain 22% over next two years
and earnings growth is likely to be more than 21%.
Source: Company, Angel Research
Source: Company, Angel Research

ICICI bank has taken a slew of steps to strengthen its balance sheet. Measures
such as Incremental lending to higher rated corporate, reducing concentration
in few stressed sectors and building up the retail loan book. The share of retail
loans in overall loans increased to 61.4% (Q4FY19) from 38% in FY12.

ICICI bank's slippages remained high during FY18 and hence GNPA went up
to 8.8% vs. 5.8% in FY16. We expect addition to stress assets to reduce and
credit costs to further decline owing to incremental lending to higher rated
corporate and faster resolution in Accounts referred to NCLT under IBC.

The gradual improvement in recovery of bad loans would reduce credit costs
that would help to improve return ratio. The strength of the liability franchise,
shift in loan mix towards retail assets and better rated companies, and
improvement in bad loans would be a key trigger for multiple expansion.
Source: Company, Angel Research
Source: Company, Angel Research
Angel Top Picks | August 2019
Jindal Steel & Power Ltd.

The company has increased its crude steel capacity more than double in last
five years from 3.6 MTPA to 8.6 MTPA and currently running at ~65%

Owing to continuous demand of steel from infrastructure, housing and auto
sectors along with limited addition of steel capacity in near term and favorable
government policies augur well for JSPL to perform well going forward, we
expect JSPL's utilization to improve to 80-85% by FY20 along with reduction in
debt led by improving in profitability.

From April 2019, power segment has seen improvement in PLF and now
producing 1,700 megawatts, up from the average 1,400 megawatts, this will
lead improvement in PLF from 34% to 50%.

Expect 515MW of PPA from NHPC currently, JPL emerged as L1 bidder.

JSPL is trading at attractive valuation to its peer, we value the stock based on
asset based approach of Steel segment on EV/Tone basis and Power segment
Source: Company, Angel Research
Source: Company, Angel Research

KEI's current order book (OB) stands at `3,866cr (segmental break-up: out
which EPC is around `1,508cr and balance from cables, substation & EHV). Its
OB grew by ~28% in the last 3 years due to strong order inflows from State
Electricity Boards, Power grid, etc.

KEI's consistent effort to increase its retail business from 30-32% of revenue in
FY18 to 40-45% of revenue in the next 2-3 years on the back of strengthening
distribution network (currently 926 which is expect to increase ~1,500 by
FY20) and higher ad spend.

KEI's export (FY19 - 16% of revenue) is expected to reach a level 20% in next
two years with higher order execution from current OB and participation in
various international tenders. We expect KEI to report net revenue CAGR of
~1% to ~`5,610cr and net profit CAGR of ~25% to `276cr over FY2019-
Source: Company, Angel Research
Source: Company, Angel Research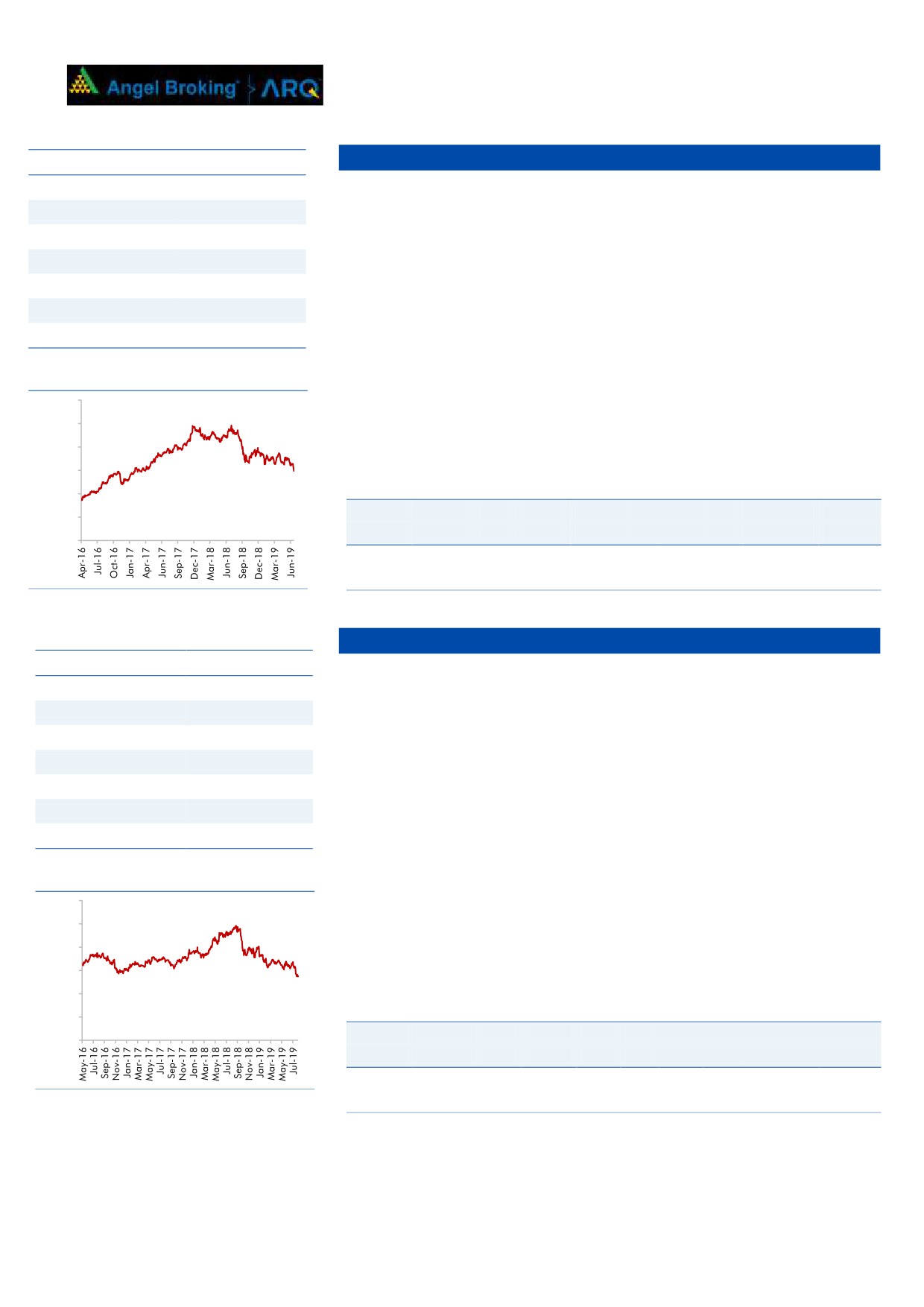 Angel Top Picks | August 2019

Maruti Suzuki continues to hold ~52% market share in the passenger vehicles.
The launch of exciting models has helped the company to ride on the
premiumization wave that is happening in the country. In the last two years,
company has seen improvement in the business mix with the pie of the utility
vehicles growing from ~4% to current 15%. The 2-3 months of waiting period
of new models, launch of Swift Hatchback in January, 2018 and headroom
for more capacity utilization at Gujarat plant is the near term earning triggers.

Due to the favorable business mix, company has also been seeing
improvement in the margins. Company has already moved from ~11-12%
Together with higher operating leverage at Gujarat plant, increasing Nexa
outlets, and improving business mix, we believe that company has further
room to improve its margins.
Source: Company, Angel Research
Source: Company, Angel Research

M&M is an India-based company, operating in nine segments: automotive,
farm equipment, IT services, financial services, steel trading & processing,
infrastructure, hospitality, Systech and Others (comprising logistics, after-
market, two wheelers and investment).

IMD has predicted a near normal monsoon for 2019 for the third consecutive
year which should be a strong trigger for tractor sales growth. In our view,
strong growth in tractor industry would benefit M&M the most due to strong
brand recall and leadership position in farm tractor.

We expect M&M to report net revenue CAGR of ~9% to ~`63,184cr over
FY2019-21E mainly due to healthy growth in automobile segment like Utility
Vehicles (on the back of new launches and facelift of some models) and strong
growth in Tractors segment driven by strong brand recall and improvement in
rural sentiment. Further on the bottom-line front, we expect CAGR of ~9% to
`5,107cr over the same period on the back of margin improvement.
Source: Company, Angel Research
Source: Company, Angel Research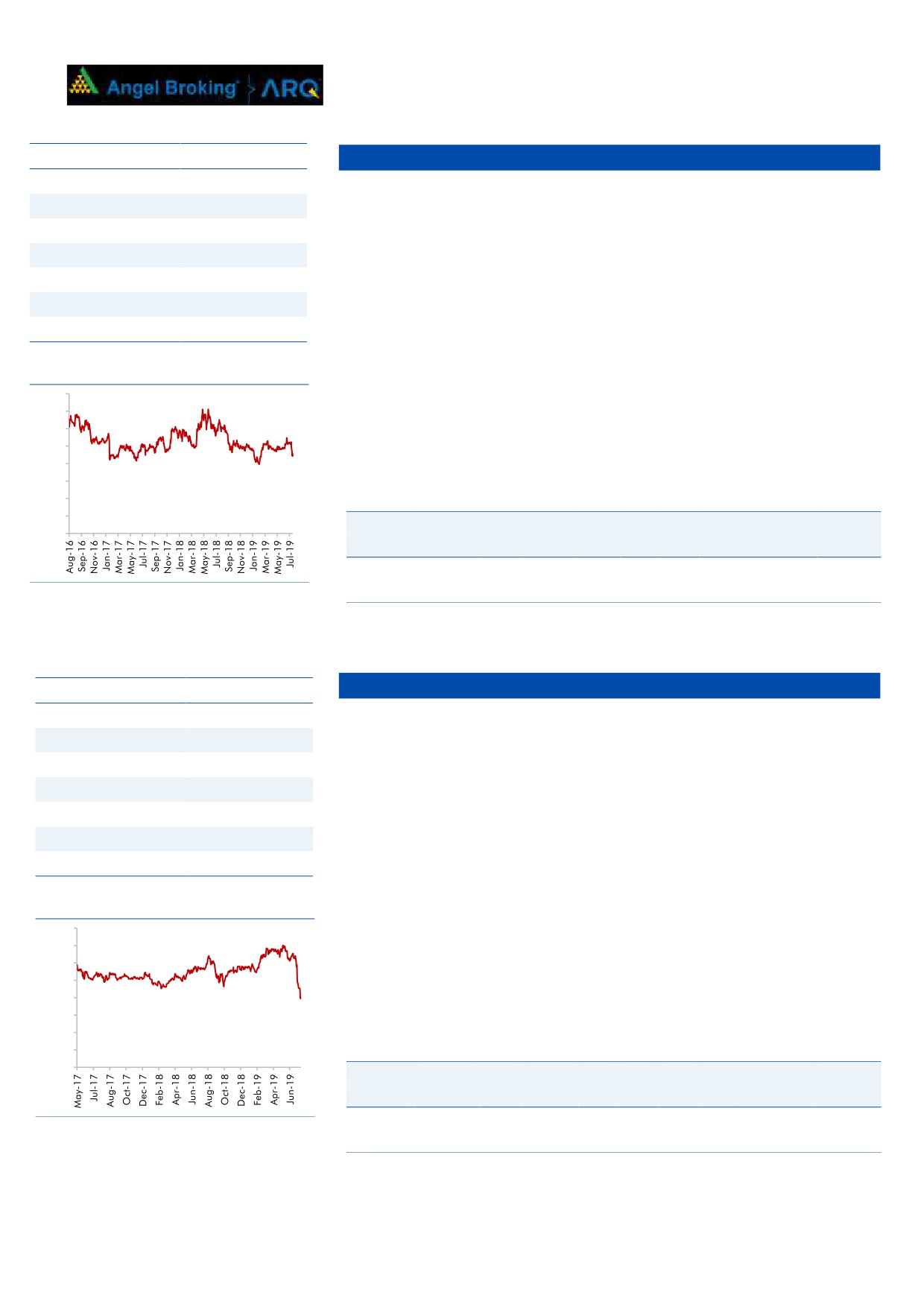 Angel Top Picks | August 2019

Parag Milk Foods (PARAG) is one of the leading dairy products companies in
India. The company has been successful in creating strong brands like GO,
Gowardhan and in introducing new products like Whey Protein. It has become
the 2nd player in processed cheese (after Amul) in a short span of 10 years
and commands 33% market share.

Value Added Products like cheese, whey protein enjoy higher gross margins of
25-45% versus 6-8% entailed in liquid milk. VAP forms ~66% to its revenue
(the highest among the listed players versus 25-30% for others). Driven by
recently launched products and higher share of VAP, its operating margins
would improve in next few years.

Thus we expect PARAG to report net revenue/PAT CAGR of
respectively over FY2019-21E.
Source: Company, Angel Research
Source: Company, Angel Research

RBL Bank (RBK) has grown its loan book at healthy CAGR of 53% over FY10-
19. We expect it to grow at 35% over FY19-21E. With adequately diversified,
well capitalised B/S, RBK is set to grab market share from corporate lenders

The retail loan portfolio grew 62% YoY to `18,319cr and now constitutes 32%
of the loan book (18% share in 4QFY17).NIM has expanded to 4.23%, up
19bps YoY, despite a challenging interest rate scenario on the back of a
changing portfolio mix. However, the management disclosed stressed asset
worth ` 1,000/- Cr which will increase GNPA to 2.25%. Management is
confident that it would normalise by Q1FY21.

RBL Bank currently trades at 1.8x its FY2021E price to book value, which we
believe is reasonable for a bank in a high growth phase with stable asset
Source: Company, Angel Research
Source: Company, Angel Research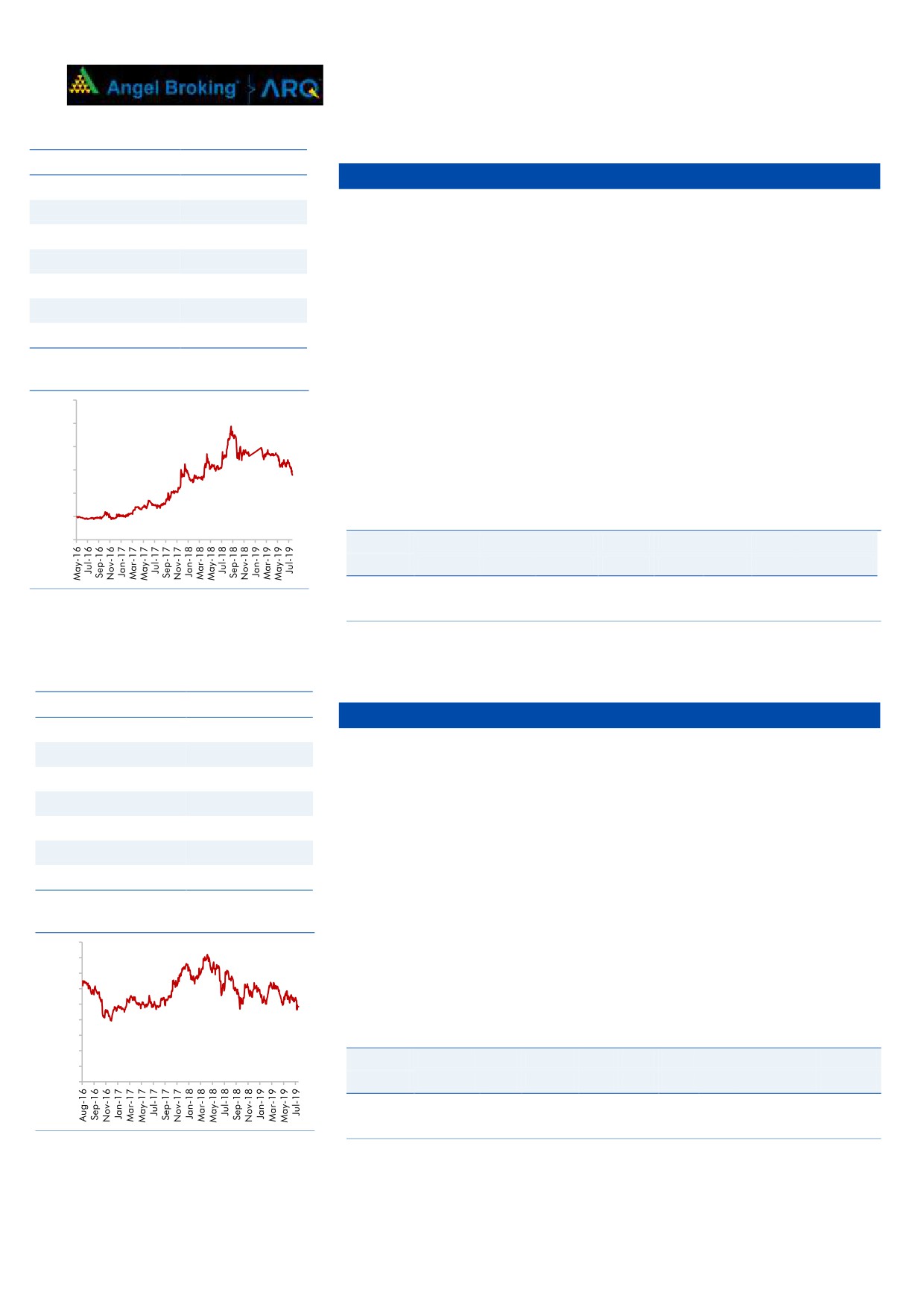 Angel Top Picks | August 2019

Safari Industries Ltd (Safari) is the third largest branded player in the Indian
luggage industry. Post the management change in 2012, Safari has grown its
revenue by 6x in the last 7 years. This has been achieved by foraying in many
new categories like back pack, school bags (via acquisition of Genius and
Genie) and improvement in distribution networks.

Its margins have more than doubled from 4.1% in FY2014 to 9.8% in FY2018,
driven by launch of new product categories and business. We expect it to
maintain 9%+ margins from FY2018 onwards led by regular price hikes, shift
towards organized player and favorable industry dynamics.

We expect its revenue to grow by a CAGR of ~37%/49% in revenue/ earnings
over FY2018-20E on the back of growth in its recently introduced new
Source: Company, Angel Research
Source: Company, Angel Research
Shriram Transport Finance

SHTF's primary focus is on financing pre-owned commercial vehicles. We
expect AUM to grow at CAGR of 15% over FY2019-21E led by pick up in
infra/ construction Post 2019 elections, macro revival and Ramping up in rural

In last three year SHTF, GNPA and credit cost has been increased primarily
due to the transition of NPA recognition from 180DPD to 90DPD (Q4FY18).
Q1FY19 onwards asset quality started witnessing steady improvement, and we
expect this trend to continue.

We expect STFC to report RoA/RoE to 2.7%/17.6% in FY2021E respectively. At
CMP, the stock is trading at 1.2x FY2021E ABV and 6x FY2021E EPS, which
we believe is reasonable for differentiated business model with return ratios.
Source: Company, Angel Research
Source: Company, Angel Research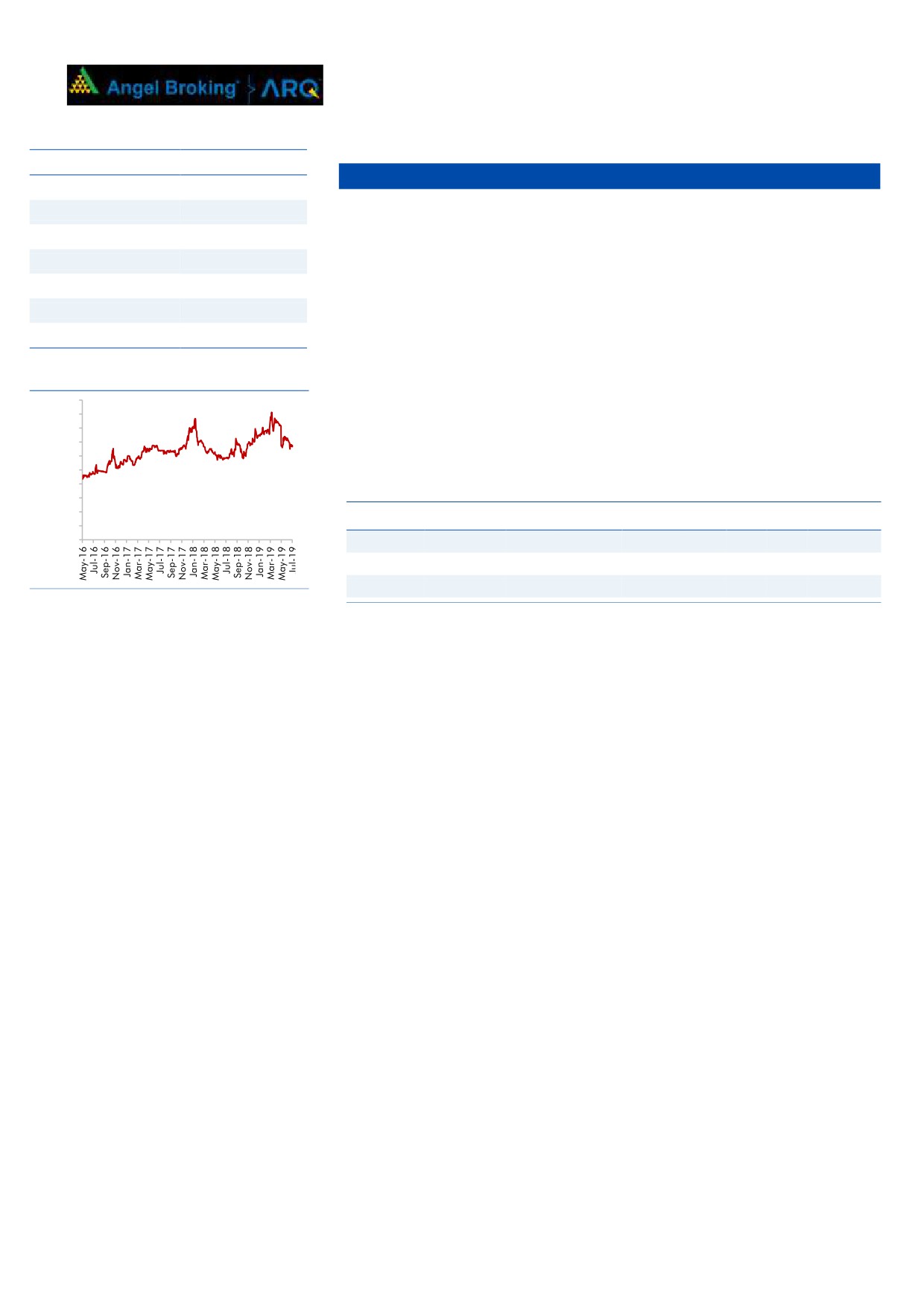 Angel Top Picks | August 2019

TTK Prestige (TTK) is the leading brands in kitchen appliances with 40%+
market share in organized market. It has successfully transformed from a
single product company to a multi product company offering an entire gamut
of kitchen and home appliances (600+ products).

It has also launched an economy range - 'Judge Cookware' to capture the
untapped demand especially at the bottom end of the pyramid. It is expecting
good growth in cleaning solution.

It expects to double its revenue in the next five years backed by revival in
consumption demand, new 6 cr LPG connections under the Ujjawala Scheme,
inorganic expansion and traction in exports. We expect TTK to report a CAGR
of 16%/22% in revenue/PAT respectively over FY2018-20E.
Source: Company, Angel Research
Source: Company, Angel Research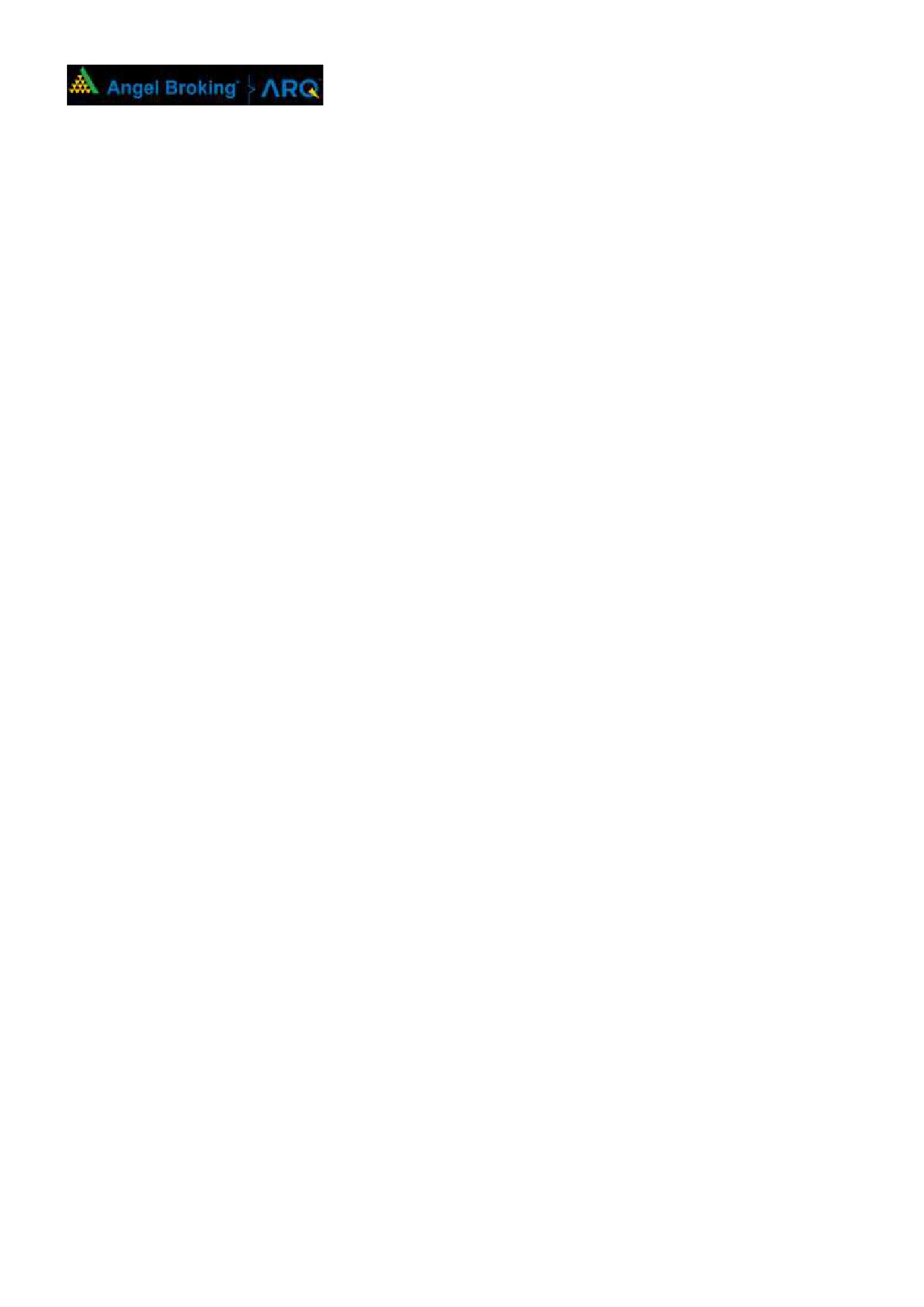 Angel Top Picks | August 2019
Research Team Tel: 022 - 39357800
Angel Broking Limited (hereinafter referred to as "Angel") is a registered Member of National Stock Exchange of India Limited, Bombay
Stock Exchange Limited and Metropolitan Stock Exchange Limited. It is also registered as a Depository Participant with CDSL and
Portfolio Manager and investment advisor with SEBI. It also has registration with AMFI as a Mutual Fund Distributor. Angel Broking
Private Limited is a registered entity with SEBI for Research Analyst in terms of SEBI (Research Analyst) Regulations, 2014 vide
registration number INH000000164. Angel or its associates has not been debarred/ suspended by SEBI or any other regulatory
authority for accessing /dealing in securities Market. Angel or its associates/analyst has not received any compensation / managed or
co-managed public offering of securities of the company covered by Analyst during the past twelve months.
This document is solely for the personal information of the recipient, and must not be singularly used as the basis of any investment
decision. Nothing in this document should be construed as investment or financial advice. Each recipient of this document should
make such investigations as they deem necessary to arrive at an independent evaluation of an investment in the securities of the
companies referred to in this document (including the merits and risks involved), and should consult their own advisors to determine
the merits and risks of such an investment.
Reports based on technical and derivative analysis center on studying charts of a stock's price movement, outstanding positions and
trading volume, as opposed to focusing on a company's fundamentals and, as such, may not match with a report on a company's
fundamentals. Investors are advised to refer the Fundamental and Technical Research Reports available on our website to evaluate the
The information in this document has been printed on the basis of publicly available information, internal data and other reliable
sources believed to be true, but we do not represent that it is accurate or complete and it should not be relied on as such, as this
document is for general guidance only. Angel Broking Limited or any of its affiliates/ group companies shall not be in any way
responsible for any loss or damage that may arise to any person from any inadvertent error in the information contained in this report.
Angel Broking Limited has not independently verified all the information contained within this document. Accordingly, we cannot testify,
nor make any representation or warranty, express or implied, to the accuracy, contents or data contained within this document. While
Angel Broking Limited endeavors to update on a reasonable basis the information discussed in this material, there may be regulatory,
compliance, or other reasons that prevent us from doing so.
This document is being supplied to you solely for your information, and its contents, information or data may not be reproduced,
redistributed or passed on, directly or indirectly.
Neither Angel Broking Limited, nor its directors, employees or affiliates shall be liable for any loss or damage that may arise from or in
connection with the use of this information
Ratings (Based on expected returns
over 12 months investment period):