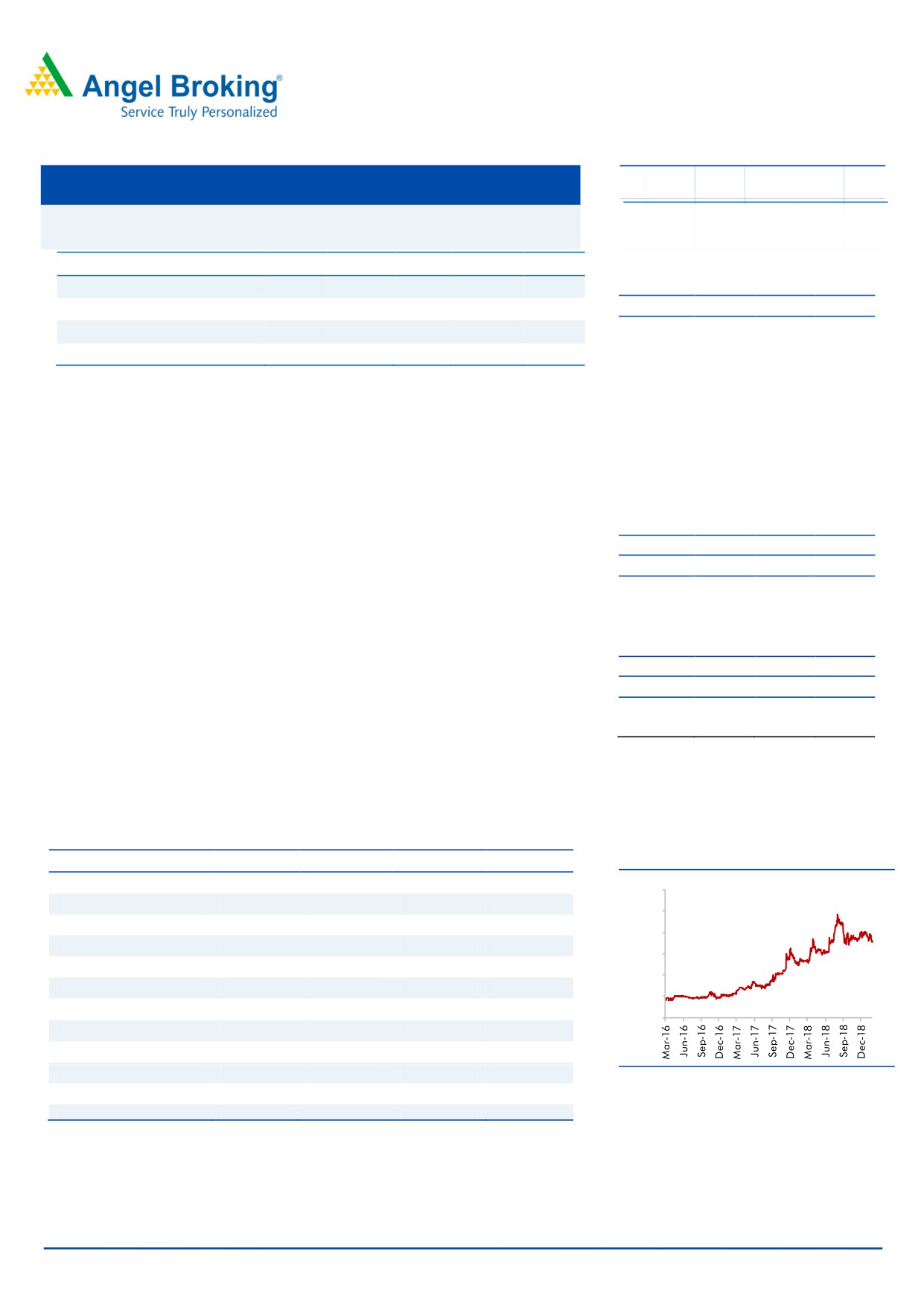 3QFY2019 Result Update | Luggage
Source: Company, Angel Research
For 3QFY2019, Safari Industries (SIL) posted Strong Result top-line growth,
though it disappointed on bottom-line front. Revenue grew ~39% yoy to
`
144cr.
On the margin front, the company reported operating margin contracted by
444bps yoy. On the bottom-line front, SIL reported de-growth of ~27% yoy to
~
`
5cr due to cost pressures and higher taxes.
Strong volumes boost overall top-line growth: The Company's top-line grew by
~39% yoy to
`
144cr on the back of strong volume growth (strong demand due
strong air passenger growth and market share gain from unorganized player).
Poor operating performance impacted the overall profitability: On the operating
margin front, the company reported margin contraction by 444bps yoy due to
cost pressure on account of INR depreciation.
Outlook and Valuation: Going ahead, we expect SIL to report a top-line CAGR of
~36% over FY18-20E to ~
`
774cr on the back of diversified product portfolio
(catering to customers from all segments), and strong distribution network with
high brand recall. Moreover, we believe that SIL's bottom-line is set to grow at a
CAGR of ~56% over FY18-20E due to gradual improvement in operating
margin. We maintain our Buy recommendation on the stock with a Target Price of
Historical share price chart
Source: Company, Angel Research
Please refer to important disclosures at the end of this report Safari Industries | 3QFY2019 Result Update
Downside risks to our estimates

Volatility in foreign currency could impact the company's profitability (77% of its
revenue comes from soft luggage, which is imported from China).

With closure of many luggage units in China (owing to pollution concerns), the
surviving suppliers have started taking price hikes which could put pressure on its
margins, unless price hike is taken.

Increase in competition from unorganized players would impact overall growth of

Safari's 23% sales comes from hard luggage segment and any increase in input
cost (most of the key raw material is polypropylene and aluminum) could
negatively impact profitability Safari Industries | 3QFY2019 Result Update
Consolidated Cashflow Statement
Change in Working Capital
Interest / Dividend (Net)
C ash Flow from Operati ons
(Inc.)/ Dec. i n Fixed Assets
(Inc.)/ Dec. i n Inve stments
C ash Flow from Inve sting
Dividend Paid (Incl. T ax)
Interest / Divide nd (Net)
C ash Flow from Financing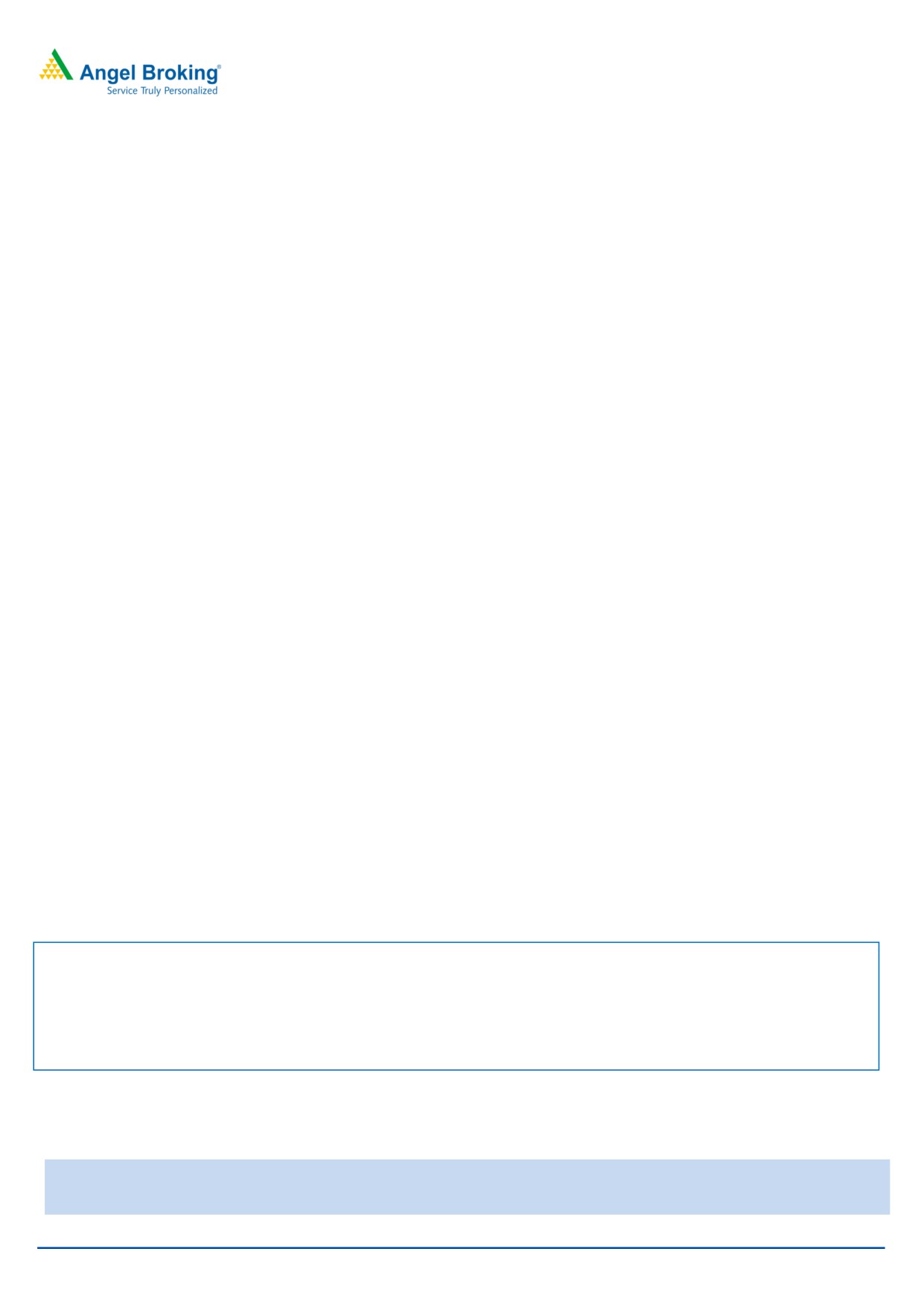 Safari Industries | 3QFY2019 Result Update
Research Team Tel: 022 - 39357800
Angel Broking Limited (hereinafter referred to as "Angel") is a registered Member of National Stock Exchange of India Limited, Bombay
Stock Exchange Limited and Metropolitan Stock Exchange Limited. It is also registered as a Depository Participant with CDSL and
Portfolio Manager and Investment Adviser with SEBI. It also has registration with AMFI as a Mutual Fund Distributor. Angel Broking
Limited is a registered entity with SEBI for Research Analyst in terms of SEBI (Research Analyst) Regulations, 2014 vide registration
number INH000000164. Angel or its associates has not been debarred/ suspended by SEBI or any other regulatory authority for
accessing /dealing in securities Market. Angel or its associates/analyst has not received any compensation / managed or co-managed
public offering of securities of the company covered by Analyst during the past twelve months.
This document is solely for the personal information of the recipient, and must not be singularly used as the basis of any investment
decision. Nothing in this document should be construed as investment or financial advice. Each recipient of this document sho uld
make such investigations as they deem necessary to arrive at an independent evaluation of a n investment in the securities of the
companies referred to in this document (including the merits and risks involved), and should consult their own advisors to de termine
the merits and risks of such an investment.
Reports based on technical and derivative analysis center on studying charts of a stock's price movement, outstanding positions and
trading volume, as opposed to focusing on a company's fundamentals and, as such, may not match with a report on a company's
fundamentals. Investors are advised to refer the Fundamental and Technical Research Reports available on our website to evaluate the
The information in this document has been printed on the basis of publicly available information, internal data and other rel iable
sources believed to be true, but we do not represent that it is accurate or complete and it should not be relied on as such, as this
document is for general guidance only. Angel Broking Limited or any of its affiliates/ group companies shall not be in any wa y
responsible for any loss or damage that may arise to any person from any inadvertent error in the information contained in this repo rt.
Angel Broking Limited has not independently verified all the information contained within this document. Accordingly, we cann ot testify,
nor make any representation or warranty, express or implied, to the accuracy, contents or data contained within this document. While
Angel Broking Limited endeavors to update on a reasonable basis the information discussed in this material, there may be regulatory,
compliance, or other reasons that prevent us from doing so.
This document is being supplied to you solely for your information, and its contents, information or data may not be reproduc ed,
redistributed or passed on, directly or indirectly.
Neither Angel Broking Limited, nor its directors, employees or affiliates shall be liable for any loss or damage that may ari se from or in
connection with the use of this information.
Disclosure of Interest Statement
1. Financial interest of research analyst or Angel or his Associate or his relative
2. Ownership of 1% or more of the stock by research analyst or Angel or associates or relatives
3. Served as an officer, director or employee of the company covered under Research
4. Broking relationship with company covered under Research