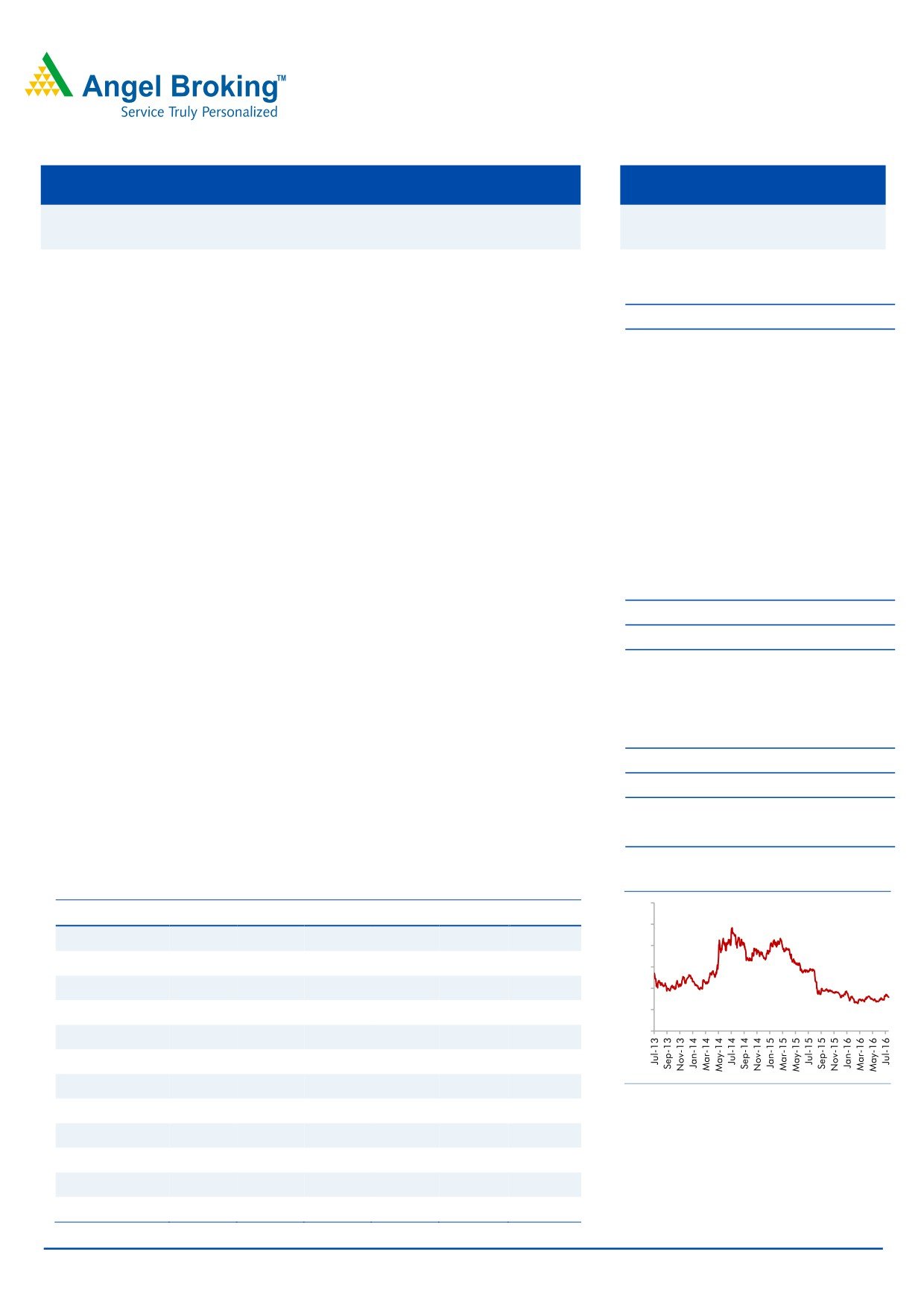 Company Update | Infrastructure
IL&FS Transportation Networks
Strong revenue & cash flow generation visibility: At 4QFY2016-end, IL&FS
Transportation Networks Ltd (ITNL) reported gross Toll & Annuity income of
`
7.8cr/day (Toll Income at
`
5.4cr/day and Annuity Income at
`
2.9cr/day). 7 BOT
projects (2 Annuity + 5 Toll) are expected to be operational in next few months.
On being fully operational, all 5 Toll projects (BKEL, PSRDCL, BAEL, KNCL, KSEL)
in FY2017E would contribute additional toll of
`
1.5cr/day. Further, there's strong
visibility on assured revenues from Annuity projects. Of the 3 Annuity projects,
JSEL, has already received provisional completion certificate and other 2, CNTL &
TRDCL P-III are expected to be operational in 1Q/2QFY2017E. Annuity business
insulated from traffic volumes is expected to generate assured gross revenue of
`
2.2cr/day in FY2017E (~58% of incremental revenues in FY2017E would be
from the assured Annuity business).
Profit to grow 13.6% CAGR during FY2016-18E: Commencement of 7 BOT
projects coupled with ongoing strategic initiatives such as asset sales, debt
re-financing (across project levels), listing of InvITs, in our view would help ITNL
PAT report 13.6% CAGR during FY2016-18E, to
`
915cr.
Attractive Valuation: In the backdrop of strong surge in profitability, ITNL stock
price looks very attractive from valuation point of view. ITNL stock (on consol.
basis) is trading at FY2018E P/E and P/BV multiple of 8.7x and 0.4x, respectively.
Alternatively, we value construction business at EV/EBITDA of 5x FY2018E EBITDA
and domestic Road BOT projects on FCFE basis at Cost of Equity of 14%. Also,
we value Elsamex, YuHe Expressway, Metro and other Infra Projects (other than
road projects) using Investment multiple. On adding up all the projects' value, we
arrive at SOTP-based target price of
`
93. Given the strong case of improvement
in business outlook, we maintain BUY rating on the stock.
Key financials (Consolidated)
Source: Company, Angel Research
022 - 3935 7800 Ext: 6828
Source: Company, Angel Research; CMP as of 21 July, 2016
Please refer to important disclosures at the end of this report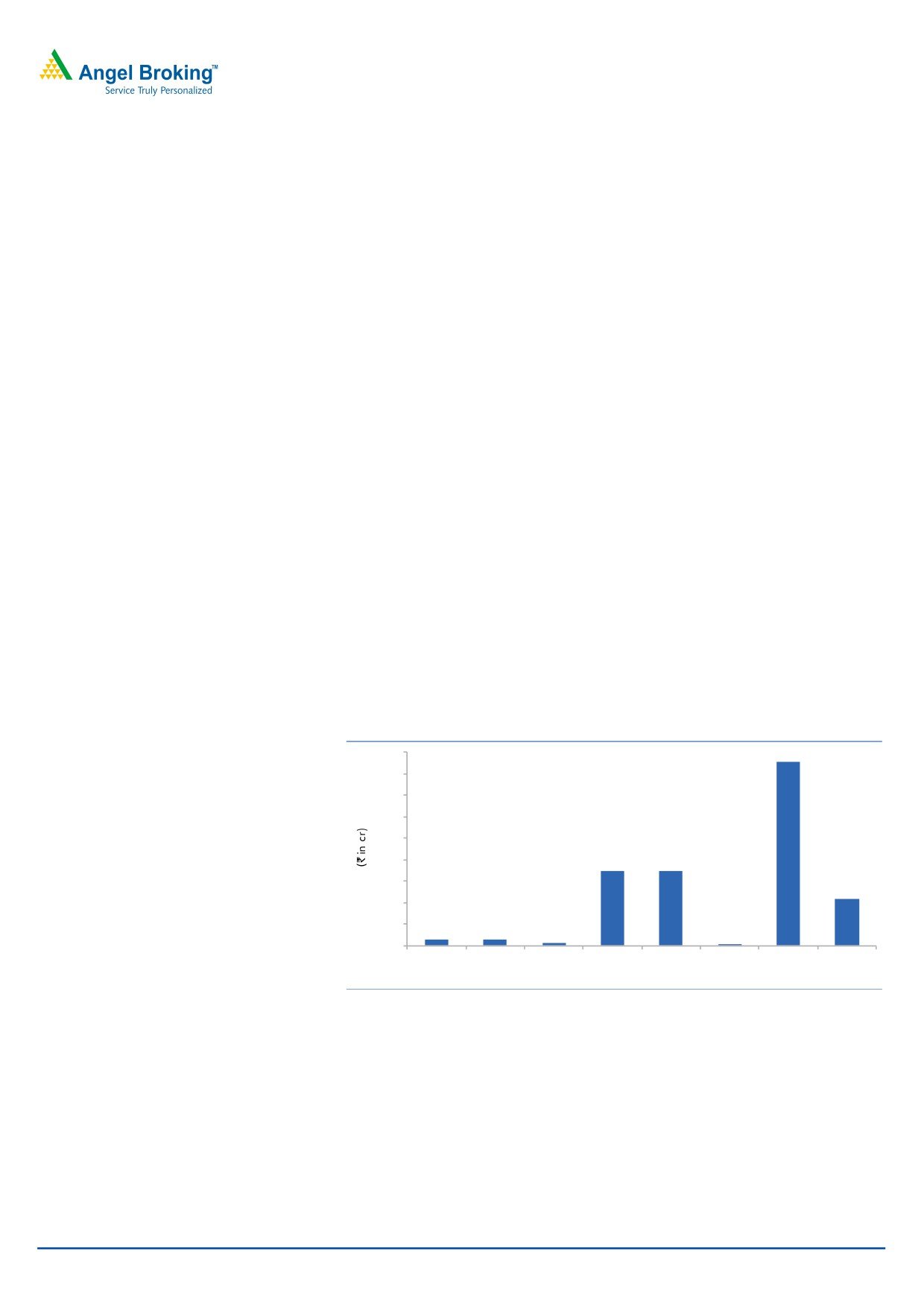 Toll & Annuity Income to report strong growth
In 3Q/4QFY2016 ITNL reported gross Toll & Annuity Income of
`
7.1cr/day/
`
7.8cr/day (includes toll income from YuHe Expressway and A4 Autovia). Of this
4Q Toll & Annuity Income, Toll Income was
`
5.4cr/day (69% of gross Toll &
Annuity Income) and Annuity Income was
`
2.4cr/day (31% of gross Toll & Annuity
Traffic growth across already operational projects and commencement of tolling at
(1) Moradabad Bareilly (MBEL), (2) Warora Chandrapur (WCBTL), (3) Baleshwar
Kharagpur (BKEL), (4) Pune Sholapur (PSRDCL, received provisional completion
certificate), and (5) Sikar Bikaner (SBEL) BOT projects helped ITNL report 20% yoy
increase in gross Toll Income in 4QFY2016. On same lines, commencement of
new stretches/phases at (1) Jharkhand Road (JRPICL), (2) Thiruvananthapuram
Roads (TRDCL), and (3) Jorbat Shillong (JSEL), helped ITNL report 26% yoy
increase in gross Annuity Income in 4QFY2016.
Currently, 2 BOT's are partially operational, namely, (1) Barwa Adda (BAEL), and
(2) BKEL; these are soon expected to be 100% operational. These 2 BOT projects
coupled with PSRDCL getting 100% fully operational, in our view would lead to
increase in toll income by
`0
.1cr/day (excludes organic toll income growth from
the already operational stretches of these BOT projects).
Further, commencement of new Tolling & Annuity projects, like (1) Chenani Nashri
(CNTL, in 2QFY2017), (2) Thiruvananthapuram Phase III (TRDCL, in 1QFY2017),
(3) Khed Sinnar (KSEL, in 2QFY2017) and (4) Kiratpur-Ner Chowk (KNEL in
2QFY2017) would further add to the toll & annuity income.
Exhibit 1: Incremental Toll & Annuity Income/day from upcoming proj.
Source: Company, Angel Research
On being fully operational, all 5 BOT Toll projects (BKEL, PSRDCL, BAEL, KNCL,
KSEL) would contribute toll of
`
1.5cr/day. Further, there's strong visibility on
assured revenues from Annuity projects. Annuity business insulated from traffic
volumes is expected to generate assured gross revenue of
`
2.2cr/day in FY2017E
(~58% of incremental revenues in FY2017E would be from the assured Annuity
business). On a whole, we expect ITNL's gross Toll & Annuity income to increase
`
3.7cr/day during FY2017E, from current levels of
estimation excludes organic traffic growth from already operational BOT Toll On a whole, commencement of 7 Toll & Annuity projects coupled with uptick in the
traffic growth of already operational road projects, should lead to strong 34% Toll
& Annuity Income growth during FY2016-18E to
`
2,819cr.
Incremental projects to enhance overall financials
Over the last few quarters ITNL's consol. interest coverage ratio has been hovering
at ~0.9x (on excluding profits from the sale of assets/ investments), which tells that
company is undergoing tough phase. But going forward, with 7 BOT projects likely
to commence operations, we expect the scenario to change. We sense that once 7
BOT projects commence operations, overall financials of the company would see
sharp improvement. This when coupled with interest re-financing across SPVs
should help ITNL report strong turn-around in its operating performance, going
forward. We expect ITNL's consol. interest coverage ratio to improve to 1.4x in
FY2017E and 1.5x in FY2018E, thus projecting favorable operational scenario for
the company than is currently prevalent.
Exhibit 2: Incremental Financials of 8 BOT projects (includes JSEL)
Interest Coverage Ratio (x)
Source: Company, Angel Research
Debt raised takes care of the 'stop-gap' funding requirements
As of 4QFY2016-end, ITNL had consolidated debt of
`
27,643cr, reflecting D/E
ratio of 4.13x. With 7 projects at latter stages of the construction cycle and some of
the o/s non-convertible debentures (NCDs) maturing, ITNL has been compelled to
go for short-term stop-gap funding. As a result, the company issued NCDs of
`
1,300cr in tranches. Management highlighted that the funds raised would be
used to repay existing loans, towards lowering interest costs and for improving the
short-term loan vs. long-term loans mix in terms of total debt.
On the whole, we expect ITNL to raise further debt to fund its ongoing BOT
projects, in addition to addressing aforementioned debt constraints currently being
faced. As a result, we expect the consol. debt to further increase by ~
`
3,780cr.
Given that majority of the company's ongoing projects would get commissioned in
FY2017 itself, we are optimistic of debt repayment at SPV level to start from
FY2018E itself (where full year impact for most of the SPVs would be seen).
Accordingly, we sense that this balance sheet stress is bottoming out and it is a
near-term phenomenon for the company. We expect the pain to gradually start
subsiding from FY2018E onwards.
Strategic initiatives to help ITNL get back its growth momentum
Given that ITNL is currently having a consol. D/E ratio of 4.13x, in our view it's left
with no option but to pursue strategic initiatives as there would be higher equity
and debt requirements towards financing projects in pipeline. Media reports as
well as, management's quarterly concalls have highlighted that it is pursuing strategic initiatives such as stake sales, securitization of projects, InvIt listing and
ITNL has already done 2 rounds of Rights Issue; it raised
`
524cr in Apr-2014 and
`
740cr in Oct-2015. We now sense the company would not go for further rounds
of Rights Issue in the near-term.
In the last few quarters, ITNL has sold stake in Gujarat Toll Roads (includes
Ahmedabad-Mehsana and Vadodara Halol Road BOT projects) & in Rapid Metro
in tranches, intending to utilize proceeds towards equity infusion in upcoming
projects as it needs
`
1,407cr of incremental equity towards implementation of
Further, in-line with management commentary, we expect ITNL to report sale of its
Road Assets in FY2017E. Also, ITNL is expected to transfer some of its Infra assets
under new SPV and get the SPV listed as an InvIt. Our view gets substantiated from
recent media articles, suggesting that ITNL's Management has already started
working on $400-500mn (
`
2,600-3,250cr) InvIt and many of the operational BOT
projects would get transferred to this trust with the same being listed. We sense that
an InvIt listing would release much required funds for ITNL, which could be utilized
towards equity requirements of new projects, which would also lower the D/E ratio.
Given that we are still at least few quarters away from any such listing; till then,
ITNL's levered balance sheet should continue to put pressure on its profitability,
mainly owing to higher interest expenses. Till then, we expect ITNL to explore asset
sales and debt re-financing alternatives.
Low Interest rates to lead to improved cash flow cycle
Between Jan-2015 to Apr-2016, RBI has cut interest rates by a cumulative ~150bp
and the same has not yet been commensurately passed on to borrowers. With the
ongoing rate cut cycle, we expect debt dependent companies like ITNL and its SPV
subsidiaries to avail the benefits of rate re-sets.
Recently ITNL raised NCDs worth
`
1,300cr in tranches, with one tranche carrying
coupon rate of 9.4%, which is lower than the company's consol. borrowing rate of
11-12%. Recently, GRICL (in which ITNL has 42% stake) announced issuance of
`
300cr of NCDs where the high cost debt carrying 15.5% interest rate has been
re-financed by lower cost debt carrying 9% interest rate.
Accordingly, we see potential for further refinancing of high cost debt. For an o/s
debt of
`
27,643cr (as of 4QFY2016) for the company, for every 100bp decline in
the interest rate, the interest expenses of the company would decline by
`
276cr on
an annualized basis. Savings on interest expenses (on account of rate re-sets), in
our view would be mitigated up to certain extent by further increase in near-term
funding requirements towards the 4 upcoming BOT projects, as a result consol.
income statement would not majorly benefit from interest savings. However, these
interest rate re-sets should lead to improved SPV level cash flows.
Strong Order backlog of
`
14,625cr gives better revenue visibility
ITNL, as of 4QFY2016-end, reported an order backlog of
`
14,625cr, which gives
revenue visibility for the Construction segment for over the next 36 months.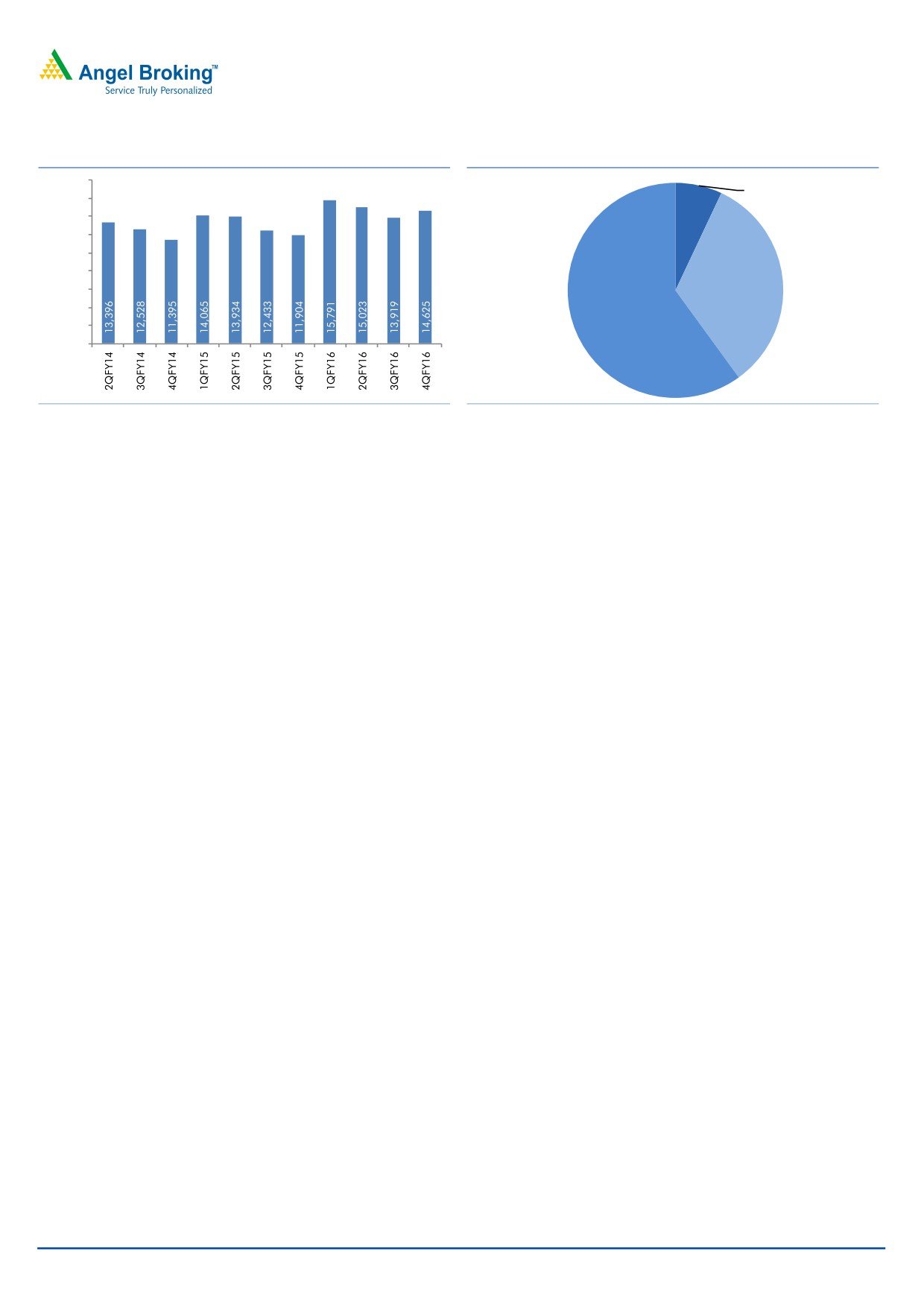 Exhibit 4: Order Book Split as of 4QFY2016-end (in %)
Source: Company, Angel Research
Source: Company, Angel Research
ITNL to-date has reported 6 Infrastructure project wins since FY2016 beginning.
Details of these projects are as follows:
4-laning of 141kms stretch between Fagne-Gujarat/ Maharashtra Border
(Package-III, NH-6) on BOT (Toll) basis.
4-laning of 194kms stretch between Amravati-Chikhli (Package-I, NH-6) on
6-laning of 23.5kms stretch between Ranchi Ring Road, section VII from
Kathitanr to Karma on BOT basis.

Upgrading of 2 road projects, (i) Bandri-Jaruwakheda, Nirtala-Mandi-Bamora
and Damoh-Hindoriya-Patera section covering 76.23 kms, (ii) Pachawali-
Rannod, Rannod-Pichhore, Bhasula-Chainpur, Vijaypur-Dhanrawad and
Ashok Nagar-Thubon section on performance based contract.

Development of Commercial Area and Automated Car Park of approx. 1200
car spaces on DBFOT Basis including right to collect revenue from the Project
for a period of 30 years in the Middle East.

Ethiopian Roads Authority has awarded ITNL and Elsamex (a wholly owned
subsidiary of ITNL) joint venture Design, Improvement Works and
Management and Maintenance Services of (i) Nekempte - Anger Gutin-
Andhode Road Section (86.10 km) and (ii) Agamsa-Bure Road Section (84.56
km) on an Output and Performance Based Road Contract (OPRC) for approx.
contract value of
`
1,524.76cr. This project is for a period of 8 years.
ITNL indicated a healthy bid-pipeline of ~
`
35,867cr, with a major ~
`
18,563cr of
it being at the RFP stage. Notably, ~68% of the bid pipeline highlighted by the Exhibit 5: 4QFY2016 bid-pipeline details
Metro Transportation Corp. Project
Source: Company, Angel Research
ITNL to-date has reported receipt of Provisional Completion Certificate (CC)/
Commercial Operations Date (CoD) for 2 Central Control facilities at Gwalior and
18 stretches of the Madhya Pradesh border check post project, including
(1) Agra-Mumbai, (2) Indore-Ahmedabad, (3) Shivpuri-Kota, (4) Betul-Nagpur,
(5) Indore-Icchapur, (6) Mhow-Neemuch, (7) Jabalpur-Jaipur, (8) Seoni-Nagpur,
(9) Chindwara-Nagpur, (10) Kabir-Chabtura, (11) Sagar-Kanpur, (12) Ujjain-
(16) Sagar-Lalitpur, (17) Balaghat-Gondia, and (18) Rewa-Mirazpur. Works on the
remaining check posts is expected to get completed in FY2017E.
SBHL has received provisional completion certificate as on Oct-2015. ITNL
reported receipt of Provisional Completion Certificate for JSEL in Jan-2016 and
Certificate of Commercial Operations for PSRDCL in Feb-2016. Also, ITNL
announced receipt of Completion Certificate for BKEL in Mar-2016.
Exhibit 6:
BOT Projects Scheduled CoD
Source: Company, Angel Research
We expect all the above-mentioned BOT projects to be fully operational in next few
months and full benefits of these new road projects to be seen in FY2018E on a
A major part of the
`
1,300cr raised through NCDs recently would be used to
repay high cost debt and replace it with low cost debt. We expect similar type of
debt re-financing initiatives to be seen across SPVs, going forward. As a result, we expect the company to potentially save interest expenses of ~
`
276cr for every
100bp of re-financing on the consol. balance sheet debt.
On revising our 2017E estimates and rolling FY2018E estimates, and considering
the benefit from sale of assets, PAT is expected to report 13.6% CAGR during
Exhibit 7: Earnings Revision
Maintain BUY with price target of
`
93
Despite ITNL's robust order backlog and strong execution capabilities, we had
remained concerned about its high consol. D/E ratio, which was eating into its
profits. Recent fund raising initiatives in our view would be majorly used towards
debt repayment. With 7 projects expected to commence tolling/annuity in the next
few months, we expect debt repayment cycle at the SPV level for these 7 projects to
commence, which should further ease consol. Balance Sheet and cash flow cycles.
Till then we expect some near-term pain from the Balance Sheet perspective.
In addition to the 4 BOT project wins in FY2016, ITNL recently reported Ethiopian
& Dubai based O&M Road & Car parking projects on BOT basis, respectively. In
the backdrop of strong visibility on the order book front, any news flow on
commencement of new BOT projects, re-financing of BOT projects and outcome of
any strategic initiatives should lead to further re-rating from here-on. Thus, with
better visibility on these initiatives, we expect the stock to get re-rated from
To arrive at a target price for ITNL, we have used the sum-of-the-parts (SOTP)
valuation method. Considering high leverage and stronger execution capabilities,
we have valued the construction business at an EV/EBITDA of 5x FY2018E EBITDA,
and the domestic Road BOT projects on FCFE basis at a Cost of Equity of 14%.
Also, we have valued Elsamex, YuHe Expressway, Metro and other infrastructure
projects (other than road projects) using the P/BV multiple. On adding up all the
projects' values, we arrive at a SOTP-based target price of
`
93. Given the strong
case of improvement in the business outlook, we upgrade our rating on the stock Exhibit 8: Derivation of SOTP-based target price for ITNL
ITNL's construction business
North Karnataka Expressway
Thiruvananthapuram Phase - I & II
East Hyderabad Expressway
Hazaribagh Ranchi Expressway
Jharkhand roads Ph-I & II
Valued at 1.5x its investment
Valued at 1.5x its Investment
Vansh Nimay Infraprojects
Valued at 1.0x its Investment
Valued at 1.0x its Investment
Valued at 1.0x its Investment
Valued at 1.0x its Investment
Source: Company, Angel Research Market leader in the growing BOT space: ITNL is a surface transport player with an
established track record of successfully bidding, developing and operating road
BOT projects on a commercial basis. It was one of the first movers in the road
development segment. The company bagged the Noida Toll Bridge project in
1998. Since then, it has come a long way and has built a sizeable portfolio. The
company has one of the largest BOT portfolios in India, encompassing 31 road
projects covering 14,680 lane kms spread across 16 states. Their 4QFY2016
order book at
`
14,625cr gives the Construction segment revenue visibility for over the
Pan-India presence: ITNL has 31 BOT Road projects well spread across 16 states
in India. The company has decent exposure to state highways, which differentiates
it from peers. The one major advantage that state highway projects enjoy over
national highways is that they can be bundled with land, making the projects
viable. Such diversification strategy prevents the company from any fluctuation in
the revenue stream given its limited exposure to any one region or project.
Hedged revenue stream: We believe ITNL has a hedged road BOT asset portfolio
currently, as it is bifurcated into toll and annuity projects in revenue terms, thereby
reducing its dependence on traffic-related revenue inflow. The recent project win of
Ethopian & Dubai based project strengthens our view that going forward too, ITNL
would continue to have a balanced revenue mix of annuity and toll.
ITNL's strategic initiatives to lead to Balance Sheet de-leveraging: ITNL is currently
sitting on consol. D/E ratio of 4.1x (reflecting debt of
`
27,643cr). On considering,
(1) equity requirement of
`
1,407cr towards its BOT projects, (2) 7 BOT projects
expected to commence operations in the next few months, and (3) levered Balance
Sheet status, we are of view that profitability growth is restricted due to high interest
expenses. We expect their strategic initiatives to materialize in next few quarters,
which should lead to the stock getting re-rated.
Even though expectations are high for allocation towards Roads and Highways
vertical in the upcoming budget, any slowdown in the award activity from NHAI
could affect road-focused players such as ITNL.
ITNL faced execution delays across few of its projects. Prolonged delays in project
execution beyond the time schedule could act as risk to our estimates.
BOT projects are inherently highly-levered projects. Hence, delays in the correction
of interest rates than our expectations could be a risk to our assumptions.
The Management has highlighted plans to pursue fund raising / strategic initiatives
which should materialize in the next few quarters. Any delays beyond that could act
as a risk to our estimates. ITNL, promoted by IL&FS, was incorporated in Nov-2000. Over the years, ITNL
emerged as the largest surface transportation infrastructure company in India.
ITNL is involved in the development, operation and maintenance of surface
transportation infrastructure projects encompassing national and state highways,
roads, tunnels, flyovers and bridges. The company performs a range of project
development activities from project conceptualization to commissioning and
commencement of commercial operations. ITNL has presence in various surface
transportation sub-sectors, such as urban transportation, railways, border check
posts and parking complexes. Cash Flow Statement (Consolidated)
Cash Generated from Opera.
Net Cash Flow from Operations
(Inc)/ Dec in Fixed Assets
(Inc)/ Dec in Investments
(Inc)/ Dec in Other Investing
Issue/ (Buy Back) of Equity
Dividend Paid (Incl. Tax)
Other Financing Cash Flows
Opening Cash balance & Oth. Adj.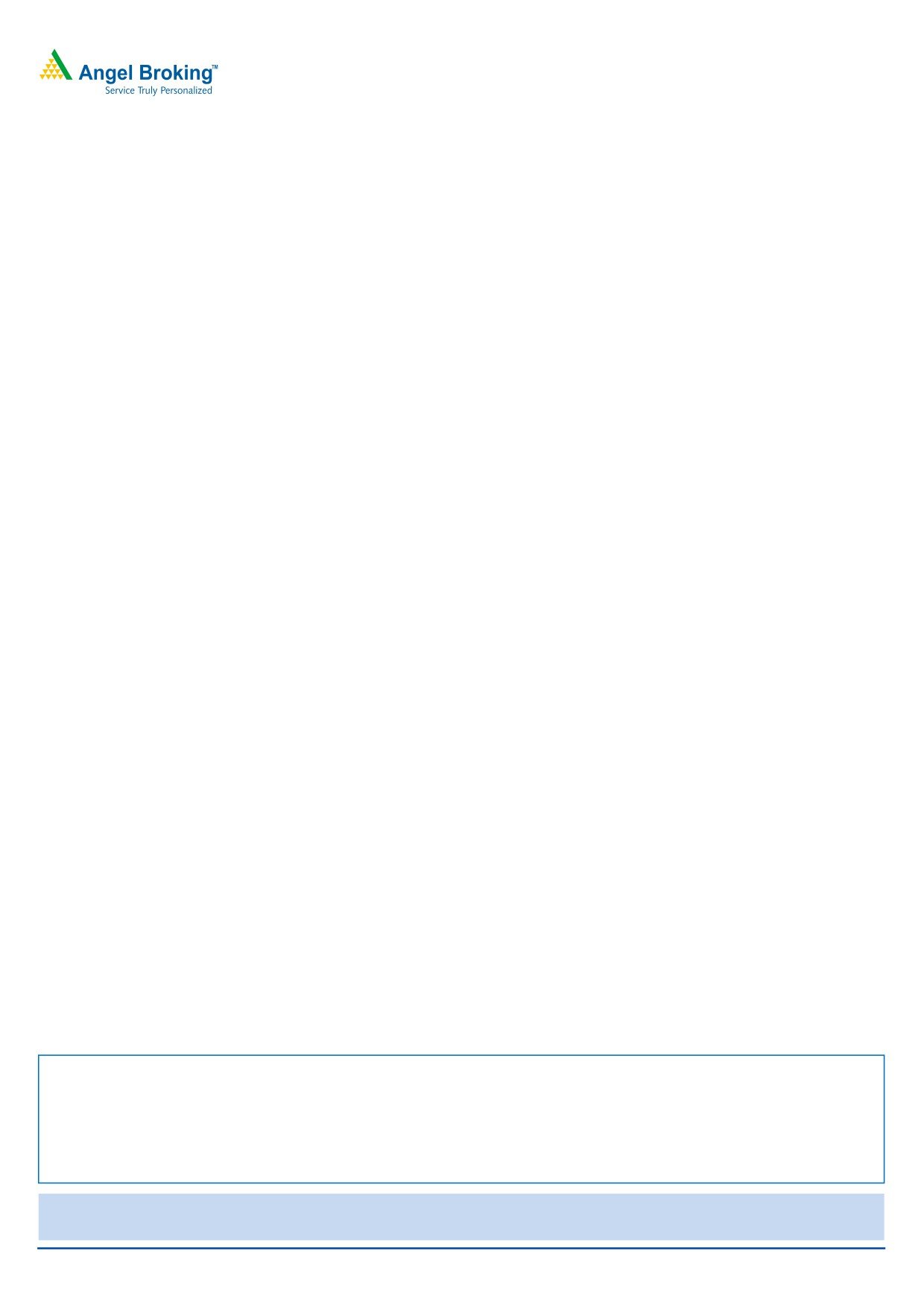 Research Team Tel: 022 - 39357800
Angel Broking Private Limited (hereinafter referred to as "Angel") is a registered Member of National Stock Exchange of India Limited,
Bombay Stock Exchange Limited and Metropolitan Stock Exchange Limited. It is also registered as a Depository Participant with CDSL
and Portfolio Manager with SEBI. It also has registration with AMFI as a Mutual Fund Distributor. Angel Broking Private Limited is a
registered entity with SEBI for Research Analyst in terms of SEBI (Research Analyst) Regulations, 2014 vide registration number
INH000000164. Angel or its associates has not been debarred/ suspended by SEBI or any other regulatory authority for accessing
/dealing in securities Market. Angel or its associates/analyst has not received any compensation / managed or co-managed public
offering of securities of the company covered by Analyst during the past twelve months.
This document is solely for the personal information of the recipient, and must not be singularly used as the basis of any investment
decision. Nothing in this document should be construed as investment or financial advice. Each recipient of this document should
make such investigations as they deem necessary to arrive at an independent evaluation of an investment in the securities of the
companies referred to in this document (including the merits and risks involved), and should consult their own advisors to determine
the merits and risks of such an investment.
Reports based on technical and derivative analysis center on studying charts of a stock's price movement, outstanding positions and
trading volume, as opposed to focusing on a company's fundamentals and, as such, may not match with a report on a company's
fundamentals. Investors are advised to refer the Fundamental and Technical Research Reports available on our website to evaluate the
The information in this document has been printed on the basis of publicly available information, internal data and other reliable
sources believed to be true, but we do not represent that it is accurate or complete and it should not be relied on as such, as this
document is for general guidance only. Angel Broking Pvt. Limited or any of its affiliates/ group companies shall not be in any way
responsible for any loss or damage that may arise to any person from any inadvertent error in the information contained in this report.
Angel Broking Pvt. Limited has not independently verified all the information contained within this document. Accordingly, we cannot
testify, nor make any representation or warranty, express or implied, to the accuracy, contents or data contained within this document.
While Angel Broking Pvt. Limited endeavors to update on a reasonable basis the information discussed in this material, there may be
regulatory, compliance, or other reasons that prevent us from doing so.
This document is being supplied to you solely for your information, and its contents, information or data may not be reproduced,
redistributed or passed on, directly or indirectly.
Neither Angel Broking Pvt. Limited, nor its directors, employees or affiliates shall be liable for any loss or damage that may arise from
or in connection with the use of this information.
Disclosure of Interest Statement
1. Financial interest of research analyst or Angel or his Associate or his relative
2. Ownership of 1% or more of the stock by research analyst or Angel or associates or relatives
3. Served as an officer, director or employee of the company covered under Research
4. Broking relationship with company covered under Research
Ratings (Based on expected returns
over 12 months investment period):