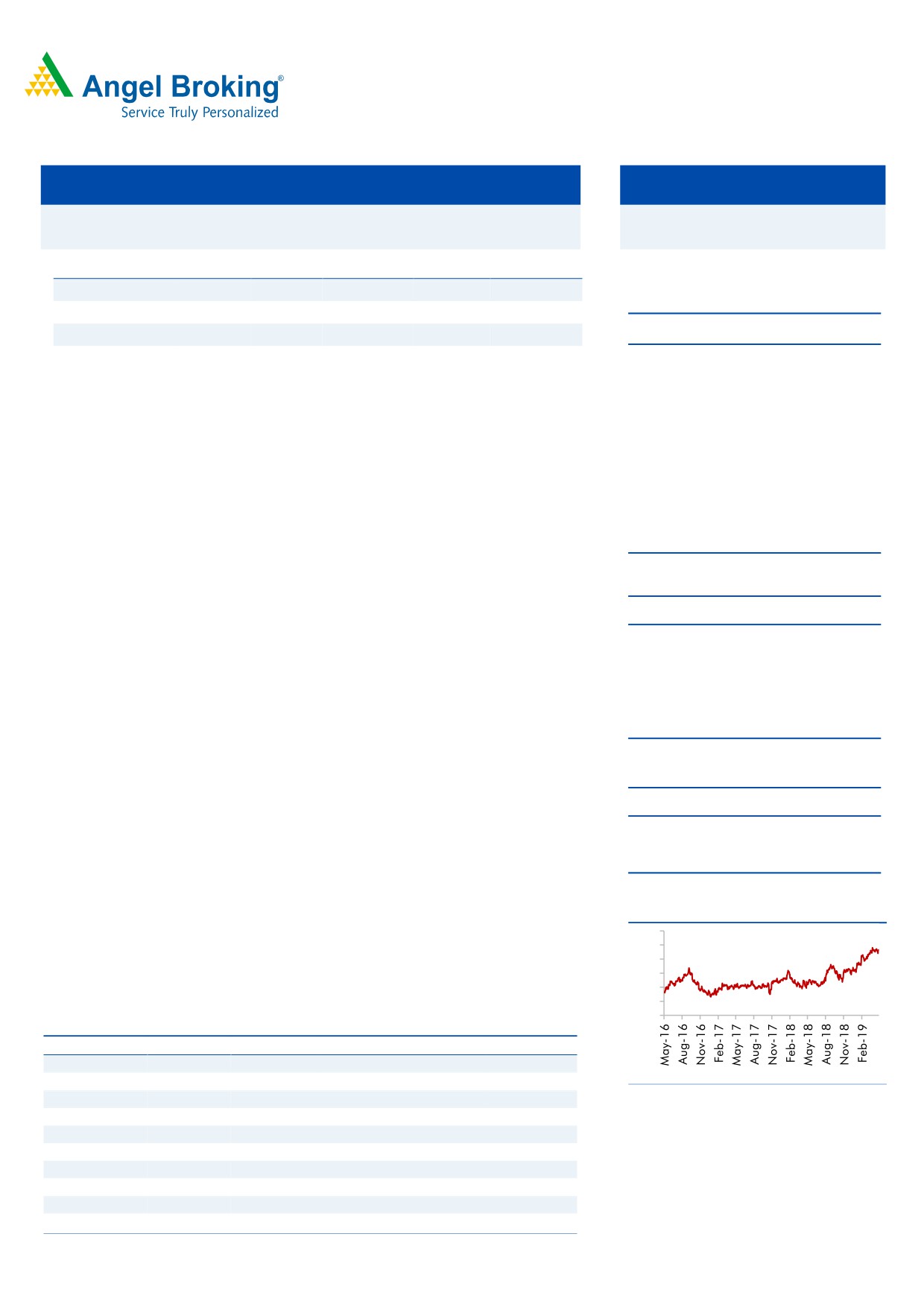 Q4FY2019 Result Update | Banking
Operating performance improves
Source: Company, Angel Research
For Q4FY2019, Axis Bank reported PAT of
`
1,505cr driven by healthy NII growth
(20.6% yoy), strong traction in fees income (15% yoy), contained Opex (11.1%
yoy). Further, higher recoveries & upgrades and lower slippages led to a fall in
GNPA (declined 151bps yoy & 50bps qoq).
Retail loans drive momentum; NIM improved marginally: During Q4FY2019, the
bank's advances grew by 13% yoy, with retail and SME growing at 19% yoy and
11.7% yoy respectively. However, overseas book de-grew 29% yoy in Q4FY2019.
Unsecured products such as PL (43% yoy) and cards (49% yoyo) were the primary
drivers for retail loan book. NIM for the quarter remained flat (3.61%) despite
increased share of higher yielding retail, primarily owing to rising CoF and
decline in C/D. Despite aggressive competition and subdued industry deposit
growth, bank has been able to grow deposits at 21% yoy. The share of CASA in
the Total Deposits stood at 44%.
Traction noted in fees income: Retail fees grew ~37%/18% yoy/qoq to form
~61% of total fees and the share of corporate fees was flat qoq at 14%.
Corporate fees witnessed a declining trend since Q4FY2017, however from last
two quarter it has moderated.
Slippages moderated; fresh accretion of NPA to be moderate going ahead:
Annualised slippages moderated at 2.4% for Q4FY2019. However, we expect
fresh accretion of NPA to be lower owing to (1) decline in sub investment book,
(2) 82% of corporate exposure to A or better rated and 95% incremental lending
to A & better rated corporate, and (3) PCR including technical write-offs at 77%.
Outlook & Valuation: Axis Bank currently trades at 2.2x its FY2021E price to book
value (after adjusting value of subsidiaries). We expect the stock to get re-rated
owing to (1) new leadership, (2) limited stressed loan pool, and (3) improvement
in return ratios (ROA/ROE - 1.23%/114.7% by FY2020E). We recommend Buy on
the stock with a Target Price of
`860
.
Exhibit 1: Key Financials
Source: Company, Angel Research
Note: CMP as of 02/05/2019
Please refer to important disclosures at the end of this report Axis Bank|Q4FY2019 Result Update
Exhibit 3: GNPA Movement, slippages are moderating
Exhibit 4: Additional standard asset provisions made in 4QFY2019
Provision on non-banking asset (land bank) received through debt resolution process. Residual
`
1600cr adjusted
directly to reserves. This is to be charged to P&L over next 3 quarters
Higher provisions on standard corporate loans rated BB & below and all SMA 2 loans led by adoption of formula
driven process for making provisions
Provisions on security receipts (book value
`
2900cr)
Higher provision on self identified stressed asset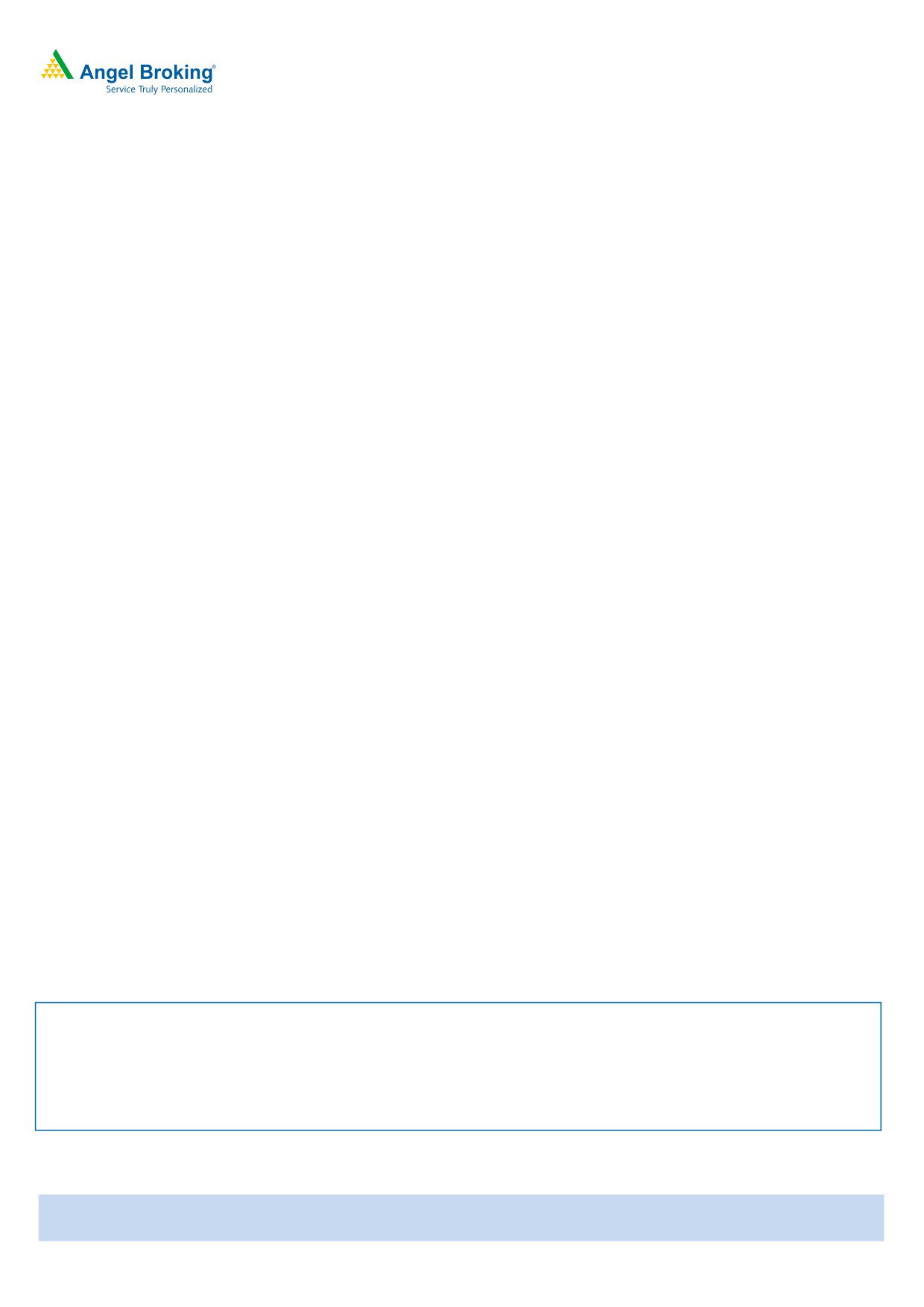 Axis Bank|Q4FY2019 Result Update
Research Team Tel: 022 - 39357800
Angel Broking Limited (hereinafter referred to as "Angel") is a registered Member of National Stock Exchange of India Limited, Bombay
Stock Exchange Limited, Metropolitan Stock Exchange Limited, Multi Commodity Exchange of India Ltd and National Commodity &
Derivatives Exchange Ltd It is also registered as a Depository Participant with CDSL and Portfolio Manager and Investment Adviser with
SEBI. It also has registration with AMFI as a Mutual Fund Distributor. Angel Broking Limited is a registered entity with SEBI for Research
Analyst in terms of SEBI (Research Analyst) Regulations, 2014 vide registration number INH000000164. Angel or its associates has not
been debarred/ suspended by SEBI or any other regulatory authority for accessing /dealing in securities Market. Angel or its
associates/analyst has not received any compensation / managed or co-managed public offering of securities of the company covered
by Analyst during the past twelve months.
This document is solely for the personal information of the recipient, and must not be singularly used as the basis of any investment
decision. Nothing in this document should be construed as investment or financial advice. Each recipient of this document should
make such investigations as they deem necessary to arrive at an independent evaluation of an investment in the securities of the
companies referred to in this document (including the merits and risks involved), and should consult their own advisors to determine
the merits and risks of such an investment.
Reports based on technical and derivative analysis center on studying charts of a stock's price movement, outstanding positions and
trading volume, as opposed to focusing on a company's fundamentals and, as such, may not match with a report on a company's
fundamentals. Investors are advised to refer the Fundamental and Technical Research Reports available on our website to evaluate the
The information in this document has been printed on the basis of publicly available information, internal data and other reliable
sources believed to be true, but we do not represent that it is accurate or complete and it should not be relied on as such, as this
document is for general guidance only. Angel Broking Limited or any of its affiliates/ group companies shall not be in any way
responsible for any loss or damage that may arise to any person from any inadvertent error in the information contained in this report.
Angel Broking Limited has not independently verified all the information contained within this document. Accordingly, we cannot testify,
nor make any representation or warranty, express or implied, to the accuracy, contents or data contained within this document. While
Angel Broking Limited endeavors to update on a reasonable basis the information discussed in this material, there may be regulatory,
compliance, or other reasons that prevent us from doing so.
This document is being supplied to you solely for your information, and its contents, information or data may not be reproduced,
redistributed or passed on, directly or indirectly.
Neither Angel Broking Limited, nor its directors, employees or affiliates shall be liable for any loss or damage that may arise from or in
connection with the use of this information.
Disclosure of Interest Statement
1. Financial interest of research analyst or Angel or his Associate or his relative
2. Ownership of 1% or more of the stock by research analyst or Angel or associates or relatives
3. Served as an officer, director or employee of the company covered under Research
4. Broking relationship with company covered under Research
Ratings (Based on expected returns
over 12 months investment period):