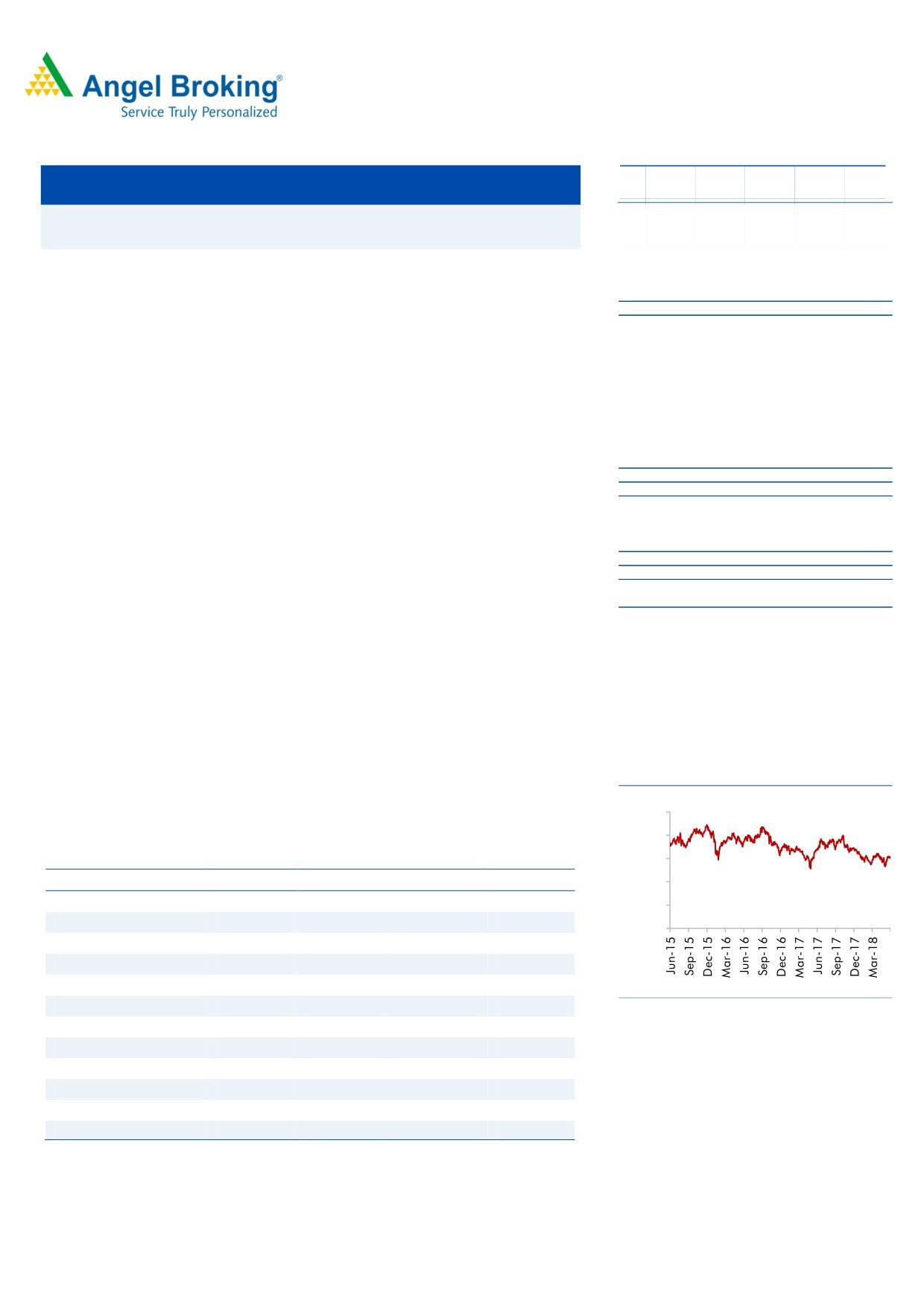 Company Update | Pharmaceuticals
Aurobindo Pharmaceuticals
Aurobindo Pharmaceuticals is an India-based leading global generic
company. It's predominately formulations export company, with USA &
~70% of sales (FY2018). Amongst the Indian
Pharmaceutical companies, we believe that Aurobindo Pharmaceuticals is
well placed to face the challenging generic markets, given its focus on
achieving growth through productivity.
Well placed for challenging times in USA: Aurobindo has a robust pipeline
(has filed 478 ANDA's; second highest amongst Indian companies) & is
investing to enhance its foray into complex generic (mainly injectables,
ophthalmic etc.) & biosimilar, which will drive its next leg of growth. In the
current price competitive market, company is well placed; given it's vertically
integrated with 70% of raw material requirements being meet through
internally. In addition, almost no single product of the company contributes
S hareholding P attern (% )
than 3% of sales; unlike others peers, who have high product concentration.
This is also evident from the performance of the company in USA in FY2018.
Company expects pricing pressure to stabilize at +/- 5% yoy over the medium
term. The company expects to launch ~30-40 products in the US, over the
next six months, which will aid growth in the US business. Overall USA will
grow at 12.7% CAGR over FY2018-20E.
Europe to grow steady, while ARV could provide extra boost: Europe, which is
another key region for the company, is expected to post CAGR of 12.0%
during FY2018-20E, while ROW is expected to post a CAGR of 20% during
same period. However, growth during the period would be more
predominate in the ARV segment, where company has confirmed tenders of
US$80-100mn to be executed over next two years.
Outlook and Valuation: We expect Aurobindo to report net revenue CAGR of
~13% & net profit to grow at ~5% CAGR during FY2018-20E, due to
increased R&D expenditure. However, valuations of the company are cheap
V/s its peers and own fair multiples of 17-18x. We recommend BUY rating.
Source: Company, Angel Research
Source: Company, Angel Research Note: CMP as of July 02, 2018
Please refer to important disclosures at the end of this report Aurobindo Pharmaceuticals
Consolidated Cashflow Statement
FY2016 FY2017 FY2018 FY2019E FY2020E
Change in Working Capital
Interest / Dividend (Net)
Cash Flow from Operations
(Inc.)/ Dec. in Fixed Assets
(Inc.)/ Dec. in Investments
Dividend Paid (Incl. Tax)
Interest / Dividend (Net)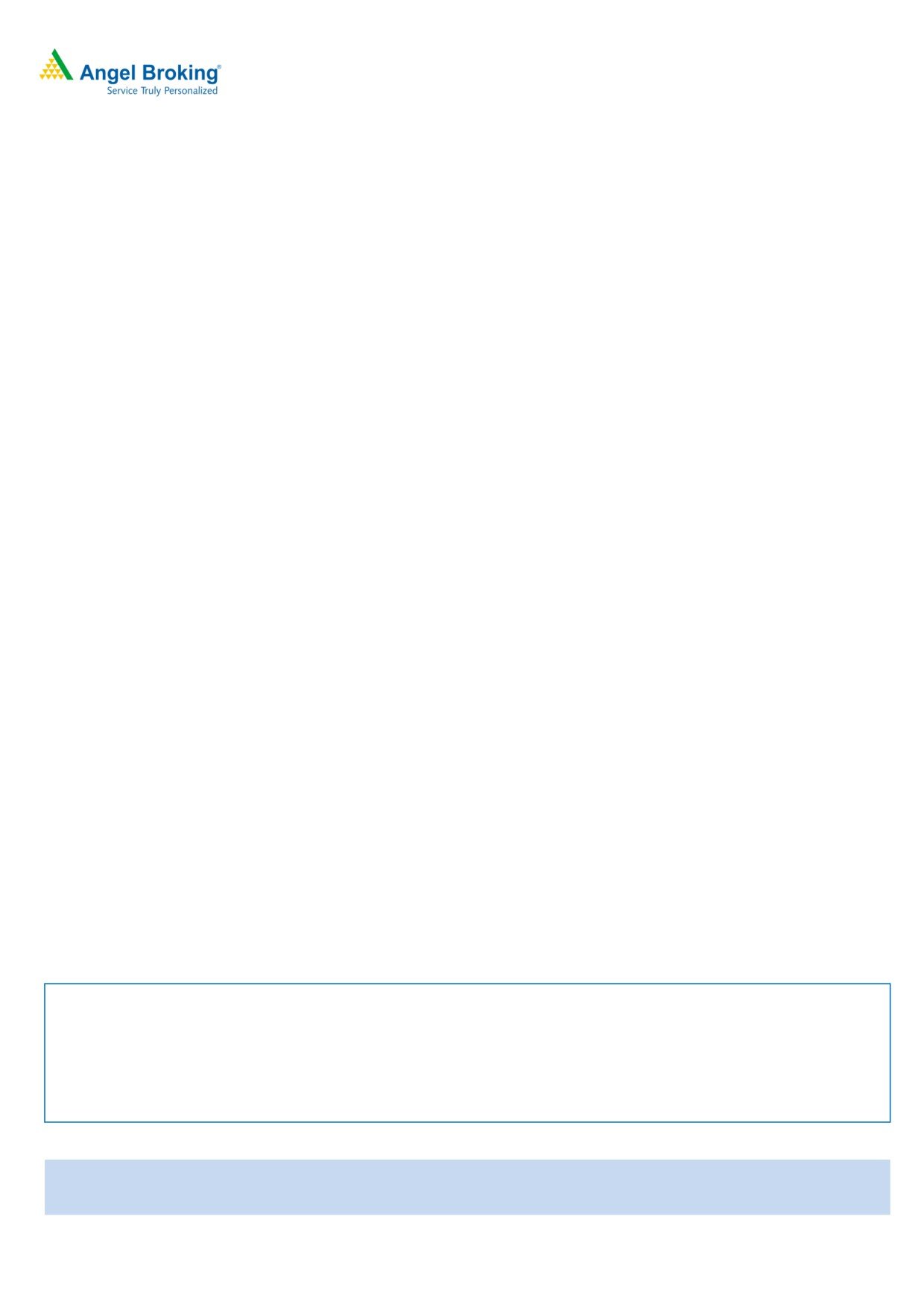 Aurobindo Pharmaceuticals
Research Team Tel: 022 - 39357800
This document is solely for the personal information of the recipient, and must not be singularly used as the basis of any investment
decision. Nothing in this document should be construed as investment or financial advice. Each recipient of this document should
make such investigations as they deem necessary to arrive at an independent evaluation of an investment in the securities of the
companies referred to in this document (including the merits and risks involved), and should consult their own advisors to determine
the merits and risks of such an investment.
Angel Broking Pvt. Limited, its affiliates, directors, its proprietary trading and investment businesses may, from time to time, make
investment decisions that are inconsistent with or contradictory to the recommendations expressed herein. The views contained in this
document are those of the analyst, and the company may or may not subscribe to all the views expressed within.
Reports based on technical and derivative analysis center on studying charts of a stock's price movement, outstanding positions and
trading volume, as opposed to focusing on a company's fundamentals and, as such, may not match with a report on a company's
The information in this document has been printed on the basis of publicly available information, internal data and other reliable
sources believed to be true, but we do not represent that it is accurate or complete and it should not be relied on as such, as this
document is for general guidance only. Angel Broking Pvt. Limited or any of its affiliates/ group companies shall not be in any way
responsible for any loss or damage that may arise to any person from any inadvertent error in the information contained in this report.
Angel Broking Pvt. Limited has not independently verified all the information contained within this document. Accordingly, we cannot
testify, nor make any representation or warranty, express or implied, to the accuracy, contents or data contained within this document.
While Angel Broking Pvt. Limited endeavours to update on a reasonable basis the information discussed in this material, there may be
regulatory, compliance, or other reasons that prevent us from doing so.
This document is being supplied to you solely for your information, and its contents, information or data may not be reproduced,
redistributed or passed on, directly or indirectly.
Angel Broking Pvt. Limited and its affiliates may seek to provide or have engaged in providing corporate finance, investment banking
or other advisory services in a merger or specific transaction to the companies referred to in this report, as on the date of this report or
Neither Angel Broking Pvt. Limited, nor its directors, employees or affiliates shall be liable for any loss or damage that may arise from
or in connection with the use of this information.
Note: Please refer to the important `Stock Holding Disclosure' report on the Angel website (Research Section). Also, please refer to the
latest update on respective stocks for the disclosure status in respect of those stocks. Angel Broking Pvt. Limited and its affiliates may
have investment positions in the stocks recommended in this report.
Disclosure of Interest Statement
Aurobindo Pharmaceuticals
1. Analyst ownership of the stock
2. Angel and its Group companies ownership of the stock
3. Angel and its Group companies' Directors ownership of the stock
4. Broking relationship with company covered
Note: We have not considered any Exposure below
`
1 lakh for Angel, its Group companies and Directors